Molecular Transport Medium Market Outlook (2022-2032)
Worldwide revenue from the molecular transport medium market was US$ 1.6 Bn in 2021. Although the market saw a huge dip thereafter, it is expected to progress at a value CAGR of 1.2% to reach a market size of US$ 1.2 Bn by the end of 2032.
Overall, molecular transport medium sales accounted for approximately 20.5% revenue share of the global swab and viral transport medium market in 2021.
| | |
| --- | --- |
| Molecular Transport Medium Market Size (2022) | US$ 1.0 Bn |
| Projected Market Value (2032) | US$ 1.2 Bn |
| Global Market Growth Rate (2022-2032) | 1.2% CAGR |
| Market Share of Top 5 Countries | 59.6% |
Molecular Transport Medium Sales Analysis (2012 to 2021) Vs. Market Outlook (2022 to 2032)
The global market for molecular transport mediums recorded a historic CAGR of 34.9% from 2012 to 2021.
Increasing sample transport during infectious disease outbreaks and the rising adoption of molecular transport mediums to transfer swabs to testing laboratories have resulted in market growth.
Since the World Health Organization (WHO) declared COVID-19 a global pandemic in March 2020, testing for the causative virus SARS-CoV-2 has become the cornerstone of pandemic management. Owing to the outbreak of COVID-19, demand for storage and transport medium for collected sample specimens has increased significantly.
The potential for a COVID-19 infection, from unintentional contact, rises as the number of COVID-19 cases increases across the world. According to the Centers for Disease Control and Prevention (CDC), the use of a molecular transport medium is a must to ensure the biosafety of samples during laboratory testing and transportation.
A molecular transport medium is a transport system applied for collecting, transporting, and freezing biological samples containing viruses for the long term, such as SARS-CoV-2, mycoplasma, and chlamydia. The viral swab sample is then sent to a diagnostic laboratory in a transport medium for processing purposes.
With the COVID-19 pandemic continuing, there is a crucial need for viral transport media to expedite disease diagnosis across the world. In response to this high demand, companies producing molecular transport mediums are focusing on the expansion of their manufacturing capacities to deal with the rising demand for transport mediums.
For instance, in February 2021, Teknova expanded the manufacturing capability for its range of viral transport mediums, including the viral transport medium (VTM) and its active viral transport medium (ATM), and also assembled new clean rooms to meet the GMP and ISO 13485 standards essential for the manufacturing of saline, ATM, and VTM.
The infrastructure needed to comply with WHO recommendations for SARS-CoV-2 infection diagnostic tests is limited in several parts of the world. Thus, testing is often centralized to laboratories based in cities with recognized biosafety level 2 (BSL-2) facilities. The inadequate accessibility of testing services in rural and remote areas has considerably increased the demand for molecular transport mediums.
The global molecular transport medium market is expected to exhibit a slight decline over the coming years; however, over the decade, a value CAGR of 1.2% is expected with the market set to reach US$ 1.2 Bn by 2032.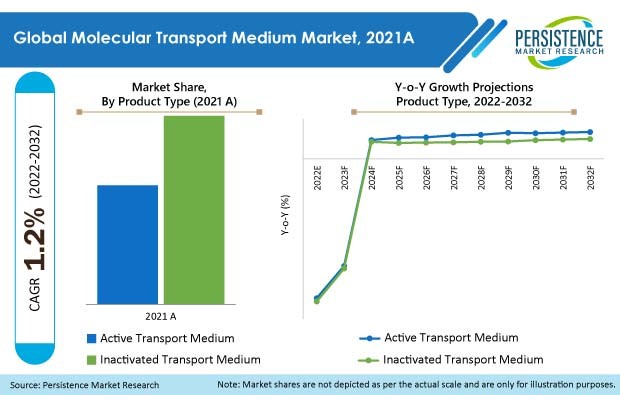 How Can Molecular Transport Medium Manufacturers Grow?
"Technological Adoption– Transforming Viral Transport Medium"
Technological improvements have resulted in a typical shift away from traditional transport mediums and toward innovative and effective molecular transport mediums that are more safe and convenient.
New products developed are expected to aid with the decreased risk of exposure using a non-hazardous and leak-proof formulation during transport, storage, and processing.
In June 2020, bioBoaVista introduced a viral transport medium (MTV) for more effective COVID-19 nasal examinations. Its unique formulation prevents other pathogens from interfering with the virus's stability through competition and contamination.
Furthermore, the growing need to preserve sample stability during transport and storage is another crucial factor. After collection of the sample, it is necessary to store it as quickly as possible to avoid the degradation or death of viable cells.
Specimen samples are mostly frozen at -20°C or lower and brought to the testing laboratory in ice packs if held for extended durations. Repeated freezing and thawing of specimen samples for testing may compromise the stability of the samples. Thus, molecular transport mediums are used, which help keep specimen samples stable during storage and transportation for around 48 hours.
What is Threatening Molecular Transport Medium Market Expansion?
"Presence of Alternative Technologies"
Various medium solutions have been recommended to stabilize specimens to detect viruses, bacteria, and, fungus, mainly during diagnostic examinations. These media are usually created using saline solutions or balanced salt with a buffering capacity to maintain a neutral pH.
To improve the constancy of viruses, a range of Plant-based protein supplements is suggested by researchers. Although some laboratories are preparing in-house viral transport mediums, commercial formulations are used widely and are frequently supplied with sample collection kits containing sterile swabs.
The severity of seasonal infections such as flu and pandemic reactions determines the demand for molecular transport mediums. Furthermore, a huge number of public awareness programs are being carried out around the world, which has aided in raising public knowledge, and, as a result, increased the rate of testing. Seasonal influenza and other diseases are unexpected, and WHO estimates are sometimes inflated, resulting in a demand-supply gap.
Furthermore, due to the unpredictable nature of infection incidence, some kit manufacturing companies have adopted a conservative strategy, resulting in decreased supply even during pandemics or follow-up eruptions. This is another aspect that is impeding market expansion.
Since molecular transport mediums have a short shelf life, large amounts of transport mediums cannot be stored for a longer time, which is one of the main reasons hindering the growth of the market.
Country-wise Insights
Why is the U.S. a Lucrative Market for Molecular Transport Medium Suppliers?
"High Awareness about Benefits of Disease Prevention"
The U.S. accounted for 92.8% share of the North American molecular transport medium market in 2021.
The presence of leading players, growing awareness about the benefits of the prevention of diseases, and an increase in healthcare expenditure are expected to drive the need for molecular transport mediums in the U.S.
Will Germany Be a Lucrative Market for Molecular Transport Medium Manufacturers?
"Launch of Viral Inactivation Formula Driving Molecular Transport Medium Demand"
Germany held around 21% share of the Europe molecular transport medium market in 2021.
The launch of a novel viral transport medium that aids rapid inactivation of the COVID-19 virus during collection and transportation has boosted the sales of molecular transport media in European countries, including Germany.
In March 2022, Thermo Fisher Scientific Inc. introduced InhibiSURE, a viral inactivation medium formulation. This non-hazardous medium supports the safe collection and transport of the COVID-19 virus and also stabilizes viral RNA during transportation.
Why is China an Important Market for Molecular Transport Medium Producers?
"Huge Government Investment in R&D Sector in China"
China held the largest market share of 46.3% of the East Asia molecular transport medium market in 2021.
Owing to major government involvement in the country, manufacturers have focused on increasing their production capacities to increase unexpected and unparalleled demand to perform a complete survey of symptomatic and asymptomatic patients.
Additionally, along with the COVID-19 outbreak, several other infectious disease occurrences are becoming common in China and require rapid testing and research.
How Fast is the India Molecular Transport Medium Market Expanding?
"Increased Focus on Genetic R&D of Innovative Products in India"
India held the highest market share of 38.3% of the South Asia molecular transport medium market in 2021.
Increased focus on genetic research and the development of innovative products for the storage and transport of biological samples has augmented the growth of the molecular transport medium market in India.
The Indian Institute of Science (IISc) and Bangalore's Society for Innovation and Development incubated the start-up Azooka Labs, which has launched mWRAPR, India's first local biological storage, and transport medium, particularly for research use.
Additionally, mWRAPR received incubation-to-market bridge sponsorship from Honeywell and Citigroup after the first wave of the COVID-19 pandemic to produce a contamination-free viral transport medium for COVID-19 that can be stored for up to a week at room temperature.
The launch of mWRAPR is a step toward making India self-reliant in manufacturing media for the transport and preservation of genetic samples, which is a critical part of fighting pandemics and supports preserving genetic content in all types of biological specimens.
Category-wise Insights
Which Product Type Accounts for High Market Growth?
"Advantages of Inactivated Transport Medium over Other molecular transport Media"
The inactivated transport medium segment held 61.3% share of the overall molecular transport medium market in 2021.
Inactivated transport is well-suited for the storage of DNA/RNA from viruses, bacteria, and tissues, and offers nucleic acid stability at ambient temperatures for up to one month, and is thus preferred by end users.
Dewei Medical Equipment Co., Ltd manufactured PrimeStore MTM - A novel viral transport medium for infectious diseases, inactivating viral transport medium with swabs.
Which type of Samples are Commonly Stored & Transported Using Molecular Transport Media?
"High Preference for Nasal Washes & Swabs"
Nasal washes and swabs are commonly stored and transported by using a molecular transport medium. This segment accounted for the highest market share of 38.4% among other samples in 2021.
Competitive Landscape
Key market players have adopted expansion as a business growth strategy. This strategy enables companies to continue supplying these products during the peak period of high demand to offer the best pricing available.
Additionally, leading market players are also focusing on the development of new products with advanced features to attract more end users, which will help them increase their overall market share.
In October 2020, EKF Diagnostics launched the PrimeStore molecular transport medium (MTM) kit. This MTM kit allows the suitable and safe collection, transport, and handling of pathogenic samples, including COVID-19 and influenza. To meet the growing demand for this sample collection device, EKF has expanded its production capacity in the U.K. and Europe.
Molecular Transport Medium Industry Report Scope
Attribute

Details

Forecast Period

2022-2032

Historical Data Available for

2012-2021

Market Analysis

USD Million for Value

Key Countries Covered

U.S.
Canada
Brazil
Argentina
Mexico
Germany
France
U.K.
Italy
Spain
Russia
BENELUX
India
Thailand
Malaysia
Indonesia
China
Japan
South Korea
Australia
New Zealand
Turkey
GCC
Northern Africa
South Africa

Key Market Segments Covered

Product Type
Application
Sample
End User
Region

Key Companies Profiled

Thermo Fisher Scientific Inc.
Becton, Dickinson, and Company
Cardinal Health
Quidel Corporation
Medical Wire & Equipment
COPAN Diagnostics Inc.
Titan Biotech Ltd.
Alpha Teknova, Inc. [former named Teknova]
Bio-Genex Laboratories Inc.
EKF Diagnostics
Trinity Biotech
Alpha-Tec Systems, Inc.
Charm Sciences, Inc.
Azer Scientific
bioBoaVista
AccuGene
KSL Diagnostics
Puritan Medical Products
Amazing Biotech (Shanghai) Co., Ltd.

Report Coverage

Market Forecast
Competition Intelligence
DROT Analysis
Market Dynamics and Challenges
Strategic Growth Initiatives

Customization & Pricing

Available upon Request
Key Segments Covered in Molecular Transport Medium Industry Research
Molecular Transport Medium Market by Product Type:
Active Transport Medium
Inactivated Transport Medium
Molecular Transport Medium Market by Application:
Virus

COVID-19
Middle East Respiratory Syndrome (MERS)
Influenza
Human Immunodeficiency Virus (HIV)
Rhinovirus
Adenovirus
Respiratory Syncytial Virus (RSV)

Bacteria

Staphylococcus Pneumonia
Haemophilus Influenza
Anthrax
Others

Atypical Bacteria

Mycoplasma
Q-Fever
Others

Mycobacterial and Fungal Infection
Molecular Transport Medium Market by Sample:
Nasal Washes and Swabs
Sputum
Saliva
Faecal & Stool
Urine
Blood
Tissues
Others
Molecular Transport Medium Market by End User:
Diagnostic Laboratories
Microbiology Laboratories
Hospitals & Clinics
Others
Molecular Transport Medium Market by Region:
North America Molecular Transport Medium Market
Latin America Molecular Transport Medium Market
Europe Molecular Transport Medium Market
South Asia Molecular Transport Medium Market
East Asia Molecular Transport Medium Market
Oceania Molecular Transport Medium Market
The Middle East & Africa Molecular Transport Medium Market