Modified Wood Market Outlook (2021-2031)
The global modified wood market is valued at around US$ 789.3 Mn, and is projected to register a CAGR of 9.5% and reach a valuation of US$ 1.95 Bn by 2031.
| Attribute | Key Insights |
| --- | --- |
| Modified Wood Market Size (2020A) | US$ 730.2 Mn |
| Projected Year Value (2031F) | US$ 1.95 Bn |
| Value CAGR (2021-2031) | 9.5% |
| Collective Value Share: Top 3 Countries (2021E) | 39.4% |
As of 2020, decking comprised around 47% of the global modified wood industry value, and is projected to register a growth rate of around 9.9% from 2021 to 2031. Worldwide modified wood sales currently account for around 1% share of the global wood market.
Modified Wood Consumption Analysis from 2016 to 2020 Vs Market Outlook for 2021 to 2031
Revenue from modified wood, including cladding and decking, collectively totalled around US$ 690.9 Mn in 2020. Modified wood sales witnessed a growth rate of 3.5% from 2016 to 2020.
The COVID-19 pandemic impacted modified wood market growth in 2020, resulting in a fall in the CAGR for modified timber. However, population expansion has increased demand for living spaces, which has fuelled the construction of residential and commercial structures. This expansion in the construction industry has increased global demand for wood modification.
What are the Key Opportunities for Modified Wood Manufacturers across the Globe?
Chemicals used to treat wood, such as chromated copper arsenate, a potentially harmful compound, have been phased out of residential use in the U.S. This has resulted in a huge increase in demand for wood products that have been treated without the use of chemicals, such as thermally modified wood. As a result, demand for thermally modified wood is likely to increase over the forecast period, providing substantial growth possibilities for modified wood suppliers.
The consumption rate of wood and timber products for various applications such as decking and interior & exterior designing is being boosted by strong expansion in the construction sector around the world. Demand for residential buildings has increased as a result of population expansion, which is driving sales of thermally modified wood that has a chemical-free nature and long lifespan.
What is Hindering Modified Wood Demand Growth to Some Extent?
The most significant challenge confronting modified wood manufacturers is lack of consumer and intermediate awareness of the product. People in large economies do not have a clear understanding of what modified wood is. Furthermore, many who are aware of the situation believe that modified wood is limited. This has a considerable impact on the global sales volume of modified wood.
Furthermore, one of the most significant challenges facing modified wood providers is the high cost perception of the product in comparison to other available alternatives. Moreover, use of old technologies and methods in the construction industry is also hampering market growth of modified wood as many local manufacturers are not even aware of new and better technologies.
However, demand for semi-skilled and support professionals and workers in the construction sector is predicted to increase dramatically in the future years, as the building sector in developing countries is expected to continue to grow at a rapid pace. These factors are estimated to impact market growth to a certain extent during the forecast period.
How Is Increasing Urbanization Fueling Modified Wood Demand?
Rising urbanization enhances new construction activities, which boosts demand for modified wood in building construction. Modified wood finds a wide range of applications such as in furniture, decking, doors and windows in the construction industry, and is used for commercial, residential and industrial construction purposes.
The construction industry as well as the economic development of urban areas is being boosted by the enormous migration of people from rural to urban areas in pursuit of jobs and opportunities. People's spending power and living standards rise as urbanization grows, spurring the construction of more residential buildings with the best facilities.
The modified wood market is expected to witness growing demand as the construction industry expands to accommodate the increasing urban population, since these materials are used in various parts of residential, commercial, and industrial buildings, including furniture fronts and doors & windows.
How are New Manufacturing Trends Impacting Modified Wood Consumption?
Modified wood is manufactured by the thermal treatment and acetylation process. Heat is used in thermal treatment to remove organic molecules from wood cells, preventing the wood from absorbing water, contracting or expanding, and providing nutrition to fungi or insects.
New production technologies such as thermal treatment and furfurylation are being synthesized to produce high-quality, thermally modified wood products with lower carbon emissions and a reduction in production time. This is expected to benefit key manufacturers of modified wood products for sustainable development.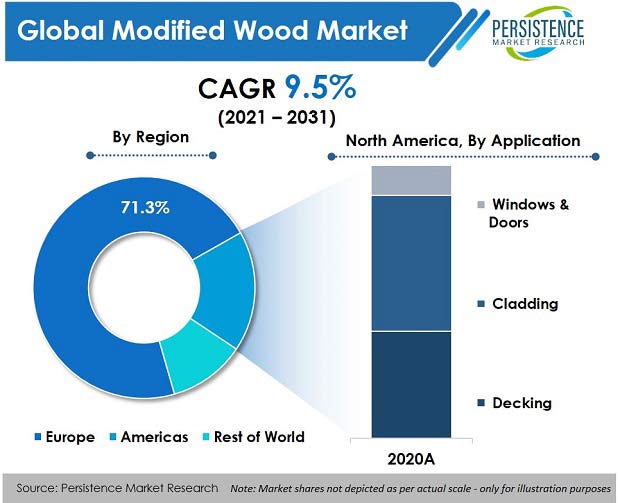 Country-wise Analysis
What's Motivating Modified Wood Suppliers to Expand in China?
China is anticipated to remain a prominent market for modified wood production for exterior and interior applications in both, terms of production and consumption. China is estimated to contribute around 77.8% to the total revenue generated from the sales of modified wood across East Asia.
Strong growth in the manufacturing sector in the country has boosted the production volume of decking, cladding and sauna materials, flooring materials, and others. This has also attracted several overseas modified wood manufacturers to set up their manufacturing facilities in China.
The market for thermally modified wood for decking and cladding is expected to rise dramatically going ahead, owing to the country's strong consumer base and significant expansion in disposable income. Over the decade, strong growth in the construction sector is expected to benefit market growth.
Why Does Germany Account for High Demand for Modified Wood?
Germany is Europe's top construction market, with the largest stock of buildings, whether residential buildings, industrial built environments, or commercial construction.
In 2021, modified wood demand in Germany expanded 9.8% Y-O-Y, overcoming initial concerns about how the market would suffer in the case of a global pandemic. Total modified wood sales in Europe are estimated to account for 71.9% of the global market share.
Significant growth in the construction of residential, industrial and commercial buildings had boosted the modified wood consumption rate. Strong per capita income in the country has maintained living standards, which has uplifted the market. Strong development in the residential industry in Germany is estimated to consume significant volumes of decking materials over the coming years.
Category-wise Insights
Why is the Thermal Treatment Process Gaining More Traction?
Revenue from the thermal treatment process segment is expected to expand at a robust 8.7% year-over-year in 2021. Demand for decking is anticipated to increase 8.5% between 2020 and 2021, giving the combined modified wood market year-over-year growth of 8.1% in 2021.
Thermally modified wood is an alternative to pressure-treated wood products for outdoor applications, as well as an attractive product to use in other applications where stability and durability are important factors.
Since no harsh chemicals are used in the production of thermally treated wood, it is environmentally friendly and not corrode metals, unlike pressure-treated lumber.
Cladding materials have improved revenue generation due to their high consumption volume on exterior surfaces of buildings. Demand for cladding and decking has increased as a result of increased construction of malls, offices, restaurants, hotels, and other structures across the world.
Where is Modified Wood Application Expected to Remain Significant?
Modified wood is most widely used in commercial buildings, residential buildings, and industrial buildings. These materials are used for cladding, decking, and in doors and windows. The residential segment is anticipated to account for around 50% demand for modified wood products.
The residential segment is estimated to remain a key end-use segment in the global industry of modified wood. Due to the high rate of residential building construction around the world, including apartments, hostels, lodging and boarding houses, flats and private garages, demand for modified wood for various interior and exterior applications will remain high in this end-use segment.
COVID-19 Impact Analysis
The global modified wood market witnessed significant downfall in 2020, but is expected to recover sharply going forward owing to growing demand from end users such as residential, commercial, and industrial building construction industries.
Competitive Landscape
Through acquisitions, mergers, and collaborations, key modified wood suppliers are focusing on strategic expansions to extend their geographic reach. Furthermore, several modified wood manufacturers are replying on research & development to develop new and innovative technologies in order to reduce their carbon emissions and contribute to sustainable development.
Some of the key developments are:
In March 2021, Lunawood invested in a new thermo treatment kiln at the Lunawood Kaskinen factory. This fourth kiln will increase the production capacity of the Kaskinen mill by around 35%.
Similarly, other key developments related to companies manufacturing modified wood have been tracked by the team at Persistence Market Research, which are available in the full report.
Modified Wood Industry Report Scope
Attribute
Details

Forecast Period

2021-2031

Historical Data Available for

2016-2020

Market Analysis

US$ Mn for Value
Cubic Meters for Volume

Key Regions Covered

North America
Latin America
Europe
East Asia
South Asia & Pacific
MEA

Key Countries Covered

U.S.
Canada
Brazil
Mexico
Germany
U.K.
France
Italy
Spain
BENELUX
Nordic
Russia
China
Japan
South Korea
India
ASEAN
Australia and New Zealand
GCC Countries
Turkey
Northern Africa
South Africa

Key Market Segments Covered

Process
Application
End Use
Region

Key Companies Profiled

Oy Lunawood Ltd
Accsys Technologies
Kebony
Thermory AS
Stora Enso
Oy SWM-Wood Ltd
Novawood
Karava Oy
Houthandel Lambert van den Bosch
ARBOR WOOD
Coillte Panel Products

Pricing

Available upon Request
Key Segments Covered in Modified Wood Industry Research
Modified Wood Market by Process
Thermal Treatment
Acetylation
Other Treatments
Modified Wood Market by Application
Modified Wood for Decks
Modified Wood for Siding
Modified Wood for Cladding
Modified Wood for Windows & Doors
Modified Wood Market by End Use
Modified Wood for Residential Use
Modified Wood for Commercial Use
Modified Wood for Industrial Use
Modified Wood Market by Region
North America Modified Wood Market
Latin America Modified Wood Market
Europe Modified Wood Market
East Asia Modified Wood Market
South Asia & Pacific Modified Wood Market
Middle East & Africa Modified Wood Market