Introduction
Increasing worldwide population is driving the demand for processed and convenience food. Modified starch is an important and functional ingredient that is used in ready-to-eat food products.
With increasing demand for processed food, the modified starch market is expected to witness decent growth over the coming years. Modified starch provides functional properties such as texture, taste, and thickness in processed food, and also helps increase the shelf life of food products.
Rising Demand from Food, Textile, Paper Making, and Cosmetic Industries
Due to a large number of benefits, modified starch is used in a variety of industries such as food, textiles, paper making, and cosmetics and personal care. Modified starch is a multifunctional additive used in the cosmetics and personal care industry.
Over the past few years, the trend for natural cosmetic products is increasing, and manufacturers are developing new cosmetic products using natural ingredients such as modified starch.
Growing Textile Industry to Fuel Growth of Modified Starch Market
Starch is mainly used for textile sizing in the textile industry, especially for manufacturing cotton yarn. It is preferred for the sizing of coarse and medium-count yarns. Starch forms the adhesive component during the size mix process, due to various factors such as:
Starch properties can be tuned as per requirement
De-sizing is easy
Chemical properties of starch are relatively similar to cotton and rayon, and thus, it has good adhesion.
Flourishing Cosmetics and Personal Care Industry Opens New Opportunities
The demand for modified starch has been witnessing considerable growth, globally over the past few years. Today's consumer demands an easier, more pleasant application without a bleaching effect or a heavy or sticky layer. Tanning products need to be more resistant to the adhesion of sand to the skin after application.
Modified starch manufactured for cosmetics and personal care products specifically target the unique demands of consumers. As such, its increasing use in the cosmetics and personal care industry is expected to boost the global modified starch market size through 2030.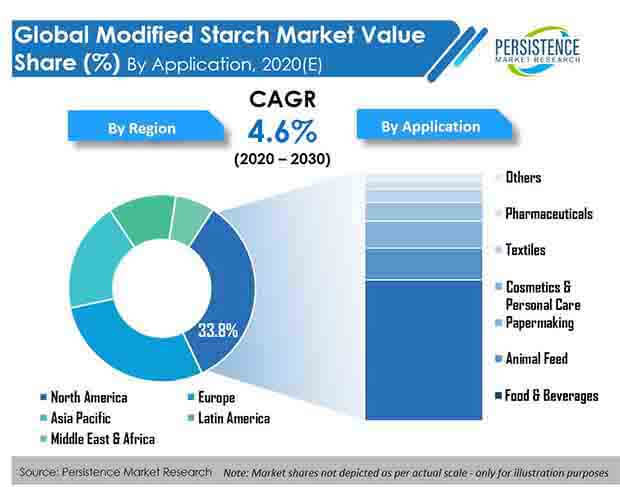 Increasing Number of Fast Food Restaurants Surging Demand
Fast food restaurants account for a significant share in the food services sector, and have witnessed growing demand over the years, owing to their focus on competitive and affordable pricing, clubbed with growing consumer demand for convenience food products.
A large number of international fast food restaurant chains have opened in different parts of the world over the past few years, with specific cuisines and product offerings to cater to consumer demand across different geographies. Fast food restaurants widely use modified starch in the preparation of their food to intensify the texture, flavor, and taste of their preparations.
Increasing Popularity of Convenience Food among Working Professionals
The working population with a busy and continuously changing lifestyle demands convenience food. These individuals tend to prefer RTC foods or snacks over regular meals, owing to their busy schedules.
Modified starch is used in various convenience food products, including ready-to-mixes and eats, bakery products, etc. Increasing demand for convenience food surges the demand for modified starch, which is expected to boost the global modified starch market in the near future.
Anticipated COVID-19 Impact on Modified Starch Market
The ongoing health crisis around COVID-19 has affected all walks of life. The level of impact on processed agricultural products is mainly dependent on the seasonality of the crop. Modified starch is made from crops such as maize/corn, wheat, potatoes, tapioca, rice, and others.
These crops takes three to four months to complete their lifecycle. These crops are grown in different seasons in countries around the world. Top raw material producing countries such as China, India, Europe, Russia, the U.S., Ukraine, etc., have been widely affected by the spread of COVID-19, and have announced lockdowns to counter the pandemic. Thus, the production of these crops has been severely affected due to lack of manpower.
Governments are taking appropriate measures to control and maintain the optimum output from agricultural farmlands. Manufacturers of modified starch are facing a shortage of raw material, owing to reduced production of raw material crops, disrupted supply chains, and limited international trade which is affecting the supply of raw material.
Besides, production by manufacturers of food & beverages, animal feed, chemicals, paper, pharmaceuticals has also has reduced or stopped. These industries are key consumers of modified starch, and thus, its demand has reduced.
To control the widespread of coronavirus, many economies have declared a national emergency, due to which, transportation systems have collapsed. Manufacturers of modified starch are facing various challenges, right from the procurement of raw material, processing of ingredients due to a shortage of labor, transport, and distribution of the final product.
These factors are expected to leave a short-term impact on the growth of the global modified starch market for at least the next couple of quarters in the current financial year.
Analysts' Viewpoint
The global modified starch market is witnessing average growth. Key players in the global modified starch market could gain additional profits by positioning their products for industrial consumers such as animal feed, paper, chemicals, and pharmaceuticals, if not now, but in the next couple of years.
Manufactures need to be focused on partnerships, joint ventures, and collaborations with end users, small players, and distributors. Additionally, emerging economies in South Asia and East Asia offer huge opportunities for key players in the global modified starch market to expand their businesses.
Key Segments of Global Modified Starch Market
PMR's report on the global modified starch market offers information divided into four segments - source, product, application, and region.
Source

Maize/Corn
Wheat
Potatoes
Tapioca
Rice

Product

Acetylated Starch
Physically Modified Starch
Enzyme Modified Starch
Anionic Starch
Cationic Starch
Dextrin
Oxidized Starch
Thinned Starch
Pre-gelatinized Starch
Others

Application

Food and Beverages

Bakery Products
Dairy Products
Meat & Poultry
Convenience Food
Others

Industrial
Animal Feed
Cosmetics & Personal Care
Papermaking
Textiles
Pharmaceuticals
Others

Region

North America
Latin America
Europe
South Asia
East Asia
Oceania
Middle East & Africa
Key Questions Answered in Report
How much is the modified starch market worth?

The global modified starch market is estimated to be worth US$ 19.2 Bn by the year 2031.

What will be the demand outlook?

The global modified starch market is expected to witness a CAGR of 5.5% between 2021 and 2031.

What was the last 5 year market CAGR?

The modified starch market witnessed a CAGR of 4.5% between 2015 and 2020.

What are the key trends of modified starch market?

The current trend is that of usage of modified starch as a fermentation base for mass production of antibiotics, organic acids, and vitamins. Also, starch-derived glucose could be fermented for producing lactic acid, which could be polymerized for bioplastics or biodegradable films.

What is driving the demand for modified starch?

The fact that modified starches are used as subsidiary gelatin agents and thickeners in jellies, sauces, ice-creams, and puddings is driving the demand for modified starch.

What is the market share of top 5 players?

The top 5 players like ARGANA Beteiligungs-AG, Avebe, Tereos S.A., Finnamyl Oy, and Royal Ingredients Group hold more than 40% of the market share.

What are the top 5 countries driving demand?

The top 5 countries driving demand include the US, France, Germany, The Netherlands, and Austria.

What is North America's market Outlook?

North America holds more than 30% of the market share due to the US holding the baton.

At what percentage modified starch market is going to register growth in Europe?

Europe is expected to register growth at the rate of 4% in the modified starch market between 2021 and 2031.

Which countries are key producers of modified starch?

The key producers of modified starch include the US, UK, Germany, The Netherlands, and Thailand.