Libya Dialysis Machines Market Outlook (2022-2032)
Revenue from the Libya dialysis machines market was US 467.8 Mn at the end of 2021, with the market estimated to move ahead at a CAGR of 4% to reach US$ 966.2 Mn by 2032.
Sales of dialysis machines in Libya accounted for 2.6% revenue share of the global dialysis equipment market in 2021.
| Report Attribute | Details |
| --- | --- |
| Libya Dialysis Machines Market Size (2022) | US$ 653.7 Mn |
| Projected Market Value (2032) | US$ 966.2 Mn |
| Market Growth Rate (2022-2032) | 4% CAGR |
| Market Share of Dialysis Centers (2021) | 37.9% |
Libya Sales Analysis of Dialysis Machines (2018 to 2021) Vs. Market Projections (2022 to 2032)
The market for dialysis machines in Libya recorded a high-value CAGR in the last 3 years from 2018 to 2021 owing to the growing prevalence of chronic disease-associated morbidity.
CKD, or chronic kidney disease, denotes varying degrees of renal function decline. The final and most severe stage of CKD is end-stage renal disease (ESRD). It happens when the kidneys are unable to properly carry out their essential functions. Patients must inevitably rely on haemodialysis or kidney transplantation to survive this dysfunction.
The need for a more thorough examination of individuals with CKD and ESRD arises from the significant burden of expensive treatment, pain, and daily challenges faced by patients undergoing haemodialysis. According to the WHO Non-Communicable Diseases Country Profile (2018), cardiovascular disease and diabetes mellitus are the main causes of morbidity and mortality in Libya, both of which are risk factors for CKD.
Although there are many ESRD treatment centers in the country, and the government has made more of an attempt to support those who need it, recent epidemiological studies have not been conducted on a national scale to assess the characteristics and distribution of fundamental etiologies related to ESRD among patients undergoing haemodialysis.
The primary treatment for ESRD is generally acknowledged to be kidney transplantation. However, there are several challenges that organ donation programs face, including access issues as well as ethical, religious, and moral concerns. Due to ongoing political unrest in Libya, organ transplantation programs have been hampered, which has made the already problematic access and availability much worse.
To prevent those at risk from developing ESRD, more efforts and resources must be focused on locating and addressing CKD causes. Early research from 2016 indicates that more than one-third of ESRD cases in Africa are hypertensive and diabetic patients. Although there are significant socioeconomic disparities and better health services in Libya, this situation is probably the same there.
The Libya dialysis machines market is predicted to expand at a CAGR of 4% and reach a market size of US$ 966.2 Mn by the end of 2032.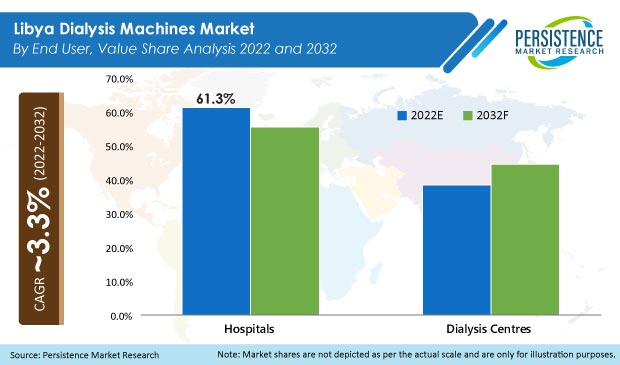 What are the Opportunities for Dialysis Machine Manufacturers in Libya?
"Growing Outreach of Dialysis Equipment in the Country"
Due to hepatic cirrhosis and hepatocellular carcinoma, chronic infections with the hepatitis B virus (HBV) and hepatitis C virus (HCV) virus are linked to substantial health hazards. In comparison to the general population, patients receiving maintenance haemodialysis are more likely to contract HBV and HCV in Libya.
To stop the spread of nosocomial infections, strict infection control procedures are required. Since there is a potential for nosocomial infection, it is advised that strong infection control measures be implemented in haemodialysis units. Patients with blood-borne viral infections should be kept apart from seronegative patients during dialysis, and both, patients and staff should receive hepatitis B vaccinations.
In many nations, the frequency of new HCV infections among haemodialysis patients has been drastically decreased through the implementation of blood donor screening and a decrease in blood transfusions because of the availability of recombinant erythropoietin.
Manufacturers of dialysis machines are thus presented with lucrative opportunities to enhance their outreach across nations such as Libya as well as to promote the accessibility of medical devices for enhanced treatment outcomes.
Why is the Libyan Market for Dialysis Machines Unable to Reach its Full Potential?
"Civil Conflicts, Lack of Resources, and Dearth of Skilled Professionals"
Africa was badly impacted by the coronavirus outbreak, particularly in war-torn nations such as Libya. Several elements have been identified as risk factors for the severity of COVID-19, including old age, existence of other comorbidities, and anomalies in certain laboratory results. It has been noted that patients who need ICU hospitalization have greater rates of mortality and morbidity within the setting.
In a country like Libya that is embroiled in civil conflict, differences in local environments as well as variations in predisposing factors play a significant role in raising mortality and morbidity.
ICUs around the world faced unprecedented difficulties as a result of the COVID-19 pandemic. Due to a lack of resources, equipment shortages, and inadequately qualified healthcare personnel, Africa was badly impacted by the outbreak. In comparison to the rest of the world, Africa has the greatest ICU mortality due to these significant challenges.
Bruce et al study, which was published in the Public Library of Science in 2021, found that after 30 days in the intensive care unit, 54.7% of African patients had died.
Significant lack of healthcare infrastructure and the need for facilities to combat COVID-19 were both reflected in this high percentage, further resulting in a decline of the Libya dialysis machines market.
Category-wise Insights
Why are Haemodialysis Machines Widely Used in Libya?
"High Prevalence of End Stage Renal Disease (ESRD)"
Haemodialysis machines held around 99.7% share of the Libyan market in 2021. End-stage renal disease is very common in the nation.
According to BioMed Central, disease epidemiology data in 2012 shows that Libya's estimated adult population in 2009 was 3,873,000, translating to an estimated 624 cases per million of ESKD treated with dialysis.
The reference from 2012 leads to the assumption that there is a significant need for haemodialysis equipment in the nation in the absence of recent epidemiological data. Sales of haemodialysis machines are being driven by recent government attempts to enhance the accessibility of dialysis equipment in Libya.
Are Hospitals the Best Bet in Libya for Dialysis?
"Government Initiatives for Dialysis Equipment Accessibility Post COVID"
Hospitals accounted for the highest market share of 62.1% in 2021, as end user, in the Libyan market.
With the advent of COVID-19, the prevalence of morbidity associated with the growing chronic disease burden in Libya displayed a rise. To bridge the gap between healthcare service accessibility among providers and payers in the country, the government accessed resources for dialysis equipment from global manufacturers.
With a high prevalence of chronic kidney disease as well as the morbidity associated with infection proliferation due to the COVID-19 pandemic, hospitals were the preferred point of contact to address the concerns of the affected population. As such, the hospitals segment displays and will further display a high market share value in the Libyan market for dialysis equipment.
Competitive Landscape
Manufacturers of dialysis machines have three things in common: they understand the market, choose the best partner, and continue to assist that partner. It is crucial to understand the Libyan competitive context for a product or service, including competitors, standards, regulations, distribution channels, and applications.
Key market players will need to hire a Libyan distributor or build up a local subsidiary to succeed in this market. They will also need to establish a local sales presence.
For instance:
Libya's Tripoli Hospital opened its cutting-edge dialysis unit with multiline next DC in October 2020. With the launch of the ultra-modern dialysis center comprising hemodialysis machines by Baxter and therapy chairs and side tables from GREINER, top-notch medical care is being provided here.
The National COVID-19 conference and exhibition was held from 15 to 13 March 2021 in Tripoli, and companies such as Celitron attended with their partners.
Libya Dialysis Machines Industry Report Scope
Attribute

Details

Forecast Period

2022-2032

Historical Data Available for

2018-2021

Market Analysis

USD Million for Value

Key Countries Covered

Libya

Key Market Segments Covered

Key Companies Profiled

Fresenius
Baxter
B. Braun Melsungen AG
Medtronic Plc.
C. R. Bard (Becton, Dickinson & Company)
Nipro Inc.

Report Coverage

Market Forecast
Competition Intelligence
DROT Analysis
Market Dynamics and Challenges
Strategic Growth Initiatives

Customization & Pricing

Available upon Request
Segmentation of Libya Dialysis Machines Industry Research
Libya Dialysis Machines Market by Product:
Dialysis Machines

Haemodialysis
Peritoneal Dialysis
Continuous Renal Replacement Therapy (CRRT) Systems

Consumables

Dialyzers
Filters
Vascular Access Devices
Libya Dialysis Machines Market by End User:
Hospitals
Dialysis Centers