Introduction
In terms of volume, the global industrial gloves market stood at 113,272 Mn pair in 2017 and is expected to reach 216,048 Mn pair by 2025 end. In terms of value, sales of global industrial gloves in 2017 is estimated to be valued at nearly US$ 6,200 Mn. The market is slated to register a CAGR of 9.2% during 2017-2025 to reach a market valuation in excess of US$ 12 Bn by the end of the forecast period.
Increasing demand for superior performance and comfort to propel the industrial gloves market
North America has some powerful developed economies. The vast presence of all manufacturing and service industries, coupled with firm government rules and regulations on industrial safety is anticipated to remain a prominent driving factor for the growth in sales of industrial gloves in the North America market.
Rising demand for superior performance and comfort is expected to play a pivotal role in this region. Consumers in North America are particular on the use of safety standards and follow them firmly in any working environment at all the end-use industries.
Every firm has a quality department to check the quality of industrial gloves to ensure that the procured gloves are up to the mark in real-time operations. Moreover, workers also make sure that they use safety industrial gloves in all work related operations and demand better performance and comfort.
These gloves are cut resistant, have a long working life and offer a firm grip. These are some of the features that are surging the demand for industrial safety gloves in the North America market.
Global Industrial Gloves Market – Regional Market Attractiveness Analysis
Global industrial gloves market dominated by developed countries
The strict regulations and rules imposed by governments and regulating authorities on manufacturers in developed regions such as North America, EU28 and Japan have made the industrial gloves market very attractive.
Developed regions are expected to hold more than 60% of the market share in the global industrial gloves market, with a major contribution projected from the North America and Europe regions. The global market is anticipated to grow in terms of value and volume over the forecast period.
ASEAN countries in the APAC region are the major suppliers of industrial gloves in the market
The abundant availability of natural rubber and nitrile rubber has made the ASEAN region one of the prominent regions for the manufacturing of industrial gloves. Countries such as Malaysia, Thailand, and Indonesia are top producers of industrial gloves and almost 30 percent of industrial gloves produced in each of these countries is exported to North America and Europe by the global market participants.
Safety regulations and rules – a prominent growth driver in North America
North America is a developed region with abundant end-use industries. The governments in this region are strict and have stringent regulations for the safety of labor and working individuals. If any irregularities are found then the employer is charged with heavy penalties and on top of that, it also creates a bad image for the company among consumers and in the market. These strict government policies are expected to drive the demand for industrial gloves in all end-use industries over the forecast period.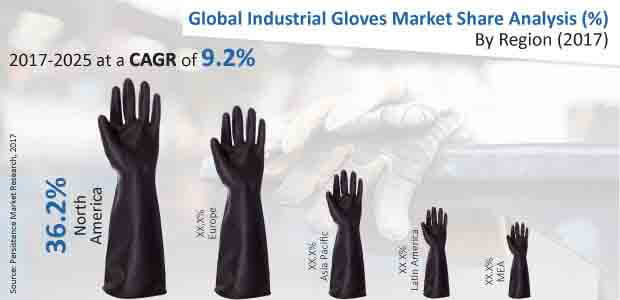 Automation and technology will affect the North America industrial gloves market adversely
Robots have been taking over American jobs and very soon there will be no humans working in manufacturing and other end-use industries. Subsequently, the demand for all the personal protective equipment, including industrial gloves will be limited to certain specific operations. The National Bureau of Economic Research estimates that hundreds of thousands of jobs have been side-lined by automation in the U.S. in recent decades.
In fact, the paper estimates roughly three jobs have been eliminated in the U.S. for each individual industrial robot introduced into the labor market – potentially setting the stage for even more significant job losses as workplace technology deepens its roots going forward.
Researchers at Massachusetts Institute of Technology and Boston University surveyed robots' impact on the U.S. labor market between 1990 and 2007, thereby avoiding data abnormalities from the mass job losses seen during the Great Recession.
They have found large and robust negative effects of robots on employment and wages across local economies impacted by automation. Increased automation in all end-use industries will reduce human efforts and increase accuracy considerably, but it will also affect employment and use of personal protective equipment, such as industrial gloves over the forecast period.
A detailed market taxonomy of the global industrial gloves market aids in the understanding of this vast market
The report breaks down the global industrial gloves market into various segments and sub-segments to help the report audience better understand this vast and dynamic market in a comprehensive manner.
Attribute
Details

Material Type

Latex Gloves
HPPE
Cotton
Leather
Aramid
Polyamide
Acrylic
Composite Fibers

Coating Type

PVC
Nitrile
Latex
Polyurethane

Application

Automotive & Transportation
Pharmaceuticals
Chemicals
Food & Beverages
Construction
Mining & Metallurgy
Oil & Gas
Pulp & Paper
Metal Fabrication
Other Manufacturing

Sales Channel

Direct Sales
Distribution Sales

Region

North America
Latin America
Europe
Asia Pacific
Middle East and Africa