Rising power consumption in the world is likely to benefit the industrial combustion control components and systems market
As per the data provided by the United States Energy Information Administration, in 2018, the population of the world was 7.6 billion and the power consumption is estimated to increase by 48 percent between 2012 and 2040.
Most of this growth is concentrated in the Asian countries, Europe and Middle East and Africa. Due to this ever-increasing worldwide energy demand, the demand for thermal plants will be significantly increased. This in turn, will drive the market of industrial combustion control systems and components.
Stringent regulations enacted by various governments regarding emissions is boosting the market growth
Due to the adverse effects of climate change, the governments across the world have been forced to enact strict regulations on the emissions of sulfur oxides, nitrogen oxide and particulate matters.
Paris agreement by UNFCC, EPA guidelines by the United States government for waste water management, new emission standards by the government of China to restrict the emission of VOCs (volatile organic compounds) in the country are some examples of such stringent regulations. These type of new regulations will also contribute to the growth of the industrial combustion control components and systems market.
Overview of the regulations regarding emission control in the United States
Energy and power is a commodity for every industry and its demand is expected to witness steady growth in the Americas in the coming years. However, with increasing concerns pertaining to harmful particulates emitted by industries, such as chemicals, energy and power and oil & gas, the region is predominantly focusing on cutting down on emissions by adopting combusting control systems in the combustion systems of boilers, thermal oxidizers, etc.
In order to reduce emissions, United States has framed and implemented stringent governmental regulations. In June 2017, the United States entered the Paris Agreement within UNFCC (United Nations Framework Convention on Climate Change) with other countries to reduce the emission of volatile organic gases.
Under this agreement, the U.S. will be expending efforts to curb the global temperature rise during this century to below 20 C. This development is going to have a positive impact on the industrial combustion control components and systems market during the period of assessment.
Lack of resources and awareness is restricting the growth of industrial combustion control components and systems market
The lack of resources and technological awareness could hinder consumer transition from simple industrial combustion control components to the state of art industrial combustion control systems. In addition, control systems require frequent maintenance, such as replacement of components.
This could be unfavorable for the growth of industrial combustion control components and systems market as consumers would not prefer to upgrade their industrial combustion control components regularly.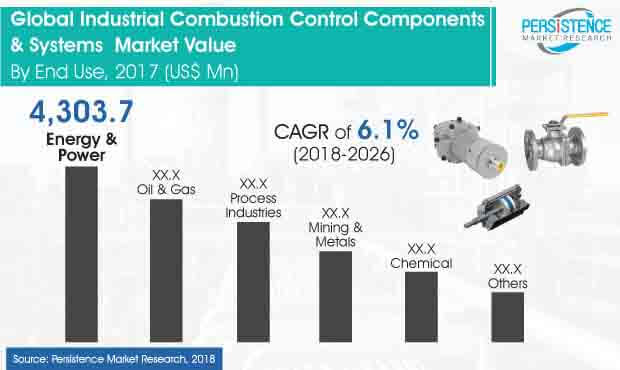 Global Industrial Combustion Control Components and Systems Market, By End Use
In terms of value, the chemical segment was valued at US$ 1,786.9 Mn by 2017 end. This segment is estimated to display a CAGR of 4.5% and reach a value of US$ 2,638.9 Mn by the end of 2026. The mining and metal segment is expected to reach US$ 3,549.6 Mn in 2026 from US$ 2,111.9 Mn in 2017.
The segment is estimated to exhibit a CAGR of 6.0% during the forecast period. The process industry segment was valued at US$ 2,932.3 Mn by 2017 end. This segment is estimated to exhibit a CAGR of 5.4% and reach a value of US$ 4,663.3 Mn by the end of 2026.
Market Taxonomy
Product

Components

Valves
Actuators
Sensors
Control Motors
Combustion Enclosures
Flow Meters
Others

Systems

Emission Monitoring Systems
Emission Control Systems

End Use

Chemical
Mining & Metal
Oil & Gas
Energy & Power
Process Industries
Others

Application

Boilers
Incinerator
Dryers
Thermal Oxidizers
Gas Turbines

Region

North America
Latin America
Europe
South East Asia & Pacific
Middle East & Africa
Japan
China
Key Questions Answered
How the market has performed over the past few years?
What have been the challenges for market participants and how did they overcome them?
How has the technology landscape evolved over the past years?
How the competitors have performed and what have been their growth strategies?
What is the market potential expected to look like in near future across the globe?
How to sustain and grow market share?
What should be the future course of action?
Where do I currently stand?
Which are the segments, factors, regions offering promising growth potential?
What are the trends in the market and am I ready for them?
- Companies Covered in This Report -
ABB Ltd.
Alfa Laval
United Technologies Corporation
Rockwell Automation Inc.
Applied Control Engineering, Inc.
Yokogawa Electric Corporation
Thermal Global
Combustion Controls Solutions & Environmental Services, Inc.
Emerson Electric Co.
Honeywell international Inc.
Mitsubishi Heavy Industries, Ltd
Norec Automation
Siemens AG
Sigma Thermal
ACL Manufacturing Inc.
Others.