Glass Fiber Reinforced Plastic (GFRP) Composite Materials Market Outlook (2022-2032)
Persistence Market Research estimates the global glass fiber reinforced plastic (GFRP) composite materials market to reach a value of US$ 17.1 Bn in 2022. Sales of GFRP composite materials are expected to increase at a CAGR of 8.4% to reach a market size of US$ 38.38 Bn by the end of 2032.
The market for composite materials made from glass fiber reinforced plastic has been growing at an astounding rate in recent years. Around 95% to 97% of the revenue of the fiber reinforced composite materials market comes from the sales of GFRP composite materials, with the remaining 3% to 5% coming from the sales of CFRP composite materials and aramid fibers.
This latest research by Persistence Market Research indicates that the demand for GFRP composite materials would change significantly between 2017 and 2021. Demand was driven in part by the rapid increase in the usage of composites in a wide variety of end-use sectors. Construction, transportation, renewable energy, and other end-use industries have grown fast in recent years.
The market for GFRP composite materials has grown at an impressive rate in the past due to the increasing demand from these end-use sectors and the inherent benefits of composites such as high strength-to-weight ratio, durability, machinability, and various others provided them an edge over their substitutes.
Despite such remarkable growth in the market, it is still in the developing stage and enormous commercial potential is still undiscovered. With proper research techniques and exploration of high-potential applications, the market is anticipated to exhibit an even high growth rate during the forecast period than we have seen during the previous years.
| | |
| --- | --- |
| GFRP Composite Materials Market Size (2021A) | US$ 15.92 Bn |
| Estimated Market Value (2022E) | US$ 17.1 Bn |
| Forecasted Market Value (2032F) | US$ 38.38 Bn |
| Value CAGR (2022-2032) | 8.4% |
| Collective Value Share: Top 3 Countries (2022E) | 60.1% |
Increasing Infrastructure Investments to Ramp-up Market
The dynamics of the global construction industry are changing as a result of glass fiber reinforced polymers and other types of composite materials. Due to their exceptional weight-to-strength ratio, higher durability, and superior corrosion resistance, GFRP materials such as fiberglass rebars are attracting more and more attention. Advanced composites are considered to be the material of the future due to this factor.
The truly unique and adaptable characteristics of GFRP are providing the global construction industry with new opportunities to address enduring structural problems such as corrosion and the need for extensive maintenance.
According to studies, the corrosion of metal reinforcement was a contributing factor in over 25% of construction failures. The high strength and anti-corrosive characteristics of GFRP effectively address issues with design flexibility and the corrosion of steel reinforcement. The transportation and application processes are more effective and cost-effective with lightweight GFRP rebars since fiberglass materials can be installed without the use of heavy equipment.
Government Reforms in Wind Energy Sector to Aid Market Expansion
The market for GFRP composite materials is primarily driven by the expansion of the wind energy industry because there is significant demand for composites in the renewable energy sector. The wind energy industry is a significant user of GFRP composite materials. These composites are utilized in a variety of applications for high-performance wind turbine blades that need to operate in harsh environmental conditions.
Wind turbine rotor blade production technology has advanced significantly in recent years. The use of composite materials in the production of turbine blades has had a significant impact on cost reduction.
Governments' initiatives, on the other hand, are the primary impetus behind the promotion of the wind energy industry across the world and will have a good impact on the composites industry.
High Cost of GFRP Composites Materials - Prime market Constraint
The growth of GFRP composites into structural applications has raised significant concerns about their high cost relative to metals and alloys. The true potential of GFRP composites has not yet been attained because of the high production cost, prolonged cycle durations, and R&D expenses incurred during design failures.
Although several uses of GFRP composites have been found, the commercialization of these uses has not yet started because of significant cost restrictions. Due to high R&D expenditure, creating low-cost technology is a serious challenge for all academics and large companies in this industry.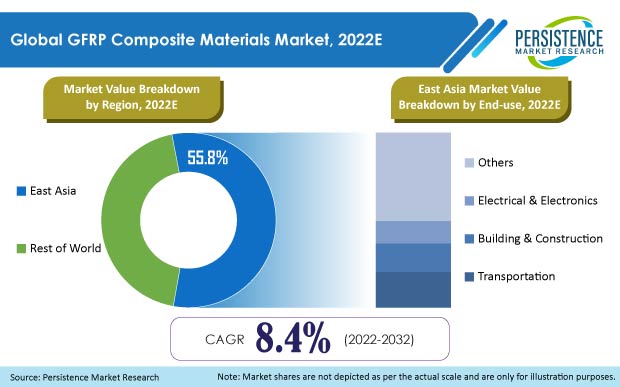 Country-wise Insights
U.S. to Adopt Composite-based Military Equipment
To keep its technical edge and ensure the success of its military missions, the United States has been spending billions on the research and development of next-generation military platforms, vehicles, and offensive & defensive systems. The utilization of composite materials has risen in recent military systems. The expansion of the market will likely be fueled by such purchases over the predicted time frame.
The United States government invests heavily in both, the purchase and development of cutting-edge, non-traditional materials for future military systems, such as composites. The prospects for the market in the country are likely to improve as a result of this.
Demand Outlook for GFRP Composite Materials in China
China is expected to overtake Japan as the world's top producer of automobiles. In addition, it is a major electronics manufacturer. Rising demand for sport utility vehicles (SUVs), lightweight and fuel-efficient vehicles (LEVs), and the popularity of electric cars (EVs) are factors that will drive up automotive manufacturing in China over the coming years.
Additionally, the government's emphasis on infrastructure development has been a primary driver of the building industry in the country.
Owing to such huge growth prospects of end-use industries in China. The market is anticipated to maintain its dominance over the assessment period (2022-2032).
Category-wise Insights
Incorporation of 3D Technology with E-Class GFRP Composite Materials
E-class glass fiber is extensively employed in various end-use industries such as building and construction, transportation, industrial, consumer goods, and wind turbines. It is primarily used in a polyester matrix to form glass fiber-reinforced plastic. E-class glass fibers have various beneficial properties such as low cost, high production rate, strength, stiffness, relatively low density, good chemical resistance, heat resistance, and the ability to maintain strength in a wide range of conditions, making them an appropriate choice for a variety of applications.
On the other hand, the development of new innovative tendencies in glass types has led to the development of E-glass three-dimensional (3D) stitched preform composites, which is an innovation in the GFRP category. It has great mechanical strength and damage tolerance. Due to their damage tolerance characteristics, these cutting-edge composites have been used in a variety of end-use industries, including aerospace, ballistic, industrial, and medical.
The use of such innovation will drive the demand for GFRP composites in the market.
Polyester Most Widely Used Resin for GFRP Composite Material Production
Polyester resin is the most widely used resin type and is preferred by a majority of GFRP composite material producers worldwide. More than 82% of the GFRP composite materials produced worldwide consume polyester resin as a raw material.
Polyester has excellent corrosion resistance, superior performance properties, and is even cost-effective owing to such superior properties, and holds a dominating share in the production of GFRP composite materials.
GFRP Composite Materials - Manufacturing Process
A majority of manufacturers prefer the production of components and products made of GFRP composite materials using the lay-up process owing to its cost-efficient nature. However, the compression and injection molding processes betray the future potential.
Due to its several benefits, such as its short cycle time, cheap labor cost, low scrap rate, and low mold-clamping pressure, the process is expected to revolutionize the manufacturing sector of GFRP composite materials. Manufacturers have started to prefer compression or injection molding processes across the automotive and electrical/electronics sectors. Various components such as automobile bumpers, electrical appliance panels, medical device enclosures, and other similar products all make use of composites using these processes.
Transportation Sector to Demand More GFRP Composite Materials
Increasing demand for transportation modes due to the rise in population has led to the increased manufacturing of automobiles, railroads, and other forms of transportation. All of this will ultimately increase the consumption of GFRP composite materials.
A key factor in the manufacturing of automobiles is the increased strength-to-weight ratio of GFRP composites. Vehicles with sturdy, lightweight components provide better fuel efficiency. These materials play a huge part in their reduced weight and improved fuel economy. The typical applications of GFRP composites in the transportation industry include roof panels, windows, doors, seats, cooling ventilators, luggage bins, and headrest back panels.
In the U.S., automakers have shifted their attention to producing lightweight vehicles to comply with CAFÉ regulations, and they see GFRP composites as an ideal replacement for aluminum and steel in high-end vehicles.
These factors are promoting the development of new GFRP composite applications and driving the growth of the GFRP composites market in the transportation sector.
Competitive Landscape
Major GFRP composites material manufacturers are concentrating on mergers and acquisitions to expand their footprints and product lines. In addition, due to the rising demand for GFRP composites, some companies are also constructing new manufacturing facilities to bolster their market position and capitalize on every available opportunity.
For Instance,
In May 2022 Asahi India Glass Limited approved the acquisition of a 100% stake in Shield Autoglass.
In March 2022 Saint Gobain expanded its presence in India by starting manufacturing facilities for float glass, integrated windows lines, and SIPCOT-Urban Forest with an investment of more than INR 500 Cr.
Persistence Market Research has tracked various key developments in the global GFRP composite materials market in its latest market study.
GFRP Composite Materials Industry Report Scope
Attribute

Details

Forecast Period

2022-2032

Historical Data Available for

2017-2021

Market Analysis

US$ Million for Value
Kilo Tons for Volume

Key Countries Covered

U.S.
Canada
Brazil
Mexico
Germany
Italy
France
U.K.
Spain
BENELUX
Nordics
Russia
China
Japan
South Korea
India
ASEAN
ANZ
Nepal
Bangladesh
GCC Countries
Turkey
Northern Africa
South Africa

Key Market Segments Covered

Glass Type
Resin Type
Manufacturing Process
End Use
Region

Key Companies Profiled

Owens Corning
Machine Retail Group
Everest Composites
Prolong Composites
Sancom Composites
Jushi Group
Chongqing Polycomp International Corporation
Taishan Fiberglass Inc.
Asahi Fiberglass Co. Ltd.
RG Fibrotech
Saint Gobain
Tribeni Fiber Pvt Ltd.
AGY Holdings Corp
Nitto Boseki Co. Ltd.
Jiangsu jiuding New Material Co. ltd.
Reliance Industries
CNBM
China Beihai Fiberglass Co. ltd
Binani Industries Ltd

Report Coverage

Market Forecast
Company Share Analysis
Competition Intelligence
DROT Analysis
Market Dynamics and Challenges
Strategic Growth Initiatives

Customization & Pricing

Available Upon Request
GFRP Composite Materials Industry Survey Segmentation
By Glass Type:
S-Glass
C-Glass
E-Glass
Other Glass
By Resin Type:
Polyester
Vinyl Ester
Epoxy
Polyurethane
Thermoplastic
Others
By Manufacturing Process:
Compression Molding
Injection Molding
Layup
Filament Winding
Pultrusion
RTM & VARTM
Others
By End Use:
Transportation
Building & Construction
Electrical & Electronics
Renewable Energy
Infrastructure
Chemicals/Corrosion
Telecom
Military & Defense
Technical Textiles
Others
By Region:
North America
Latin America
Europe
East Asia
South Asia & Pacific
Middle East & Africa