Introduction
Phosphorous is a micronutrient that is needed by almost all life forms for the optimal growth and development of the organism within an adequate time frame. This phosphorous is provided to animals through animal feed in the form of feed phosphates. Feed phosphates are the inorganic salts of phosphoric acid.
Phosphates are mined from rocks, and inorganic phosphates are then synthesized artificially and are much more bioavailable for animals than the natural sources they can be derived through. This virtue of higher bioavailability is the prominent factor as to why feed phosphates are chosen over natural feed elements for the optimal growth, fertility, and bone development of an animal.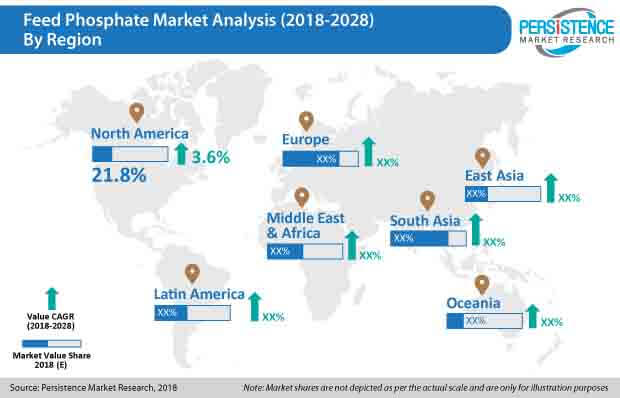 Feed phosphates are of multiple types, and used for different animal types to achieve the optimal growth. Depending on the mineral used and processes utilized, feed phosphates can be of multiple varieties. The most prominently used feed phosphates throughout the world are calcium-based feed phosphates.
Dicalcium phosphate is the most commonly used feed phosphate, followed by monocalcium phosphate, since these feed phosphates are the most proven sources of phosphorous for animals, and also the most bioavailable sources. There are other miscellaneous types of feed phosphates as well, such as ammonium phosphate and magnesium phosphate, but the amount that they're used in feed preparation is significantly low as compared to calcium feed phosphates.
The different types of feed phosphates analyzed in the report are:
Dicalcium Phosphate
Monocalcium Phosphate
Tricalcium Phosphate
Defluorinated Phosphate
Others
The various species consuming feed phosphates that are analyzed in the report are:
Swine
Ruminants
Poultry
Aqua
Pet Animals
Prevailing Pressure to Keep Up with Consumer Demand for Meat Products to Uplift Feed Phosphate Demand
With growing population, the demand for meat and meat products has also increased. Owing to this constant increase in the demand for meat products, livestock rearing has increased, and with it, the demand for animal feed has increased as well.
According to the Food and Agricultural Organization of the United States, the growth in the number of major livestock has been on a constant rise since 1998.
Increase in meat production demands increased nutritional requirements for animals, since the number of animals cannot be drastically increased, but through better nutrition, maximum output can be achieved. Specifically, feed phosphates help animals achieve the proper growth, bone development, fertility, and body mass that is required in a shorter time frame. This correlates directly to the increased demand for feed phosphates, worldwide.
Increased Consumption of High-quality Meat Products Creating More Demand Spots for Feed Phosphate
The demand for feed phosphates has further increased due to the recent trend of an increase in the demand for high-quality meat products. The upkeep of animals to produce high-quality meat products is dependent upon proper nutrition, which will drive the demand for feed phosphates even higher.
Apart from food preferences, the dairy and natural animal-derived fiber industry is also hugely dependent upon the proper development of animals to obtain good quality products. Feed phosphates thus play an important role in the dairy and natural fiber markets as well.
Increased demand for poultry products such as high protein eggs and white meat has also paved the way for the increased demand for feed phosphates. Tricalcium phosphates are especially required along with dicalcium phosphate and monocalcium phosphate for the optimal development of poultry. This allows the poultry to attain the desired weight and physical attributes faster and easier
Monocalcium Feed Phosphate Trumping Dicalcium Feed Phosphate in Animal Nutrition
With better manufacturing technologies, better feed phosphate formulations are made available for consumers. Such is the case with monocalcium phosphate. With better bioavailability and increased uptake by animals, monocalcium phosphate is proving to be the feed phosphate of choice for many consumers. Multiple manufacturers are now focusing on the manufacturing of monocalcium feed phosphate, since it provides better opportunities for growth in the market.
North America, especially, has displayed a pattern of low production of dicalcium feed phosphate, and higher production of monocalcium phosphate. China, on the other hand, has displayed a continued pattern of high production of all types of feed phosphates.
Lower Feed Costs Allowing Consumers to Make More Liberal Purchase Decisions, Leading to Increased Demand for Feed Phosphates
Global compound feed production stands at 1.03 Bn MT as of 2019. Employing proper manufacturing techniques and sustainable methods, feed costs have been lower for multiple animal types. This has made consumers more liberal with the purchase of additional nutritional resources for the animals. This includes feed additives such as vitamins, feed micronutrients, and feed phosphates.
Especially in developing countries, where the budget for the agricultural community is tight, feed phosphate market participants are likely to spot multiple opportunities. This sets East Asia, South Asia, and Latin America to be the regions with the most opportunities for growth in the feed phosphate market.