Europe Dental Imaging Equipment Market Outlook (2022-2032)
Revenue from the Europe dental imaging equipment market was US$ 705.1 Mn in 2021, with the market estimated to surge ahead at a CAGR of 6% to reach a valuation of US$ 1.3 Bn by the end of 2032.
Analysis conducted by Persistence Market Research reflected that 2D dental imaging equipment is expected to hold a market value of US$ 840.2 Mn by 2032. Overall, dental imaging equipment sales in Europe account for approximately 41.5% revenue share in the global dental equipment market, which was valued at around US$ 1.7 Bn in 2021.
| | |
| --- | --- |
| Europe Dental Imaging Equipment Market Size (2021) | US$ 705.1 Mn |
| Projected Market Value (2032) | US$ 1.3 Bn |
| Regional Market Growth Rate (2022-2032) | 6.0% CAGR |
| Market Share of Top 5 Countries | 83.4% |
Sales Analysis of Dental Imaging Equipment in Europe from 2017 to 2021 Vs Market Outlook for 2022 to 2032
The European market for dental imaging equipment recorded a historic CAGR of 3.9% over the last 5 years from 2017 to 2021.
Dental imaging is the process of creating high-resolution images for the purpose of diagnosing dental problems. Dental imaging technology assists dentists in the diagnosis of dental disorders by delivering actual and visible images of dental issues such as cavities, oral malignant melanoma, bone loss, and concealed dental structure.
Advancements in dental imaging technology, as well as an ageing population, are two of the key factors driving Europe dental imaging equipment market growth.
Some of the most frequent digital dental imaging techniques include intra-oral radiography, intra-oral photography, surgical microscopy, tomography, cephalometric radiography, extra-oral photography, and panoramic radiography. Dental radiography is becoming more common in general dentistry.
In Belgium, 2.8 million intraoral radiographs are obtained each year, accounting for around a fifth of all diagnostic radiographs done every year.
Since the late 1990s, Cone-Beam Computed Tomography (CBCT) has been used in dentistry. The use of Diagnostic Reference Levels (DRLs) and regular Quality Control (QC) of imaging devices are required by European legislation as well as existing international norms. Advances in dental imaging system technology in the European region are set to propel the growth of the dental imaging devices market over the forecasted years.
Moreover, sales of dental imaging equipment in Europe are also driven by factors such as high prevalence of dental caries and dental cavities within the region. The association is attributed to the rising consumption of foods and beverages containing sugar and an increasing tobacco-consuming population, indicating rising adoption of unhealthy lifestyles.
As per EU Eurostat data from 2019, 18.4% of EU citizens aged 15 years and up reported smoking cigarettes on a daily basis.
Rising dental issues owing to these factors have propelled growth of the manufacturing as well as production of tools in the European market for dental imaging equipment.
The Europe dental imaging products market is likely to experience high growth at a CAGR of 6% to reach a market size of US$ 1.3 Bn by 2032.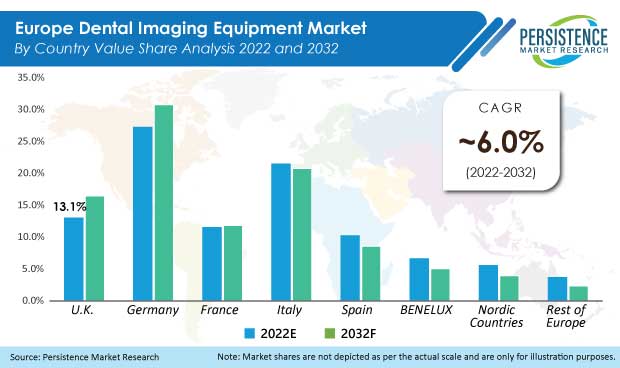 How Can Dental Imaging Equipment Manufacturers Grow Over the Coming Years?
"Leveraging Advancements in Imaging Technologies"
The introduction of several revolutionary equipment that allows dental surgeons to make better diagnoses and start treatment has a favourable impact on dental professionals' purchasing behaviour.
The Owandy radiology-invented 3D I-Max Ceph, for example, is versatile. It has 2D and 3D panoramic imaging capabilities, as well as the ability to scan impression trays for CAD CAM, and is software-compatible.
Dental practitioners are adopting these upgraded dental imaging equipment at a faster rate, providing manufacturers with more prospects for business growth.
Because of their low X-ray emissions, improved image clarity, and high image resolution, cephalometric and panoramic X-ray systems, as well as CBCT, are gaining popularity. Early detection and treatment of dental problems such as severe periodontal disease, jaw tumors, and more, will ultimately save money, time, and discomfort.
Cosmetic dentists find that using CBCT to plan and perform implants is one of the most successful ways to manage their cases, whether large and small, due to the nature of the rigorous operations they undertake. In comparison to film-based technologies, digital dental imaging gives high-resolution images and eliminates the time required to develop photos from films.
Growing call for better dental imaging products offers manufacturers several prospects for growth and development, and thus presents the Europe dental imaging equipment market with opportunistic growth prospects for the forecast period.
Can Demand for Dental Imaging Equipment in Europe Be Affected in Any Way?
"High Equipment Setup Cost and Low Lifespan Can Dent Market Expansion"
Generally, dentists use several sensors corresponding to different intraoral films based on sizes, and the expense of converting records to digital is proportional to the amount of time it takes.
Bending of radiography plates can harm phosphorus storage plates, necessitating replacement on a regular basis. As a result, high initial setup costs are a stumbling block to market growth. Because dental imaging accessories have a short lifespan, there is more expense associated with changing them frequently.
Dentists spend a lot of money to get their dental imaging systems up and running. Wired gadgets, excluding software, computers, and other hardware, are projected to be worth between US$ 11,000 and US$ 15,000.
With the associated high cost of equipment setup and maintenance, as well as the factor of low span of equipment integrity, the market for dental imaging equipment in Europe is expected to experience an impeded growth progression through the forecasted years.
Country-wise Insights
Why is the Dental Imaging Equipment Market Proliferating in Germany?
"3D Diagnostics and Navigation Systems to Pave the Way for Market Growth"
In Germany, dental imaging accounts for almost 40% of all X-ray exams. With high minor age-group population-based cases related to dental degradation associated with high consumption of tobacco products, the market for dental imaging equipment in Germany for is experiencing a rise in terms of sales.
Germany is set to account for around 30.8% of the Europe dental imaging equipment market by the end of the forecast period. This growth is associated with rising attempts in imaging technologies to adopt implant placement techniques guided by 3D imaging and navigation in the country.
Will Italy Be a Lucrative Market for Dental Imaging System Providers?
"Growing Academic Research in the Country to Aid Market Players"
Due to independent research studies conducted in Italy, the country held 21.6% share of the European dental imaging equipment market in 2021.
Cone-Beam computed tomography for oral and maxillofacial applications was introduced as a result of research activities in the country, and it, like CT, provided 3D exploration and more accurate imaging than 2D imaging.
Low cost of CBCT technology has resulted in rapid entry of the country into the field of dentistry, necessitating the dedication of dental practitioners and academics to research the technology's applications. This has displayed Italy as an upcoming, lucrative market for dental imaging equipment manufacturers in Europe.
Category-wise Insights
Which Dental Imaging Product is in High Demand across Europe?
"High Need for Enhanced Resolution for Routine Diagnostic Imaging"
Intraoral dental imaging products held around 54.3% share in the market in 2021. Intraoral and panoramic radiography, as well as 3D cone-beam computed tomography, are the most prevalent modalities for daily clinical imaging in dental medicine.
Intraoral imaging equipment experiences wider adoption in the European region owing to the efficacy of the equipment in providing clear imaging with enhanced resolution for 2D detection cavities. Intraoral dental imaging devices facilitate the precise detection of small cavity structures, and hence, see higher adoption by dental providers as compared to imaging techniques such as panoramic radiography.
Which Image Dimension is Most Preferred in Europe?
"Higher Trend of Adoption of 2D Dental Imaging in the Continent"
2D dental imaging equipment held the largest market share of 64.8% in 2021.
Adoption of 2D dental imaging technology is higher in the European region because of the usability of 2D dental imaging for cases that involve intraoral and extraoral X-rays of the mouth, teeth, jaws, and surrounding structures and tissues.
Higher cases of paediatric patients in the region lead to wider adoption of 2D dental imaging for preliminary diagnosis, thereby propelling market growth.
Why are Independent Dental Clinics Doing Well across Europe?
"Region-wide Established Independent Dental Clinical Practices"
Independent dental clinics contributed the largest share to the dental imaging equipment market in Europe at nearly 53.6% in 2021. In Europe, as well as inside the EU, oral healthcare is organized subsidiarity and independently by country states.
With the presence of a large number of established independent dental clinics throughout the European region, dental imaging equipment suppliers profit from higher prospects in terms of adoption of imaging equipment as well as coverage of dental care.
Competitive Landscape
Collaborations and launch of new products are helping key suppliers of dental imaging equipment expand their market penetration into untapped markets. Companies are also working on improving their products and services, as well as investing in research and development activities, in order to drive market penetration.
Companies offer numerous solutions in the fields of practice supply, suction, diagnostic systems, dental care, and hygiene. Technological evolution and an unmistakably customer-oriented approach are key features adopted by dental imaging equipment producers in the European market.
For instance:
Air Techniques, Inc. announced a software partnership with SICAT in March 2021. The integrated SICAT Implant Module will be offered for purchase as part of Air Techniques' VisionX software range.
Cefla announced that it reached an agreement to buy a majority position in Stern Weber Polska, its long-time partner in the distribution of Cefla Medical Equipment products in Poland, in March 2020.
Midmark Corporation, in February 2022, announced a strategic partnership with Bien-Air Dental SA to enhance their point-of-care dental services.
Europe Dental Imaging Equipment Industry Report Scope
Attribute

Details

Forecast Period

2022-2032

Historical Data Available for

2017-2021

Market Analysis

USD Million for Value

Key Countries Covered

U.K.
Germany
France
Italy
Spain
BENELUX
Nordic Countries
Rest of Europe

Key Market Segments Covered

Product
Dimension
End User
Country

Key Companies Profiled

KaVo Imaging
Carestream Health, Inc.
Dentsply Sirona
Planmeca Oy
Acteon Group
VATECH
Midmark Corporation
CEFLA
LargeV Instrument Corporation Limited
Air Techniques
DÜRR DENTAL
Trident S.r.l
Owandy Radiology
Merz Dental GmbH

Report Coverage

Market Forecast
Competition Intelligence
DROT Analysis
Market Dynamics and Challenges
Strategic Growth Initiatives

Customization & Pricing

Available upon Request
Key Segments Covered in Europe Dental Imaging Equipment Industry Research
Europe Dental Imaging Equipment Market by Product:
Intraoral Dental Imaging Equipment

Intraoral X-ray Systems

Wall/Floor Mounted Intraoral X-ray Systems
Hand-Held Intraoral X-ray Systems

Intraoral Plate Scanners
Intraoral Sensors
Intraoral Phosphor Storage Plates
Intraoral Cameras

Extraoral Dental Imaging Equipment

Extra-oral X-ray Systems

Panoramic X-ray Systems
Cephalometric Projection Systems

Extraoral Scanners

Cone-Beam Computed Tomography (CBCT) Imaging
Europe Dental Imaging Equipment Market by Dimension:
2D Dental Imaging Equipment
3D Dental Imaging Equipment
Europe Dental Imaging Equipment Market by End User:
Hospitals
Independent Dental Clinics
Ambulatory Surgical Centres
Forensic Laboratories
Europe Dental Imaging Equipment Market by Country:
U.K. Europe Dental Imaging Equipment Market
Germany Europe Dental Imaging Equipment Market
France Europe Dental Imaging Equipment Market
Italy Europe Dental Imaging Equipment Market
Spain Europe Dental Imaging Equipment Market
BENELUX Europe Dental Imaging Equipment Market
Nordic Countries Europe Dental Imaging Equipment Market
Rest of Europe Dental Imaging Equipment Market