Europe Calf Milk Replacer Market Outlook (2022-2032)
The Europe calf milk replacer market is anticipated to expand at a value CAGR of 4.1% and increase from its current size of US$ 1.54 Bn to US$ 2.3 Bn by the end of 2032. In the European region, France holds a leading share of the market, closely followed by Russia and Germany.
From 2017 to 2021, the market in the European region expanded at a CAGR of 3.1%. The early products available in the market were of variable quality due to inefficiency in casein processing. With advancements in technology and research, an increase in the value of casein and further filtration was achieved. This led to the introduction of whey-based replacers in the market.
Growing demand for animal nutrition products without the use of medications in a way that does not compromise either animal welfare or their productivity has led to the rising demand for non-medicated calf milk replacers. Non-medicated replacers have a strong foothold in the industry owing to their cost-effectiveness.
Substantial increase in the demand for food products such as milk, eggs, meat, and fish has increased the focus on better animal nutritional products. Urbanization is one of the key factors that has led to increased pressure on the livestock industry to meet the growing demand for high-value animal nutrition. This increasing consumption of animal products and livestock is a major factor contributing to the growth of the animal nutrition market.
| | |
| --- | --- |
| Europe Calf Milk Replacer Market Size (2022E) | US$ 1,542.9 Mn |
| Projected Sales of Calf Milk Replacers (2032F) | US$ 2,302.3 Mn |
| Value CAGR (2022-2032) | 4.1% |
| Value Share of Top 3 Countries (2022E) | 41.3% |
What are the Key Trends in the Market for Calf Milk Replacers in Europe?
"Growing Interest in Bovine Health Driving Consumption of Highly Nutritious Calf Milk Replacers"
For a newborn calf, it is easier to digest milk protein as compared to plant protein. Traditional methods for calf rearing placed increased focus on getting calves to eat solid feed as soon as possible to reduce the consumption of milk by the animal. Studies have shown that calves receiving proper nutrition reach maturation faster and produce a higher amount of milk in their first lactation as well.
As the calves grow older, they develop a tendency to better digest other proteins. This is due to the development of other parts of the stomach like the rumen. Other sources of milk replacers like eggs in the feed have reported varying levels of success. Soy is another alternative to using milk proteins in milk replacers, whereas, it requires further processing to make it more digestible. This is done to remove factors that can hamper the growth of the animal.
With the exponential growth of the population, there is increased focus on ramping up food production as well. This also means that more waste is generated as a byproduct of food processing. Milk is a very popular consumable and highly nutritious for human consumption. Allowing calves to feed on whole milk, therefore, cuts into the food share of the humans, and thus, overall production goes down. Calf milk replacers are often made by processing milk waste like whey, which is waste generated in cheese processing.
Since calf nutrition directly affects its future milk production capability, increasing efforts are being made to optimize its replacer feed in such a way that the calf receives proper nutrition without losses in production. Therefore, calf milk replacers are a growing market that holds huge potential for the future.
"Demand for Calf Milk Replacers Gaining Traction from Animal Husbandry Community"
Calves that are fed whole milk grow better due to their high fat and protein content (31% and 25%, respectively). With advancements in research, it has been established that replacers can successfully act as an alternative to whole milk. Replacers having a lower fat content make it easier for the calf to transition into solid starter feed. This is due to high-fat content suppressing starter intake.
A growing calf requires a different composition of feed based on its age. For calves that are less than three weeks, 20%-22% protein, i.e., all milk replacers are needed. Milk replacers often have additives in them like vitamins, minerals, and medicines such as Ionophores (lasalocid, monensin) that prevent diseases such as coccidiosis in calves. These medicines can also have a growth-promoting effect.
Knowledge of key information that can directly affect the output of an entire farm is important for farmers and businesses alike. Therefore, calf milk replacers have seen a prominent rise in the communities as well. Higher outputs as a direct correlation of nutritionally balanced milk replacers are well established by numerous publications verifying the same. Among the animal husbandry community, as well replacers are becoming increasingly popular due to the benefits associated with them.
"Farmers Taking Advantage of Calf Milk Replacers"
Farmers need to adopt a policy of weighing calves at birth and during the pre-weaning period to ensure the proper performance of their calves. Farmers invest in weighing tape or crates to ensure the monitoring of their calves on a regular basis. Pre-weaning management is essential for appropriate growth rates. The aim is to give calves an initial respiratory disease vaccine before the stress of weaning.
Calves raised across European countries are fed calf milk replacers during the liquid feeding period before weaning. Calf milk replacers provide more flexibility when it comes to nutrients and ingredient levels, which makes it easy for farmers to meet their management needs.
Microbial colonization of the animal intestine during its early life plays a vital role in gut function stimulation. This facilitates tolerance to environmental exposure and even contributes to disease development in later life. All of this is strongly influenced by the composition of the mother's milk, especially the colostrum.
The composition of milk from the parent varies and often has nutrient inconsistency, the risk for pathogen exposure as well as other numerous challenges including logistics. Thus, calf milk replacers are a viable nutrition option and are widely accepted as well. For instance, a high majority of livestock rearers in the U.K. have opted to make use of a calf milk replacer diet as an alternative to a whole-milk-based diet to reduce the risk of disease transfer from the parent livestock.
"Risks Associated with Calf Milk Replacers"
There are many concerns that milk replacer-fed calves are probably not reaching their full productive potential due to them not receiving enough energy and proteins. Furthermore, the use of medicines such as coccidiostats in calves that are less than 2—3 weeks is questionable as lasalocid is toxic if given to calves that are less than 24 hours old.
Non-dairy replacers, especially ones containing soy, have low digestibility and amino acid content. They can also cause allergic reactions in the gut tissue and decrease the amount of protein the calf receives. Diarrhea, as a result of non-dairy replacers, affects calf health and causes increased expenditure in treatment and is therefore a liability. Thus, these factors can hamper the potential market for the product.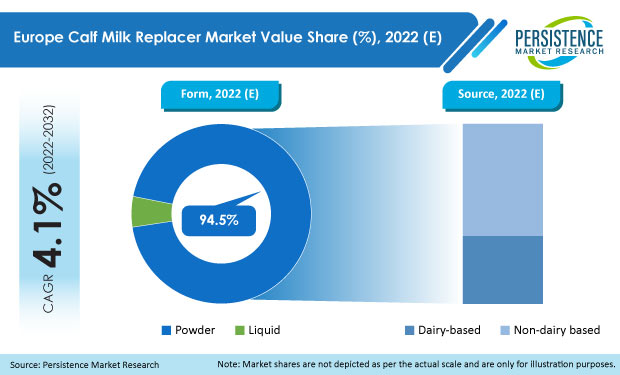 Country-wise Insights
Which European Country is a Prominent Market for Calf Milk Replacers?
In the European region, France holds a major stake in the market with a value share of around 15% in 2022.
This can be attributed to the milk-derived industry, especially cheese, which generates a lot of milk by-products that can be used for the preparation of calf milk replacers.
How is the Calf Milk Replacer Market in Germany Shaping Up?
In the European market, Germany shows the most promising and incremental growth for the forecast period and is expected to progress at a CAGR of 5%. The market value share of Germany in the European market is around 13% and is currently valued at US$ 200.3 Mn.
An important factor in the growth of the German calf milk replacer market is its advancement in technology. Advanced research combined with investments in technology and their implementation to provide high-quality goods is a factor that plays a role in Germany enjoying a significant market share in the European region.
Category-wise Insights
Which Source of Calf Milk Replacer Accounts for High Revenue Generation?
Based on source, the market for calf milk replacers is segmented into dairy-based and non-dairy based, among which, calf milk replacers are prominently obtained via dairy-based sources. The dairy-based segment is further subdivided into skim-based and whey-based segments.
The dairy-based segment holds a significant share and is expected to be valued at US$ 1.45 Bn in 2022.
Why are Sales of Powdered Calf Milk Replacers High in the European Region?
Calf milk replacers are commercially available in powder and liquid form. Among these, powdered calf milk replacers hold a major value share in the global market at 94.5% in 2022.
The powder form of calf milk replacers is easier to package, transport, and feed as compared to liquid calf milk replacers that need specialized cold storage equipment to transport and store.
Powdered milk products generally have a longer product shelf cycle as compared to their liquid counterparts. This can be the reason why a major market share is held by the powdered form.
Competitive Dashboard
Prominent companies manufacturing calf milk replacers are focused on the development of innovative value-added products. Collaborations with industry experts while optimizing raw materials is another strategy being followed. Increasing customer satisfaction means placing more focus on providing solutions and benefits while expanding precision and consultancy services. All these steps are being taken to increase their brand presence while providing consumers with an uninterrupted supply of hygienic products.
Cargill Inc. invested around US$ 50 Mn in innovation to enhance its animal facilities, which include state-of-the-art facilities for expanded dairy innovation, feed mill, and visitor spaces. To cater to the food and agriculture sector customers, Cargill has enhanced its focus on the expansion of its nutrient research and development, which is a part of its Global Innovation Center.
BEWITAL Agri GmbH & Co. KG has invested in the development of easy-to-mix and dissolvable animal feeds of high quality for easy ingestion by animals. The company strives to maintain high-performance levels while meeting nutritional demands to decrease the necessity of medications.
Europe Calf Milk Replacer Industry Report Scope
Attribute

Details

Forecast period

2022-2032

Historical data available for

2017-2021

Market analysis

USD Million for Value

Key regions covered

Europe

Key countries covered

Germany
Italy
France
U.K.
Spain
Russia
Ireland

Key market segments covered

Key companies profiled

Archer Daniels Midland Company
BEWITAL agri GmbH & Co.
Cargill, Incorporated
Dairy Manufacturers, Inc.
Denkavit Netherlands BV
FrieslandCampina N.V.
Koninklijke DSM N.V.
LACTALIS GROUP
Nutreco
ProCalf
Roquette Frères
The Calf Company
VanDrie Group
Volac International Ltd

Report coverage

Market Forecast
Company Share Analysis
Competition Intelligence
DROT Analysis
Market Dynamics and Challenges
Strategic Growth Initiatives

Customization & pricing

Available upon request
Europe Calf Milk Replacer Industry Research by Category
By Form:
By Source:
Dairy-Based
Non-Dairy-Based
By Type: