Digital Dentistry Market Outlook (2022-2032)
Worldwide revenue from the digital dentistry market was US$ 4.2 Bn in 2021, with the global market estimated to surge at a value CAGR of 13.1% to reach US$ 16.3 Bn by the end of 2032.
Overall, digital dentistry product sales accounted for 11.6% share of the global dentistry market in 2021.
| Attribute | Key Insights |
| --- | --- |
| Digital Dentistry Market Size (2022) | US$ 4.2 Bn |
| Estimated Market Value (2022) | US$ 4.8 Bn |
| Projected Market Value (2032) | US$ 16.3 Bn |
| Global Market Growth Rate (2022-2032) | 13.1% CAGR |
| Market Share of Top 5 Countries | 48.0% |
Sales Analysis of Digital Dentistry (2012 to 2021) Vs. Market Outlook (2022 to 2032)
The global market for digital dentistry expanded at a historic CAGR of 10.9% in the last 9 years (2012 to 2021).
The field of dentistry is evolving quickly as a result of the boom in data and technical tools as an effective scope of digital leveraging. Today, digital dentistry encompasses much more than computer-aided design and production. It also involves diagnosis, decision-making, treatment delivery and re-evaluation, and long-term patient oral health care.
Computer-aided design and computer-aided manufacturing (CADCAM) technology has advanced along with its uses in dentistry, including several innovative procedures employed in applications for oral rehabilitation. These methods typically differ from traditional analog approaches in terms of how impressions are taken (traditional impressions vs. intraoral scanning) or how dental restorations are created (conventional waxing and casting vs. CAD-CAM).
The use of Big Data and Internet and Communication Technologies (ICT) in the healthcare industry is growing. Similar to this, research in the area of dental medicine is looking into the possible advantages of using digital data for both, research and dental practice.
The emergence of Big Data and algorithmic analysis, the complexity and greater usage of ICT, and the development of the Internet of Things (IoT) are just a few of the interlinked phenomena that are currently having a significant impact on today's society and touching practically every aspect of our lives.
The development, storage, and gathering of computational data have increased exponentially in recent years, and an expanding number of societal sectors are being transformed by the digital revolution.
As a result, the global digital dentistry market is likely to exhibit high growth at a value CAGR of 13.1% and reach a market size of US$ 16.3 Bn by 2032.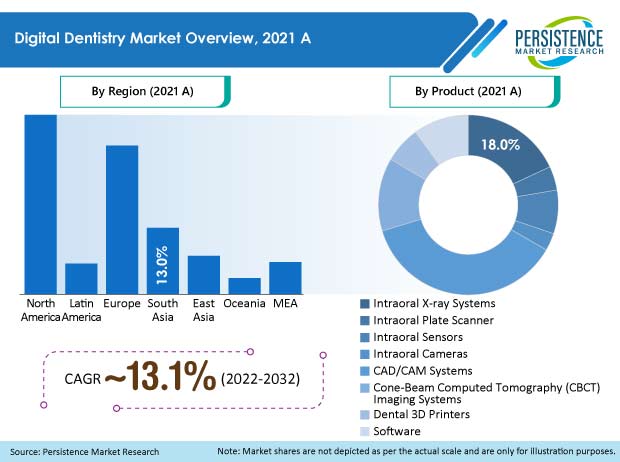 How Can Digital Dentistry Product Manufacturers Strategize?
"Digital Data, AI, & Technological Advancements for Effective Disease Assessment"
Population-based linkage of patient-level data could open up new avenues for study, such as assisting with the discovery of previously unrecognized relationships between oral diseases and new or suspected contributory factors and advancing the development of novel treatment paradigms.
Applications of artificial intelligence (AI) may improve the investigation of the relationship between oral health preventative and treatment strategies. Digital imaging could provide precise tracking of the prevalence and distribution of oral disorders to enhance the delivery of healthcare services.
Last but not least, through the use of advanced dental imaging techniques, the development of a virtual dental patient, which includes 3D con-beam computed tomography (CBCT) and 3D printed models, can be used for treatment planning simulation through the detailed assessment of clinical pre-operative factors prevalent in dental practice.
With several avenues to explore with the digitization of medical equipment and devices, the demand for digital dentistry systems is expected to surge over the coming years.
What Do Industry Players Need to Keep in Mind?
"Ethical Issues Concerning Patient Data"
One of the main obstacles to market expansion is the ethical issues surrounding mHealth and teledentistry, which is the use of telecommunications and information technology to offer dental treatment, and educate and raise awareness about oral health, remotely.
As with other Big Data technologies, data security concerns as well as patient anonymity and confidentiality place additional restrictions on the widespread adoption of digital dentistry because networked transfer through insecure means could make it easier for unauthorized third parties to access sensitive patient data.
Additionally, mHealth may affect consent for both, the patient, who may not have received adequate information about all of the dangers associated with teledentistry, and for non-consenting bystanders, whose data may be recorded by the patient's device.
In the context of data linkage in dental practices, personalized medicine, and dental schools, according to the meta analysis published in 2020 by the International Journal of Environmental Research and Public Health, analyzed articles reported how consent issues may arise regarding data usage when the student or the patient cannot be fully informed about how the collected data is used.
The market for digital dentistry thus highlights the current barriers to the adoption of technologically-advanced sources for improved digital dental workflows.
Country-wise Insights
Why is the U.S. Digital Dentistry Market Booming?
"High Adoption of Digital Workflows in the U.S."
The U.S. accounted for 81% share of the North America digital dentistry market in 2021.
Due to the adoption of services such as three-dimensional printing, which allows dentists to conveniently and accurately make high-quality material to be utilized in their treatments, the market for digital dentistry in the U.S. accounts for a high share.
Additionally, the country has adopted the use of Augmented Reality (AR), which has the potential to transform dental surgery, training, and the production of customized orthotics, as well as Virtual Reality (VR), for both, patients and dental students during treatments.
Will Germany Be a Lucrative Market for Digital Dentistry Product & Service Providers?
"High Procedural Adoption Rates in the Country"
Germany held around 26.5% share of the Europe digital dentistry market in 2021.
Germany has a significant market share in the European region due to the prevalence of numerous independent dental and clinical practices, which have turned traditional dental workflows into treatment programs with expanded digital capabilities.
Furthermore, the country has a high rate of dental procedural adoption, which translates into greater sales potential for digital dentistry devices. These factors include the availability of reimbursement for standard dental procedures and the availability of top-up insurance coverage for complex dental procedures.
Why is China Emerging as a Prominent Market for Digital Dentistry?
"Advent of Total Automation Systems in China"
China held the largest market share of 35% of the East Asia digital dentistry market in 2021.
The market for digital dentistry proposes a lucrative outlook for growth. This is factored in by the advent of automated systems replacing standard, manual procedures. In 2017, China presented a complete automated dental implant surgery with the use of a surgical robot.
Thus, with the rise in the technological wave for the complete automation of systems and their adaptive adoption in the country, China will be a prominent market for digital dentistry product providers.
Category-wise Insights
Which Product is Driving High Growth of the Digital Dentistry Market?
"Market Benefiting from Cost-effective Production of Implants & Prosthetics"
The CAD/CAM systems segment held around 37% share of the overall digital dentistry market in 2021.
The production of small dental implants and prosthetics benefits from the potential cost, labor, and time savings offered with the utilization of CAD/CAM technology. As such, during the projected years of study, this segment is expected to display a highly positive growth outlook.
Which End User Setting Accounts for Greater Adoption of Digital Dentistry Products?
"Data Accessibility Across all Sectors in Healthcare"
Hospitals accounted for a large share of 36% with a market value of around US$ 1.5 Bn in 2021.
The adoption of digital dentistry in hospital settings has observed a steep rise. This is due to the associated benefits of digital workflows in general medical practice for disease diagnosis.
With the emergence of electronic health records and cloud storage of data, hospital settings display a greater adoption of digital dentistry when compared to other end users, owing to the adaptability of software-based products into all sectors of medical practice.
Competitive Landscape
The market for digital dentistry is highly competitive. Key players present novel product features with customized and targeted end use. Moreover, with competitive pricing, buyers have a range of product options to select from for optimized use within medical settings.
To differentiate amongst the available product offerings, key players are converging their services with cloud-based solutions through networking with providers in the big data space. Moreover, manufacturers are increasingly setting up collaborative activities to enhance their product reach.
For instance:
In February 2022, Dentsply Sirona introduced innovations to significantly enhance digital workflows with benefits for dentists, dental labs, and patients, through a collaboration with Google cloud and the launch of a medical-grade 3D printing solution.
In January 2019, ORCA Planmeca Oy partnered with Dental AI for building three AI engines for orthodontics, implants, and diagnostics.
In March 2022, Zimmer Biomet announced the completion of ZimVie spinoff of the company's spine and dental businesses to form a new and independent, publicly traded company.
In June 2022, Formlabs launched the dental academy, a new hub for professional education and training in dental 3D printing.
Digital Dentistry Industry Report Scope
Attribute
Details

Forecast Period

2022-2032

Historical Data Available for

2012-2021

Market Analysis

USD Million for Value

Key Countries Covered

U.S.
Canada
Brazil
Argentina
Mexico
Germany
France
U.K.
Italy
Spain
Russia
BENELUX
India
Thailand
Malaysia
Indonesia
China
Japan
South Korea
Australia
New Zealand
Turkey
GCC
Northern Africa
South Africa

Key Market Segments Covered

Key Companies Profiled

3D Systems, Inc.,
Asiga
BEGO GmbH & Co. KG
BIOLASE, Inc.
Carestream Dental LLC.
Dentsply Sirona
Formlabs, Inc.
imes-icore GmbH
Institut Straumann AG
Planmeca Oy
Roland DG Corporation
SprintRay, Inc.
Stratasys Ltd.
VITA North America
Zimmer Biomet Holdings, Inc.

Report Coverage

Market Forecast
Competition Intelligence
DROT Analysis
Market Dynamics and Challenges
Strategic Growth Initiatives

Customization & Pricing

Available upon Request
Key Segments Covered in Digital Dentistry Industry Research
Digital Dentistry Market by Product:
Intraoral X-ray Systems
Intraoral Plate Scanners
Intraoral Sensors
Intraoral Cameras
CAD/CAM Systems
Cone-Beam Computed Tomography (CBCT) Imaging Systems
Dental 3D Printers
Software
Digital Dentistry Market by End User:
Hospitals
Speciality Clinics
Ambulatory Surgical Centers
Dental Laboratories
Digital Dentistry Market by Region:
North America Digital Dentistry Market
Latin America Digital Dentistry Market
Europe Digital Dentistry Market
South Asia Digital Dentistry Market
East Asia Digital Dentistry Market
Oceania Digital Dentistry Market
The Middle East & Africa Digital Dentistry Market