Detergent Alcohol Market Outlook (2022-2032)
The global detergent alcohol market is currently valued at US$ 6.27 Bn, after registering Y-o-Y growth of 5%. Sales of detergent alcohol are projected to increase at a CAGR of 5.2% and reach US$ 10.36 Bn by the end of 2032.
East Asia and North America will be key regional markets for detergent alcohol manufacturers owing to rapidly rising consumption in China and the U.S. Revenue from detergent alcohol sales is anticipated to account for 5%-8% share of the global detergent market.
| | |
| --- | --- |
| Detergent Alcohol Market Size (2021A) | US$ 6 Bn |
| Market Estimation (2022E) | US$ 6.27 Bn |
| Market Forecast (2032F) | US$ 10.36 Bn |
| Value CAGR (2022-2032) | 5.2% |
| Collective Value Share: Top 3 Countries (2022E) | 56% |
Consumption Analysis of Detergent Alcohol (2017 to 2021) Vs. Market Outlook (2022 to 2032)
In the past few years, the worldwide market for detergent alcohol exhibited year-over-year growth of 3.9% to 4.2%. High demand for household detergents and industrial cleaners has resulted in substantial consumption of detergent alcohol across the world. The market has been majorly influenced by the increasing population, growth of the pharmaceutical sector, and demand growth for beauty & personal care products.
Increasing consumer awareness and preference toward sustainable products has resulted in high market growth, which will reflect 5.2% CAGR between 2022 and 2032 on a value basis. The market was impacted by the emergence of the COVID-19 pandemic in 2020, which affected the demand for detergent alcohol to be used in the production of industrial cleaners, plastic & polymers, and several other products.
Moreover, the prices of detergent alcohol have continued to rise owing to the significant scarcity of palm oil feedstock in the global market. Even though Indonesia lifted the export prohibition on palm oil in June, raw material supplies were constrained due to Asia's continued container shortages.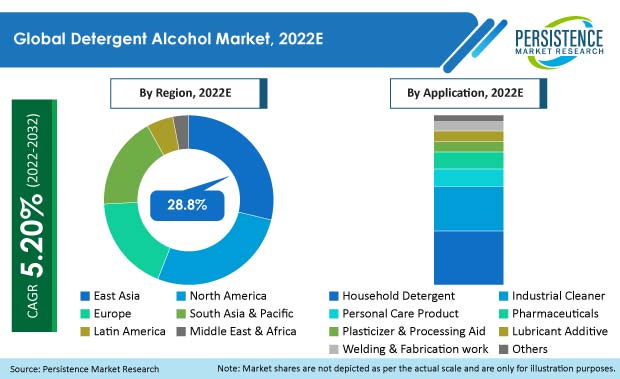 How is Increasing Consumption of Household Detergents Bolstering Demand for Detergent Alcohol?
Consumption of household detergents is witnessing a rapid rise, which has driven high demand for detergent alcohol. Detergent alcohol is used as raw material for the production of detergents and surfactants. Increasing capital spending on household cleaning products due to rising concerns regarding hygienic living and health has indirectly surged the demand for detergent alcohol.
Shift in the consumer trend toward fragrance detergents has created an ample amount of opportunity for manufacturers to develop new products. Detergent alcohol possesses the property to clean hard surfaces and hazardous locations. Approximately one-third of detergent alcohol in the world is consumed for household detergent production.
Is Shifting Consumer Trend toward Bio-based Products Aiding Consumption Growth of Detergent Alcohol?
The growing popularity of cosmetics and personal care products made with natural and organic ingredients is anticipated to fuel the market for detergent alcohol as well. The market for bio-based ingredients in cosmetics and personal care products is anticipated to benefit from increased research and development spending, technological breakthroughs in ingredient processing, and cost-effective manufacturing methods.
Growing preference for biodegradable and organic content is projected to create a significant increase in the demand for bio-based detergent alcohols in the personal care industry. Additionally, the accessibility of raw materials and the rising demand for soaps, shampoos, and shower gels will play a vital role in the industry's growth.
The usage of detergent alcohol in personal care products is predicted to be primarily driven by the need to use biodegradable and organic components.
Will Fluctuating Raw Material Prices Affect Market Growth for Detergent Alcohol?
The volatility of raw material prices, as well as the availability of product replacements, are potential restrictions on the growth of the detergent alcohol market.
The position of end-use industries has been exacerbated as a result of the recent export restrictions on palm oil from Indonesia, the top exporter in the world. Taking into account the perspective of the entire industry, detergent alcohol prices grew in North America as a result of rising upstream palm oil costs, while raw material prices increased in Asia Pacific as a result of a chronic container shortage.
Furthermore, the widespread use of personal care products such as shampoos and detergents around the world has supported downstream surfactant demand patterns. This has had a direct impact on the manufacturing of detergent alcohol, as well as its prices, which are determined by the market's numerous sectors.
Country-wise Analysis
What is the Consumption Outlook of Detergent Alcohol in China?
China is the world's most populous country and continues to grow. The Chinese personal care industry is one of the largest in the world, and usage of detergent alcohol soaps, shampoos, shower gels, and so on will continue to grow. China is the world's largest consumer of soaps and detergents. This will drive the market demand for alcohol detergents.
Global detergent alcohol consumption and production are anticipated to be dominated by China. Detergent alcohol usage has increased as a result of the country's significant production of industrial and home cleaners.
Each year, China is expected to manufacture 609 million tons of detergent alcohol, whereas, the demand for detergent alcohol in the country is around 648.6 million tons.
There is an opportunity to meet this high demand for detergent alcohol in the Chinese market due to the growing popularity of concentrated liquid and liquid table detergents as opposed to powder detergents due to their superior cleaning abilities and ability to promote healthy skin.
Why is the U.S. a Key Market for Detergent Alcohol Suppliers?
The biggest market in North America for laundry detergents is the U.S. The United States is anticipated to hold 81% share of the detergent alcohol market in North America.
Exports of medical technology from the United States have continuously outperformed imports, resulting in a significant amount trade surplus. The United States is a major user of medical supplies. Pharmaceutical detergents and cleaners are widely consumed owing to this reason.
One of the primary reasons propelling the U.S. detergent alcohol market is rising consumer awareness about the negative environmental effects of petroleum-based products, which has driven the demand for natural detergent alcohol.
Category-wise Insights
Which Raw Material is Extensively Used to Produce Detergent Alcohol?
Global concerns about the negative environmental effects of petroleum-based products have spurred the demand for environment-friendly alternatives. Growing consumer preference for bio-based products has compelled producers to adopt environment-beneficial products.
Natural detergent alcohols are derived from bio-based products, which are typically made from kernels, coconuts, and mustard seed oils, and are less toxic and recyclable than other alternatives. Additionally, the ease of access to raw materials, combined with the increasing use of soaps, shampoos, and shower gels, acts as a significant contributor to the demand growth for natural detergent alcohol, as it is a common ingredient in many cosmetics and beauty products. It acts as an anti-foaming agent and is biodegradable and organic.
Growing awareness about the importance of sustainability has increased the demand for organic and biodegradable detergent alcohol, particularly in personal care goods. The segment is set to evolve at a significant CAGR of 5.3% over the decade.
Which Application of Detergent Alcohol Will Bring in the Most Revenue?
The COVID-19 pandemic increased the significance of cleaning and disinfection procedures in commercial settings, public spaces, and government institutions. This fuelled the market for industrial cleaners and producers scrambled to meet the extraordinary demand for cleaners.
Industrial cleaners are widely used in a variety of industries, including the oil & gas, petrochemical, food & beverage, chemical, sugar, textile, and other manufacturing sectors.
The industrial cleaners segment is considered to be prominent with high market attractiveness. The segment is predicted to offer an incremental dollar opportunity of US$ 1.1 Bn by 2032.
Competitive Landscape
Key detergent alcohol suppliers are focusing on expanding their production facilities to meet the growing demand from end users. Also, to increase their market stance and consumer base, they are acquiring other market players. Several manufacturers have increased the prices of their detergent alcohol-based products.
Some of the key developments are:
In April 2022, Emery Oleochemicals announced a price increase for its EMEROX® Polyols product line by up to 15%.
In May 2022, Kao Corporation announced that it will establish a new tertiary amine plant in Texas. This new plant is scheduled to start operations by 2025, and the annual production capacity of the plant will be 20,000 tons. Tertiary amines will be used in fatty alcohols for the manufacturing of hair conditioners, dishwashing detergents, etc.
In February 2021, Sasol Chemicals signed an agreement with Univar Solutions for the distribution of its chemical business of alcohols and surfactants for the personal care product market.
Similarly, other key developments related to companies manufacturing detergent alcohol have been tracked by the team at Persistence Market Research, which are available in the full report.
Detergent Alcohol Industry Report Scope
Attribute

Details

Forecast Period

2022-2032

Historical Data Available for

2017-2021

Market Analysis

US$ Mn for Value
Kilo Tons for Volume

Key Regions Covered

North America
Latin America
Europe
East Asia
South Asia & Pacific
The Middle East and Africa

Key Countries Covered

U.S.
Canada
Brazil
Mexico
Germany
U.K.
France
Italy
Spain
Russia
China
Japan
South Korea
India
ASEAN
Australia and New Zealand
GCC Countries
Turkey
Northern Africa
South Africa

Key Market Segments Covered

Raw Material
Application
Region

Key Companies Profiled

Sasol Limited
Kao Corporation
Ecogreen Oleochemicals
Musim Mas Holdings
Emery Oleochemicals
Univar Solutions Inc.
Kepong Berhad (KLK) Oleo
Wilmar International Ltd
Royal Dutch Shell plc
BASF SE
SABIC
Godrej Industries
Procter & Gamble

Pricing

Available upon Request
Key Segments in Detergent Alcohol Industry Research
Detergent Alcohol Market by Raw Material:
Natural Detergent Alcohol
Synthetic Detergent Alcohol
Detergent Alcohol Market by Application:
Household Detergents
Industrial Cleaners
Lubricant Additives
Welding & Fabrication Work
Personal Care Products
Plasticizer And Processing Aids
Pharmaceuticals
Others
Detergent Alcohol Market by Region:
North America Detergent Alcohol Market
Latin America Detergent Alcohol Market
Europe Detergent Alcohol Market
East Asia Detergent Alcohol Market
South Asia & Pacific Detergent Alcohol Market
Middle East & Africa Detergent Alcohol Market