Introduction
Increasing demand for frozen food, bakery products, and packaged food products is driving the demand for commercial refrigeration equipment. Moreover, in an effort to decrease carbon footprints, the manufacturers are focusing on developing commercial refrigeration equipment that consumes less or limited amount of energy.
The U.S. Department of Energy and Environmental Protection Agency have also introduced new regulations and standards for commercial refrigeration with the focus on energy efficiency and minimizing its impact on the environment. Hence, in order to comply with the new regulations, companies are investing in the development of new refrigeration system with advanced technology.
Some of the manufacturers are also redesigning the products to comply with new standards. Manufacturers are also sourcing new materials and are pursuing new safety certifications to offer a sustainable product.
Supermarkets being the most energy-intensive retail businesses, with most of their load of electricity on refrigeration system are looking for commercial refrigeration equipment that can help them to save a lot on the power consumption. With advancement in technologies, companies are moving towards introducing smart refrigeration system equipped with sensors.
These sensors help in controlling the temperature and also provides temperature monitoring of refrigeration units. Low-power wireless solutions are also being developed, eliminating the cost of inaccurate and manual monitoring of refrigerator units.
Persistence Market Research anticipates the global commercial refrigeration equipment to experience a steady growth throughout the forecast period from 2017 to 2026. The global commercial refrigeration equipment market is also projected to be valued at the US$ 45,913.5 Million revenue towards the end of the forecast period.
Refrigerator and Freezer to Emerge as the Highly Preferred Product in the Global Market for Commercial Refrigeration Equipment
Refrigerator and freezer is likely to be the most preferred product in the commercial refrigeration equipment. The sales of refrigerator and freezer as compared to other products is likely to be high by the end of 2026. Refrigerator and freezer have various types including walk-in, reach-in and chest. Among these walk in and reach in refrigerator and freezer are expected to witness increased demand.
Owing to the increasing number of food manufacturers, producing food products that need to be stored at a certain level of temperature, the reach-in and walk-in freezers and refrigerators are being deployed.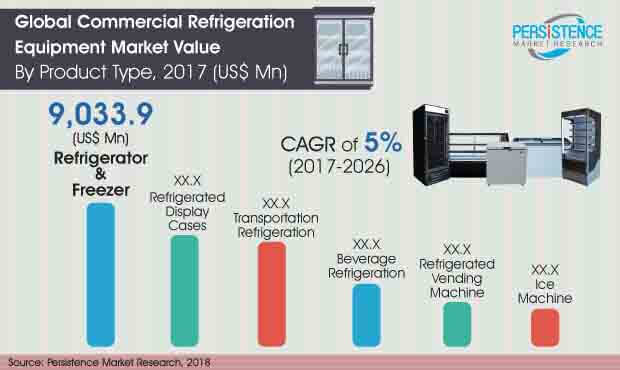 Manufacturers of walk-in refrigerators are focusing on building customized walk-in refrigerators as per the need and convenience of the end user. Moreover, customers are also opting for customized units for a specific purpose. Some of the companies are also developing walk-in refrigerators with or without an insulated floor.
Refrigerators and freezers equipped with touchscreen interface are also being developed to offer better control. In-built safety sensors are also being included in the refrigeration system to eliminate any damage in case of disruption.
The Rise in Mergers and Acquisitions
The global market for commercial refrigeration equipment is witnessing a growth in the mergers and acquisitions. As companies are competing to gain maximum market share.
Big players in the market have started to enter into a strategic alliance with the regional and small companies, in order to establish themselves in the market. Moreover, new entrants are also coming up with innovative technologies in the commercial refrigeration equipment market. This is also one of the reasons for the growth in mergers and acquisitions.
- Companies Covered in This Report -
Standex International Corporation
Lennox International Inc.
Daikin Industries, Ltd.
Illinois Tool Works Inc.
AHT Cooling Systems GmbH
Whirlpool Corporation
United Technologies Corporation
Manitowoc Company, Inc.
Panasonic Corporation
Qingdao Haier Co. Ltd.
Fujimak Corporation
Hoshizaki Corporation
Electrolux AB
Dover Corporation
Ingersoll-Rand PLC
Otherts