Commercial Aquaculture Vaccines Market
Global Market Study on Commercial Aquaculture Vaccines: Industry Proliferating on Back of Rising Prevalence of Bacterial & Viral Infections in Aquaculture Species
Commercial Aquaculture Vaccines Market Segmented By DNA, Subunit, Attenuated, Inactivated Vaccines with Carp, Turbot, Salmon, Tilapia, Trout, Sea, Bass, Bream Spices of Bacteria, Virus Pathogen
Commercial Aquaculture Vaccines Market
About the Report
Aquaculture has been recognized as the fastest-growing food production sector worldwide. An extensive production of aquatic species has led to variance of optimal culture conditions, which have showed increased susceptibility to infectious / viral diseases, boosting demand for commercial aquaculture vaccines. Increased incidence of bacterial diseases and zoonotic infections is a major obstacle successful fish aquaculture farming. Commercial aquaculture vaccines have proven better to be an alternative to antibiotics for use in fish aquaculture farming, as antibiotic treatments have attracted a lot of concerns due to adverse effects such as bacterial drug resistance, toxicity, and traces of antibiotic residue in aquaculture food. Additionally, increasing global fish consumption and rising prevalence of bacterial infections among aquatic species are also upscaling adoption of fish commercial aquaculture vaccines. It also details why fish farming companies hold a dominant share in this market space. Persistence Market Research, in its latest research report, tracks global sales of commercial aquaculture vaccines in 20+ high-growth markets, where Europe is a leading region.
Unique growth factors have been analyzed in detail, while a comprehensive assessment of some of the key challenges for commercial aquaculture vaccines have also been discussed.
Find Out More about the Report Coverage
Companies
Merck & Co. Inc.
Novartis Pharmaceuticals Canada inc
HIPRA
Elanco
AQUATRECK ANIMAL HEALTH S.L.
MSD Animal Health
Zoetis LLC
Centrovet Laboratories inc.
Intervet-International BV
Historical Growth Vs Future Outlook
Commercial aquaculture vaccines are approved vaccines that induce a protective immune response in aquatic animals. Increased aquaculture production and long-term aquaculture cultivation have led to the decline of aquaculture farming, contributing to increase in zoonotic infections. Recently, rising prevalence of disease profiling among aquatic species has become more complex due to increased frequencies of infections and emerging diseases, which results in severe economic losses, and this trend is projected to surge demand for commercial aquaculture vaccines, globally. This scenario has forced a paradigm shift of disease management in aquaculture production. In other words, fish commercial aquaculture vaccines are being developed and commercialized to reduce the adverse effects raised by antibiotics, prevent diseases, and produce safer food, as well as improve external factors such as farming environment quality. For instance, according to recent studies, Norway has contributed to a significant reduction in the consumption of antibiotics in aquaculture farms by increasing the utilization of commercial aquaculture vaccines in salmon aquaculture farming. According to the 2020 CSARP report, Chile-farmed salmon observed declination of around 30 percent antibiotic usage from 2017 to 2019
Customize this Report
Explore Intelligence Tailored to Your Business Goals.
According to our analysis, commercial aquaculture vaccine sales are projected to grow at close to 7% CAGR from 2020 to 2030.
A slew of new aquaculture vaccines was launched for the management of zoonotic infection or disease profiling among the aquatic species over the last decade, and currently, more developments and advancements are underway. The veterinary healthcare industry is witnessing increased demand for aquaculture vaccines in tropical and sub-tropical regions. Development of resistance to various antibiotics and chemotherapeutic agents is contributing to increased demand for vaccines.
Development and commercialization of third-generation DNA vaccines against aquatic pathogens is an emerging research & development activity in the commercial aquaculture vaccines market. DNA vaccines are considered highly effective with long-term immune protection. In addition, DNA commercial aquaculture vaccines are safer as per scientific evidence, and are more stable.
Market Research Methodology - Perfected through Years of Diligence
A key factor for our unrivaled market research accuracy is our expert- and data-driven research methodologies. We combine an eclectic mix of experience, analytics, machine learning, and data science to develop research methodologies that result in a multi-dimensional, yet realistic analysis of a market.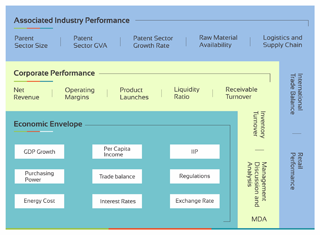 Why is COVID-19 a Long-term Opportunity for Commercial Aquaculture Vaccines?
Majority of the global population depends on animals as a food source. The COVID-19 pandemic has increased awareness about healthy animal sourced food, owing to risk of pathogen transmission from animal food. This rising awareness is expected to increase demand for pathogen-free fish production.
In addition, leading commercial aquaculture vaccine manufacturers are actively contributing to combatting the pandemic outbreak by entering into COVID-19 vaccine development and commercialization. For instance, in 2020, HIPRA initiated to contribute and fight against the COVID-19 outbreak; the company has actively contributed toward human health with its research and manufacture of a COVID-19 vaccine.
Explore Persistence Market Research's expertise in promulgation of the business !
Why Does Intraperitoneal Route of Administration Remain the Standard?
Most of the existing commercial aquaculture vaccines are presented in the form of oil-based emulsions that can be delivered by the intraperitoneal route, owing to its precise dose and long-duration immunization effect against zoonotic diseases. In addition, intraperitoneal commercial aquaculture vaccine administration ensure immunization of individual fish, with certainty of fish farm protection.
However, they can be associated with clinically significant side effects such as melanisation and adhesions. Thus, to avoid major side effects of commercial aquaculture vaccines and reduce tolerability and physiological adverse effects, novel adjuvant vaccines are developed. As per various scientific studies, adjuvants combined with immunogens are effective enhancers of immune response in fish.
For instance, in 2018, HIPRA launched intraperitoneal ICTHIOVAC® VR/PD (vaccine against vibriosis and pasteurellosis in sea bass) in Spain, Italy, Portugal, France, and Tunisia.
What is the Regulatory Impact on Global Sales of Commercial Aquaculture Vaccines?
Majority of countries have their regulatory agencies and processes for commercial aquaculture vaccine product approval. Multiple approval requirements from each country is considered to be a significant hurdle in the rapid commercialization of commercial aquaculture vaccines. Commercial aquaculture vaccine companies have to wait long for regulatory approvals before they begin distribution of their products, as the process is pretty complex. Such a scenario is expected to slow down the growth of the commercial aquaculture vaccines market.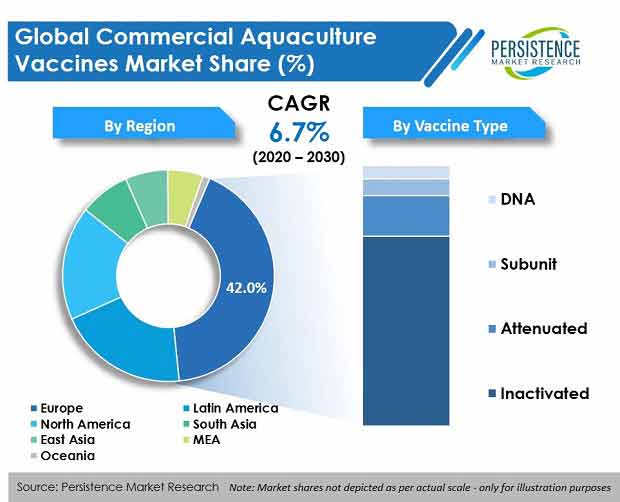 Country-wise Insights
How Big is the Opportunity for Commercial Aquaculture Vaccines in Norway?
Persistence Market Research has projected Europe to remain one of the most lucrative markets for commercial aquaculture vaccines throughout the forecast period. One of the key components supporting development is growing aquaculture production in the region and high demand for antibiotic-free fish food. Norway is becoming a reliable quality supplier of antibiotic-free fish food to developed countries across North America and Europe. Along with government support, fish farming companies in Norway are growing at a rapid pace and using commercial aquaculture vaccines as an alternative to antibiotic use.
Furthermore, Norway remains one of the largest markets for commercial aquaculture vaccines in the world, which invariably makes it a lucrative pocket for vaccine manufacturers. Favorable insurance policies coupled with high per capita spending, presence of leading manufacturers, and largest aquaculture production have created a conducive environment for the adoption of commercial aquaculture vaccines in the country.
Category-wise Insights
Why are Iimmersion & Oral Delivery Routes becoming Popular?
Intraperitoneal vaccination is more effective and widely used in commercial aquaculture vaccines due to its efficacy and safety. But a major drawback of the intraperitoneal route of administration is time-consuming vaccination procedures, labor-intensive processes, and consequently expensive to administer to a large number of animals. During injection, stress may adversely affect the ability of the fish to produce an immune response.
Oral delivery and immersion delivery are potential methods of vaccination. The advantage in both these techniques is that a large number of fish can be vaccinated simultaneously. Although oral delivery has the limitation of providing less effective immunity, it can be regularized by giving a large dose to the fish.
For instances, in November 2019, MSD Animal Health launched the AQUAVAC® Strep Sa-Si injectable and dip immersion vaccine against Streptococcis in fish in Latin America. This is expected to lead to the launch of other immersion commercial aquaculture vaccines in future.
Which Aquaculture Vaccines are Costly?
Current advances in vaccines and vaccinology offer valuable opportunities by developing complex formulations, but this requires high manufacturing cost. Some commercial aquaculture vaccines are developed by complex procedures. These vaccines are prepared either by combining two or more products or by combing two or four vaccines to develop one efficient vaccine. Complex manufacturing procedures for commercial aquaculture vaccines results in their high cost.
For instance, Clynav, a DNA commercial aquaculture vaccine utilized for PD treatment, is twice as expensive as another PD vaccine, and costs close to 0.47 US$ per dose.
Besides, Asian countries majorly avoid commercial aquaculture vaccine administration due to costly vaccination procedures and availability of alternative cheap antibiotic options.
Why Does Salmon Hold the Highest Share in Production of Commercial Aquaculture Vaccines?
Salmon hold more than 40% of the market share of commercial aquaculture vaccines, owing to increased salmon fish demand in developed nations. In addition, major vaccination countries such as Norway and Chile prefer salmon species for aquaculture farming.
For instance, according to the Institute of Food and Agriculture Sciences (IFAS) studies, commercial aquaculture vaccines have been used in food fish, particularly in the salmon industry, for approximately 30 years, and is one of the main reasons behind the success of salmon aquaculture farming and production.
According to the Food and Agriculture Organization of the United Nations (FAO) 2018 data, total consumption of Atlantic Salmon was around 2.2 MT. Total salmonids (farmed and wild) were found to be around 3.2.
What Makes Inactivated Vaccines Highly Sought-after?
Accounting for more than 60% of overall share, inactivated vaccines continue to dominate the commercial aquaculture vaccines market. Demand for inactivated vaccines has surged owing to their efficacy, safety, and stability, which help decrease adverse effects in aquatic animals after immunization. Inactivated commercial aquaculture vaccines do not persist within the environment or in the vaccinated fish, so they are found to be safe and effective for immunization.
Competitive Landscape
Companies operating in the commercial aquaculture vaccines market are aiming at strategic acquisitions of new innovative companies and collaborations within the value chain. Leading vaccine manufacturers are extensively focusing on the problems faced by aquaculture farmers and addressing their needs of sustainable fish aquaculture farming through the launch of effective and convenient-to-use commercial aquaculture vaccines. These strategies are expected to help them expand their sales footprints in the commercial aquaculture vaccines industry, worldwide.
Besides aiming at a competitive advantage, leading players are also focusing on expanding their sales footprints through the acquisition of localized players. For instance, in June 2020, Elanco acquired Bayer Animal Health (US$ 5.17 Bn deal), and become the world's second-largest animal health company. This acquisition is expected to strengthen and accelerate the company's innovation, portfolio, and product strategy in the commercial aquaculture vaccines space.
Some of the leading companies operating in the commercial aquaculture vaccines market are:
Zoetis LLC
Merck & Co. Inc. (MSD Animal Health)
Laboratorios Hipra, S. A.
Elanco Animal Health Inc.
Veterquimica S. A.
Ictyogroup
Tecnovax
Nisseiken Co., Ltd.
*The list is not exhaustive, and only for representational purposes. Full competitive intelligence with SWOT analysis available in the report.
Scope of Report
Attribute

Details

Forecast Period

2020-2030

Historical Data Available for

2015-2020

Market Analysis

USD Million for Value

Key Regions Covered

North America, Latin America, Europe, East Asia, South Asia, Oceania, and the Middle East & Africa

Key Countries Covered

US, Canada, Chile, Ecuador, Mexico, Peru, Argentina, Norway, Germany, U.K., France, Italy, Spain, Russia, Greece, Farroes, China, Japan, South Korea, India, Indonesia, Vietnam, Bangladesh, Thailand, Philippines, Cambodia, Malaysia, Laos, Australia, New Zealand, South Africa, Egypt, Iran, Turkey, Nigeria, GCC Countries, and Uganda

Key Segments Covered

Vaccine Type, Species, Pathogen, Route of Administration, End User, and Region

Key Companies Profiled

Zoetis LLC
Merck & Co. Inc. (MSD Animal Health)
Laboratorios Hipra, S. A.
Elanco Animal Health Inc.
Veterquimica S. A.
Ictyogroup
Tecnovax
Nisseiken Co., Ltd.

Report Coverage

Market Forecast, Brand Share Analysis, Competition Intelligence, DROT Analysis, Market Dynamics and Challenges, and Strategic Growth Initiatives

Customization & Pricing

Available upon Request
Commercial Aquaculture Vaccines Market by Category
Vaccine Type
DNA
Subunit
Attenuated
Inactivated
Species
Carp
Turbot
Salmon
Tilapia
Trout
Sea Bass
Bream
Others
Pathogen
Route of Administration
Intra muscular
Intra peritoneal
Immersion
Oral
End User
Fish Farming companies
Fish veterinary clinics
Aquatic research institute
Region
North America
Latin America
Europe
East Asia
South Asia
Oceania
Middle East and Africa (MEA)
Key Questions Answered in Report
Q1. Which is the most lucrative market for commercial aquaculture vaccines?
Norway currently leads the global market for commercial aquaculture vaccines. Sales in Norway will be over 35% of total market share throughout the forecast period.
Q2. Which is the most commonly-used aquaculture vaccine?
Inactivated vaccines are highly sought-after in every market. Demand for these vaccines is expected to remain high in the near future, especially due to their safety and efficacy.
Q3. Which aquatic species is driving sales of commercial aquaculture vaccines?
Salmon species accounts for the largest share, and will remain the most lucrative in the near future. For instance, according to global aquaculture report, Norway is the main producer of Atlantic Salmon, estimated to have a production of around 1.3 Mn MT in 2019.
Q4. Which is the most suitable route of administration to immunize fish?
The intraperitoneal route is the most suitable route of administration to immunize fish, due to high immune response, low stress, and less side effects, post-vaccination.
Q5. Which end user is driving sales of commercial aquaculture vaccines?
Fish farming companies remains the most lucrative in the end user segment, owing to high production volumes of aquaculture fish by these companies, and adoption of scientific & sustainable methods for diseases control.
Q6. Which are some of the leading companies offering commercial aquaculture vaccines?
Some of the leading companies offering commercial aquaculture vaccines are Zoetis LLC, Merck & Co. Inc. (MSD Animal Health), Laboratorios Hipra, S. A., Elanco Animal Health Inc., Veterquimica S. A., Ictyogroup, Tecnovax, and Nisseiken Co., Ltd. , among others.
Our Clients