Cold Insulation Materials Market Outlook (2022-2032)
Newly released data on the cold insulation materials market shows that global sales are valued at US$ 6.92 Bn for 2022, with the market having registered Y-o-Y growth of approximately 6%. Worldwide demand for cold insulation materials is projected to increase at 6.2% CAGR and reach US$ 12.65 Bn by the end of 2032.
East Asia & North America are expected to remain key regional markets for cold insulation material suppliers, expanding at CAGRs of 6.8% and 6.1%, respectively, over the decade.
| Report Attribute | Details |
| --- | --- |
| Cold Insulation Materials Market Size (2021A) | US$ 6.52 Bn |
| Market Estimation (2022E) | US$ 6.92 Bn |
| Market Forecast (2032F) | US$ 12.65 Bn |
| Value CAGR (2022-2032) | 6.2 % |
| Collective Value Share: Top 3 Countries (2022E) | 48.2% |
Consumption Analysis of Cold Insulation Materials (2017 to 2021) Vs. Market Forecasts (2022 to 2032)
Insulation materials are materials or combinations of two or more materials that can be used to prevent heat gain or loss and thus conserve energy. Cold insulation is typically used at temperatures ranging from -275°C to 15°C.
Cold insulation materials are used in a variety of applications such as refrigeration, HVAC, oil & gas, and chemicals. Demand for various types of cold insulation materials has increased as industrialization has expanded, particularly in the Automotive HVAC and refrigeration sectors. Thus, the market witnessed a growth rate of 2.9% between 2017 and 2021.
The global cold insulation materials market is expected to grow rapidly during the forecast period due to the increasing importance of energy efficiency as energy costs rise over the coming years. Rising concerns about greenhouse gas emissions are anticipated to fuel market growth during the forecast period. Government assistance to improve the energy efficiency of public infrastructure will aid market expansion. As such, the market is expected to exhibit a CAGR of 6.2% through 2032.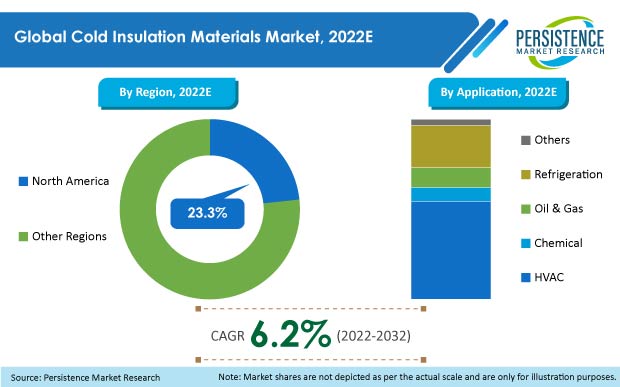 What are the Key Growth Factors for the Cold Insulation Materials Market?
"Government Support and Rising Demand for Cryogenic Insulation Materials"
In the cold insulation materials market, various factors are involved. Among them, support of the government is one of the key factors. Governments play a major role through the implementation of legislation that promotes the use of cold insulation materials.
Demand for cold insulation materials such as phenolic foams, fiberglass, polystyrene foams, and polyurethane foams is anticipated to increase in tandem with rising disposable income and growing demand for air conditioning tools and refrigeration equipment in emerging markets. The oil & gas industry's rising need for cryogenic equipment is anticipated to fuel the demand for cryogenic insulation materials, which is anticipated to boost global market growth.
Throughout the forecast period, increasing R&D by companies to create insulation materials using sustainable raw material sources is anticipated to present lucrative opportunities to market players.
What's Denting Demand Growth for Cold Insulation Materials?
"High Initial Investment and Lack of Quality Control"
In the market for cold insulation materials, cost is one of the crucial factors that may hamper market growth. A majority of cold insulation material suppliers are heavily investing in developing countries to capitalize on cheap labor and acquire better raw materials. However, the business is distinguished by substantially high investment costs and raw material prices, causing initial investments to skyrocket.
Furthermore, a lack of quality control, which contributes to poor quality standards in emerging economies, limits market growth potential, particularly in developing countries. Introducing low-impact cold insulation materials is an expensive practice that restricts the expansion of smaller companies in emerging cold insulation markets.
However, awareness of environmental issues is notably high in developed regions, which raises the growth potential for market participants in cold insulation.
Country-wise Analysis
What is the Consumption Outlook of Cold Insulation Materials in the U.S.?
North America is a major consumer of cutting-edge materials that are frequently used to increase operational efficiency and give end users better control over all their processes. An increasing number of stakeholders in the global cold insulation market are seeing lucrative opportunities in the region, especially in the United States.
One of the main factors that will keep creating new opportunities for market participants in the United States for cold insulation materials is the country's high level of demand for novel materials that can reduce the environmental impact of various industrial activities.
Government initiatives to increase the energy efficiency of public infrastructure are expected to drive the market in the United States. The presence of a large number of thermal insulation material companies in the country is also expected to bolster market growth.
The market is likely to experience rapid growth over the coming years due to the rising demand for cold insulation materials for use in refrigeration and air conditioning equipment. Some of the market's growth is also anticipated to be fuelled by rising GDP, growing disposable income, and changing climatic conditions.
The United States cold insulation materials market is anticipated to reach US$ 2.62 Bn by end of 2032.
Why Does China Account for a Significant Share of Cold Insulation Material Consumption?
The Chinese cold insulation materials market is expected to expand at 7% CAGR during the forecast period. China is a key producer and exporter of cold insulation materials. Substantial growth in end-use sectors is bolstering market growth.
It is anticipated that the emergence of domestic manufacturers in China will have a favorable effect on production. The burgeoning cold chain market in Asia Pacific, as a result of the expanding food & beverage and healthcare sectors, is another significant driving force.
The level of production and consumption in the region is expected to increase quickly as a result of the rapid growth and industrialization occurring in emerging markets, as well as the region's economic development and changing lifestyles.
Adoption of eco-friendly cold insulation products is one such opportunity that will soon present itself, signaling decent expansion of the Chinese market. Companies are conducting research and development to develop plant- or bio-based insulation materials.
Category-wise Insights
Will the Oil & Gas Industry Continue Driving High Demand for Cold Insulation Materials?
The global oil & gas industry is one of the largest users of cold insulation materials owing to the increasing use of cryogenic insulation equipment in a wide range of industrial applications. In cryogenic operations, where very low temperatures must be kept while losing as little energy as possible, oil & gas end users are using more cold insulation materials that work well. This is one of the most important factors that will probably affect the growth of the cold insulation market around the world.
On the other hand, knowledge of the negative environmental effects of the oil and gas industry's industrial activities and cold insulation materials is motivating oil & gas companies to switch to more environment-friendly alternatives to conventional cold insulation materials.
Demand for cold insulation materials with low carbon footprints is being further stimulated by the growing use of various cryogenic gases, such as liquefied petroleum gas (LPG) and liquefied natural gas (LNG). This will further increase the sales potential in the global market.
These cold insulation products are widely used in LNG transport in barrels and pipelines. To maintain the required temperature, the transportation medium for LNG and cryogenic gas necessitates the use of cold insulation materials for the lining of pipelines and barrels.
The oil & gas end-use industry is anticipated to expand at a CAGR of 5.9% during the forecast period.
Which Application of Cold Insulation Materials Will Be Most Profitable for Industry Players?
HVAC stands for heating, ventilation, and air conditioning. It refers to the use of various technologies to control humidity, air purity, and temperature. HVAC is an important component of residential structures, medium to large offices and industrial buildings, vehicles, and marine structures, where safe building conditions are regulated in terms of humidity and temperature by using fresh air from outside.
As the building sector consumes the greatest proportion of global energy, HVAC plays a significant role in promoting energy efficiency. Insulation materials are used in these systems to prevent energy loss. Rigid foams and polyurethane foams are certain material types that are extensively used. Due to their moisture resistance, low-vapor transmission, and stability, they are used to prevent energy loss.
Polyurethane foams are mostly used for the construction of walls of cold storage warehouses, and lightweight products & vessels, which are further used for refrigerated cargoes.
As such, the HVAC segment is anticipated to close in on a valuation of US$ 7 Bn by end of 2032.
Competitive Landscape
The market for cold insulation materials market is somewhat consolidated where only a few players are dominating and holding a major share of the market. Along with this, there are also some medium- and small-scale players in the market who are maintaining a competitive environment in the landscape.
To gain a larger share of the market, key players are concentrating on increasing their production capacities, collaborations & acquisitions, investing in R&D, and entering emerging markets. In contrast, regional market participants are putting their attention toward developing direct long-term connections with end users to keep a steady stream of income.
For Instance:
On 1 August 2022, Owens Corning acquired Natural Polymers, LLC, a spray polyurethane foam insulation provider for building & construction applications, based in Cortland, Illinois, the U.S.
On 8 June 2022, an agreement was reached by Owens Corning and Pultron Composites to form a joint venture to produce fiberglass rebars.
On April 2, 2019, BASF and Aspen Aerogels announced that they had signed an extension to their exclusive supply agreement that would allow for the manufacturing and supply of new, high-performance thermal insulation products.
Cold Insulation Materials Industry Report Scope
Attribute
Details

Forecast Period

2022-2032

Historical Data Available for

2017-2021

Market Analysis

US$ Mn for Value
Kilotons for Volume

Key Regions Covered

North America
Latin America
Europe
East Asia
South Asia & Pacific
The Middle East & Africa

Key Countries Covered

U.S.
Canada
Brazil
Mexico
Germany
Austria
Switzerland
U.K.
France
Italy
Spain
Russia
BENELUX
China
Japan
South Korea
India
ASEAN
Australia & New Zealand
GCC Countries
Turkey
Northern Africa
South Africa

Key Market Segments Covered

Material Type
Insulation Type
Application
Region

Key Companies Profiled

BASF SE
Huntsman International LLC
Armacell International S.A.
CertainTeed Corporation
Arabian Fiberglass Insulation Co., Ltd
Evonik Industries AG
The Dow Chemical Company
Fletcher Insulation Group
Kingspan Group PLC
Johns Manville Corporation
Knauf Insulation Inc.
Owens Corning

Pricing

Available upon Request
Segments of Cold Insulation Materials Industry Research
Cold Insulation Materials Market by Material Type:
Fiber Glass
Polyurethane Foam
Polystyrene Foam
Phenolic Foam
Others
Cold Insulation Materials Market by Insulation Type:
Fibrous
Cellular
Granular
Cold Insulation Materials Market by Application:
HVAC
Chemicals
Oil & Gas
Refrigeration
Others
Cold Insulation Materials Market by Region:
North America Cold Insulation Materials Market
Latin America Cold Insulation Materials Market
Europe Cold Insulation Materials Market
East Asia Cold Insulation Materials Market
South Asia & Pacific Cold Insulation Materials Market
Middle East & Africa Cold Insulation Materials Market