Bakery Toppings Market Outlook (2022-2032)
Worldwide bakery toppings sales are estimated at US$ 1.38 Bn for the year 2022. The global bakery toppings market is projected to expand a CAGR of around 2.8% to top a valuation of US$ 1.8 Mn by the end of 2032.
Consumption of bakery toppings accounts for around 10% to 15% value share of the global bakery ingredients market in 2022.
| Attribute | Key Insights |
| --- | --- |
| Bakery Toppings Market Value (2022E) | US$ 1.38 Bn |
| Projected Sales of Bakery Toppings (2032F) | US$ 1.8 Bn |
| Value CAGR (2022-2032) | 2.8% |
| Value Share of Top 5 Countries (2021A) | 53.4% |
Demand Analysis of Bakery Toppings (2017-2021) Vs Market Projections (2022-2032)
During the historical period of 2017-2021, the global market for bakery toppings increased at an annual growth rate of 1.9%. The market is anticipated to witness optimistic growth because of several factors such as rising consumer demand for conventional snacks, increasing consumer awareness regarding low-calorie and fat-free products, rising premiumization of food products, etc.
Utilization of powdered sugar along with other materials such as milk, juice, fruits were primarily introduced for cakes. But gradually, toppings were applied for other baked products as well. Thus, global demand for bakery toppings has developed and expanded over the years, and caters to numerous applications other than cakes.
Other factors that aid market expansion include increase in the number of bakeries, rising disposable income, growing urbanization, and the ever-growing trend of processed food.
The bakery toppings market is anticipated to expand at 2.8% CAGR over the forecasted period of 2022-2032.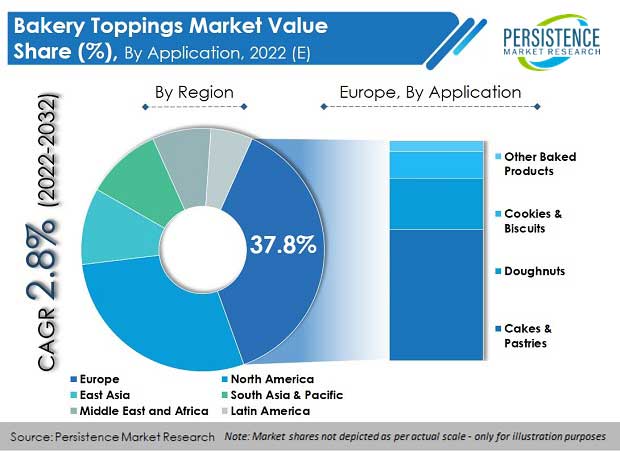 Why Will the Bakery Toppings Market Keep Seeing Steady Growth across the World?
"Bullish Outlook of Bakery Sector to Complement Demand for Bakery Toppings"
In Western regions such as North America and Europe, there is ongoing demand for frostings, icings, and toppings due to the established bakery ingredient sector. These bakery ingredients are also being adopted more in developing countries such as India, China, and others. Evolving lifestyle of consumers is driving market growth of bakery toppings and fillings in developing countries.
Rapid increase in the demand for confectionery products serves as an added advantage for the demand growth of bakery toppings. There is an increasing preference of consumers for frosted cakes during festivals, birthdays, and other occasions. Increasing popularity of artisanal muffins and pastries among the millennials is also helping to drive market expansion.
Increasing number of cafes and bakeries in developing countries is driving the consumption of bakery toppings. Moreover, rising popularity of donuts, cupcakes, and bread rolls, and ease of access to a wide range of flavored cakes are expected to boost global demand for bakery toppings and fillings.
"Increased Featuring of Specialty & Premium Baked Products by HoReCa Outlets to Benefit Bakery Topping Suppliers"
Rapid urbanisation, accelerating economic expansion, and rising disposable income in emerging countries have resulted in an increase in consumer spending on food products. In recent years, countries such as China, India, Indonesia, and others have shown robust annual growth in terms of consumer spending. Increased disposable income of customers has facilitated the buying of specialty and premium desserts.
Moreover, there has been increasing demand for bakery fillings and toppings from sectors such as chocolatiers, dessert shops, and bakeries due to increasing consumer spending on confectioneries. Booming of the tourism sector is also driving bakery topping sales, since a rising number of restaurants, cafes, and hotels are offering premium quality confectionary items comprising custom-made bakery toppings, icing, and frosting.
Bakery and confectionery chains as well as premium hotels offer special frosting, icing, and glazed confectioneries, which becomes a differentiating point of view for the sales of these confectioneries. These decorations also aid in impressing and attracting consumers, which serves as one of the crucial drivers for the bakery toppings market.
Besides, premiumization of bakery products also fascinates high-end consumers who exhibit immediate willingness to spend on specialty baked products.
"Product Innovation Along with Marketing Efforts by Manufacturers to Provide Growth Opportunities"
The confectioneries and baked goods sector is becoming more organized and mainstream, which has established a larger platform for professional chefs to experiment with product innovation and offer customers new and better products.
Marketing activities by manufacturers are not just restricted to the bakery sector for quick meal occasions but also include artisanal bakeries in order to attract consumers toward exotic and premium baked confections. Marketing of baking as a fun and stress relief experience has become the tagline of companies involved in bakery icing, frosting, and glazing products.
Moreover, development of low-calorie and healthy sugar toppings, including icing, frosting, and glazing, by bakery topping manufacturers is anticipated to drive market growth over the forecasted period.
"Market Players Benefiting from Multifunctional Benefits of Bakery Toppings"
Bakery toppings such as icing, frosting, and glazing are generally done to keep the surface of the cake or baked product smooth, while keeping cake crumbs out. These toppings also help in the addition of a protective layer that preserves the freshness of the baked products.
Once the baked products are coated with the toppings, the baked goods stays fresh for a longer amount of time, thereby increasing the shelf life of the baked products. These toppings also contribute to the flavour and richness of the baked products and provide a smooth surface for further decoration. Toppings improve the appearance of baked products, making them attractive and more sellable.
Therefore, the multifunctional benefits of bakery toppings would assuredly drive the product market on a global basis.
What Should Bakery Topping Manufacturers Watch Out For?
"Negative Health Effects of Bakery Topping Ingredients"
Americans and Europeans are opting for healthy food products due to rising awareness about obesity and consumption of fried and baked products. They are opting for food products that provide nutrients.
Baked products with toppings consist of additives, fats, and other preservatives, which might have a negative effect on health. This is posed to have a negative effect on the market growth of bakery toppings.
Another factor that could hinder market growth is the presence of sugar in the creation of bakery toppings. Nowadays, consumers are becoming health conscious, which can be observed from changing buying patterns. They are opting for substitution of sugar and are also emphasizing on minimizing the usage of sugar in their day-to-day lives.
As a result, players involved in the manufacturing of bakery toppings would have to focus on providing nutrient-rich and low/reduced/zero sugar toppings to health-conscious consumers.
Country-wise Insights
Which Country is Showing Promising Growth in the North American Market?
The Canada bakery toppings market is anticipated to expand at 2.3% CAGR during the forecast period (2022-2032) and reach a market valuation of around US$ 139.4 Mn by 2032.
Increasing bakery topping usage due to the convenience provided is set to drive the product market and increase its market share across North American countries.
How is the European Market for Bakery Toppings Progressing?
In the European market, Germany holds the highest market share of around 24%. The Germany bakery toppings market is currently valued at US$ 133.7 Mn.
Market share of Germany is relatively higher than that of other European countries due to the fact that Germany sees more demand for bakery toppings across the food industry, especially from bakeries. The Western culture along with European bakery-based products also aid in boosting bakery topping consumption in the country, and also across Europe.
Category-wise Insights
Why are Bakery Frostings Highly Popular across the World?
The types of bakery toppings considered in the scope include icing, frosting, and glazing. Among these three types, the frosting segment is set to expand at the rate of around 3.3% and hold a market value of over US$ 1 Bn by the end of 2032.
Frostings are increasingly being utilized across the bakery sector as a toping in various bakery-based products such as cakes, pastries, cookies, and others.
Which Application of Bakery Toppings Will Bring in High Revenue for Market Players?
Based on application, the cakes and pastries category holds the highest market share of around 58.6%. However, the donuts segment is also anticipated to boost overall sales of bakery toppings since glazing is gaining traction due to the ongoing trend of artisanal donuts in the market.
The cakes and pastries segment is anticipated to reach US$ 1.09 Bn by the end of 2032.
COVID-19 Impact
The outbreak of the novel coronavirus is a public health emergency that put the economy of many regions in danger by halting output, disrupting people's movements, and cutting off supply chains. Governments across countries were obliged to enforce stringent lockdowns and restrictions on mobility and business during the pandemic outbreak. This significantly impacted demand for bakery products, including bakery toppings across the world.
COVID-19 also resulted in the closure of various restaurants, hotels, retail shops, and others, which impacted the market for bakery products in a negative way.
However, with the easing of restrictions on travel and the opening of economies, the worldwide market for bakery toppings has the potential to grow at a significant rate going forward.
Competitive Dashboard
Bakery topping producers are increasingly focusing on developing new and innovative products in order to cater to growing consumer demand and increase their competitive edge. Companies are also emphasizing on collaborations and acquisitions to increase their product offerings and customer base.
In 2021, AAK AB entered into a formal consultation process with union delegates, which would help the company optimize its performance within the bakery segment and also aid in improving cost-efficiency and increase its competitive advantage.
Dawn Foods is offering new and innovative bakery-related products, such as sourdough donut mixes and non-sticky donut glaze.
AGRANA Beteiligungs-AG is expanding its business by acquiring businesses and offering tailor-made solutions to its customers. The company has also been working on increasing its production capacity through acquisition & collaborations.
Archer Daniels Midland Company expanded its product portfolio of bakery and flour ingredients with the release of its new and innovative products in the U.K.
Bakery Toppings Industry Report Scope
Attribute
Details

Forecast period

2022-2032

Historical data available for

2017-2021

Market analysis

USD Million for Value

Key regions covered

North America
Latin America
Europe
East Asia
South Asia and Pacific
The Middle East & Africa

Key countries covered

U.S.
Canada
Germany
U.K.
France
Italy
Poland
Spain
Russia
China
Japan
South Korea
India
Israel
Turkey
Australia
New Zealand
GCC Countries
Turkey
South Africa

Key market segments covered

Type
Application
Distribution Channel
Region

Key companies profiled

Goodrich Carbohydrates Ltd
Bakels
Dawn Foods
AAK AB
Agrana
ADM
Associated British Foods Plc
Cargill, Incorporated
Custom Food Group
Puratos

Report coverage

Market Forecast
Company Share Analysis
Competition Intelligence
DROT Analysis
Market Dynamics and Challenges
Strategic Growth Initiatives

Customization & pricing

Available upon request
Bakery Toppings Industry Survey by Category
Bakery Toppings Market by Type:
Bakery Toppings Market by Application:
Cakes & Pastries
Cookies & Biscuits
Doughnuts
Other baked products
Bakery Toppings Market by Distribution Channel:
Traditional Trade
Modern Trade
Industrial
Foodservice
Bakery Toppings Market by Region:
North America Bakery Toppings Market
Latin America Bakery Toppings Market
Europe Bakery Toppings Market
South Asia and Pacific Bakery Toppings Market
East Asia Bakery Toppings Market
Middle East and Africa Bakery Toppings Market