Introduction
Diaper manufacturers are seeing growth in the demand due to the increase in population, especially in the developing countries. Parents are also looking for premium products to offer better protection and safety. Hence, diaper manufacturers are focusing on producing diapers that offer extra absorbent, and leak-proof. Innovations in diaper design is also gaining popularity as diaper manufacturers are focusing on developing diapers that can absorb more efficiently.
New materials are being used to make diapers that can absorb quickly and offer dryness for a long period of time. Moreover, diapers for night and day use are also different, for instance, diapers for night use have an extra layer of absorbent as it is worn for a long time as compared to the diaper worn during the day time.
Various clinical studies have shown that enzymes in feces can be harmful for baby skin. Hence, companies are developing diapers that have a layer that can allow feces to get into the core instead of on the surface. Thinner and lighter diapers are also being produced on a large scale that are skin-friendly as well as eco-friendly.
As per the report by Persistence Market Research, the global market for baby diaper is anticipated to witness moderate growth between 2017 and 2024. Towards the end of 2024, the global baby diaper market is projected to reach US$ 70,458.2 Million in terms of value.
Disposable Diapers to Witness Highest Growth in the Global Baby Diaper Market
Compared to various types of diapers including cloth, training nappy and others, disposable diapers are likely to be most preferred by parents due to the ease of use and convenience offered. Along with developing disposable diapers, the companies are also focusing on recycling disposable diapers. Various initiatives are being taken by leading companies by developing plants that recycle disposable diapers.
Disposable diapers with multilayer sheet and light-weight are being offered by companies to provide extra-layer of protection and at the same time offering convenience.
Disposable diapers contain chemicals and are discarded after use, hence, companies are also researching on using materials that minimize the use of chemicals and make disposable diapers safe to use for babies. Companies are also focusing on using superabsorbent polymers, to minimize the use of bulkier material and make diapers thinner and light in weight.
Moreover, thinner products also lead to lower freight cost, hence manufacturers are focusing on developing thinner products in order to stay competitive in the market. Moreover, customers are also looking for diapers with highly absorbent core to ensure uninterrupted sleep.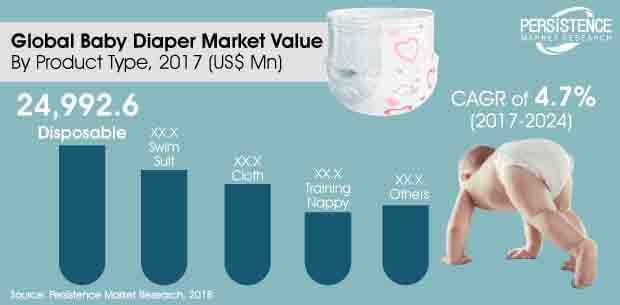 Increasing Popularity of Pant Style Diaper
Consumers are also opting for pant style diapers as they are easy to use, comfortable and require no sticky material. Nonwoven suppliers are also focusing on offering special fabric with better performance and aesthetic properties. Cushioning nonwovens and ultra-soft materials are being preferred by manufacturers for topsheet and backsheet of the diaper. Manufacturers are also focusing on the supply side by entering into a multi-year supply contract for the raw materials to be used in diapers.
- Companies Covered in This Report -
Kimberly-Clark Corporation
Procter and Gamble
Unicharm Corporation
Svenska Cellulosa Aktiebolaget SCA
Kao Corporation
Johnson & Johnson Private Ltd.
Nobel Hygiene Pvt Ltd.
Bummis
Fujian Shuangheng Group Co., Ltd.
Bumkins Inc.
Other