Market Overview
The global luxury vehicle market is comparatively less affected by the financial crisis and has shown growth driven by developing markets. Luxury vehicles have more than one thermostat attached to their systems. As luxury vehicle manufacturers are focusing on launching multiple models with various price ranges and user-friendly financing schemes, the demand for luxury vehicles is expected to rise in the near future. For instance, in 2017, luxury vehicle sales in India increased by 17% from 2012 to 2017. Mercedes sold 15,300 units in 2017 at a growth rate of 15.6%, Audi sold 7,876 units, and the BMW sold 9,800 units at a growth rate of 24.6% in the same year.
The global automotive thermostat market is studied with deep understanding of both macro- and micro-economic factors. PMR forecasts the global automotive thermostat market to reach a value of ~US$ 3.1 Bn by the end of the forecast period and project growth at a CAGR of ~3%. The European market is estimated to witness steady growth due to relatively high disposable income along with increasing ownership of luxury vehicles. The region is estimated to hold a prominent share in the automotive thermostat market during the forecast period.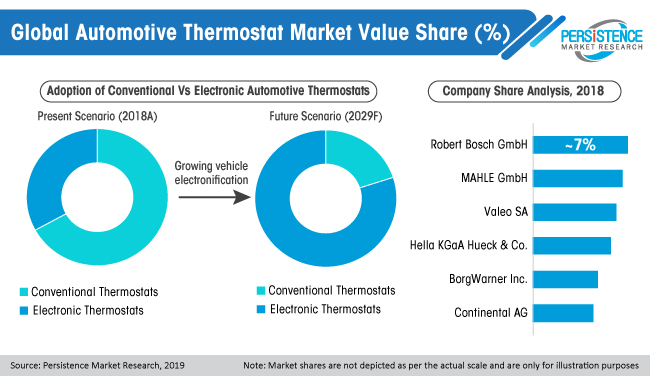 Increasing Adoption of Hybrid Powertrains in North America
The automotive industry in North America is making efforts to develop fuel-efficient as well as emission-free vehicles. As a result, the global market is witnessing a surge in the production of hybrid vehicles, and is expected to grow significantly in the coming years.
Much like conventional IC engines, hybrid/electric vehicles also need external cooling to avoid overheating of motors, batteries, powertrain, and other components. The effective cooling of the components in hybrid cars often requires advanced thermostat systems (map-controlled thermostats) with advanced coolants, and sometimes, multiple thermostats for maintaining the temperature of IC engine and water pumps separately. The increase in automobile manufacturing is expected to drive the global automotive thermostat market growth.
Europe's Market Attractiveness Rising
In terms of market attractiveness by CAGR index, Europe region is expected to remain most attractive market for automotive thermostat during the forecast period. Considerable increase in adoption of vehicles, luxury cars in particular, in the region is expected to contribute to rising demand for automotive thermostats.
Europe is envisaged to gain substantially significant market share as compared to North America, and the trend is likely to continue over the forecast period.
Strategic Expansions of Regional Players Driving Market Growth
The global automotive thermostat market shows a high level of fragmentation, with large number of small players. Key strategies include mergers, acquisitions, and expansion of production capacities to increase their global and regional footprint in the automotive thermostat market. Several manufacturers such as BorgWarner Inc., Hella KGaA Hueck & Co., Continental AG, MAHLE GmbH, and Robert Bosch GmbH follow the trend of organic expansion to fulfil the increasing demand for automotive thermostats in the automotive industry. For instance, in 2018, Robert Bosch GmbH acquired Hytec, a longstanding marketing partner engaged in the marketing of hydraulic and automatic solutions, in Sub-Saharan Africa and in 2016, Mahle group expanded its production facility in China by opening new plants for automotive compressors in Changshu, China.
Analysts' Viewpoint
A widespread view of the automotive thermostat market has led our analysts to conclude that the market is growing at an impressive rate with North America, and Europe holding a relatively large share of the automotive thermostat market. The Europe automotive thermostat market is expected to be an opportunistic market in terms of sales. Increasing demand from the automotive manufacturing industry, is expected to positively impact the automotive thermostat market. The automotive thermostat market is characterized by the presence of few big players in North America and Europe. However, the integration of smart technology in engine thermal management may eliminate automotive thermostat, and is likely to hinder the market growth.
The rapidly growing industrial sector, coupled with rising urbanization in various region such as Asia and Europe, is resulting in improvement in the standard of living, which in turn, remains a key factor responsible for increase in automobile production in the region. Such factors are expected to bolster the growth of the automotive thermostat market during the forecast period.
- Companies Covered in This Report -
BorgWarner Inc.
AC Delco
Gates Corporation
Continental AG
Hella KGaA Hueck & Co.
MAHLE GmbH
MotoRad Ltd.
Robert Bosch GmbH
Valeo SA
Stant Manufacturing, Inc.
Tama Enterprises Co., Ltd.
Nippon Thermostat Co. Ltd.
Vernet SAS
Ningbo Xingci Thermal Electric Appliances Co. Ltd.
Kirpart A.S.