Automotive Defogger System Market: About the Report
Amid the COVID-19 pandemic, forecasts for the global automotive defogger system market have been revised, which is expected to register a modest increase in the near-term assessment period. As the automotive industry undergoes a blip, the market for allied industries is experiencing sluggishness, including defogger systems.
Alternatively, existing inventories of parts would be sufficient to sustain immediate shortfalls until automotive production resumes at full-scale over the coming months, thus uplifting the prospects for defogger systems. The report also explains in detail that while North America and Europe will lead this space as far as demand is concerned, the Asia Pacific region will not lag far behind, and attract a sizable amount of investments over the coming years.
Automotive Defogger System Market Trends
Increasing Incidence of Road Accidents Surging Demand: According to W.H.O., approximately 1.35 million people die of road traffic crashes, costing most countries 3% of their GDP. Over 90% of these fatalities occur in low- and middle-income countries, especially across Asia and Africa. Naturally, demand for vehicular safety has acquired precedence. Majority of these accidents occur due to poor visibility caused as a result of hostile weather conditions, especially fog or heavy rains. Organizations such as the Indian Institute of Technology (IIT), Roorkee, have developed a smooth driving mechanism, incorporating real-time defogging that produces a clear image stream from the input. As such, expansion of the automotive defogger system market size looks promising for the future ahead.
Stringent Compliance Requirements Aiding Expansion: Owing to increasing number of fatalities due to road accidents, government authorities across the world have established strict guidelines regarding the establishment of safety mechanisms in automotive, thus expanding the scope of the automotive defogger system market.
Recently, the U.S National Highway Traffic Safety Administration (NHTSA) expanded a probe into nearly 159,000 Tesla Model S and X vehicles for touchscreen failures leading to reduced defogging ability as a result of to unclear rear-camera imagery. This probe is likely to compel the automotive giant to invest in robust imaging solutions.
Similarly, in Europe, according to Regulation No. 672/2010, every M1 category vehicle needs to be equipped with a defrosting system whose efficiency must be determined through tests conducted on vehicles at a temperature of -8o C or -18o C. Such regulations are opening up growth avenues for the global automotive defogger system market.
Volatile Weather Patterns Surging Demand: According to the World Meteorological Association, drastic climate changes have led to staggering increase in CO2 emissions, and nearly 20% increase in greenhouse gases. Consequently, weather patterns have altered dramatically, causing sporadic instances of rainfall, dry spells, and intense foggy conditions. Furthermore, excessive urbanization and industrialization have increased pollution levels as a result of enhanced discharge of noxious chemicals into the atmosphere. This has led to increased smog and fog levels, causing immense visibility problems.
Against this backdrop, automotive manufacturers are investing heavily in equipping automotive with advanced weather and climatic condition detection devices and software, thereby heightening the adoption of automotive defogger devices. This is boding well for the growth of the automotive defogger system market in the years to come.
Rear Glass Defoggers Corner Lucrative Share: By position, rear glass defoggers are likely to account for an impressive revenue share, constituting two out of five sales over the assessment period. Manufacturers are incorporating robust materials to enable automotive to withstand blunt forces without shattering into dangerous shards.
Permatex Canada Inc. is a prominent defogger solution provider. Its product is the Rear Window Defogger Electrically Conductive Tab Adhesive, which quickly and easily bonds defogger tabs to grids on rear windows. Additionally, it provides high-quality and allows low-cost repair for damaged rear window defogger tabs.
High Cost to Restrain Growth: Oftentimes, automotive manufacturers have to expend a high amount for the installation of advanced defogging systems. Besides installation costs, constant upkeep and maintenance is required, leading to additional expenditure in the aftermath. Replacement costs vary anywhere between US$ 15 - 30, while labor costs amount to US$ 30 - 50, which are significantly high. Based on these factors, the global automotive defogger system market is expected to experience restrained growth during the assessment period.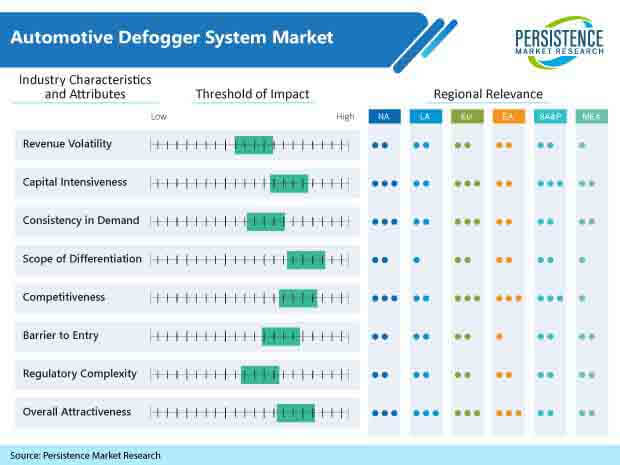 Regional Outlook of Automotive Defogger System Market
North America is slated to dominate the global automotive defogger system market share, followed closely by Europe. Growth in these regions is attributed to frequent changes in weather conditions, thereby necessitating the installation of advanced visibility enhancement mechanisms across automobiles.
Over the years, numerous government legislations have been enforced to ensure compliance with adequate road safety standards. This also includes the installation of proper defogging and defrosting systems, such as the Code of Federal Regulations (CFR) 49 571, Standard 103. Likewise, EU's Regulation No. 672/2010 establishes that, every M1 category vehicle must be equipped with a defrosting, de-misting and de-icing system from the exterior glazed surface of the windscreen, to provide adequate visibility to the driver during cold weather.
The automotive defogger system market in Asia Pacific also represents substantial growth opportunities, with China and India expected to pivot growth in response to a proliferating automotive industry across both economic giants. According to the Automotive Industry Standards Committee, 95% of front and rear windshields shall need to remain defrosted.
COVID-19 Impact on Automotive Defogger System Market
As the COVID-19 pandemic unfurled, significant disruptions were experienced across the automotive industry. Prior to the outbreak, automotive sales across the United States was forecast to reach 17 million units through 2020. Unfortunately, the pandemic's onset caused all production activities to come to a grinding halt, disrupting said projections. As the months passed, numerous staff layoffs attributed to halted operations threatened to induce the industry into a free-fall, ushering in fears of a negative growth rate during the ensuing period. This led to significant downsizing of projections ascribed to the automotive defogger system market.
Fortunately, with infection recovery rates keeping pace with active ones, the automotive industry began optimistically projecting a recovery chart, although growth was pegged at moderate to steady rates. Government bailout packages for vehicle manufacturers have played an important role in uplifting previously sluggish prospects.
For instance, in May 2020, the Indian government announced a special stimulus package worth Rs. 20 lakh crore (US$ 270 billion) to fight the pandemic, of which, the automotive industry is expected to be an important beneficiary, which is likely to stimulate the growth of the automotive defogger system market in the long run.
On a similar plane, the U.K. government has announced a £49 million (US$ 65 million) package to uplift the local automotive industry by emphasizing green technology to reduce emissions. This is also expected to uplift the growth prospects of the automotive defogger system market in the region.
Automotive Defogger System Market: Competition Landscape
PMR's study on the automotive defogger system market has profiled the following prominent players: Shenzhen Haohaichang Industrial Co. Ltd., NXP Semiconductors, Delphi Automotive Plc., Toyoda Gosei, Denso Corporation, Dayco Canada Corp, DuPont, Gates Corporation, Planned Product LLC, and Henkel Corporation.
These players rely on capacity expansion, introduction of new product lines and strategic collaborations, mergers, and acquisitions to secure a firm footing in the highly competitive automotive defogger system market environment.
In 2019, Shenzhen Hoahaichang Industrial Co. Ltd inaugurated a new industrial plant in Huizhou, covering an area of 13,000 square meters. The expansion was undertaken with the objective of enhancing its portfolio of non-standard precision metal parts for use across automotive, temperature control, and medical equipment industries.
In February 2020, Henkel Corporation announced the opening of a brand new state-of-the-art facility of its Henkel Adhesives Technologies India Private Limited in Kurukumbh in Pune, Maharashtra. The investment amounted to 50 million Euros (Rs. 400 crore). This expansion aims to diversify the company's automotive adhesives products segments across the region.
In November 2020, Toyoda Gosei Co. Ltd. invested a substantial amount in a startup from Tohoku University, known as Ball Wave Inc., to further the development of practical applications of ball SAW sensors. This investment will leverage Toyoda's surface treatment technologies for enhanced performance.
Analysts' Viewpoint
The global automotive defogger system market is poised to embark on a positive trajectory, despite sluggishness induced by the COVID-19 pandemic. Manufacturers are discovering potential revenue pools across emerging markets in the wake of widening government support to ensure minimum fatalities associated with road accidents.
Key Segments of Global Automotive Defogger System Market
PMR's report on the global automotive defogger system market offers information divided into four segments – position, vehicle type, technology, and region.
Position

Side Glass Defogger Systems
Front Automotive Defogger Systems
Rear Automotive Defogger Systems

Vehicle Type

Light Commercial Vehicles
Heavy Commercial Vehicles

Technology

Region

North America
Latin America
Europe
South Asia
East Asia
Oceania
Middle East Africa