Market Overview
The global automotive 48V system market is poised to register meteoric growth, in spite of the downswing induced by the COVID-19 crisis. As the world transitions toward hybrid and electric vehicles, a fundamental change in engine electrical systems is evident.
Reliance on 12V DC systems is fast eroding in the wake of advanced and more power-consuming engine designs of premium, mid-range, and luxury vehicles. Hence, dependency on 48V systems to offset resistive losses is burgeoning, supporting the expansion of the automotive 48V system market size.
In addition, rising ownership of luxury vehicles is likely to fuel greater adoption, owing to installation of infotainment systems. These infotainment devices consume immense power, thus requiring stronger electricity input.
Automotive 48V System Market Trends
48V Systems for Improvement in Fuel Economy: As environmental concerns mount, significant changes are visible across the global fuel consumption landscape. According to the International Energy Agency's World Energy Outlook 2020, countries aim to curtail energy-related carbon dioxide emissions by 7%, while investments in new fossil fuel projects are likely to decline by 18%.
This is largely in response to search for renewable alternatives. The report further states that, over the next decade, 80% of global electricity demand will be met by renewables. Hence, automotive manufacturers are foraying into hybrid and electric vehicle production on a large scale.
48V electrical systems play a pivotal role in achieving this fuel economy. Industry experts have concluded this approach can help attain 10-20% efficiency, especially in 'mild hybrid' automobiles. Based on these trends, the 48V system market is likely to proliferate in the future.
Robust Government Legislations Aiding Market Progress: Worldwide concerns about increasing fossil fuel-induced pollution have compelled governments to establish strict regulatory frameworks to curb these noxious emissions. The urgency to achieve sustainable development goals is driving these measures. Such legislations have greatly enhanced the scope of the automotive 48V system market in recent years.
A case in point - Denmark recently passed the Climate Act in June 2020, with the objective of reducing CO2 emissions by 70% by the end of this decade. This ambitious law has increased confidence among other European nations that emission reduction targets are attainable with consistent efforts.
Likewise, in December 2017, the U.S Parliament introduced a new climate change bill that aims to curb greenhouse gas emissions from public lands, along with supporting the transition toward cleaner energy. Such legislations have motivated prominent manufacturers to establish their businesses across different regions, accelerating the growth prospects of the 48V system market.
Maximum Uptake Witnessed in Luxury Vehicles: As disposable incomes surge, expenditure on luxury automobiles is rising prolifically. In 2019, Mercedes Benz sold over 2 million passenger cars, especially across China, which registered over 6% increase in the Maybach S-Class limousine series.
Likewise, BMW recorded 2.17 million vehicular sales that same year. Such accelerating sales are enhancing the scope of numerous manufacturers in the 48V system market, as these cars require advanced electrical systems to power their engines, infotainment systems, and batteries.
For instance, in 2018, Continental AG started a joint venture with Sichuan Chengfi Integration Technology to develop its 48V battery systems business.
On a similar plane, BorgWarner Inc. has developed one of the broadest 48V technology portfolios for the luxury car market. Its systems yield fuel savings of up to 20%. It's P2 On-Axis Hybrid Module helps achieve 95% peak efficiency, and is compatible with manual as well as automatic transmission architectures.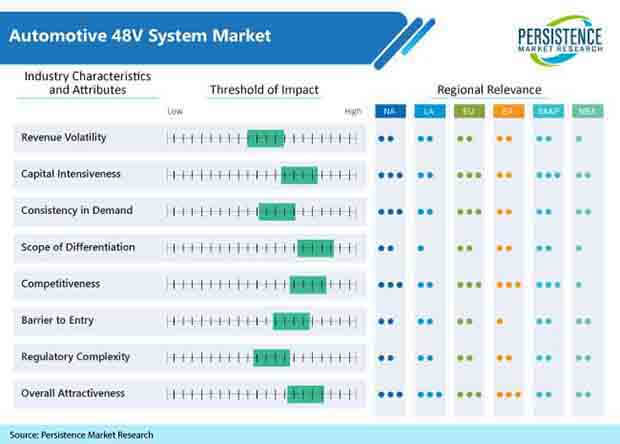 Regional Outlook of Automotive 48V System Market
Asia Pacific promises to be the most lucrative growth hotspot as far as the global automotive 48V system market share is concerned in the coming forecast period. Amongst all countries, China represents maximum growth opportunities, expected to surge at a stellar CAGR in the short run.
Growth is largely attributed to penetration of the local market by prominent automotive manufacturing giants. For example, in May 2020, Chevrolet introduced its first Orlando variant model equipped with 48V mild hybrid technology, called the Monza 48V, in the East Asian giant.
India represents an equally promising opportunity, attributed to rising living standards and surging disposable income. In February 2020, Maruti Suzuki unveiled its Swift Hatchbacks equipped with 48V lithium-ion battery packs with an internal combustion engine, and claims to offer 32 kilometers per liter of fuel efficiency.
Europe represents an equally high growth opportunity, with Germany pivoting growth. With the continent actively incorporating its carbon emission reduction endeavors, penetration of the automotive 48V system market is set to reach nearly half of the global market by 2024. Various German OEMs such as Volkswagen are lending a helping hand.
COVID-19 Impact on Automotive 48V System Market
In spite of COVID-19's debilitating impact on the global economy, the automotive industry is likely to weather out the storm, paving way for numerous opportunities over the coming years. As manufacturers secure their supply chains to avoid a possible crunch during the second wave, shortfalls are expected to be minimal.
The automotive 48V system market is experiencing tremendous upsurge. Since the pandemic's onset, electrification projects throughout China and Europe are heightening demand for mild-hybrid vehicles. As they offer greater efficiency and low running costs, their uptake is only fueling demand for 48V systems across these regions. In addition, climbing demand for electric vehicles is expected to sustain the automotive 48V system market throughout the pandemic's duration. For instance, Chinese authorities announced the construction of nearly 80,000 new charging points for EVs in 2020, with an investment totaling US$ 1.4 billion.
Such burgeoning investment volumes are a good sign for the flourishing of the automotive 48V system market. Various product launches amid the pandemic have also helped keep the market afloat. For example, Suzuki announced the launch of its Across 4WD petrol PHEV SUV in Autumn 2020, equipped with 48V systems.
Automotive 48V System Market: Prominent Players
Persistence Market Research has profiled the following vendors in its automotive 48V system market report: Continental AG, Bayerische Motoren Werke AG, Delphi Technologies, Ford Motors Company, Honda Motor Company, Hyundai Motor Company, Magma International Inc., Mazda Motor Corporation, MAHLE GmbH, Mitsubishi Motors, BorgWarner Inc., and DENSO CORPORATION, to name a few.
Continuous technological advancements, strategic collaborations, joint ventures, and product launches comprise the primary expansion strategies of the aforementioned players in the automotive 48V system market.
Analysts' Viewpoint
Heightening demand for fuel and engine efficiency across modern luxury, heavy-duty, and light commercial vehicles is the primary growth catalyst for the automotive 48V system market. Furthermore, the shifting fuel consumption landscape is encouraging the adoption of renewable energy sources, providing further traction to this market.
Key Segments of Global Automotive 48V System Market
PMR's report on the global automotive 48v system market offers information divided into three segments - architecture, end use, and region.
Attribute
Details

Architecture

Belt-driven
Crankshaft-mounted
Dual-clutch Transmission-mounted
Transmission Output Shaft

End Use

Entry-level Vehicles
Mid-Premium Level Vehicles
Luxury Vehicles

Region

North America
Latin America
Europe
South Asia
East Asia
Oceania
Middle East Africa