High per capita spending on oral care products
The World Health Organization data shows that oral diseases are the fourth-most expensive disease to treat in both emerging and developed economies. Oral health maintenance expenditure is a major healthcare issue directly impacting the artificial saliva market. As the artificial saliva market is consumer-based, increase in disposable income and per-capita spending are likely to drive the artificial saliva market over the course of the forecast period.
A critical issue to be resolved before that is the demand-supply imbalance in the artificial saliva market that affects everybody from manufacturers to end consumers. Any supply chain deviation leads to a rise in price, reducing the ability of key players to offer products at competitive prices and boost the overall profile of the artificial saliva market.
Use of artificial saliva assists in prevention of dysphagia
Several studies have proven the reduction of dysphagia symptoms in patients undergoing cancer treatment with the consumption of artificial saliva products. An ageing population in developed regions such as Europe, North America, and Japan present a lucrative opportunity for the dysphagia supplements market. Eurostar statistics for Jan 2015 state that patients above the age of 65 years were approx. 1/5th of the population, an increase of more than 2% from a decade earlier. This should be a blessing in disguise for the artificial saliva market.
Oral gels and liquids to drive revenue growth in the artificial saliva market
Oral gels and oral liquids are preferred choices in the artificial saliva market for their ease of use. Oral gels and oral liquids help in promoting compliance as these products are typically associated with oral hygiene in stark contrast to tablets that have lesser compliance rates as their image is that of a form of medication. Between the two, oral liquids have greater potential as the segment is predicted to be worth almost US$ 420 million by the end of the eight-year study.
Oral sprays and oral liquids opted for most in the artificial saliva market
The oral sprays segment had the maximum revenue share in the artificial saliva market at the end of 2016 and is highly likely to remain so at the end of the forecast period. The oral spray segment was valued at just under US$ 130 million in 2016 and should push past US$ 445 million by end 2025. Oral sprays are preferred in the artificial saliva market because they are both convenient and affordable.
The oral liquid segment was the second most popular in the artificial saliva market and is on track to record a CAGR of 14.2% for the period. Oral liquids had a market attractiveness index of 1.5 and key stakeholders in the artificial saliva market are advised to take this into consideration.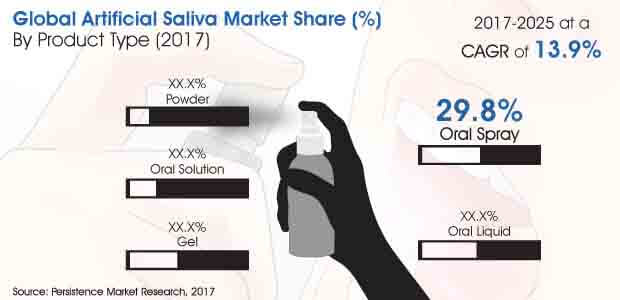 Availability of alternatives poses a threat to the artificial saliva market
There are a number of alternatives available to treat a dry mouth such as herbal medicines, acupuncture, and salivary stimulants all of which restrict the unencumbered growth of the artificial saliva market. R&D activity in the development of artificial salivary glands for individuals suffering from salivary gland damage coupled with saliva stimulating pens hamper the prospects of the artificial saliva market. For e.g. – Farmington's Oral Fluid Dynamics has raised US$ 175,000 in a span of two years to develop artificial saliva glands.
Artificial Saliva Market Taxonomy
Product Type

Oral Spray
Oral Solution
Oral Liquid
Gel
Powder

Age Group

Distribution Channel

Hospital Pharmacies
Retail Pharmacies
Mail Order Pharmacies
Hypermarkets and Supermarkets

Region

North America
Latin America
Europe
Asia Pacific
Middle East and Africa
- Companies Covered in This Report -
GlaxoSmithKline plc
Cipla Limited
Mission Pharmacal Company
Fresenius Kabi
Parnell Pharmaceuticals, Inc.
CCMed Group
Entod International
Midatech Pharma Plc.
Forward Science
Valeant Pharmaceuticals International, Inc.
Biocosmetics Laboratories
Icpa Health Products LTD.
Perrigo
Laboratorios Kin, S.A.
Others.