Water and Wastewater Pipes Market Outlook (2022-2032)
Latest industry analysis on the global water and wastewater pipes market reveals that global sales are expected to reach around 51,509 kilo tons by the end of 2022, registering Y-o-Y growth of approximately 5.3%. Over the long term, worldwide sales of water and wastewater pipes are slated to increase at a CAGR of 6.5% to top a valuation of US$ 120.9 Bn.
| Attribute | Key Insights |
| --- | --- |
| Water and Wastewater Pipes Market Size (2021A) | US$ 61.38 Bn |
| Projected Year Value (2032F) | US$ 120.94 Bn |
| Value CAGR (2022-2032) | 6.5% |
| Collective Value Share: Top 3 Countries (2022E) | 37.4% |
As of 2021, plastic pipes comprise between 50% and 55% of global sales of water and wastewater pipes, and are projected to register a growth rate of around 6.5% during the projection period of 2022 to 2032.
As per the detailed research, Persistence Market Research has anticipated that water and wastewater pipe consumption (kilo tons) across the world is expected to witness a growth rate of 5.9% through 2032. As of 2021, water and wastewater pipes held more than 50% share of the global pipes market. East Asia is anticipated to remain a prominent regional market for water and wastewater pipes, and is estimated to surge at a CAGR of 7.6% through 2032.
Consumption Analysis of Water and Wastewater Pipes from 2012 to 2021 Vs Market Outlook for 2022 to 2032
Revenue from water and wastewater pipe sales, including plastic (PVC, HDPE, cPVC, PP, and others), concrete, steel, ductile iron, and clay, collectively totalled around US$ 61.38 Bn in 2021, up from US$ 43.03 Bn in 2012. The market witnessed a growth rate of around 4% from 2012 to 2021.
Higher market growth is expected over the coming years due to increasing concerns regarding depleting water levels, not only in water-stressed regions such as the Middle East and Africa but around the world. In recent years, demand from the municipal segment has increased at a tremendous pace, particularly in water-stressed regions, especially for water supply and distribution. However, if we observe past trends, this increase in demand was positively impacted by financial assistance from international organisations such as the World Bank for improving water infrastructure in these regions
Over the coming ten years, the global water and wastewater pipes market is predicted to expand at a high CAGR of 6.5%.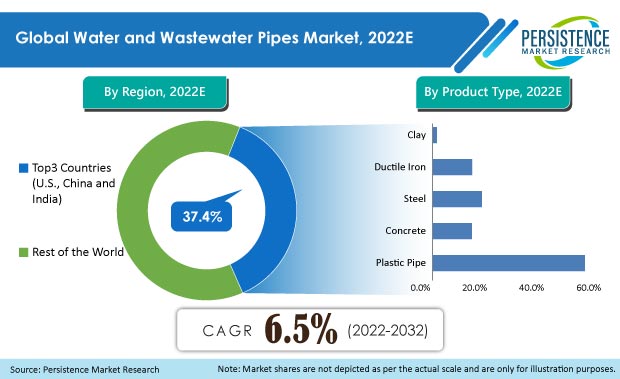 What are the Key Opportunities on Offer for Water and Wastewater Pipe Manufacturers?
"High Need for Sewage & Wastewater Treatment in Water-stressed Regions"
Increasing investments in water and wastewater management is anticipated to create a crux of opportunities for market player. Effective management of wastewater remains a persistent problem in regions such as APAC, MEA, and others, with the discharge of unprocessed wastewater from industrial, domestic, and agricultural sources being a common problem. Across Asia, a majority of sewage still finds its way into lakes, rivers, oceans, and coastal zones without any treatment.
According to UNICEF, only 75% of Indonesians have complete sanitation and water accessibility. The government has made significant efforts to build adequate water purification infrastructure so that the water distribution sector will not be left behind.
Indonesia's announced water supply and wastewater treatment system project, which is valued at US$ 1.9 billion, is expected to boost the use of sanitation pipes over the coming years.
"Growing Construction Sector to Drive Demand for Plastic Water Treatment Pipes"
Increasing investments in water infrastructure and rising number of desalination plants are prominent factors driving market growth of water and wastewater piping systems.
The construction sector remains a prominent economic sector for any country, and this is particularly true for countries in Asia, North America, and the Middle East. Furthermore, regional governments are speeding up construction projects to increase their country's economic performance.
However, the global construction sector witnessed a significant drop during pandemic-affected 2020, but due to increased government spending and widespread collaborations and partnerships among private contractors, a promising recovery was observed in 2021.
Additionally, rapid growth in urban population coupled with infrastructure development in commercial as well as residential areas has been a prominent driver global shipments of water and sanitation pipes, particularly for plastic water and wastewater pipes.
"HDPE Water Pipes Finding Numerous Use Cases"
One of the prominent trends observed is increasing demand for HDPE pipes. The beneficial properties of HDPE pipes make them suitable for various applications, including drip irrigation, flood irrigation, portable water supply & distribution, electrical installation and drainage pipes, and sewage & industrial effluent disposal. Owing to increasing application in several end-use industries, demand for HDPE water and wastewater pipes is increasing.
Urbanization across the globe has resulted in expansion and increased demand for infrastructural developments and water supply, which has subsequently resulted in an increase in demand for HDPE water pipes. Also, growth in sewage disposal infrastructure is fuelling demand for HDPE piping systems.
What is Hindering Demand Growth of Water and Wastewater Pipes?
"Stringent Regulations on Plastic to Stunt Market Expansion to Some Extent"
Almost every country has set regulations to control plastic waste and encourage the recycling and reuse of plastics. These regulations often prove to be a restraint for plastic production and compel manufacturers to produce standard and regularized products.
In South Africa, for example, plastic pipe components must have a material density of ≥ 930 kg/m3, and dispersion of carbon black must be ≤ grade 3, among other rules.
Growing plastic waste and stringent norms regarding plastic products are expected to be an impediment to the demand growth of water and wastewater pipes.
Country-wise Analysis
What is the Water and Wastewater Pipes Market Scenario in GCC Countries?
"Gulf Region to Provide Lucrative Sales Opportunities"
GCC Countries are regarded as emerging markets for water and wastewater pipes, both, in the terms of production and consumption. The GCC water and wastewater pipes market is estimated to expand at a CAGR of 7.2% over the forecast period.
The COVID-19 pandemic significantly disputed the market in the region. However, this trend shifted market participants to focus on the Gulf region, which, in turn, uplifted market growth.
Additionally, the region has low water levels and lacks crucial water bodies such as rivers, lakes, etc., coupled with a sharp increase in urbanisation, owing to which, regional governments are investing significantly in improving their water infrastructure.
According to Water Technology (2019), around US$ 80 billion worth of water and wastewater projects are currently planned or underway by members of the Gulf Cooperation Council (GCC), which is set to benefit water and wastewater pipe suppliers in the region.
What's Compelling Water and Wastewater Pipe Suppliers to Expand in the U.S. Market?
"North America Leading Market for Water & Wastewater Pipes – Led By the U.S."
In 2022, water and wastewater pipe demand in the U.S. is anticipated to increase 5% year-on-year. Across North America, total sales of water and wastewater pipes are expected to account for more than 25% of the global market share.
Recovery of the construction industry coupled with increasing investments in water infrastructure by state as well as national governments are set to drive market expansion over the forecast period.
For instance, U.S. President Joe Biden released an infrastructure plan - the "American Jobs Plan" - that included US$ 111 billion investment in water infrastructure.
Which is a Key Market for Water and Wastewater Pipes in South Asia & Pacific?
"India to Remain Key Market in South Asia & Pacific Region"
India is one of the key markets in South Asia & Pacific. In 2032, India is expected to account for over 10% of water and wastewater pipe sales in the South Asia & Pacific region.
India is one of the most water-stressed countries in the APAC region and the world's second-most populated country. According to the United Nations, India's population is set to reach 1.64 billion by 2050, owing to which, its water needs are anticipated to grow exponentially and demand for water and wastewater pipes is set to grow synchronously.
Furthermore, according to a report by the Bank of America Merrill Lynch in 2019, (cited by Ministry of External Affairs, Government of India) India is set to invest US$ 270 Bn in water infrastructure over the next 15 years.
Category-wise Insights
Which Product Type of Water and Wastewater Pipes Will Remain Significant?
"Demand for Plastic Water Pipes to Remain High"
Plastic water and wastewater pipes are seeing high demand owing to their key merits over other types of pipes.
Plastic pipes, unlike many traditional pipe materials, do not corrode and are resistant to a wide range of chemicals. Also, comparatively, steel, copper, ductile iron, and aluminium pipes all require more energy to manufacture than plastic pipes.
Up to 30% of all piped water is lost globally due to pipe leaks at some point in the system, and the primary cause is pipe failure. Plastic pipes, whether PVC or any other type, have a lesser chance of cracking than metal or concrete. Additionally, simply installation, transportation, lightweight, recyclable, and other advantages are responsible for extensive use of plastic water and wastewater pipes.
Which Pipe Size is Mostly Demanded across Regions?
"1200 mm Water Pipes Most Commonly Used across Regions"
By pipe diameter, up to 1200 mm plastic water and wastewater pipes account for a prominent share in the global market. Extensive application across residential and commercial spaces for water distribution as well as wastewater management has been a primary factor for increasing sales of this segment.
Which End-use Industry Will Offer Most Lucrative Growth for Market Participants?
"High Municipal Demand for Wastewater Pipes Driving Overall Market Growth"
Based on end use, the municipal segment is anticipated to account for a prominent share of water and wastewater pipe consumption. The segment is projected to account for around 40% value share by the end of the forecast period.
This high market share can be attributed to the inclusion of residential and commercial sector in the municipal segment, which account for high demand for water and wastewater treatment systems.
Competitive Landscape
Key manufacturers of water and wastewater pipes are resorting to strategic expansions to increase their geographical presence through acquisitions, mergers, and collaborations. Moreover, many market players are adopting recycling and other practices, which contribute toward a more circular economic value chain, to decrease their carbon footprint and make water and wastewater pipes more environment-safe.
Some of the key marker developments are:
In 2021. Aliaxis Group S.A. opened a new plant in Durgapur, in north-eastern India. The new plant is currently dedicated to manufacturing High Density Polyethylene (HDPE) pipes.
In 2021, Aliaxis Group S.A. collaborated with Dutch company Davo Uitgeverij to provide 100% recyclable drainage systems in the Netherlands market.
In 2020, Georg Fischer Ltd. acquired FGS Brasil Indústria e Comércio Ltda. (FGS), Cajamar (Brazil), a key provider of polyethylene piping systems. This acquisition will provide Georg Fischer Ltd. with a unique platform for market growth in Brazil and other South American countries.
Similarly, other key developments related to companies manufacturing water and wastewater pipes have been tracked by the team at Persistence Market Research, which are available in the full report.
Water and Wastewater Pipes Industry Report Scope
Attribute
Details

Forecast Period

2022-2032

Historical Data Available for

2012-2021

Market Analysis

US$ Mn for Value
Kilo Tons for Volume

Key Regions Covered

North America
Latin America
Europe
East Asia
South Asia & Pacific
The Middle East and Africa

Key Countries Covered

U.S.
Canada
Brazil
Mexico
Germany
U.K.
France
Italy
Spain
Russia
Nordics
China
Japan
South Korea
India
ASEAN
Australia and New Zealand
GCC Countries
Turkey
Northern Africa
South Africa

Key Market Segments Covered

Product Type
Pipe Diameter
Application
End Use
Region

Key Companies Profiled

Aliaxis Group SA
Tata Steel Limited
Cemex, S.A.B. de C.V.
NIPPON STEEL CORPORATION
AMERICAN (American Cast Iron Pipe Company)
China Lesso Group Holdings Limited
Orbia
JM EAGLE, INC.
Georg Fischer
SEKISUI CHEMICAL CO.,LTD.

Pricing

Available upon Request
Key Segments Covered in Water and Wastewater Pipes Industry Research
By Product Type:
Plastic Water and Wastewater Pipes
Concrete Water and Wastewater Pipes
Steel Water and Wastewater Pipes
Ductile Iron Water and Wastewater Pipes
Clay Water and Wastewater Pipes
By Pipe Diameter:
Up to 1200 mm Water and Wastewater Pipes
1200 mm to 3600 mm Water and Wastewater Pipes
3600 mm and Above Water and Wastewater Pipes
By Application:
Water Supply & Distribution
Wastewater Management
By End Use:
Municipal
Industrial
Agriculture
By Region:
North America Water and Wastewater Pipes Market
Latin America Water and Wastewater Pipes Market
Europe Water and Wastewater Pipes Market
East Asia Water and Wastewater Pipes Market
South Asia & Pacific Water and Wastewater Pipes Market
Middle East & Africa Water and Wastewater Pipes Market