Introduction
Energy-efficiency, cost-effectiveness, and requirement of less storage space are among the crucial needs of customers willing to install water heaters. Focusing on the aforementioned needs, vendors are also introducing new technologies in water heaters.
Key companies developing water heaters are also focusing on anti-corrosion, filtration sterilization technology. Providing clean and soft water through water heaters is also being focused on. Electric water heaters that are easy to install and require minimum maintenance are also being developed by manufacturers. Heat pump technology and condensing gas-fired systems are some of the innovative technologies in the global water heater market.
Solar and geothermal equipment are also being incorporated by manufacturers in their product line. Consumers are moving towards adopting higher efficiency water heaters as part of the replacement.
Manufacturers are seeing a lot of potential in the solar market, hence, solar water heaters are also being developed. According to the report compiled by Persistence Market Research, the global market for water heaters is anticipated to witness steady growth during 2017-2021. The global water heater market is estimated to bring in US$ 52.8 Billion in revenue towards the end of 2021.
Electric Heaters to Emerge as the Most Preferred Water Heater
Growing concerns for energy efficiency is contributing to the increasing demand for electric water heaters. Increasing number of pre-plumbed unvented systems in several new constructions is also driving the demand for electric heaters. Manufacturers are integrating smart heating controls in electric heaters to facilitate ease of use. Electric heaters are being used on a large scale in the commercial sector to assist in production and for staff use.
Energy efficiency regulations in various countries have also led to the increase in replacement of water heaters. This has resulted in the increasing demand for highly-efficient tank-less electric water heaters. Meanwhile, rising demand for hot water in hospitals and hotels is also driving the demand for electric water heaters.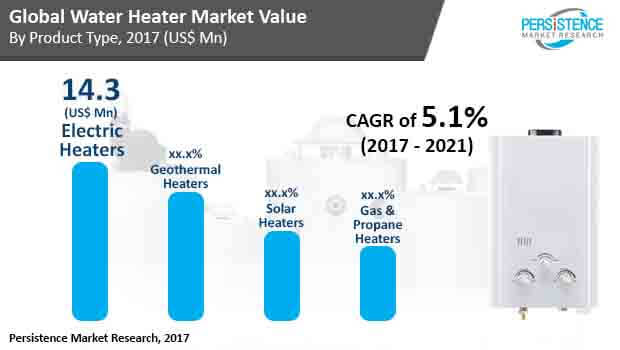 Rise in Demand for Storage Heaters Owing to Easy Installation and Maintenance
Storage water heaters help in maximizing heating capacity by using hot water storage tanks. Manufacturers are providing storage heaters in a variety of sizes as per the requirement of consumers. Compared to various water heaters, installation of storage heaters is less expensive, and these are also easy to maintain and repair. However, storage heaters have been known to explode, hence, vendors are focusing on providing water heater services on a regular basis.
Moreover, storage heaters require space for the tank; hence, manufacturers are focusing on minimizing the size of storage heaters to eliminate the space issue. In recent years, conventional storage heaters using various fuels such as fuel oil and natural gas have also gained a lot of traction.
Water Heater to Find the Largest Application in the Commercial Sector
Increasing commercial infrastructure development across different countries is driving the demand for water heaters. Small and mid-sized companies are using water heaters for their daily production activities. Meanwhile, in order to reduce energy consumption and operational efficiency, companies are adopting highly efficient water heaters. Due to the increasing use, upgrading commercial water heaters is necessary.
Hence, vendors are integrating new technologies that can act as a signal for upgrading commercial water heaters. Tankless heaters are becoming popular in the commercial sector, owing to the extended period of time, these heaters meet the need for a large volume of hot water. Companies are also working on new technologies by focusing on M&A activities to offer better products in the global market.
- Companies Covered in This Report -
Venus Home Appliances (P) Ltd.
AO Smith Corporation.
Rheem Manufacturing Co.
Siemens AG.
HTP Inc.
Ariston Thermo SPA.
Bajaj Electricals Ltd.
Bradford White Corp.
Haier Electronics Group Co., Ltd.
Noritz Corp.
Rinnai Corp.
Other.
China-based manufacturers covered in the report include:
Zhejiang KANCHQUAN Electric Appliance Co., Ltd.
Jiaxing Jinyi Solar Energy Technology Co, Ltd.
Genrui, Himin Solar Co., Ltd.
Zhongshan Inse Group Co, Ltd.
Other
These key market players' profiles include various attributes such as company overview, recent developments, and growth strategies.