Introduction
The produced water treatment market is expected to progress at a steady rate by the end of the year 2029. The market growth is expected to be driven by the high demand for these systems in the oil and gas pipe industry. Favorable government policies are also projected to play a vital role in providing the thrust to the market. The augmenting demand for eco-friendly produced water treatment technologies is estimated to generate lucrative growth opportunities in the market through the forecast period.
The steep decline in demand during COVID-19 pandemic owing to the sluggish progress across different end-use industries is expected to create a hurdle in the continuous market growth. The market is projected to resume its usual business with progress in economic activities.
North America and Europe are expected to witness a steep hike in the drilling operations and oil & gas exploration activities, creating white spaces of growth for the market players. Major players in the market are expanding their business with collaborations and acquisitions. They are keen to acquire new contracts in the oil sector that keeps arising with the rise in oil price. Established players in the global market include Schlumberger Limited, Siemens AG, FMC Technologies, ThermoEnergy and eco-sphere, Cetco Energy Services, and Aquatech international.
Stringent norms regarding treatment and disposal of produced water will remain the key force, propelling the demand for a range of produced water treatment systems. Generated from the oil and gas industry, produced water often comprises hydrocarbon formulations and a few other hazardous chemical characteristics. Water treatment systems that are specifically designed for produced water serve to safeguard the quality of treated water before it is reused or released off.
The global produced water treatment systems market has been witnessing moderate growth since the past few years. During the five-year period 2015-2020, the global market for produced water treatment systems is likely to take a leap from US$ 4.6 Bn observed in 2015, to cross US$ 6.0 Bn by 2020 end in terms of revenues. The market will expand at a CAGR of 6.1% over the forecast period.
Market Dynamics
Soaring demand for oil and gas, followed by increasing extraction, will continue to primarily drive the market for produced water treatment systems on a global level. In addition to stringent government regulatory measures regarding the environmental impact of produced water disposal, reinjection norms in the petroleum sector are anticipated to accelerate the market growth.
Scarcity of usable water in developing regions will also remain a key driver to emergence of better water treatment solutions, eventually escalating the market growth. Rising prevalence of land gas drilling will also push the market growth by 2020 end.
Produced water volumes are projected to spike up to nearly 340 billion barrels by 2020 end, up from over 202 billion barrels generated recently in 2014. After disposal of around 70% of these barrels, the remaining were re-injected into off-shore oil fields. This has been a key booster to the generation of increasing volumes of produced water within the recent past. Moreover, burgeoning oil-to-produced water ratio is also foreseen to sustain the demand for efficient produced water treatment systems.
In addition, rising unconventional production levels of the oil and gas industry will remain an important factor propelling the demand over the next few years. Increased exploration rate of off-shore and on-shore reserves of oil and gas, is another key trend expected to support the market growth.
Since the past few years, depleting crude oil reserves in key OPEC countries has compelled oil and gas companies to adopt other alternative sources, including gas hydrates, tight oil, shale gas, and CBM. This trend has been a key promoter of the use of produced water treatment systems. Emergence of several new methodologies, including polymer membrane ultra-filtration, membrane distillation, forward osmosis, and adsorption will persist to positively hit the industry.
However, higher installation and operational costs may remain a longstanding challenge to the global produced water treatment systems market growth. Leading companies in the market are increasingly concerned about scaling of water treatment technologies.
Segment Analysis
By technology, the global produced water treatment market is segmented into three key segments viz. primary, secondary, and tertiary treatment systems. In 2015, secondary treatment systems segment registered the largest revenue share of over 38%. However, this segment is likely to witness a fall during the forecast period; the Y-o-Y growth in 2017 over 2016 will be of 5.4%. PMR indicates that tertiary treatment systems segment will thrive at the fastest CAGR of 9.1% over 2015-2020.
Regional Analysis
North America will remain the dominant market through to 2020, with over 41% share in terms of revenues. From US$ 1.73 Bn recorded in 2015, this region is estimated to exceed US$ 2.5 Bn by 2020 end. While tertiary treatment segment in North America is estimated at a 12.5% CAGR, secondary treatment segment will expand at a CAGR of 7.1%.
Europe and Asia Pacific, collectively registering a market share of nearly 43% in 2015, will remain the major markets over the forecast period as well. Latin America, despite registering a negligible share in 2015, is expected to emerge at a substantial rate during 2015-2020.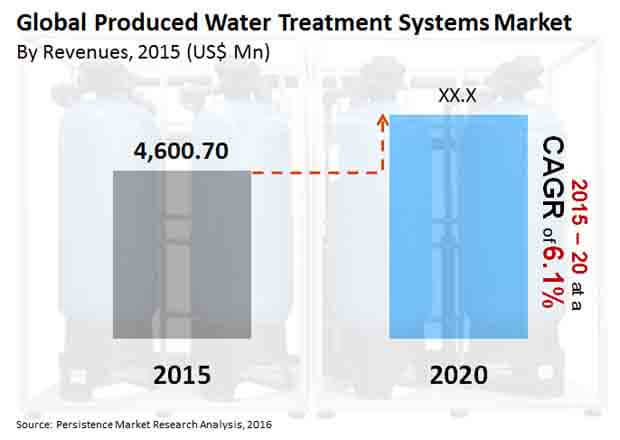 Key Market Players
Some of the key companies profiled in the global produced water treatment systems market report, include Siemens AG, Aker Solutions, FMC Technologies, Inc., Alderley plc, Veolia, Frames Group, CETCO Energy Services, Aquatech International, Eco-Tec, Schlumberger Limited, Ovivo, ThermoEnergy Corporation, Global Water Engineering, Ecosphere Technologies, Inc., and Miox Corporation.