Increasing cloud deployments to define the service delivery landscape of software asset management
The multidimensional value created by cloud services has prompted global organizations across multiple industry sectors to move their systems and software to the cloud. Cloud architecture simplifies the approach to internal software asset management solutions by providing benefits such as scalability, agility, cost optimization, increased mobility of the operating environment, and real-time asset analysis.
Global spending on cloud services is increasing significantly by the year. The coming years will witness increasing leverage of Infrastructure as a Service (IaaS) across key industries such as BFSI, manufacturing, and retail with organizations fast moving towards cloud based software deployments.
Shift towards cloud computing entails certain complexities; however, the long-term benefits of Software as a Service (SaaS) will outweigh deployment challenges
Cloud migration is certainly not a simple activity, and definitely not when it comes to asset management. Shifting from legacy systems and service delivery models to cloud systems poses several organizational challenges, the most notable being the impact on licensing compliance and the associated financial implications, not to mention the integration complexity of traditional and cloud service delivery models. Software vendor contracts are typically defined by stringent clauses pertaining to the on-premise or off-premise use of licenses. When cloud providers scale up the infrastructure platform to meet the growing demand from end users, it is essential to implement a robust cloud readiness strategy to handle the various complexities likely to emerge in software asset management.
Having said this, the inherent benefits of moving to a SaaS platform far outnumber the initial deployment and licensing challenges in asset management. Software asset management is currently at the threshold of cost management and license compliance and organizations should strive for cost containment over compliance in the long run. A thorough evaluation of the current IT setup will help organizations identify which systems and software to move to the cloud, thereby eliminating unnecessary deployment costs and simplifying the process of licensing compliance.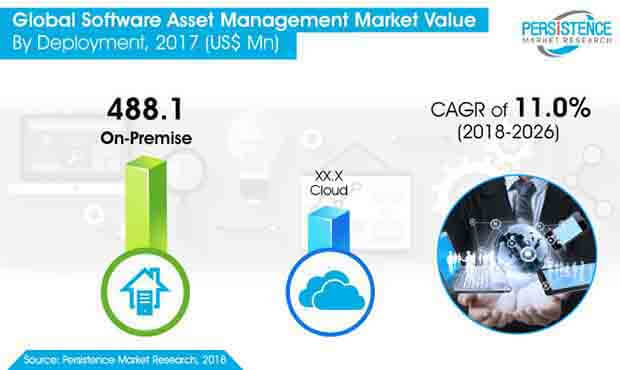 Cloud vs. on-premise asset management: the battle lines are drawn. Or are they?
Organizational IT needs differ based on several parameters and it is difficult to generalize what will work and what will not. While the world is moving towards the cloud, it is important to remember that when it comes to asset management, critical issues pertaining to software licenses and unauthorized and indirect user access to SaaS resources will apply to both cloud and on-premise deployments. In the debate on cloud vs. on-premise adoptability of digital asset management solutions, the following points stand out:
Resource management: On-premise deployments typically involve large IT projects and consume a huge pool of organizational IT resources, which can lead to time, effort, and cost complexities. Cloud deployments on the other hand simplify the role of organizational IT by offloading critical infrastructure and technical tasks to the cloud services vendor.
Accessibility: Access to digital assets in an on-premise setup is limited to a local network while the cloud facilitates the storing of software assets at a centralized location, providing easy and remote access to authorized users through the internet.
Scalability: On-premise systems require frequent deployment and capacity expansions to scale existing asset management solutions while cloud platforms and apps enable easy, on-demand scalability, thereby easing organizational worries associated with the scaling of enterprise assets.
Security: This is where cloud scores over on-premise in a big way. While on-premise necessitates the storage of digital assets on local servers for security purposes, cloud deployments are far more secure than on-premise systems. SaaS vendors implement best-of-breed security measures that adhere to global security protocols and prescribed standards.
It is evident that cloud is here to stay, given the relative strengths and benefits of hosting organizational assets on a cloud platform. However, every organization has different IT needs and several factors such as hardware, system requirements, personnel, security, and costs need to be considered before implementing a robust solution to manage the software assets of an enterprise.
Market Segmentation
By Deployment

By Component

By Organization Size

Large Enterprises
Small and Medium Enterprises

By Industry

BFSI
IT & Telecom
Retail & Consumer Goods
Healthcare
Manufacturing
Government
Others

By Region

North America
Europe
Latin America
China
Japan
SEA and Other APAC
Middle East & Africa (MEA)
- Companies Covered in This Report -
IBM Corporation
Freshworks Inc.
Ivanti
Solarwinds
Zoho Corporation
Aspera
Snow Software
Comparex AG
BMC Software
SAP SE
Hewlett Packard Enterprise
Microsoft Corporation
VMware Inc.
CA Technologies
Hewlett-Packard Enterprises
Oracle Corporation
Others.