Retail Shelving System Market
Global Market Study on Retail Shelving Systems: One-Stop All-in-One Solutions to Gain High Preference Over Coming Years
Retail Shelving System Market Segmented By Wall Mount Retail Shelves, Floor Mount Retail Shelves, Gondola Shelves, Corner Shelving Type with Light Duty, Medium Duty, Heavy Duty Carrying Capacity in Steel Retail Shelves, Aluminium Retail Shelves, Wood Retail Shelves, Plastic Retail Shelves, Paperboard Retail Shelves, Fibreglass Retail Shelves Material
Retail Shelving System Market
Market Snapshot
Newly released retail shelving system industry analysis by Persistence Market Research shows that global demand enjoyed year-on-year (YoY) growth of 7.9% in 2021 to total 21 Mn units. Wall-mounted product sales grew 7.2% to 3.2 Mn units, while Gondola shelves were up 8.1% to 10.5 Mn units.
Find Out More about the Report Coverage
Companies
Madix Inc.
LA Darling
Lozier Corp.
Gondella
Artitalia Group
Donracks TMTE Metal Tech Pvt. ltd.
CAEM
Storflex
Uniweb Inc
KIDER (INDIA) PRIVATE LIMITED
Accel Group Inc.
Velca Racking Systems Pvt. Ltd.(*UAE)
Handy Store Fixtures
Sumetall (China) Shopfittings Limited
Eren Çelik Ahap ve Metal Möble San. Tic. Ltd. ti.(rafturk)
Valuable Insights Offered in Retail Shelving System Industry Research:
Market Estimates and Forecasts (2016-2031)
Key Drivers and Restraints Shaping Market Growth
Segment-wise, Country-wise, and Region-wise Analysis
Competition Mapping and Benchmarking
Brand Share and Market Share Analysis
Key Product Innovations and Regulatory Climate
Analysis of Quotations, Tenders and Package Offerings
Assessment of Unit Shipments, Installation, and Assembly Price
COVID-19 Impact on Retail Shelving System Sales and How to Navigate
Recommendation on Key Winning Strategies
Customize this Report
Explore Intelligence Tailored to Your Business Goals.
Sales Analysis of Retail Shelving Systems from 2016 to 2020 Vs Market Outlook for 2021 to 2031
Revenue from supermarkets & class A convenience stores increased at a robust 4.7% year over year in 2021, giving the combined retail shelving system market a year-over-year growth of 8.1%, according to the Persistence Market Research report on retail shelving systems.
Historically, from 2016 to 2020, use of retail shelving systems increased at around 5.2% CAGR, wherein, developed countries such as the U.S., Canada, and Germany contributed significant share in the global market.
On a global scale, there is rising expenditure on R&D activities conducted by major players in the supply-side industry. Years of slowing down in 2018 to 2020 led to less cash flow, meaning less overall value contribution to the market. Yet, the market is anticipated to show a slingshot effect after a few quarters, most likely in 2022.
The retail sector, particularly FMCG, drives demand for retail shelving systems. Countries such as China and even those from Latin America have started showing signs of recovery in the first of 2021 itself, clearly indicating better market prospects ahead.
The market is also on the verge of showing volatility in terms of end use. Since, the COVID-10 pandemic was an eye-opening condition for every section and sector of industries, it has brought a shift in the retail shelving system space too. The pandemic taught that consumer behavior can change overnight as health and safety concerns suddenly became a purchase driver for pharmacy store shelving systems and bring an uplift in demand for them.
Moreover, technological adaption that would normally have taken years occurred in a matter of months. COVID-19's continued effects will be felt even after the pandemic subsides.
Inefficiencies in the supply chain were revealed throughout the past six months, causing some merchants to recognize how ill-equipped they are to anticipate and respond to consumer demand and disruptions in unprecedented times.
Considering the stats and shift in dynamics, the market for retail shelving systems is forecast to expand at a healthy CAGR of 8.8% over the next 10 years.
Market Research Methodology - Perfected through Years of Diligence
A key factor for our unrivaled market research accuracy is our expert- and data-driven research methodologies. We combine an eclectic mix of experience, analytics, machine learning, and data science to develop research methodologies that result in a multi-dimensional, yet realistic analysis of a market.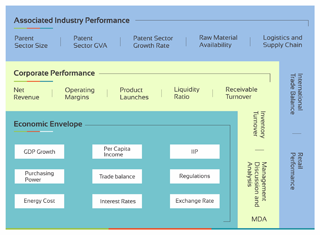 What are the Key Opportunities on Offer for Retail Shelving System Manufacturers?
As the number of hypermarkets and supermarkets is increasing, demand for retail shelving systems is also anticipated to increase synchronously over the coming years. Hypermarket chains such as Lulu Group, Walmart, Metro, Best-Buy, and others are increasing their penetration across global markets, and this, in turn, will benefit the market.
Additionally, the transformation of small retailers to modernize their shops will further boost demand in the years to come.
Explore Persistence Market Research's expertise in promulgation of the business !
What are the Roadblocks that Retail Shelving System Suppliers Might Encounter?
Lack of clear communication of USP or positioning has been a negative factor for the retail system shelving industry. A look at other exporting countries shows that every fixture exporter comes with a distinct USP – China is known for its competitive and cheap pricing, Italy and other European countries for the sleekness of their fixtures, and USA for reliability in terms of load bearing, compliances, turnaround time, etc.
But when it comes to local players from countries such as India, and even from USA, it appears that fixture manufacturers have not yet carved a distinct positioning in the International market.
Volatile and unstable markets in Asia Pacific will have direct and widespread implications for manufacturing companies. Rising cost of raw materials used for retail shelves will directly affect the operational cost of manufacturing processes, which is a primary concern of manufacturers.
Rising raw material prices directly destabilize the supply chain and a product's selling price. Constant and unpredictable rise in the prices of raw materials of retail shelving systems is a growing concern amongst manufacturers. This, in turn, is anticipated to hinder market growth to some extent.
Which is the Most Lucrative Regional Market for Sales of Retail Shelving Systems?
With an absolute dollar opportunity of around US$ 460 Mn, South Asia & Pacific is expected to be the most lucrative market for retail shelving system suppliers.
India is leading the South Asia & Pacific market, and is expected to witness growth that would multiply 2.4X during 2021-2031. India, being one of the largest economies and one of the fastest-growing markets in the world due to economic growth, attains a podium position in the retail shelving system landscape.
Will Manufacturers Offering All-in-One Solutions Proliferate in the Long Run?
Availability of services from manufacturers and suppliers such as consultation services, store design, arrangement of shelves, and installation services leads customers to spend more on these services, which are worth every penny.
Manufacturers provide intelligence on almost all aspects of shopping of customers based on historical psychological results, and provide the optimum solution to their customers. They provide the best location for shelves for most sales gains for a variety of products. This factor is not only driving sales but is also anticipated to be responsible for future growth of the market.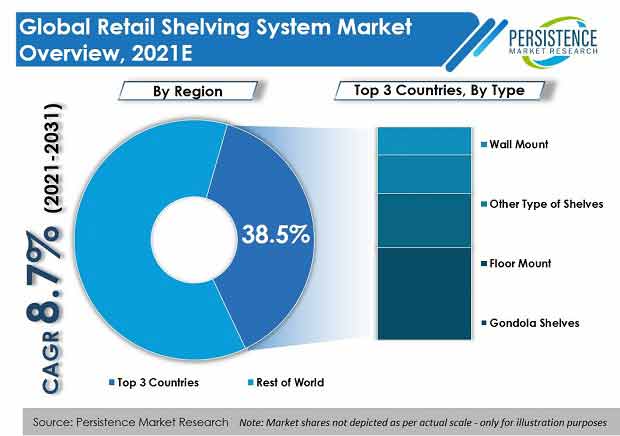 Country-wise Analysis
What Makes India a Lucrative Market for Retail Shelving System Producers?
The market in India grew 3.7% from 2016 to 2020. According to CII-EY Report on FDI in India, India can expect to attract US$ 120 Bn to US$ 160 Bn of FDI annually by 2025 if it manages to increase the FDI to GDP ratio between 3% to 4% range by 2025. This can aid in bringing back India's GDP growth rate to 7%-8% range.
The above growth will be stimulated by recent structural reforms, raising of FDI limits in multiple sectors, and the Atmanirbhar Bharat strategy of the Government of India.
India is the world's fifth-largest global destination in the retail space. According to IBEF, the Indian retail industry has emerged as one of the most dynamic and fast-paced industries due to the entry of several new players. It accounts for over 10% of the country's gross domestic product (GDP) and around 8% of the employment.
Revenue of India's offline retailers, also known as brick and mortar (B&M) retailers, increased by US$ 1.39 - 2.77 Bn in FY20, giving the market for retail shelving sound growth prospects.
Will Retail Shelving System Demand Rise across GCC Countries?
In 2020, GCC countries accounted for over 46% share of the Middle East and Africa market for retail shelving systems. The GCC market landscape is going through a general slowdown, yet, real estate development continues, and ongoing retail expansion is reaching a certain saturation.
Although, rise in tourism and promotion of duty-free goods have led the market to flourish. Tourists from all over the world, which include 4% Chinese, account for a whopping 17% sales from the retail sector in the UAE. Continuous improvements in retail experience and services to fulfil customer expectations is leading to heavy procurement of retail shelving.
Category-wise Insights
Why are Gondola Shelves the Most Sold Type of Retail Shelves?
Gondola shelves account for around 48% share of the global market. Every store, be it small or a hypermarket, features these kind of shelves due to the convenience they offer in terms of storage and ability to showcase products. These are also heavy-duty and last for many years.
Despite being a permanent fixture in almost all retail stores, these shelves can be easily assembled and dismantled, allowing shop owners to add or remove storage space. These shelves have a base, and then on top of it, are with pegboard backs.
Gondola shelves offer the option to add endcaps to them. Retail shops use them to display their best sellers or hot items with the endcaps.
Which Carrying Capacity of Retail Shelving Systems Generates Most Revenue?
Light duty retails shelves that are used for carrying items weighing up to 200 kg, accounted for almost a 7/10 of overall demand for retail shelving systems in 2020.
The reason for such lucrative demand for light duty shelves can be attributed to requirement in hypermarkets where goods usually are of small size & form and weigh less. Products such as FMCG, electronics, and pharmaceutical items are under the small weight category, and therefore drive major demand for retail shelves.
Another reason can be that light duty shelves are usually small in size and space optimization of shop floor can easily obtained with these kinds of shelves.
Why Steel Accounts for the Largest Share in Retail Shelving System Production?
By material, steel holds as much as 3/5 of the market share in 2021. This is because of the same fact mentioned above, that most of end user use of small size shelves, which are generally made of steel, as steel provides the versatility of allowing to carry small as well as large weights. Moreover, steel is cheaper than aluminum and therefore, becomes the first choice of shopkeepers for their shelving systems procurement plans.
Who are the Largest End Users of Retail Shelving Systems?
Supermarkets & class A convenience stores are responsible for the highest procurement of retail shelving systems. The segment is anticipated to expand at a CAGR of around 9%.
Convenience stores are the go-to choice for anyone requiring any sort of product, be it a mere stationary item or a battery cell. Therefore, the segment attributes for such lucrative demand.
Supermarkets, on the other hand, have become the most favorite choice amongst individuals across many developing nations, as they provide almost every household item; meaning, these conduct expansions frequently and procure shelves at a faster rate than any other end user.
Has COVID-19 Slowed Sales of Retail Shelving Systems?
COVID-19 has significantly lead to a plunge in the sales of shelving systems. The pandemic brought many challenges that caused manufacturing to stop and supply chain constraints causing shipments to get delayed. This created a drop in the market by -1.3% in 2020.
COVID-19 has had a significant impact on manufacturing industries ranging from oil and gas to mining, as well as the capital goods industry. Global economic activity is slowing, with GDP growth in 2020 expected to be as low as -4.9%.
Because of its complicated supply chains, labor-intensive procedures, and interdependencies, the manufacturing industry, which is the producer of shelves, is hardest hit. The manufacturing industry is the most vulnerable due to division of labor, modular production processes, and outsourcing to lower costs and improve the efficiency, uniformity, and quality of each operation.
Competitive Landscape
Majority of companies discussed in the report have focused on acquiring other players in the market as a strategy to decrease competition and expanding their manufacturing units in developing regions. Strategies include innovation, collaborations with key players, partnerships, forming alliances, and strengthening of regional and global distribution networks. Some of the key developments are:
In Feb., 2021, Madix Inc. acquired Texas assets of Panel Processing, Inc., a partner to the company since a long time.
In February 2020, the Gondela Corp. took part in EUROSHOP, which is proven to be the most important platform for world retail in terms of trends, inspiration, and networking.
In October 2019, Artitalia Group opened a new warehousing facility in Ontario, California, to further complement its sophisticated supply chain.
Similarly, recent developments related to companies manufacturing retail shelving systems have been tracked by the team at Persistence Market Research, which are available in the full report.
Retail Shelving System Market Report Scope
Attribute

Details

Forecast Period

2021-2031

Historical Data Available for

2012-2020

Market Analysis

US$ Mn for Value
'000 units by Volume

Key Regions Covered

North America
Latin America
Europe
MEA
East Asia
South Asia & Pacific

Key Countries Covered

United States
Canada
Brazil
Mexico
Germany
U.K.
France
Spain
Italy
Nordics
South Africa
GCC Countries
Northern Africa
China
Japan
South Korea
India
ASEAN
ANZ.

Key Market Segments Covered

Type
Carrying Capacity
Material
End Use
Region

Key Companies Profiled

Madix Inc.
LA Darling
Lozier Corp.
Gondella Corp.
Artitalia Group
Donracks
CAEM
Storflex
Guangzhou Huicheng shelf Co., Ltd
Handy Store Fixtures
Uniweb Inc.
KIDER (INDIA) PRIVATE LIMITED
Accel Group Inc.
Velca Racking Systems Pvt. Ltd.(*UAE)
Handy Store Fixtures
Sumetall (China) Shopfittings Limited
Rafturk

Pricing

Available upon Request
Key Segments Covered in Retail Shelving System Industry Survey
By Type
Wall Mount Retail Shelves
Floor Mount Retail Shelves

Single-Sided Retail Shelves
Double-Sided Retail Shelves

Gondola Shelves

Single-Sided Retail Shelves
Double-Sided Retail Shelves

Corner Shelving
Other Modular Shelving Systems
By Carrying Capacity
Light Duty (40 to 200 kg) Retail Shelves
Medium Duty (0.25 to 1 Ton) Retail Shelves
Heavy Duty (1 to 2 Tons) Retail Shelves
By Material
Steel Retail Shelves
Aluminium Retail Shelves
Wood Retail Shelves
Plastic Retail Shelves
Paperboard Retail Shelves
Fibreglass Retail Shelves
By End Use
Retail Shelving Systems for Hypermarkets
Retail Shelving Systems for Supermarkets & Class A Convenience Stores
Retail Shelving Systems for Footwear & Apparel Stores
Retail Shelving Systems for Electronics
Retail Shelving Systems for Bakery & Confectionary Stores
Retail Shelving Systems for Pharmacy Stores 50 to 100 psi