Market Overview
The coronavirus pandemic has forced countries into lockdowns. The whole tension around supermarkets as a result of COVID-19 has resulted in understanding that shorter supply chains and home deliveries are the future. As the lockdown pressure has been piling up, departmental stores and even supermarkets have had to introduce online queues and wait-list new customers. With stores in major neighbourhoods across the city, chained departmental stores such as Big Bazaar in India have been delivering to areas in and around their location. In a bid to provide high customer satisfaction and retain their customer base, stores are promising same-day home delivery and also online tracking facility to smoothen the shopping process at both ends, which opens up opportunities for the expansion of the departmental store retailing market size.
Spike in Demand for Certain Consumer Packaged Goods Driving Departmental Store Retailing Market
A bunch of new product launches, along with increased private-label brand participation, has been in the recent past driving brand-mix shifts in the consumer packaged goods segment. It is likely that this trend continues over the forecast period as well. An expansion of packaging formats, be it SKU extensions or premium/innovative/sustainable packaging, has majorly driven the departmental store retailing market, especially in the cosmetics, beverage, and confectionery segments.
The grip that COVID-19 has held across continents has resulted in a surge in certain goods within the hygiene sector. High demand and a momentary low supply has also led to heavy overpricing of products. Also, higher future demand and stock retention are presently driving the departmental store retailing market.
Increasing Number of Pop-up Shops Lending Traction to Departmental Store Retailing Market
Pop-up shops are usually located in the footfall of a departmental store, and deliver the store benefits from fresh new "content" in the pop-up, apart from delivering extra rent revenue. In the era where departmental stores are losing their hue, a pop-up provides an opportunity for experiential retail, secures customer loyalty, builds brand awareness, and also allows test-market products or services with key consumers. Major retailers such as Best Buy, Nordstrom, and Sears have adopted the store-within-store concept to showcase and sell relevant items via in-store pop-ups. A section of departmental stores are drifting from quickly moving inventory and focusing on consumer experience; where the role of pop-ups comes into sight, because these can be visual contrasts to the rest of a department store.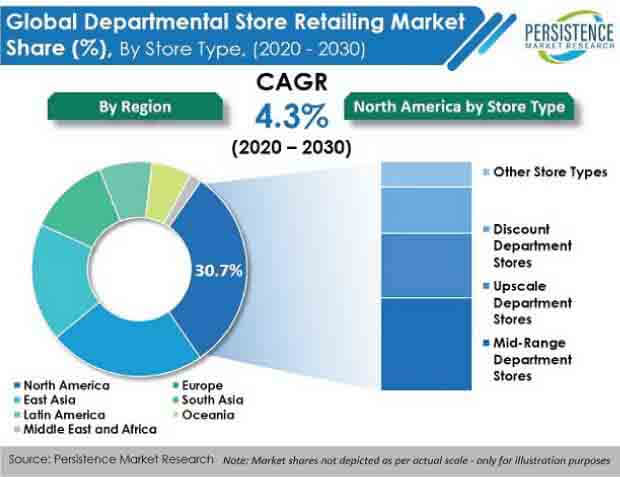 Regional Outlook of Departmental Store Retailing Market
Global sales of the departmental store retailing market reached US$ 8.1 Bn in 2019. According to PMR's report, the departmental store retailing market is estimated to register a CAGR of more than 4% during the forecast period of 2020-2030. Asia Pacific held the largest departmental store retailing market share in 2019, followed by North America, owing to rise in income and purchasing power and increase in brand consciousness. Moreover, reinvigoration of department stores retailing due to technological advancements pertaining to store automation and card-to-cloud concept also drive sales of in the departmental store retailing market. East Asia and South Asia hold a prominent market share owing to a large consumer base. Latin America also holds a significant market share with a projected growth rate more than 8% during the forecast. The Middle East & Africa region holds the lowest share in the global departmental store retailing market.
Departmental Store Retailing Market: Competition
The global departmental store retailing market represents a highly fragmented competition landscape, where, a majority of key departmental store retailing market players maintain their strategic focus on adding new brands into store shelf spaces, focus on innovative pricing strategy, market expansion, strategic partnerships, and mergers & acquisitions.
In September 2020, EL Corte Ingles SA introduced a new edition of "The best of the best brands" from 14th to 30th September. It was a campaign by the company with very attractive discounts in more than 450 large firms from different sales areas. This campaign will help the company attract more customers, which, in turn, increases sales in terms of volume.
In 2019, Lotte Shopping Co., Ltd. opened a department store at Incheon Terminal, Korea, and a hypermarket at Incheon Terminal & Incheon Branch, Korea. The department store boasts of a large number of luxury and fashion brands from both, home and abroad, including the exclusive Lotte Only brand.
COVID-19 Impact on Departmental Store Retailing Market
Amid the outbreak of the global COVID-19 pandemic, the community code word is - stay at home, stay safe. Even though most stores have returned to business, a few departmental stores were up and running even during the lockdown. However, there is apprehension over the public visiting. The FDA is sharing information about best practices to operate retail food stores, restaurants, and associated pick-up and delivery services during the COVID-19 pandemic, so as to safeguard workers and consumers. Thus, the departmental store retailing market experienced slightly low sales in 1st two quarters of 2020, and is expected to be back on track from the 4th quarter of 2020.
Analysts' Viewpoint
A brief overview of the changing landscape of the departmental store retailing market has led our analysts to conclude that, the market is gaining momentum. Adoption of automated department stores and artificial intelligence is expected to influence the overall market over the coming years. On the other side, increasing demand for premium brands, especially in the U.S., Canada, U.K. and other countries, is expected to continue in the future. Also, costumers are changing the way they shop; therefore, department store retailers should provide the ability to accept payments in the environment that allow easy experience to customers, with secure and convenient payments at physical checkouts.
- Companies Covered in This Report -
Alibaba Group Holding Limited
LVMH Moet Hennessy – Louis Vuitton SE
Hanwha Group
EL Corte Ingles SA
Central Group of Company
Lotte Shopping Co., Ltd.
Isetan Mitsukoshi Holdings Ltd.
Jelmoli AG
Takashimaya Co., Ltd.
H2O Retailing Corporation
Shoppers Stop Ltd.