Introduction
Phosphate rock is a sedimentary non-detrital rock that contains large quantity of phosphate minerals. This rock is also referred to as phosphorite or rock phosphate. It is formed in the form of calcium phosphate and typically seen in oceans. Phosphorous is obtained from Phosphate rock which is utilized to manufacture chemicals.
It is also used in different end user industries such as metallurgy, fertilizer industry, animal feed, food and beverage industry, consumer goods, water treatment etc. United States, Morocco and China are few of the largest phosphate rock miners in the world. Other include Tunisia, Brazil, Jordan, Western Sahara and Russia.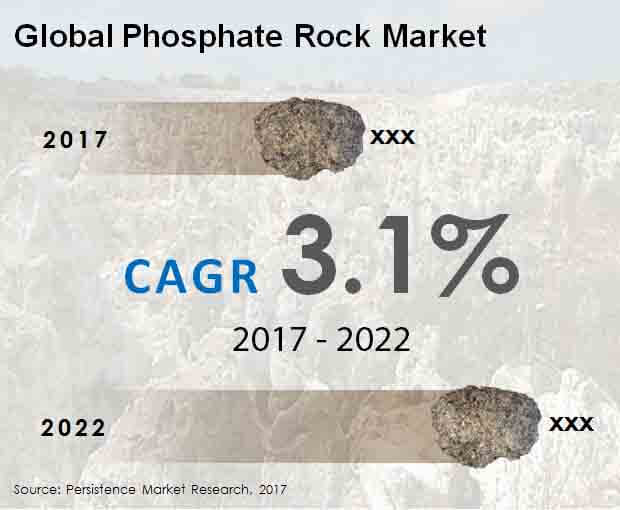 Persistence Market Research has put forth detailed analysis on the global phosphate rock market by studying various elements of the market that have a one of a kind effect on the growth of the global phosphate rock market. These elements embrace developments, trends, innovations, economic and social aspects, drivers as well as restraints and opportunities that influence the growth of the global phosphate rocks market.
The impact examination focusing on these factors brings value based on which new strategies can be implemented in order to overcome hindrances and loopholes in the market and plan future expansion. The research study covers future forecasts for five years from 2017 to 2022.
As per this insighful research report, the global market on phosphate rock market is anticipated to grow at a listless CAGR during the period of forecast and is estimated to reflect a market valuation of around US$ 27 Bn by 2022 end.
Asia Pacific Excluding Japan (APEJ) Region Estimated to Show High Consumption
Region wise, Asia Pacific excluding Japan (APEJ) is the highly lucrative for the phosphate rock market. It is anticipated to show significant growth in the years to come. China region has contributed to the growth of the Asia Pacific excluding Japan phosphate rock market since past years. The phosphate rock market in the APEJ region is anticipated to show noteworthy increase in the revenue to reflect a market valuation of about US$ 15 Bn by 2022 end.
This market valuation is likely to be higher than that of other regions, thus supporting Asia Pacific excluding Japan region to cement its dominance in the phosphate rock market in the years to come. Growing industrialization in this region and agriculture being the backbone of emerging economies, there is a higher demand for fertilizers, which requires phosphoric acid. This has triggered an increase in the demand for phosphate rock thus driving tis growth in this region.
Middle East and Africa (MEA) region is liekly to show high potential during the forecast period. This region is market by a healthy CAGR throughout 2017-2022 and is estimated to stand second in terms of market evaluation by the end of the estimated year. Europe region is projected to show the highest CAGR throughout the forecast period, but lacks in strength owing to reduction in the usage of phosphorous.
High demand in the Fertilizer and Animal Feed Industry
Phosphoric acid is essential to manufacture fertilizers used in the agriculture sector for enhancing plant health. Phosphate is also used in animal supplements on large scale. These two sectors are likely to deliver high growth opportunities for the growth of the phosphate rock market. The fertilizer industry has shown increased use of phosphorous since 2012 and in 2017, this segment dominated the global market by application with a market share of 86.9%.
This trend is estimated to grow and continue till the end of the forecast period. The animal feed segment also is anticipated to show high growth in this market. The animal feed phosphate rock market is projected to grow at a high CAGR of 3.6% during the period of forecast.
Competitive Analysis
The global phosphate rock market research report covers analysis on the key players involved in the phosphate rock market. Key companies like PJSC PhosAgro, The Mosaic Company, Solvay SA, OCP S.A., Jordan Phosphate Mines Co. P.L.C, Prayon S.A, The General Company of Phosphate and Mines, Groupe Chimique Tunisien SA, Ma'aden Phosphate Company and Vale S.A are included in this research report.
Market Taxonomy
A weighted market segmentation of the entire market unmasks different viewpoints that portray a realistic view of the global market.
Attribute
Details

Region

North America
Latin America
Europe
Japan
APEJ
MEA

Applications

Fertilizer Industry
Animal Feed
Metallurgy
Others (Food & beverage, water treatment, consumer goods, etc.)

Grade

Fertilizer Grade
Feed Grade
Industrial Grade
- Companies Covered in This Report -
PhosAgro
Solvay SA
The Mosaic Company
S.A. OCP
JPMC
Prayon Group
Gecopham
GCT
Vale
Yara International ASA
Others.