Orthopedic Planning Systems Market Outlook (2021-2031)
Worldwide revenue from the orthopedic planning systems market was US$ 74 Mn in 2021, with the global market estimated to surge ahead at a CAGR of 7.9% to reach a valuation of US$ 158.2 Mn by the end of 2031.
| | |
| --- | --- |
| Orthopedic Planning Systems Market Size (2021) | US$ 74 Mn |
| Projected Market Value (2031) | US$ 158.2 Mn |
| Global Market Growth Rate (2021-2031) | 7.9% CAGR |
| Market Share of Top 5 Countries | 78.3% |
As assessed by Persistence Market Research, pre-surgical planning software is expected to hold a market value of US$ 158.2 Mn by 2031. Overall, orthopedic planning system sales account for approximately 17.6% revenue share in the global orthopedic implants market, which was valued at around US$ 420 Mn in 2021.
Sales Analysis of Orthopedic Planning Systems from 2016 to 2020 Vs Market Outlook for 2021 to 2031
The global market for orthopedic planning devices recorded a historic CAGR of 6.5% in the last 5 years from 2016 to 2020.
Orthopaedic planning systems, as the name suggests, include 3D printed modelling of the physical parts of a patient's body. These systems play an important role during preoperative preparation of a surgical procedure, wherein, a 3D insert or a prosthesis specific to a patient's anatomy is created and inserted during an orthopedic surgery.
The creation of patient-specific implants utilizing 3D printing innovation evades the uneasiness that emerges from size crisscross and varieties in the life structure of a specific person.
Manufacturers are actively focusing on the development of technologically advanced products in order to meet the unmet needs of specific age groups of the population.
For instance, in April 2021, Corin Droup launched the Optimized Positioning System (OPS). OPS is an intuitive, yet efficient system that utilizes tools to help surgeons assess a patient prior to a surgery, while guiding them with optimized component positioning intraoperatively.
The number of musculoskeletal conditions or disorders is increasing. There has been high growth in commonly occurring musculoskeletal conditions, which include osteoarthritis, rheumatoid arthritis, joint inflammation, and lower back pain, amongst others.
As per the National Osteoporosis Foundation, in 2020, nearly 54 Mn people were affected by osteoporosis and low bone mass. This number included individuals of age 50 years and above. It was further estimated for this number to increase to 64.4 Mn by 2030.
Furthermore, the United Nations Department of Economic and Social Affairs has estimated an increase in the aged population of 60 years and above to be nearly 21% of the world population by 2050.
The global orthopedic planning systems market is thus likely to show high growth over the coming years a CAGR of 7.9% and reach a global market size of US$ 158.2 Mn by 2031.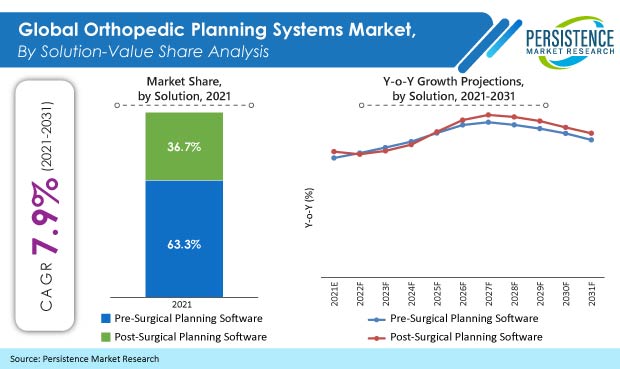 How Can Orthopedic Planning System Manufacturers Grow?
"Leverage Advancements in Technologies and Cloud-based Solutions"
The coming years are set to provide many lucrative opportunities for manufacturers of orthopedic planning systems around the world. Availability of orthopedic software such as cloud-based solutions and their use in mobile platforms will drive demand for orthopedic planning systems.
The ability to share information easily and securely is a critical parameter to improve the demand and sale of the product. Advancements in software, especially mobiles and the Internet of Things (IoT) devices will help in rapid development and innovation, thereby responding to the demands placed by rapidly evolving new technologies in healthcare IT systems.
Cloud services also allow for easy access to applications and data remotely via the Internet using wireless and wired systems.
There has been constant innovation and advancement happening in digital platforms in the healthcare sector. This has benefitted many surgical procedures to be carried out efficiently. Even healthcare professionals are constantly learning to develop new techniques and approaches to shift from retro methods to technological methods in delivering health services.
Cloud-based services and technologies have brought in hassle-free applications for healthcare, such as maintaining electronic medical records, patient portal, data analytics, telemedicine, etc.
Thus, all these factors have helped market players put a strong foothold across this market, especially during the pandemic. It is expected that the global orthopedic planning systems market will expand rapidly during the forecast period at a CAGR of 7.9%.
Can Demand for Orthopedic Planning Systems Be Affected in Any Way?
"High Cost Associated With 3D Printing & CAOS-assisted Surgeries"
Computer-assisted Orthopedic Surgery (CAOS) is an innovative approach that utilizes robotic devices to help surgeons by creating virtual images of substitute joints, thereby increasing accuracy during surgical procedures.
CAOS utilizes real pictures of the joint obtained from X-rays/fluoroscopy, ultrasound, or CT scans, and make virtual pictures of the affected joint. Specialists utilize PC-produced data and pictures to precisely and reproducibly reconstruct joints and limbs.
Although beneficial, these systems comes at a very high cost, thereby raising the overall cost of a surgical procedure, which can be the reason for patients not opting for the same, and can be a huge retraining market factor over the forecast duration.
Additionally, high cost of 3D printing materials further adds to the restraining factors for the demand growth of orthopedic planning equipment. 3D printing technologies are used to develop patient-specific model organs with the help of patient medical imaging. These models utilize materials such as aluminum AlSi7Mg0,6 and stainless steel 316L, utilized in SLM and DMLS innovations, which can cost many dollars per kilo/pound.
Cost of 3D printing materials generally goes higher depending on how specialized or valuable the material is, especially after adding material cost with additional system completion and co-ordination cost. This high cost along with high cost of online 3D printing services may hamper orthopedic planning systems market growth over the forecast period.
Country-wise Insights
Why is the U.S. Orthopedic Planning Systems Market Proliferating?
"Rising Use of AI and Robotics in Healthcare Sector"
The U.S. accounted for more than 96% market share in the North America orthopedic planning systems market in 2021, and a similar trend is expected over the forecast period.
Increased use artificial intelligence and robotics in personalized healthcare systems in the U.S. is driving market growth in the country. Artificial intelligence aims to help orthopedic surgeons in predicting patient outcomes post-surgery. This is offering a lucrative opportunity for market players in the U.S.
Will Germany Be a Lucrative Market for Orthopedic Planning Equipment Providers?
"High Digitalization of Healthcare Processes"
Germany held around 39.8% market share of the Europe orthopedic planning systems market in 2021, owing to enhanced digitization of healthcare processes and rise in the geriatric population prone to knee ailments and falls.
Additionally, collaborative steps taken by academic organizations and manufacturers, and approval of grants to invest in the market, adds to the factors for market growth.
For instance, in March 2020, the University Medical Centre Utrecht, MRIguidance, and Axial3D, in collaboration, received a European Eurostars grant for developing a detailed, free-from-radiation, 3D printing innovation to be used in pre-operative planning in orthopedic procedures.
How is China Emerging as a Prominent Market for Orthopedic Planning Devices?
"Surging Adoption of e-Health Solutions"
China held the largest market share of 83.8% of the East Asia orthopedic planning systems market in 2021 due to rising healthcare IT penetration and growing consumer awareness, as well as increasing cases of lifestyle-related knee, spine, and cervical problems.
Additionally, rising adoption of Electronic Health Record Systems (EHRS) and other e-health solutions in the orthopedic sector is boosting demand for orthopedic planning units in China.
According to the annual surveys done by CHIMA (The Canadian Health Information Management Association), average rate of adoption of electronic health records have increased nearly 3.6X in hospitals from 2007 to 2018 in China.
Demand for orthopedic planning systems is further expected to grow with an increasing number of hospitals adopting e-health solutions over the coming years.
Category-wise Insights
Which Orthopedic Planning Solution Type is Driving Market Growth?
"High Demand for Pre-planning Software across Regions"
The pre-surgical planning software segment held around 63.3% share of the total orthopedic planning systems market, by solution, in 2021. The reason for this is its great importance in aiding surgeons to take preoperative decisions and determining the complexity of procedures. This minimizes the risks associated with surgery and results in faster recovery.
Therefore, orthopedic planning system usage is higher in the case of pre-surgical planning software as compared to other solutions, and is expected to drive its demand in the future, globally.
Which Application Drives Most Demand for Orthopedic Planning Systems?
"Orthopedic Planning Equipment Most Commonly Used for Joint Replacement Procedures"
Joint replacement held the largest market share of 58.2% in 2021. Among all the types of joint replacements, hip replacement and knee replacement account for the high prevalence across the globe.
According to NCBI, approximately 1 million joint replacements are performed in the U.S. every year, which is expected to reach 4 million by 2030.
Joint replacement is widely done because of its success in eliminating pain, correcting deformity, and improving patient mobility, wherein patients can regain quality of life and get back to the activities that they enjoy.
How are Orthopedic Planning Units Most Commonly Deployed?
"High Deployment of On-premise Orthopedic Planning Systems"
Deployment of on-premise orthopedic planning systems contributes the largest share to the global market at nearly 42.6%. Software, within this category, are installed and run on computers on-premise of the organization using them.
High demand is primarily because of the licensing of the software itself and that the entire software resides within the premises of an organization, such as hospitals or clinics, which results in far greater protection than any other deployment type.
Competitive Landscape
Product launches are keenly looked at in this market. Also, consolidation activities such as mergers and acquisitions have been undertaken by many key suppliers of orthopedic planning systems. Such consolidations in the market let players combine their liabilities, assets, and other financial items.
For instance,
In October 2020, EOS imaging announced the first EOSedge™ system installation in Australia at the Macquarie University Hospital.
In December 2020, Zimmer Biomet acquired A&E Medical and its wide-range of sternal closure devices portfolio, which includes cable systems, sternal sutures, and others.
In April 2020, Brainlab received a CE Mark approval for its next generation patient positioning and monitoring system called ExacTrac® Dynamic.
Orthopedic Planning Systems Industry Report Scope
Attribute

Details

Forecast Period

2021-2031

Historical Data Available for

2016-2020

Market Analysis

USD Million for Value

Key Countries Covered

U.S.
China
Germany
U.K
Benelux
India
France
Canada
Australia
Japan
Brazil
South Korea
Italy
Malaysia
GCC Countries
Spain
Mexico
Russia
South Africa
Turkey
Argentina
New Zealand
Thailand
Indonesia

Key Market Segments Covered

Solution
Application
End User
Deployment
Region

Key Companies Profiled

Formus Labs Ltd,
EOS imaging,
Brainlab AG,
Sectra AB,
Stryker,
Materialise,
Medstrat,
mediCAD Hectec GmbH,
3D Systems, Inc.,
PEEK HEALTH S.A,
Radlink, Inc.,
SurgiNovi,
RSA Biomedical,
HIPOP-PLAN,
Zimmer Biomet,
Optinav,
Enhatch Inc.,
numex GmbH,
Corin Group.

Report Coverage

Market Forecast
Competition Intelligence
DROT Analysis
Market Dynamics and Challenges
Strategic Growth Initiatives

Customization & Pricing

Available upon Request
Key Segments Covered in Orthopedic Planning Systems Industry Research
Orthopedic Planning Systems Market by Solution:
Pre-Surgical Planning Software

2D Planning Software
3D Planning Software

Post-Surgical Planning Software
Orthopedic Planning Systems Market by Application:
Joint Replacement

Hip Replacement
Knee Replacement
Shoulder Replacement
Small Bone Replacement

Orthopaedic Oncology
Orthopedic Planning Systems Market by Deployment:
Web Based Software
Cloud Based Software
On Premises
Orthopedic Planning Systems Market by End User:
Hospitals
Ambulatory Surgical Centers
Orthopaedic Office-Based Clinics
Orthopedic Planning Systems Market by Region:
North America Orthopedic Planning Systems Market
Latin America Orthopedic Planning Systems Market
Europe Orthopedic Planning Systems Market
South Asia Orthopedic Planning Systems Market
East Asia Orthopedic Planning Systems Market
Oceania Orthopedic Planning Systems Market
Middle East & Africa Orthopedic Planning Systems Market