Market Overview
In recent years, there has been a growing trend toward using natural ingredients in food, nutraceuticals, and cosmetics, resulting from increasing concerns regarding consumer safety and regulatory issues over the introduction of synthetic chemicals in the human food chain. Demand for natural products derived from microalgae has been growing rapidly, owing to increasing consumer awareness of its health benefits. Application of astaxanthin, spirulina, chlorella Lutein, and others has increased in aquaculture feed, nutraceutical, cosmetics, and food & beverages. This is boding well for the expansion of the microbial algae products market size.
Rising Demand for Dietary Supplements & Superfoods
Natural astaxanthin sources from microalgae are three to four times more valuable than synthetic alternatives in the nutraceutical and pharmaceutical markets. Since there is growing market demand for natural astaxanthin for specific commercial applications to replace synthetic ingredient in products, manufacturers have increased cultivation of microalgae on an industrial scale.
Microalgae-based products demand is rising all the time, as Spirulina and chlorella are used superfoods, since they consist of large amounts of protein. Spirulina also contains high amounts of vitamins, minerals, and other nutrients, which makes it an ideal food ingredient. Spirulina contains vitamins A, B, C, E, and K, and calcium, iron, magnesium, manganese, phosphorus, sodium and zinc.
Rise in dietary supplement and superfood consumption among consumers is boosting the global microbial algae products market across regions. Moreover, surging demand in the animal feed and aquaculture market is expected to surge the growth of the global microbial algae products market.
High Demand for Natural Ingredients Creating Opportunities for Manufacturers
Demand for natural food supplements and growing awareness about the adverse effects of chemical products among consumers will lead to increased production of astaxanthin, spirulina, and chlorella in the future. As consumers are seeking more natural products, food suppliers are reformulating existing product lines to offer unique products. To offer cleaner, consumer-friendly ingredients such as colors, natural sources have become increasingly common.
Consumers are steadily avoiding animal-based proteins, owing to growing environmental and health issues in many regions around the world, such as Europe and North America. Consumers are moving toward plant-based or microalgae-based proteins – a trend that is expected to provide a significant boost to the overall growth of the global microbial algae products market space.
At present, microalgae-based proteins and ingredients are typically niche in popular foods and drinks. There are products with microalgae used as a minor ingredient, such as pastas and some bakery products, and even, more recently, products that use natural blue spirulina pigments in drinks and confectionery. The U.S. Food & Drug Administration (FDA) has approved Spirulina to be used as a colorant in confectionary applications and chewing gums in the U.S., and the color is in full compliance with federal regulations
Although there is considerably high competition in food & beverages, pharmaceutical, and nutraceutical industries, businesses are constantly finding new ways to cut through this rivalry to gain a competitive advantage. Although the microbial algae products market is relatively in its infancy, a number of companies and small start-ups are entering this space.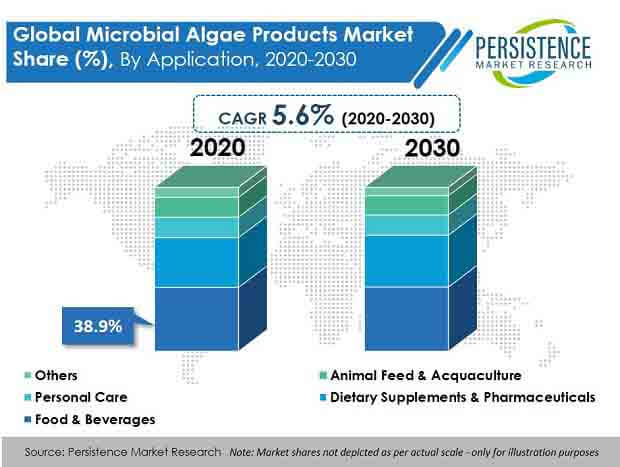 Regional Outlook of Microbial Algae Products Market
North America holds largest microbial algae products market share due to the high consumption of dietary supplements by consumers in the region. Also, rising concerns consumers regarding the environment and impact of food products on health have boosted the sales of microbial algae products in the region. Increased sales of green superfoods such as Spirulina and chlorella, demand for natural colors, and various other factors are fueling the growth of the microbial algae products market.
The market in Asia Pacific is grow steadily, as consumers as becoming aware of the benefits of microalgae on human as well as animal health. The rising dietary supplement market in Asia is creating space for the growth of the microbial algae products market in the region.
COVID Impact on Microbial Algae Products Market
The COVID-19 pandemic has caused a decrease in economic growth across most countries and major sectors, including the food and beverage industry. Microbial algae products are one of the high potential products that have application in various industries.
The COVID-19 outbreak has increased the demand for health-benefitting products, which will support the growth of the microbial algae products market post COVID-19 era. Decreased trade activity owing to imposed lockdowns in some of the major markets has affected sales. There has been a rise in the consumption of dietary supplements during the COVID era, which is leading to a rise in the demand for microbial algae products across regions.
Analysts' Viewpoint
The global microbial algae products market is expected to witness steady growth over the forecast period of 2020-2030. High demand from the dietary supplements segment is anticipated to offer growth opportunities overt the coming years. Rising consumption of natural and healthy products is fueling the global microbial algae products market. Manufacturers are working on innovating unique products from the available biomass to fulfill the various demand of consumers.
Key Segments of Global Microbial Algae Products Market
PMR's report on the global microbial algae products market offers information divided into three segments – product, application, and region.
Product

Astaxanthin
B-carotene
Spirulina
Chlorella
PUFA
Lutein
Others

Application

Food & Beverages
Dietary Supplements & Pharmaceuticals
Personal Care
Animal Feed & Aquaculture
Others

Region

North America
Latin America
Europe
South Asia
East Asia
Oceania
Middle East & Africa