Global Methyl Ethyl Ketone (MEK) Market Forecast
Methyl Ethyl Ketone (MEK) is a volatile and highly flammable liquid with a sweet odor and the molecular formula (C4H8O). It is naturally produced by some trees, bacteria & seaweeds. MEK is an organic compound produced from the dehydration of secondary butanol. It is majorly used in the paint & coating industry as a solvent and also utilized in resin manufacturing. Moreover, MEK finds application in pharmaceutical, chemical, coating and electronics along with other industries as a chemical intermediate, cleaner and solvent.
Moreover, MEK is also used in numerous household products, paints, coatings, degreasing metals, manufacturing magnetic tapes, varnishes and glues. Numerous end-users prefer MEK as an effective solution for different pharmaceutical and chemical applications. High flammability and the subsequent need for high efforts in the safe production and handling of this chemicals may prove to be a challenge as it deters the adoption of MEK in certain end uses. The incremental $ opportunity created by the MEK market during the forecast period is pegged at nearly US$ 255.4 Mn. The MEK market is expected to expand at a CAGR of 3.6% during the forecast period.
Increasing Acceptance in End-user Industries to Augment the Global MEK Market
With properties such as faster evaporation rate and better solubility, MEK is increasingly being accepted among end-user industries. MEK is widely used in printing inks, agrochemicals, paints & coating, magnetic tapes and other applications. Attributing to its effectiveness as a solvent, MEK is also used in pesticides, chemical intermediates, pharmaceutical detergents and many more applications. Therefore, the increasing application and acceptance of methyl ethyl ether, among diverse end-user industries, is set to be among the key driving factors responsible for the growth of the market in the near future.
Key Developments in the MEK Market
Key players in the MEK market are focusing on collaborations, innovative product development, acquisitions and expansion. The manufacturers are primarily targeting high development areas and producing application-specific products to gain higher market attraction. For instance,
In 2010, Maruzen Petrochemical Co., Ltd announced the expansion of its MEK project in Japan, which now has a 170,000 metric tons per annum production capacity for MEK
On 25th November 2014, Cetex Petrochemicals was acquired by Wayne Burt Capital, a U.S.-based firm, to double the MEK production capacity in South East Asia Pacific to 20,000 tons a year
Global MEK Market Segmentation
The global MEK market can be segmented on the basis of application, end-use and region. On the basis of application, the global MEK market has been segmented into solvent, printing inks, chemical intermediate, lube oil dewaxing, magnetic tapes. On the basis of end-use, the global MEK market has been segmented into paints & coating, rubber, artificial rubber, packaging, chemical & pharmaceutical and agricultural. Geographically, the global MEK market can be segmented into seven key regions such as Middle East & Africa, China, North America, Europe, and Latin America, South East Asia & Pacific, Japan. The MEK market is a fragmented one, owing to the presence of a number of players. The leading players in the MEK market have medium to good presence across the globe.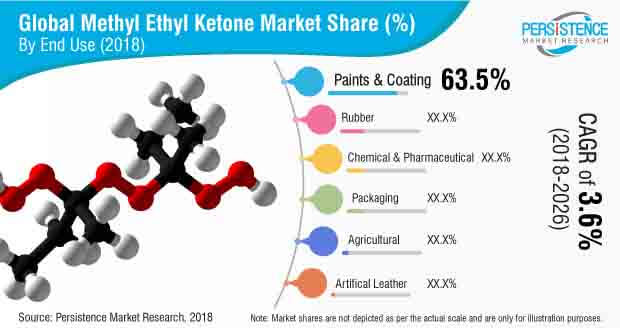 Europe to Remain a Moderate Value – High Growth Region in the Global MEK Market over the Forecast Period
Generally, ethyl methyl ketone is used as solvents in the paint and costing industry. The paints and coatings market is estimated to expand at a strong rate during the forecast period, owing to the growth of construction activities mainly in Europe. This, in turn, is expected to drive the demand for MEK during the forecast period (2018-2026). Moreover, growth in the automotive sector and agrochemicals, which has recorded strong growth numbers in the MEK market. Increasing production of vehicles in the region is expected to result in an increase in the use of paints and coatings
A Brief Overview of the Research Methodology of the Global MEK Market Report
To understand the opportunities and trends, the global MEK market report has been segmented on the basis of two criteria, i.e. application and end-use industry. For market data analysis, we have considered 2017 as the base year. Firstly, the basic data related to MEK – collected from sources including product manufacturers, end-user procurement agencies, distributors and regional representatives was gathered.
Moreover, public data sources such as industry association reports_bk_01_01_2020, government directives & press reports_bk_01_01_2020, reports_bk_01_01_2020 from financial rating and assignment agencies were also considered. Considering both supply side and demand side drivers and trends of the various regional markets. Historic data includes data for the period 2013-2017.
Key Players in the Global MEK Market
Some of the players reported in this study on the global MEK market are Sasol, Cetex Petrochemicals, AkzoNobel N.V., Arkema S. A., ExxonMobil Chemical, Shell Chemicals, Ineos Solvents, PetroChina Lanzhou Petrochemicals, Idemitsu Kosan Co. Ltd, Tonen Chemicals and SK Energy Co. Ltd.
Market Segmentation
The next section of the global MEK market report includes patent analysis and regulations of MEK for seven key regions. The section that follows analyses the global MEK market on the basis of segments and presents a forecast for the period 2018-2026. The global MEK market has been segmented on the basis of application, end-use and regions, as mentioned below.
Attribute
Details

By application:

Solvent
Printing Inks
Chemical Intermediate
Lube oil dewaxing
Magnetic Tapes

By end use

Paints & Coatings
Rubber
Packaging
Artificial Leather
Agricultural
Chemical & Pharmaceutical

By region

North America
Latin America
China
Japan
Europe
Middle East & Africa
South East & Asia Pacific & Other APAC
The last section of the report includes a competitive dashboard, key developments, SWOT analysis and financial analysis, which includes market share analysis and provides information and analysis of major players based on the categories of manufacturers and service providers across the value chain and their presence in the global MEK market.