Dimethyl Oxalate Market Outlook (2022-2032)
A new report by Persistence Market Research reveals that the global dimethyl oxalate market is currently valued at US$ 571.4 Mn, after having registered Y-o-Y growth of 4.9%. Demand for dimethyl oxalate is projected to increase at a value CAGR of 5.2% to reach a market size of US$ 946.6 Mn by the end of 2032.
East Asia and South Asia & Pacific are anticipated to remain key regional markets for dimethyl oxalate businesses owing to rapidly rising consumption in China and India.
| Attribute | Key Insights |
| --- | --- |
| Dimethyl Oxalate Market Size (2021A) | US$ 544.6 Mn |
| Market Estimations (2022E) | US$ 571.4 Mn |
| Market Forecasts (2032F) | US$ 946.6 Mn |
| Value CAGR (2022-2032) | 5.2% |
| Collective Value Share: Top 3 Countries (2022E) | 52.41% |
Consumption Analysis of Dimethyl Oxalate (2017 to 2021) Vs. Market Outlook (2022 to 2032)
Between 2017 and 2021, worldwide demand for dimethyl oxalate increased at a CAGR of 2.5%.
Dimethyl oxalate is oxalic acid's dimethyl ester. Rising demand for fertilizers from agrochemicals and intermediates for active pharmaceutical ingredients (API) are the key drivers for the growth of the dimethyl oxalate market. As a solvent, it is also employed in the production of esters, resins, perfumes, and electronic lacquers.
Dimethyl oxalate has exhibited increased consumption in the past years owing to the high production of integrase inhibitor drugs and other APIs. In addition, dimethyl oxalate usage has increased as a result of the growing demand for steroids and barbiturates. Strong R&D has led to an increase in sophisticated therapies and the need for specialized medications, which is helping the market expand.
Demand for agrochemical production and manufacturing of large amounts of fertilizers and pesticides has resulted in considerable consumption of dimethyl oxalate. Higher demand for agrochemicals over the coming years will result in higher growth of the dimethyl oxalate market at 5.2% CAGR through 2032 on a value basis.
The market is being majorly influenced by the increasing population and the growth of several end-use industries such as textiles and metal processing, to name a few.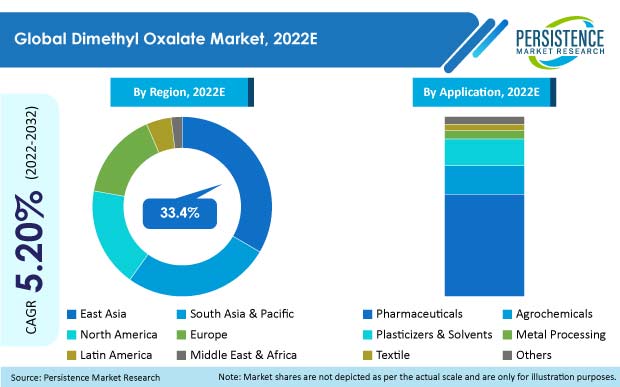 What's Augmenting Dimethyl Oxalate Market Growth?
"Increasing Exploration of Novel Dimethyl Oxalate Applications"
Dimethyl oxalate is used in a variety of conventional applications, including those for manufacturing pure methanol solvents, intermediates, cosmetics, agrochemicals, pharmaceuticals, and others. However, it is also being researched for use in novel applications such as direct oxidation fuel cells and raw materials for HIV integrase inhibitor drugs.
A sizeable portion of key players' revenue is going toward research and development to look into new use cases of dimethyl oxalate in pharmaceuticals, fuel cells, cosmetics, and others.
Due to its unique physical and chemical characteristics, dimethyl oxalate is being researched for applications such as direct oxidation fuel cells, where it improves cell efficiency, offers energy and cost savings, and more. As a result, the use of dimethyl oxalate in novel applications will enable producers to boost output, which will improve their global footprint as a result of the rising demand for dimethyl oxalate.
How is Demand Growth for Dimethyl Oxalate being Adversely Affected?
Millions of workers inhale and exhale solvents every day. Solvent exposure is associated with neurotoxicity, reproductive disorders, liver and kidney damage, cancer, and other health risks. Many of the chemical, physical, and biological properties of solvents are shared. In addition, many solvent groups or specific compounds have properties that require a higher degree of control.
Dimethyl oxalate is a corrosive substance that can cause injury to the skin, eyes, and respiratory tract, and high exposure can even lead to death (inhalation by workers can cause chemical pneumonitis).
Dimethyl oxalate, which is easily soluble in water, and can be harmful if consumed, causes irritation on the mucosal surfaces and releases unpleasant fumes if it catches fire. These harmful properties of dimethyl oxalate may hamper market progress to some extent over the coming years.
Country-wise Analysis
Why Does China Account for a Significant Share of the Diethyl Oxalate Market?
The China dimethyl oxalate market is expected to expand at 5.8% CAGR during the forecast period.
China is a key producer and exporter of dimethyl oxalate. Substantial growth in end-use sectors in the country is also bolstering market growth.
China's healthcare sector has experienced significant growth, enabling it to start a shift from a basis for manufacturing pharmaceuticals to strategic R&D centers.
Basic chemicals, intermediates, and active pharmaceutical components have traditionally been produced by Chinese pharmaceutical companies. The raw material of diethyl oxalate is used to create active medicinal compounds. These APIs are also utilized in a variety of therapeutic medications that are taken orally.
As such, rapid expansion of the pharmaceutical sector in China will help the dimethyl oxalate market flourish over the decade.
Will India Emerge as a Key Market for Dimethyl Oxalate Suppliers?
In the South Asia and Pacific region, where India is a developing market, the agriculture sector significantly contributes to overall GDP growth. Growth of end-use industries such as pharma, textiles, agriculture, and others that consume dimethyl oxalate to a certain extent, bodes well for market expansion.
The India dimethyl oxalate market is expected to reach US$ 117.6 Mn by end of 2032.
Several government programs support the expansion of the agricultural industry. Agrochemicals such as herbicides, pesticides, insecticides, and others are made using dimethyl oxalate. Agrochemical use has expanded to boost crop yield as a result of declining arable land due to infrastructure development.
India is anticipated to export a significant amount of these chemicals over the coming years in addition to local use.
Category-wise Insights
What Is the Growth Outlook for Dimethyl Oxalate in the Pharmaceutical Industry?
Consumption of dimethyl oxalate is anticipated to increase in the pharmaceutical industry. Dimethyl oxalate is a flexible solvent used in the production of APIs.
Integrase inhibitors are antiretroviral drugs that prevent the viral enzyme integrase from splicing the viral genome into the DNA of the host cell. Inhibiting integration, which is a crucial step in retroviral replication, can prevent the virus from spreading.
One of the main ingredients in integrase inhibitor drugs is dimethyl oxalate. The immune system is weakened by the human immunodeficiency virus. T cells, or CD4 cells, which are white blood cells, are taken over by it. The immune system is unable to fight off viruses, bacteria, fungi, and other diseases when the virus kills too many people.
Antiretroviral therapy (ART) and other HIV medications can help maintain a healthy immune system and significantly reduce the risk of contracting these diseases. As a result, there is a higher demand for these drugs.
To the fulfilments of this demand, pharmaceutical companies are increasing the production of integrase inhibitor drugs, which leads to a spike in the demand for dimethyl oxalate in the market.
The pharmaceutical industry's end use is anticipated to increase at a CAGR of 5.4% during the forecast period.
Which Dimethyl Oxalate Application is Expected to Gain High Traction?
The agrochemicals sector is a prominent segment with high market attractiveness. The segment is expected to create an incremental dollar opportunity of US$ 61.9 Mn during the forecast period of 2022 and 2032.
Globally, rapid population growth has increased the demand for agricultural products due to increasing food consumption. Increasing crop productivity and agricultural growth have led to an increase in the use of agricultural chemicals. Insecticides, herbicides, and fungicides are all made using dimethyl oxalate.
Every year, plant pests and insects cause significant losses to farmers around the world. According to estimates, insects ruin 15% of crops, and 10% of crops are destroyed by pests during the postharvest period. By defending crops, boosting productivity, and maintaining the quality of the produce, agrochemicals help reduce this loss.
To meet the rising demand for food from a growing population, increasing agricultural output and yield have become crucial. The productivity and yield of crops must be increased through the use of agrochemicals.
Agrochemicals such as pesticides and fertilizers help plants grow while also defending the crops against disease. Dimethyl oxalate consumption in the creation of fungicides, herbicides, and pesticides has increased as a result of this.
Competitive Landscape
The market for dimethyl oxalate is specialized. The dimethyl oxalate industry is still in its infancy stage, and research into its applications in many end-use industries is ongoing. As a result, the market hasn't yet grown to its full potential. To look into new applications, major businesses are devoting a sizeable amount of their revenue to research and development.
There are numerous potential uses for this chemical; however, there are significant barriers that must be overcome before it is widely used, including limited consumer/end-user awareness and the wide availability of substitutes.
Dimethyl Oxalate Industry Report Scope
Attribute
Details

Forecast Period

2022-2032

Historical Data Available for

2017-2021

Market Analysis

US$ Mn for Value
Tons for Volume

Key Regions Covered

North America
Latin America
Europe
East Asia
South Asia & Pacific
The Middle East and Africa

Key Countries Covered

U.S.
Canada
Brazil
Mexico
Germany
U.K.
France
Italy
Spain
Russia
China
Japan
South Korea
India
ASEAN
Australia and New Zealand
GCC Countries
Turkey
Northern Africa
South Africa

Key Market Segments Covered

Key Companies Profiled

UBE Corporation
Merck KGaA
Connect Chemical GmbH
Nanjing Chengyi Chemical Co., Ltd.
Hefei TNJ Chemical Industry Co., Ltd
Mudanjiang Fengda Chemicals Corporation
Zhonglan Industry Co, Ltd
Ningbo Jiasi Chemical Co., Ltd
Changzhou Yetai Fine Chemical Research Institute Co. Ltd.

Pricing

Available upon Request
Key Segments Covered in Dimethyl Oxalate Industry Research
Dimethyl Oxalate Market by Grade:
Pharma Grade Dimethyl Oxalate
Industrial Grade Dimethyl Oxalate
Dimethyl Oxalate Market by Application:
Pharmaceuticals
Agrochemicals
Plasticizers and Solvents
Metal Processing
Textile
Others
Dimethyl Oxalate Market by Region:
North America Dimethyl Oxalate Market
Latin America Dimethyl Oxalate Market
Europe Dimethyl Oxalate Market
East Asia Dimethyl Oxalate Market
South Asia & Pacific Dimethyl Oxalate Market
Middle East & Africa Dimethyl Oxalate Market