Laser Gas Analyzer Market Outlook 2022-2032
The global laser gas analyzer market is currently valued at US$ 2.9 Bn. Detailed market study reveals that worldwide sales of laser gas analyzers are expected to reach a market valuation of US$ 5 Bn by 2032, increasing at a CAGR of 5.6%.
The oil & gas, chemical, and healthcare sectors are expected to be the most prominent end users of laser gas analyzers, together accounting for around 42% market share.
| | |
| --- | --- |
| Laser Gas Analyzer Market Size (2022E) | US$ 2.9 Bn |
| Projected Market Value (2032F) | US$ 5 Bn |
| Value CAGR (2022-2032) | 5.6% |
| Collective Value Share: Top 3 Countries (2022E) | 49.8% |
Sales Analysis of Laser Gas Analyzers (2017 to 2021) Vs Market Projections (2022 to 2032)
Sales of laser gas analyzers across the world increased at 2.1% CAGR from 2017 to 2021. With uncertainty due to COVID-19, market players were constantly monitoring and evaluating the pandemic's direct and indirect effects on various end-use industries.
Since laser gas analyzers are used to prevent corrosion in natural gas pipeline infrastructure, an increase in shale gas and tight oil explorations has driven sales worldwide. Furthermore, laser gas analyzer usage in various settings for gas detection such as healthcare and construction has been mandated by government legislation and the enforcement of occupational health and safety regulations. This is so because of high awareness of the dangers of gas leaks and emissions.
During the forecast period of 2022-2032, the global market for laser gas analyzers is anticipated to expand at 5% CAGR.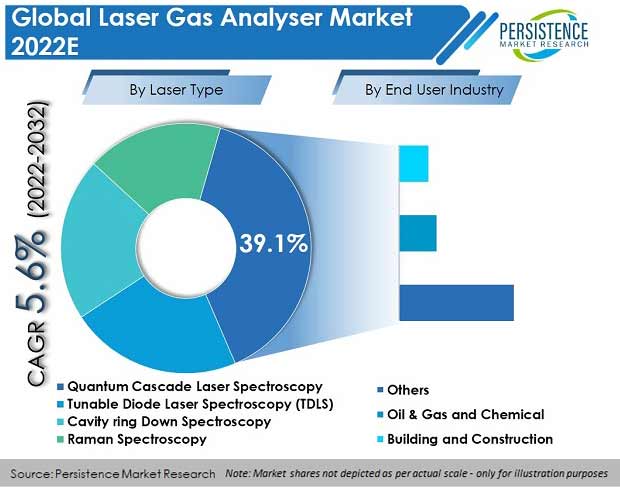 What Key Opportunities Await Laser Gas Analyzer Manufacturers?
"Emergence of Smart Laser Gas Analyzers for Real-time Monitoring Purposes"
Manufacturers of gas detection devices are working on connecting smart laser gas analyzers to smartphones and other wireless devices to enable real-time monitoring, remote control, and data backup. Gas analyzers with cutting-edge analyzing technologies are also being introduced into the market. Companies have started working on hybrid analyzers for emission monitoring and gas analysis that use Quantum Cascade Laser (QCL) and Tunable Diode Laser (TDL) measurement technologies.
Modernization and migration services include upgrading old industries to automate process drives, and, as such, analyzers and old instruments are being upgraded for this very purpose.
The rapid development of modern infrastructure is a critical requirement for the laser gas analyzer industry to thrive. Various government proposals are also assisting manufacturers in developing infrastructure-based analyzers that come with modern integrated high-speed communication features.
"Strict Regulations on NOx Emissions Driving Sales of Laser Gas Analyzers"
Due to methane emissions, companies are paying millions of dollars in legal fines, and are therefore constantly looking for suitable alternatives. Since they provide real-time data and are robust, laser-based gas analyzers are the heart of entire operations and are also being widely used in new systems that are being developed.
Oil rigs across the world have failed to control methane leakage in recent years. To reduce methane emissions, governments across the world have implemented stricter regulations. However, companies were unable to meet these requirements due to outdated infrastructure.
Countries are investing heavily in renovations and new facilities due to concerns about increasing carbon footprint. As such, demand for laser gas analyzer systems and services is growing as regulations on NOx emissions become more stringent.
"Market Players Leveraging Low Cost of Ownership Factor"
When compared to gas chromatography, laser gas analyzers can provide a faster response, making it easier for end users to manage operations. As a result, the ability of these analyzers to provide a reliable solution at a low cost of ownership has been a key factor for rapid growth.
Rapid industrialization, particularly in China and India, has been a primary driver of market growth in the country. Developing economies such as these have been strengthening their roots in all sectors and are using analyzers owing to the technological benefits and rising environmental awareness.
Critical process industries such as food & beverages, oil & gas, and chemicals, from a vertical perspective, have been aiding laser gas analyzer device market growth due to the low maintenance and cost of these systems.
Even though laser gas analyzers are known for single-component analysis, trends indicate that multi-component analysis has a bright future, which could increase market growth opportunities.
Country-wise Insights
What is the U.S. Laser Gas Analyzer Market Stance?
"Environmental Concerns Augmenting Demand Growth of Laser Gas Analyzers"
The U.S. laser gas analyzer market accounts for around US$ 900 Mn valuation in 2022. Due to numerous strict industrial and environmental conservation regulations laid down by the government, the market is expected to grow rapidly over the coming years as well.
The presence of renowned industrial and infrastructure establishments and their continued interest in high-accuracy solutions are also aiding market progress.
Due to environmental factors in California and the Midwest, state governments have been forced to invest heavily in water treatment facilities, which will thereby drive demand for laser gas analyzing devices. The market will see tremendous growth due to the growing need for tracking harmful gases across various industries in the United States, as well as rising concerns about the protection of the environment and the public.
Due to rising demand from the healthcare sector and technological advancements in tracking patients' health, the laser gas analyzer market will see added growth opportunities.
City councils of major west and east coast cities have mandated the use of laser gas analyzers in mid- and high-rise buildings, where these devices are being installed to track power usage and greenhouse emissions.
What is the Outlook for Laser Gas Analyzer Manufacturers in China?
"Huge Natural Gas Market of China Driving Laser Gas Analyzer Consumption"
China alone accounts for two-thirds of global natural gas demand, according to the International Energy Agency. Because the country is not connected to a high-pressure pipeline, it is more vulnerable to gas leaks. As a result, constant monitoring is required during transportation, and as such, demand for laser gas analyzers is only expected to grow.
China has become more proactive in addressing environmental concerns as the world's largest population and with the fastest-growing cities. In this regard, the country implemented several systems, including gas analyzers in city blocks, to track carbon dioxide and other emissions.
Food and beverage processing, construction, healthcare, and public utilities, including electric power generation, are major consumers of laser gas analyzers in the country.
China accounts for 18% share of the East Asia laser gas analyzer market. China is a global powerhouse for semiconductors, fueling the market for laser gas analyzers. Rapid growth of the laser gas analyzer market in China can be attributed to the country's foundries, which play an important role in semiconductor chip manufacturing.
The Semiconductor Manufacturing International Corporation (SMIC) of China and Grace Semiconductor Manufacturing Corporation (GSMC) of China are two of the world's top wafer foundries.
Since laser gas analyzers have important applications in the country's semiconductor industry, the market is set to see steady growth going forward.
Which European Country is a Huge Market for Laser Gas Analyzers?
"Germany Laser Gas Analyzer Market Leading in Europe"
Within the European Union, new and stricter emission regulations for waste incineration are in the works. These regulations were only recently made official, which will increase the demand for laser gas analyzers.
Europe's infrastructure is aging, potentially increasing the risk of leaks that can wreak havoc in the region. As a result, governments across the region are working hard to install and replace aging infrastructure to improve gas monitoring, which will invariably drive the need for laser gas analyzers.
Germany accounts for nearly 23.5% of the Europe laser gas analyzer market share in 2022 and is predicted to be the fastest-growing market in the region. Strict norms related to the food and beverages industry and water treatment facilities and rising healthcare investments are expected to drive market growth, with aging infrastructure being replaced on a war-footing basis.
Category-wise Insights
Which Laser Gas Analyzer Type Has Most Potential for Demand Growth?
"Ever-rising Popularity of Tunable Diode Laser Gas Analyzers"
Holding a market share of 22.2%, tunable diode laser analyzers are hugely sought-after, and this trend is expected to continue throughout the forecast period.
When compared to gas chromatography, Tunable Diode Laser Analyzers (TDLAS) can provide a faster response, making this type a more appealing option for end users. All in all, the ability of tunable diode laser analyzers to provide a reliable solution at a low cost of ownership has been the primary driver for the rapid growth of this segment.
Other inherent benefits such as ease of maintenance, high detection accuracy, and ease of operation have made tunable diode laser analyzers the most preferred type in the market.
Raman laser analyzers are preferred in critical industries such as natural gas and chemicals for composition and mixing analysis due to their simple calibration and excellent signal-to-noise ratio. However, these analyzers have some drawbacks.
While Raman analyzers are known for their nitrogen and oxygen measurement compatibility, the system's complexity makes it unsuitable for an online process analysis setup.
Besides, the technique is difficult to use with fluorescent samples. To summarize, market players need to improve Raman analyzers technologically to address their major challenges and catch up with TDLAS.
Where is Laser Gas Analyzer Usage High?
"High Demand for Laser Gas Analyzers from F&B, Oil & Gas, and Chemical Sectors"
By the end of 2032, food & beverages, oil & gas, and chemicals are together expected to account for 43.1% share of the demand for laser gas analyzers.
Increasing infrastructure developments, such as water treatment facility systems, necessitate the deployment of laser gas analyzer systems for superior detection as well as increased tracking and monitoring services.
Competitive Landscape
Several big-, medium-, and small-scale laser gas analyzer manufacturers and service providers are present in the market. By developing long-term relationships with OEMs and manufacturers in target markets such as India, China, and Europe, market participants are generating new sources of revenue.
Leading industry players are also investing in new and advanced material technologies that will enable the production of high-quality laser gas analyzers.
Laser Gas Analyzer Industry Report Scope
Attribute

Details

Forecast Period

2022-2032

Historical Data Available for

2017-2021

Report Coverage

Market Forecast
Brand Share Analysis
Competition Intelligence
DROT Analysis
Market Dynamics and Challenges
Strategic Growth Initiatives

Market Analysis

USD Million for Value
Units for Volume

Key Market Segments Covered

Laser Type
Process
Mode
System Type
End User
Region

Key Regions Covered

North America
Latin America
Europe
East Asia
South Asia & Pacific
The Middle East & Africa

Key Companies Profiled

ABB Ltd,
Emerson Electric Co
Honeywell International Inc.
Yokogawa Electric Corporation
AMETEK Land Instruments International

Customization & Pricing

Available Upon Request
Categorization of Laser Gas Analyzer Industry Research
Laser Gas Analyzer Market by Laser Type:
Tunable Diode Laser Spectroscopy (TDLS)
Raman Spectroscopy
Cavity ring Down Spectroscopy
Quantum Cascade Laser Spectroscopy
Laser Gas Analyzer Market by Process:
Laser Gas Analyzer Market by Mode:
Single-mode Laser Gas Analyzers
Multi-mode Laser Gas Analyzers
Laser Gas Analyzer Market by System Type:
Portable Laser Gas Analyzers
Fixed Laser Gas Analyzers
Laser Gas Analyzer Market by End Use:
Class Oil & Gas and Chemicals
Building and Construction
Food and Beverages
Healthcare
Water Treatment
Others
Laser Gas Analyzer Market by Region:
North America Laser Gas Analyzer Market
Latin America Laser Gas Analyzer Market
Europe Laser Gas Analyzer Market
East Asia Laser Gas Analyzer Market
South Asia & Pacific Laser Gas Analyzer Market
Middle East & Africa Laser Gas Analyzer Market