Large number of IoT-enabled smart devices quite common in the 21st century
IoT connected devices collect large amounts of data and these devices are equal in value to the critical information that they gather. The number of such devices is rising on account of the steady demand for IoT services in different sectors for various applications. Therefore, the IoT analytics market is enabling companies to create services and platforms that allow them to efficiently analyze and manage real-time information streams from diverse data sources.
This allows companies to better manage, optimize, and predict business operations and processes, improve profitability and efficiency, and neutralize threats. Thus, data analytics is vital for the growth of IoT and companies are focusing their efforts on the IoT analytics market and its entire ecosystem. Companies are devising appropriate strategies to deploy and procure relevant tools that should allow the successful adoption of IoT and operation analysis in real time.
Healthcare a major vertical of the North America IoT analytics market
The IoT analytics market plays a key role in improving the efficiency of the healthcare industry. The volume of data processed by the healthcare industry is growing by leaps and bounds. The IoT analytics market provides crucial insights related to health from large amounts of data that helps in critical decision making. Digitization in the healthcare industry along with adoption of IoT technology permits seamless collection of information for patient records and databases such as population health data.
Software complexity and lack of skilled professionals a huge challenge
One of the major restraints in the IoT analytics market is the complex software that requires highly skilled resources. Developing hardware, software, and system integration necessitate trained and specialized resources to handle data preparation, create predictive models, and integrate these into applications. The resources are either unavailable or too expensive to hire, which stifles the growth of the IoT analytics market.
Collaborations a major component of the North America IoT analytics market
To cater to the unending demand for IoT among business organizations and offer them cutting-edge technology, key players in the IoT analytics market have entered into joint ventures and partnerships with other players. Several connected device manufacturers such as Cisco Systems, telecommunication giant AT&T and tech conglomerates such as IBM Corporation have decided to offer smart solutions for the purpose of advanced data analytics. This is typically by way of IoT platforms. For e.g. – In March 2017, IBM Corp. partnered with AT&T to provide enterprise customers with industrial IoT data insights.
AT&T uses IBM products such as IBM Machine learning, IBM Watson Data Platform, and Watson IoT Platform to manage devices and apps and offer insights from different sources of data. IBM Corp. also collaborated with Cisco Systems in June 2016 to provide instantaneous IoT insights at the network edge. Customers at remote, far-flung locations could be immensely benefited with these combined solutions of IBM Watson and Cisco's edge analytics that help in the better understanding of network edge critical data.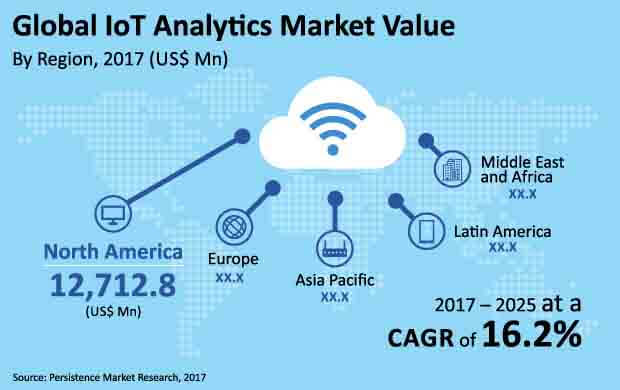 North America alone is worth almost 2/3rds of the global IoT analytics market
North America accounts for a lion's share of the global IoT analytics market and is poised to continue its dominance throughout the forecast period. Within North America, the U.S. is far larger than Canada and it was valued at slightly above US$ 8.8 Bn in 2016. Canada, on the other hand, is poised to record high Y-o-Y growth rates along with a substantial CAGR of 21.2% from 2017 – 2025.
As a result of its well-developed medical infrastructure coupled with an ageing population, healthcare is predicted to be the most attractive vertical in the North America IoT analytics market and it was worth just under US$ 4.3 Bn in 2016. Healthcare is anticipated to show steady revenue growth throughout the forecast period, painting a bright future for key stakeholders in this industry.
IoT Analytics Market: Taxonomy
By Components

By Deployment Type

By Verticals

Healthcare
Retail
Transportation & Logistics
Government
Manufacturing
IT & Telecom
Energy & Utilities
Others

By Region

North America
Latin America
Europe
Asia Pacific
Middle East & Africa
- Companies Covered in This Report -
IBM Corporation
Microsoft Corporation
Intel Corporation
Cumulocity GmbH
Tableau Software
Cisco System Inc.
Oracle Corporation
Aeris Communication
Accenture PLC
Others.