CMO/CDMO Biotechnology Market
Global Market Study on CMO/CDMO Biotechnology: Standalone Services to Remain Highly Preferred across Regions
CMO/CDMO Biotechnology Market Segmented By Standalone Services and Integrated Development for CMO/CDMO Biotechnology Service in Monoclonal Antibodies, Antibody Fragments, Recombinant Proteins, Vaccines Product
CMO/CDMO Biotechnology Market
Market Snapshot
Revenue spending on stand-alone services in CMO/CDMO biotechnology grew 11.3% year-over-year in 2021. Demand for integrated services increased 8.9% in 2020/21, giving the overall market year-over-year growth of 10.2% in 2021, according to the latest CMO/CDMO biotechnology market report by Persistence Market Research.
Find Out More about the Report Coverage
Companies
Patheon N.V.
Catalent
Samsung Biologics Co., Ltd
Boehringer Ingelheim
Samsung BioLogics
AGC Biologics, Inc.
Avid Bioservices, Inc.
Fujifilm Diosynth Biotechnologies
Xpress Biologic
Key Points Covered in CMO/CDMO Biotechnology Industry Survey:
Market Estimates and Forecasts (2016-2031)
Key Drivers and Restraints Shaping Market Growth
Segment-wise, Country-wise, and Region-wise Analysis
Competition Mapping and Benchmarking
Brand Share and Market Share Analysis
Key Product Innovations and Regulatory Climate
COVID-19 Impact on CMO/CDMO Biotechnology and How to Navigate
Recommendation on Key Winning Strategies
Customize this Report
Explore Intelligence Tailored to Your Business Goals.
Demand Analysis of CMO/CDMO Biotechnology from 2016 to 2020 Vs Market Outlook for 2021 to 2031
The global CMO/CDMO biotechnology market expanded at 8.7% CAGR over the past 5 years.
Contract development and manufacturing CDMO provides development and manufacturing services to biotechnology/biopharmaceutical companies. Pharma/biopharma and biotechnology firms partner with CDMOs as a way to outsource drug development as well as contract drug manufacturing.
Development services, bio manufacturing services, analytical testing, fill finishing, packaging, and clinical supply services are some of the services provided by biotechnology CDMOs/CMOs.
By service, standalone services are expected to lead the market with a share of around 62% over the forecast period. The large share of this segment is primarily attributed to growing cell-line development services by biopharmaceutical and biotechnology companies
Leading global CDMOs are focusing on expansion of their manufacturing capabilities with high flexibility and rapid operation. With the help of advanced single-use technologies, companies are able to cut batch manufacturing and cleaning time from 7 days to 1 day. This is expected to give a competitive edge to companies in terms of high capacity, low cost, convenience, and operational efficacy.
With advancements in contract solutions, leading CDMOs are focusing on the expansion of their integrated capabilities from molecule-to-finished product. The trend is significant as the acceleration of development and speed-to-market is becoming more crucial for biopharmaceutical and biologics developers.
The market is expected to expand at a considerable growth rate over the next ten years at a CAGR of around 11%, and observe an increase in value from US$ 9.2 Bn in 2021 to US$ 28 Bn by the end of 2031. Demand for standalone services will remain the maximum through the course of the forecast period.
Market Research Methodology - Perfected through Years of Diligence
A key factor for our unrivaled market research accuracy is our expert- and data-driven research methodologies. We combine an eclectic mix of experience, analytics, machine learning, and data science to develop research methodologies that result in a multi-dimensional, yet realistic analysis of a market.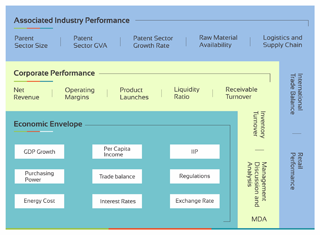 What are the Key Opportunities for Manufacturers of CMO/CDMO Biotechnology?
Novel biologic and biosimilar manufacturing presents strong growth opportunities. In addition, scientific advancements in biopharmaceuticals are boosting the opportunities for technologically advanced CDMOs with potential capabilities.
For instance, in July 2020, Lonza Group AG acquired a California facility from Shire plc.,giving Lonza another tool to grow its already lucrative mammalian manufacturing business. The facility is located in the San Francisco Bay Area. A 58,000-square-foot site adds 1,000 liter and 2,000 liter single-use bioreactors to Lonza's arsenal, as well as associated downstream capabilities.
Adoption of the CDMO and CMO business model in terms of product offering and reduction in operational cost is likely to provide opportunities for market players. Focusing on reduction in operating costs through outsourcing of R&D and commercialization of biopharmaceuticals to CMOs/CDMOs could increase operational efficiency.
Explore Persistence Market Research's expertise in promulgation of the business !
What are the Factors Restraining Demand for CMO/CDMO Biotechnology?
High costs associated with investment of contract manufacturing poses a challenge to the growth of this market.
For instance, biopharmaceuticals manufacturing capacity is tight across the industry, regardless of the location. Globally, biopharma companies have spent over US$50 Bn in just the past five years on setting up new plants and procuring equipment. Much of that has been in tax havens, such as Ireland and Singapore, and in emerging markets.
Lack of highly skilled and experienced professional hampers the growth of CMOs. In order to develop the economy, emerging regions require skilled professionals. Many companies have reported a sizable gap between skilled professionals and the current workforce.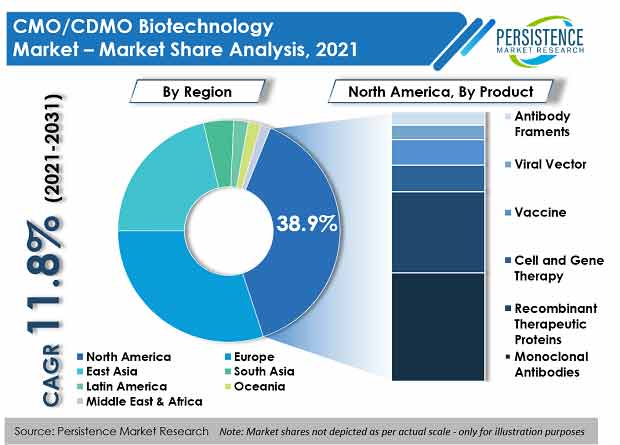 Country-wise Insights
What Makes the U.S. the Largest Market for CMO/CDMO Biotechnology?
The U.S. dominates the North American region with a total market share of 89.5% in 2021, and is projected to continue experiencing high growth throughout the forecast period.
Mergers and acquisitions among U.S. manufacturers play a major role in expanding the business in the country, which will create opportunities during the forecast period.
Moreover, growing trend of multi?drug manufacturing facilities with the production of different biopharmaceutical therapeutics will lead to increased preference for single-use (disposable) bioreactors in the biopharmaceutical CDMOs industry in the U.S.
For instance, in Oct 2018, Thermo Fisher Scientific announced a US$50 Mn (€44 million) expansion at a CDMO plant in St Louis, Missouri, U.S., to add 16,000 L of single-use capacity due to extremely strong growth in demand for commercial biologic manufacturing. As per the company, the facility will be the largest outsourced single-use biologics site in North America.
Why is Germany One of the Leading Players of CMO/CDMO Biotechnology in Europe?
Germany is the second-most dominating market with a share of 22% in the entire European region, and will continue to grow rapidly over the forecast period. Factors contributing to this are use of single-use bioreactors and single-use materials for protein purification, and the continuous mode being used for around 30% of cell culture facilities.
For instance, Rentschler Biopharma, in May 2020, entered into commercial licensing agreement with Horizon Discovery, to offer its cell line development (CLD) solutions for manufacturing highly complex proteins.
Thus, manufacturers are focusing on entering into partnerships and collaborations in order to expand their service offerings, which is likely to augment market growth in Germany.
How Lucrative is the U.K. Market for CMO/CDMO Biotechnology?
The U.K. holds the most dominant position in Europe, with a market share of 26.7%. The market in the U.K. is set to witness an increase in demand due to rising areas of gene and cell therapy.
Moreover, manufacturers are focusing on strategic global presence, specialized expertise with exclusive technological capabilities, and delivering world-class biopharmaceuticals contract development and manufacturing services to the pharmaceutical and biotechnology industry.
For instance, in May 2021, Lonza and Ankyra Therapeutics entered into an agreement to develop and manufacture a cytokine fusion protein. As per this agreement, Lonza will offer its cell line development, drug substance manufacturing, and product manufacturing development services to Ankyra.
Additionally, manufacturers are focusing on expanding their manufacturing capacity in Asian economies such as China.
For instance, in December 2019, Boehringer Ingelheim manufactured the first biopharmaceutical approved in China under the recently introduced MAH contract manufacturing agreement.
Why is South Koreaan Emerging Market for CMO/CDMO Biotechnology?
South Korea dominates the East Asia market with a 70.2% share, and is expected to rise at a CAGR of 15.2% through 2031. South Korea is expected to be the most lucrative country in East Asia due to wide range of developmental services, from cell line development to initial clinical trials, including cell line development, process development, and formulation analysis methodology.
For instance, in August 2020, Samsung Biologics introduced its patented cell line technology – S-CHOice, to advance the cell line development process. Such launces are expected to strengthen the company's existing portfolio.
What is the Outlook in China for CMO/CDMO Biotechnology?
China holds 21.4% share in the East Asia market, and is projected to expand at a CAGR of 17.5%. The main reason is that there are more biosimilars and innovative drugs entering clinical trials, and gradually reaching commercial scale.
For instance, Wuxi Biologics, in March 2021, entered in an equity agreement with Pfizer to acquire its biologics drug substance and drug manufacturing facilities along with the workforce in China. This acquisition will help Wuxi strengthen its drug substance and drug product base in the Chinese market.
Category-wise Insights
Why are Standalone Services Leading the CMO/CDMO Biotechnology Space?
By service, standalone services will lead the market with a share of 61.8% over the forecast period. The large share of this segment is primarily attributed to increasing cell-line development services by biopharmaceutical and biotechnology companies.
Which CMO/CDMO Biotechnology Product is Driving Market Expansion?
By product, monoclonal antibodies are expected to lead the market and hold 47.3% market share over the forecast period. This is owing to significant success rate of development and approvals of monoclonal antibody therapeutics and launch of biosimilars in the U. S. and Europe.
In April 2020, Samsung Biologics and Vir Biotechnology, a U. S. based clinical-stage immunology company, entered into agreement for large-scale manufacture of SARS-COV-2 monoclonal antibody (mAb) for potential COVID-19 treatment. Samsung Biologics is expected to commence commercial batches manufacturing in 2021 at Plant 3 in South Korea.
Why Do Mid-size Contract Development Manufacturers Hold a High Market Share?
Mid-Size contract development manufacturers accounted for 45.9% share in 2021. This high share in the market is due to wide range of service offerings such as cell-line development, development & bio manufacturing, analytical services, and fill finish services.
Which Segment is Leading by Scale of Operations in CMO/CDMO Biotechnology?
Based on scale of operation, commercial is a leading segment, followed by clinical application. Commercial application will hold more than 54% market share over the forecast period, owing to rising approvals of new bio therapeutics and their commercialization.
Leading industry players are focusing of the development and launch of next-generation bio therapeutics to treat serious life-threatening diseases.
What is the Impact of COVID-19 on the CDMO/CMO Biotechnology Industry?
Specialized companies are growing at high annual growth rates due to technology advancements and the COVID-19 outbreak. High allocation of funding is being seen from local governments and companies for the expansion of existing facilities and construction of new facilities to tackle the COVID-19 pandemic. In addition, enhancing CDMO capabilities with technological advancements has become a priority.
For instance, in June 2020, Emergent BioSolutions Inc. joined the U.S. Government's Warp Speed Program in a landmark public-private CDMO partnership for rapid COVID-19 vaccine domestic development and manufacturing through 2021,valued at approximately US$628 million.
Moreover, contract service price difference is owing to the nature of biopharmaceuticals, cell-line technologies, and type of CDMO. Thus, pricing for contract services is expected to shoot up owing to the COVID-19 pandemic, with higher lead times for slot availability.
As such, the COVID-19 pandemic has changed national healthcare priorities and spending, but this is considered to be a short-term negative impact on the growth of the market, as priority was given to the development of COVID-19 vaccines.
However, growing consolidation activities and expanding of domestic/ international manufacturing capacities saw an increase in order to cater to demand for biologics manufacturing. Thus, these factors helped the CMO/CDMO market grow amid the pandemic crisis.
What is the Impact of Market Consolidation on This Space?
Key players follow the strategy of acquisition of small and medium players to secure their position in the market.
For instance, in July 2020, Samsung Biologics further extended its partnership with STCube Pharmaceuticals, Inc. through an additional development and manufacturing service agreement of STM418, an anti-PD1 immuno-oncology candidate for cancer therapy. STCube is focused on developing novel and next-generation immunotherapy for cancer treatment.
Strong biologics pipeline will fuel demand for CDMO services. According to the IMS Institute for Healthcare Informatics, over US$ 57 Bn per year in biologic sales will be off-patent by 2020.
Competitive Landscape
Key players are focusing on expansion in emerging regions and new revised product manufacturing. Strategy of expansion, new product launches, and improved distribution channels such as online sources of advertisement by key manufacturers is further strengthening their market presence.
For instance, in Aug 2020, Avid Bioservices was selected by Iovance Biotherapeutics to lead process development through cGMP manufacturing of novel IL-2 analog, IOV-3001, Interleukin-2/antibody engrafted protein, a novel anti-cancer drug candidate.
Similarly, recent developments related to companies manufacturing CMO/CDMO biotechnology have been tracked by the team at Persistence Market Research, which are available in the full report.
Report Scope as per CMO/CDMO Biotechnology Industry Analysis
Attribute

Details

Forecast Period

2021-2031

Historical Data Available for

2016-2020

Market Analysis

US$ Mn for Value

Key Regions Covered

North America
Latin America
Europe
MEA
East Asia
South Asia
Oceania

Key Countries Covered

US
Canada
Brazil
Mexico
Germany
U.K.
France
Italy
Spain
Benelux
Russia
China
Japan
South Korea
India
Thailand
Indonesia
Malaysia
Singapore
China
Japan
South Korea
Australia
New Zealand
Turkey
Egypt
North Africa
South Africa
GCC Countries

Key Market Segments Covered

Service
Product
Expression System
Company Size
Scale of Operation
Region

Key Companies Profiled

Patheon N.V.
Catalent
Samsung Biologics Co., Ltd
Lonza.
Boehringer Ingelheim
Samsung BioLogics
AGC Biologics, Inc.
WuXi Biologics
AbbVie Inc
Avid Bioservices, Inc.
Fujifilm Diosynth Biotechnologies
KBI Biopharma (JSR Corporation)
Cytovance Biologics
Xpress Biologic
Rentschler Biopharma SE

Pricing

Available upon Request
Key Market Segments Covered in CMO/CDMO Biotechnology Industry Research
Service
Standalone Services for CMO/CDMO Biotechnology

Cell Line Development
Development and Bio Manufacturing
Analytical Services
Fill Finish
Packaging
Clinical Supply services

Integrated Development (development to finish) of CMO/CDMO Biotechnology
Product
Monoclonal Antibodies
Antibody Fragments
Recombinant Proteins
Vaccines
Others
Biosimilars
Therapeutic Proteins
Platform/ Expression System
Mammalian
Microbial
Insect
Others
By Company/ Organization Size
Small-sized CMO/CDMO Biotechnology Companies
Mid-sized CMO/CDMO Biotechnology Companies
Large CMO/CDMO Biotechnology Companies
Very Large CMO/CDMO Biotechnology Companies
By Scale of Operation/Application
Preclinical CMO/CDMO Biotechnology
Clinical CMO/CDMO Biotechnology
Commercial CMO/CDMO Biotechnology
Others