Healthcare segment expected to expand at 8.9% CAGR during the forecast period in North America
The North America region is expected to remain dominant during 2016-2024 in terms of revenue contribution in the global integration and orchestration middleware market. Leading market players are consistently launching innovative products in the market and also strengthening their market share by pitching their existing line of products due to increase in demand in North America. The healthcare application segment was estimated to be valued at more than US$ 300 Mn by 2016 and is expected to be valued at more than US$ 500 Mn by 2024.
This segment is estimated to register a significantly high CAGR of 8.9% during the forecast period. By deployment type, the cloud-based segment is estimated to be valued at more than US$ 2,000 Mn by 2024. This segment is expected to gain more than 1,000 BPS by 2024 over 2016. In North America, the integrated middleware segment is expected to witness significantly high Y-o-Y growth and is projected to exhibit significantly high CAGR of 8.9% over the forecast period.
Digital transformation in North America is creating demand in the integration and orchestration middleware market
In North America, digital transformation is creating demand for integration as it connects the new digital capabilities with existing assets and processes. Integration provides coordination in end-to-end applications. Coordination is associated with receiving, managing and delivering data and managing API calls of the requested application. In IOT market based digital transformation, integration middleware transforms the event into an IT accessible format which is further analyzed and assembled. Further, API Management connects authorized consumers with the required web services. This efficient digital transformation process drives the demand for integration and orchestration middleware in North America.
Another factor which is creating robust development in this market in North America is the efficient network of cloud computing. Modern middleware tools are lighter in nature and are deployed on the cloud to ensure flexibility and scalability in their operations.
The biggest growth is seen in enterprise application development by utilizing the agility and cost-effective attributes of cloud technology. PaaS (Platform as a Service) enables developers to build and maintain applications without facing many infrastructure related challenges. The recent evolution that is driving the integration and orchestration middleware market is consumerization. Consumerization drives the market for end users to integrate and automate applications on their own.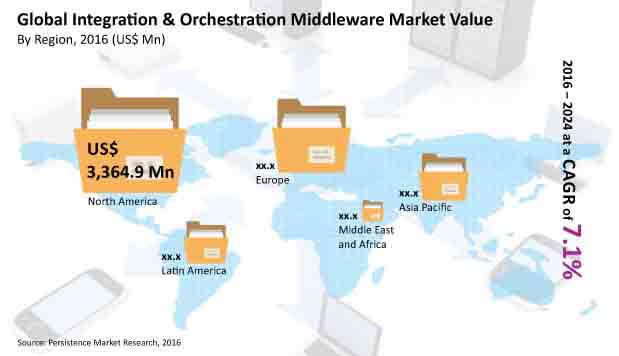 Leading market players are focusing on collaborations and acquisitions to strengthen market share
Out of top 10 companies covered in this report, nine are from North America region. US-based International Business Machines Corporation acquired StrongLoop to integrate its offerings with its Websphere's middleware line. The company focuses on service-oriented architecture development and adopting cloud computing, Internet of Things, and mobile enablement. In Feb 2016, IBM introduced a new series of connected offerings for IBM Cloud such as IBM WebSphere Connect, API Connect etc.
Canada-based OpenText Corporation focuses on acquisitions to develop its product portfolio via cloud-based technology, analytics and visualization. In Jan 2015, OpenText acquired Actuate Corporation to complement OpenText's B2B integration offerings. Another US-based company Infor acquired Predictix, a provider of cloud-native, predictive and machine learning solutions for retailers.
Key segments covered
By Deployment Type

Cloud-based deployment
On-premise deployment

By Application Type

BFSI
Healthcare
Retail
IT and Telecommunication
Government

By Middleware Types

Integrated Middleware
Event-driven middleware
Business-to-business middleware
Managed file transfer software

By Region

North America
Latin America
Europe
Asia Pacific
The Middle East and Africa
- Companies Covered in This Report -
OpenText Corporation
Infor
Covisint
IBM Corporation
Oracle Corporation
TIBCO Software Inc.
SWIFT
Microsoft Corporation
SPS Commerce, Inc.
Axway
Others.