Introduction
According to a study, in 2016, China accounted for ~70% of natural graphite production. With this aspect, China remains the largest producer of natural graphite in the global market with around ~750000 tpy of production capacity. However, China's global dominance will certainly decline in the coming years, due to increasing supply of graphite from other countries.
Moreover, growing demand for high quality graphite from the automotive industry and automobile OEMs are some of the factors that will contribute to the growth of the graphite market in the coming years.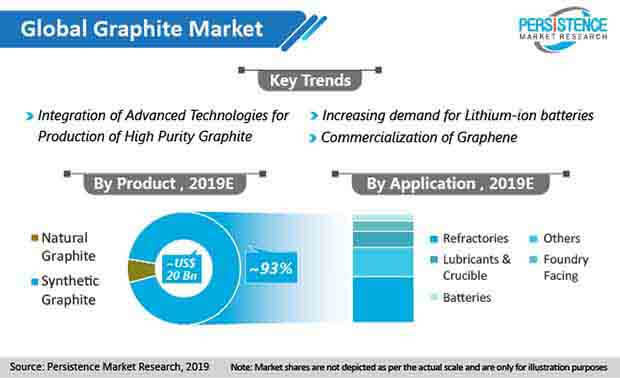 Demand for Graphite from the Lithium Ion Battery Industry
Graphite is extensively used as an anode material in lithium ion batteries. The demand for graphite is set to increase by ~200% in the coming years. The factors attributing to the growth of graphite market are rapidly maturing electric vehicle industry and inception of the utility storage market.
Expansion of the lithium ion battery industry globally is another factor contributing to this growth. The aforementioned factors are likely to create significant growth opportunities for the graphite market during the forecast period.
In addition, a study claims, investments in the lithium ion battery industry are likely to increase by 2020 by approximately ~12 Bn.
Moreover, an under construction lithium ion factory in Nevada, U.S., is being constructed with a production capacity of 35GWh. The plant is expected to be operational by 2020.
Rising Adoption of Nuclear Pebble Bed Reactor
Nuclear pebble bed reactor is a new version of high temperature gas reactor, in which, large amount of flake graphite is used as moderator along with uranium. Pebble bed reactors produce power more efficiently and safely than conventional reactors. On an average, a pebble bed reactor uses around 3000 tonnes of graphite.
For instance, in April 2015, China Nuclear Engineering Group (CNEG) announced plans to build the world's fourth generation nuclear power station by 2017, which is expected to be operational by 2021. This fact will significantly increase the demand for spherical graphite during the forecast period.
According to researchers at West Virginia University, 500 new pebble reactors, each of 100 GW& capacity, are expected to be installed in the U.S. by 2020. Expected graphite requirement is pegged at 40,000 tonnes for installation and operations through 2020.
Increasing Demand from the Automotive Industry
Graphite plays a significant role in the automotive sector due to its lightweight and lubrication, greater energy efficiency, high mechanical strength, and electrical conductivity. Graphite is a good replacement for asbestos. It is used in brake lining, clutch materials, gaskets, etc.
In 2011, SGL Group, a carbon graphite company based in Germany, announced a joint venture with BMW to produce carbon fiber reinforced plastic (CFRP) for BMW i series electric vehicles. Also, in September 2014, SGL Group announced plans to triple production to cater to the rising demand for graphite across the globe.
Downturn in the Steel Industry to Pose a Threat to Market Growth
Steel and refractory are leading consumers of flake graphite. According to Industrial Mineral - an independent online magazine that focuses on developments in the non-metallic minerals industry - flake graphite accounted for around 49% of overall consumption of natural graphite in 2010.
An unbalanced supply and demand equation and overcapacity has created stress for major steel producing countries such as China, India, and Japan, among others. Decreasing demand for steel is expected to, in turn, decrease the consumption of graphite electrodes over the forecast period. This factor might affect the overall consumption and production rate of graphite negatively in the coming years.
Analysts' Viewpoint
An extensive outlook of the graphite market has directed analysts to determine that the market is developing at a striking amount with China holding a prominent share in the global graphite market. The China graphite market is anticipated to be an opportunistic market in terms of production and is also expected to grow in terms of supply.
Proliferation in key market players and adoption of graphite in end-use industries such as automobile, car OEMs and manufacturers of electric cars, across the globe will surely influence the graphite market growth. The MEA region is also showcasing lucrative growth but environmental concerns and governmental policies might affect the growth up to a certain extent.
Demand for natural and high quality graphite in end-use industries is expected to bolster the global graphite market growth throughout the forecast period.
Key Segments of the Graphite market
PMR's study on the graphite market is divided into three significant segments, which are product type, application, and region. This report offers comprehensive data and information about important market dynamics and growth parameters related to these categories.
Attribute
Details
Product Type

Natural

Flake Graphite
Amorphous Graphite
Vein Graphite

Synthetic

Graphite Electrode
Carbon Fiber
Graphite Blocks
Graphite Powder
Others

Application

Refractories
Lubricants & Crucibles
Foundry Facing
Batteries
Others

Region

North America
Latin America
Western Europe
Eastern Europe
APEJ
MEA
Japan
Key Questions Answered in PMR's Graphite Market Report
Which region is anticipated to hold a prominent market share over the forecast period?
What will be the key driving factors prompting the demand for graphite during the forecast period?
How current trends will impact the graphite market?
Who are the significant market participants in the graphite market?
What are the crucial strategies implemented by prominent players in the graphite market to upscale their positions in this landscape?