Market Overview
Growing education system across the world is creating health and environmental awareness among the population, which generates high demand for eco-friendly pencils. Environment-friendly products can be recycled and are the top choice of consumers around the world. The same can be seen in developing economies such as India, China, Brazil, and others, as the education system is growing. Therefore, demand for environmental-friendly pencils made from recycled paper is high in India, China, Brazil, and other developing economies.
Further, demand for products manufactured from bio-degradable waste or recyclable material has increased across the world. Companies such as Faber-Castell, Arvee Corporation, TreeSmart, and others produce and sell eco-friendly drawing pencils, and are emphasizing on recyclable and bio-degradable material. As a result, this helps them gain a competitive advantage in the graphite colored pencil market, and also cater to demand from consumers for sustainable and bio-degradable products.
All of these aspects point toward market growth, the graphite colored pencil market size is anticipated to expand at a CAGR of 2.4% over the forecast period of 2020 to 2030.
Graphite Colored Pencil Market Trends
Increasing Imports of Raw Material to Boost Manufacturing Companies: Increasing imports of raw material at cheaper prices and easy process of pencil manufacturing have increased the supply of products in the market, and it is expected to increase demand for pencils over the forecast period. Global manufacturing competitiveness is expected to strengthen over the next several years. Further, Brazil appears to be favorably positioned for the future regarding manufacturing competitiveness. From a policy perspective, the country's industrial plan is expected to create favorable tax advantages for Brazilian manufacturers in the graphite colored pencil market.
Graphite mining is also helping the country get the required graphite for manufacturing at market competitive prices. For instance, Pentel, which is a writing instrument brand, set up its business units in Brazil and Mexico, and is offering a wide range of writing and arts products.
Imposing AD Tax on Chinese Goods to Hinder Market Growth: Choosing a surrogate country in case AD tax increases plays a significant role in AD measures. Many countries been chosen as surrogate countries for China are unsuitable, especially in the EU. Raw material and labor costs are relatively higher in these countries. China has gained immense economic importance for Latin American countries. China has become one of the top five export and import markets for many countries. In August 2019, Brazilian authorities initiated an antidumping investigation on the imports of pencils from China, which is still in progress. Products subjected to investigation are classified under HS code subheadings: 9609.10.00. This follows the application lodged on 30 April 2019 by A.W. Faber-Castell S.A. and BIC Amazônia S.A.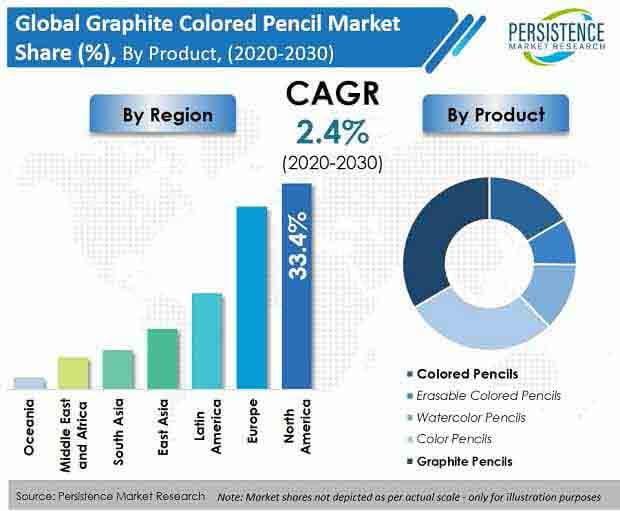 Regional Outlook of Graphite Colored Pencil Market
Global sales in the graphite colored pencil market will reach US$ 1.6 Bn in 2020. According to PMR's report, the graphite colored pencil market is estimated to register a CAGR of ~2.4% during the forecast period of 2020-2030. North America dominates the graphite colored pencil market share in terms of presence, followed by the European region with a significant market share due to amalgamation of innovation and quality, and focus on eco-friendly & bio-degradable products.
Graphite Colored Pencil Market: Competition Analysis
The graphite colored pencil market is anticipated to be highly fragmented, where a large number of local players are actively operating in the global graphite colored pencil market. Players are seeking opportunities and focusing consistently on the digital platform and invest more in it.
Further, players in the graphite colored pencil market focus on strengthening its market footprint worldwide and provides innovative solutions to its customers, to have a competitive advantage among its competitors.
COVID-19 Impact on Graphite Colored Pencil Market
The COVID pandemic outbreak has resulted in disruptions in operations related to production and supply chain. Regional governments are undertaking initiatives and development actions in order to promote sustainability in the transport sector. This rising environmental consciousness has encouraged the adoption of intermodal freight transport services in the market. All of this is the result of actions undertaken by governments to restrict the movement of people in order to curb the spread of the novel coronavirus. These factors are likely to impede the growth of the graphite colored pencil market in the short term.
Analysts' Viewpoint
A brief overview of the changing landscape of the graphite colored pencil market has led our analysts to conclude that, the market is significantly gaining popularity across developing regions. The market will register significant expansion and growth opportunities for players over the coming years in developing economies such as East Asia and South Asia.
Graphite Colored Pencil Market: Segmentation
PMR's research study on the global graphite colored pencil market offers a detailed market taxonomy, wherein, key segments have been discussed in detail. The graphite colored pencil market is segmented on the basis of product, end user, sales channel, and region. Every segment is analyzed in detail, and data pertaining to the growth of each segment has been included in the study.
Attribute
Details

Product

Colored Pencils

Erasable Colored Pencils
Watercolor Pencils
Color Pencils

End User

Independent Professionals
Institutions
Students
Other End Users

Sales Channel

Modern Trades
Specialty Stores/Stationers
Departmental Stores
Franchise Outlets (Company's Brand Retail Outlets)
Online Stores
Other Sales Channels

Price Range
The graphite colored pencil market research report includes a competitive landscape that provides a dashboard view of the key competitors operating in the market. Some of the market players included in this section are F.I.L.A.- Fabbrica Italiana Lapis ed Affini S.p.A, Societe BIC SA, Faber-Castell, Mistsubishi Pencil Co., Ltd., Pilot Corporation, Schwanhäußer Industrieholding GmbH & Co. KG, Newell Brands, Inc., Shanghai M&G Stationery Inc., Schneider Schreibgeräte GmbH, Kokuyo Camlin Limited, C. Josef Lamy GmbH Srl, STAEDTLER Mars GmbH & Co. KG, Luxor Writing Instruments Private Limited, Linc Pen & Plastics Ltd., Hindustan Pencils Private Limited, Musgrave Pencil Company, Maped, Crayola, Graphite Pen & Pencil Company, and others.