Elder Care Products Market Outlook (2022-2032)
Revenue from the global elder care products market reached US$ 25.27 Bn at the end of 2021. With the market projected to expand at a healthy 5.4% CAGR, global industry valuation is set to reach US$ 38.61 Bn by the end of 2032.
Across regions, demand for nutritional supplements is expected to remain high, with the segment accounting for more than one-third market share through 2032. Sales of elder care products accounted for 3.6% of the global elder care assistive devices market share at the end of 2021.
| | |
| --- | --- |
| Elder Care Products Market Size (2021) | US$ 25.27 Bn |
| Projected Market Value (2032) | US$ 38.61 Bn |
| Global Market Growth Rate (2022-2032) | 5.4% CAGR |
| Market Share of Top 5 Countries | 52.9% |
Sales Analysis of Elder Care Products (2012 to 2021) Vs. Market Outlook (2022 to 2032)
Developed countries are witnessing a new trend of retired seniors preferring to live independently and enjoy their privacy. Residential aged care consists of receiving assistance with laundry, meals, nursing care, and personal care. The rising needs of the elderly population have turned major players to focus on the high quality of life after retirement with assistive devices. This has elevated the demand for elder care products.
Growing incidence of age-related diseases will lead to increased penetration and adoption of elder care products among the aging population, in both, developed and emerging countries. To enhance their revenue sales, leading manufacturers of elder care products are resorting to geographical expansion in emerging markets.
As this market is highly fragmented, key players are focusing on pushing their products through online channels.
For instance:
In Jan 2020, P&G adopted digital marketing for growth by partnering with advertising companies such as the World Federation of Advertisers, the Association of National Advertisers in the U.S., and the Incorporated Society of British Advertisers in Europe.
Moreover, an increase in the incidence of hospital-acquired infections (HAIs) is directly linked to hospital stay time. HAIs are mainly associated with acute-care hospitals, but the term now applies to infections acquired in the continuum of settings where people receive healthcare. Growing concerns about HAIs are driving the demand for elder care products, including consumables and incontinence products, globally.
Top manufacturers are actively engaging in collaborations for product development and innovation, which is anticipated to boost the growth of the global elder care products market over the forecast period.
In June 2021, Kimberly-Clark announced a partnership with RWDC Industries, a biotech start-up, to create sustainable technologies for consumer products, including a portfolio of elder care products.
The global market for elder care products expanded at 3.8% CAGR over the past 9 years and is expected to progress even faster over the coming decade at 5.4% CAGR, thus indicating a highly positive growth stance.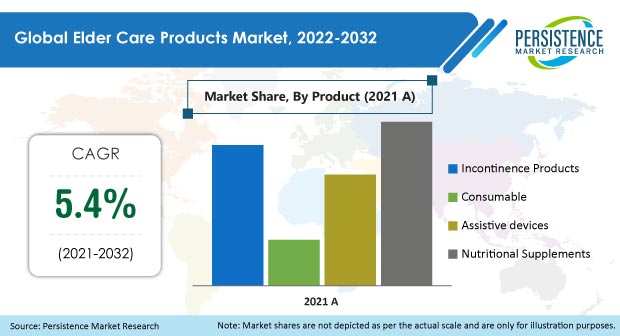 What Opportunities Lie Ahead for Elder Care Product Manufacturers?
"Initiatives by Governments & NGOs Regarding Elderly Care to Assist Market Growth"
Growing government investments to improve healthcare facilities, quality-oriented and technology-driven manufacturing, and increased awareness regarding elder care services and products have promoted market growth across the world.
The healthcare industry has experienced steady growth over the past decade, while simultaneously promoting efficiency, quality, and access to care with the help of government funding. Investments and improvements in healthcare facilities are projected to accelerate the market revenue for elder care products over the next ten years.
Governments across countries have formalized national health plans for elderly persons. These plans focus on educating the elderly regarding self-care and risk behavior awareness, and on improving their overall environment.
Education is provided to both, the elderly as well as healthcare providers. NGOs and the private sector are also mobilizing to provide secure health management to old individuals. Thus, government and non-government initiatives to create awareness amongst the elderly population will create opportunities for market players to expand their product offerings.
How are Sales of Elder Care Products Being Adversely Affected?
"Dearth of Skilled Elderly Care Providers and High Costs of Products"
The dearth of qualified professionals for elderly care is a major restraining factor for the growth of the market. These professionals are offered low wages and face difficult working conditions, with limited recognition, leading to a shortage of good caregivers. To reduce employee shortage, it is essential to improve caregivers' income, working conditions, and social recognition.
Additionally, it is important to establish a formal caregiver training system, including the development of compressive nursing and medical care for older persons. It has been found in several studies that professional care staff provide proper care according to the required standards but often lack training for acute care settings.
In terms of health workforce statistics, it is estimated that by 2026, Thailand will have enough healthcare workers to meet demand in most professions, although there will be a shortage of roughly 47,000 nurses. Thailand has limited qualified professionals owing to financial constraints, unattractive career development, and the availability of various alternative jobs.
The high cost associated with products such as assistive devices is another restraining factor for market growth. Overall, the high cost of several elder care devices and equipment, from hospitalization to post-discharge care, is expected to dent the growth of the elder care products market to some extent, which is a limitation that is dominant in most emerging regions.
Country-wise Insights
What Makes the U.S. the Largest Market for Elder Care Products?
The U.S. eldercare products market dominated the global market with a share of around 32.4% at the end of 2021 and is expected to exhibit high growth going forward as well.
Home-based healthcare facilities are becoming imperative in the U.S, driven by the need for better post-operative care and primary care. Patients who are suffering from chronic illnesses, such as respiratory failure, heart failure, and Alzheimer's, need continuous care that can be managed at home.
The burden of chronic diseases is growing rapidly in the U.S., with approximately 4.5 million aging individuals suffering from chronic diseases. This makes the U.S. a huge market for elder care as well as elder care products & services.
Why is the U.K a Lucrative Market for Elder Care Product Manufacturers?
The U.K. market for elder care products accounted for a share of around 5.1% in the global market at the end of 2021.
Leading elder care product manufacturers in the U.K. are developing innovative products as a priority. The current trend in the U.K is using technology and monitoring systems for elderly care. Adoption of incontinence and ostomy products helps patients lead better lives.
Technologically-advanced products help the elderly population overcome their disabilities and age-related problems. Increased innovation in healthcare has led to the rising adoption of innovative medical devices. This is also helping the elder care products market expand in terms of revenue, in the United Kingdom.
Will the Emerging Elder Care Products Market in India Be Profitable for Market Participants?
India held 2.8% share in the global elder care products market in 2021, which is projected to increase over the decade.
Due to the growing trend of a nuclear family structure (DINK) and an isolated lifestyle, India is seeing the appearance of start-ups to build businesses and meet increased consumer demand. The country's economy will decrease as the age dependency ratio worsens, but there will be opportunities in the elder care sector over the coming years.
What Is the Outlook for Japan Regarding Elder Care Product Consumption?
In 2021, Japan held 6.1% share in the global elder care products market.
Japan is home to the world's largest population of senior citizens. As a result, there is a huge market for senior care items. In Japan, the population aged 65 and up accounted for around 28.4% of the entire population at the end of 2020.
As such, as Japan's older population grows, so does the demand for elder care solutions, which aids market growth.
Category-wise Insights
Why are Nutritional Supplements Exhibiting High Demand?
By product type, nutritional supplements project lucrative growth at a CAGR of 4.2% over the forecasted years.
For a majority of disorders, nutritional supplements are the first medications that are provided to elderly patients. Dysphagia is a serious issue in the elderly population, and the usage of thickening agents has driven the sales of nutritional supplements in elder care.
Furthermore, manufacturers are attempting to meet the growing need for vitamins with powerful elder care goods to drive market growth, especially in developed countries.
Which Type of Elder Care Holds a Significant Share in the Market?
Chronic illness care accounted for a revenue share of 74.1% in 2021, with the segment set to account for a high market share over the decade as well.
Increasing incidence of chronic illnesses in the geriatric population group, rising prevalence of dysphagia, surge in investments in elder care facilities, growing R&D activities in elder care products, and increasing awareness programs, are all factors, wherein, the care for these aspects is covered under the chronic illness segment.
Competitive Landscape
Key suppliers of elder care products are mainly focused on advancing their product offerings through new product launches, renewal of old patented products, and the development of upgraded product lines, to expand their market pipeline, improve accessibility, and gain a high market position globally.
For example-
In February 2021, Invacare Corporation introduced the Invacare® AVIVA® STORM RX™, a next-generation rear-wheel drive-powered wheelchair.
In January 2022, Braun Melsungen AG expanded its reach with the announcement of a new factory in Vietnam.
Leading manufacturers such as B. Braun, GlaxoSmithKline PLC, Coloplast, and 3M Company are constantly launching new elder care products and are also perusing collaborations to improve their manufacturing methods.
Elder Care Products Industry Report Scope
Attribute

Details

Forecast Period

2022-2032

Historical Data Available for

2012-2021

Market Analysis

US$ Mn for Value

Key Regions Covered

North America
Latin America
Europe
South Asia
East Asia
Oceania
The Middle East & Africa

Key Countries Covered

U.S.
Canada
Brazil
Mexico
Germany
Italy
France
U.K.
Spain
Russia
BENELUX
China
Japan
South Korea
India
Thailand
Indonesia
Malaysia
Australia and New Zealand
South Africa
GCC Countries
Turkey
Northern Africa
South Africa

Key Market Segments Covered

Product Type
Type of Care
End User
Region

Key Companies Profiled

Invacare Corporation
Thermo Fisher Scientific Inc.
Cardinal Health
Abbott Laboratories
3M company
B Braun Melsungen AG
GlaxoSmithKline Limited.
Bayer AG
Procter & Gamble
Stryker Corp
Koninklijke Philips N.V.
GE Healthcare (General Electric)
Mölnlycke Health Care AB
The Golden Concepts
Amway Enterprises
Smiths Group PLC
Honeywell International Inc.
McKesson Corporation
Kimberly-Clark Corporation
Unicharm

Pricing

Available upon Request
Key Segments Covered in Elder Care Products Industry Research
Elder Care Products Market by Product Type:
Incontinence Products
Consumables
Assistive devices
Nutritional Supplements
Elder Care Products Market by Type of Care:
Home Care
Chronic Illness Care
Elder Care Products Market by End User:
Hospitals
Nursing Care Facilities
Home Health Care
Elder Care Products Market by Region:
North America Elder Care Products Market
Latin America Elder Care Products Market
Europe Elder Care Products Market
East Asia Elder Care Products Market
South Asia Elder Care Products Market
Oceania Elder Care Products Market
The Middle East and Africa (MEA) Elder Care Products Market