Elder Care Services Market Outlook (2022-2031)
Revenue from worldwide elder care services reached US$ 1.23 Bn at the end of 2021. As per detailed analysis, the global elder care services market is anticipated to expand at a CAGR of 7.6% and reach US$ 2.56 Bn by 2031-end.
| Attributes | Key Insights |
| --- | --- |
| Elder Care Services Market Size (2022) | US$ 1.32 Bn |
| Projected Market Value (2031) | US$ 2.56 Bn |
| Global Market Growth Rate (2022-2031) | 7.6% CAGR |
| Share of Top 5 Countries | 58.9% |
According to in-depth industry analysis conducted by Persistence Market Research, a majority of elder care services are financed through public expenditure, which accounted for 65.5% of the global senior care market share. Elder care services accounted for less than 1% of the global healthcare services market in 2021.
According to latest projections, institutional care is the most preferred way of accessing elder care services and holds more than 70% share in the market.
Demand Analysis of Elder Care Services from 2016 to 2021 Vs Market Outlook for 2022 to 2031
The elder care services industry was worth US$ 759.6 Mn in 2014 and expanded 1.6X by 2021, which exhibited an incremental opportunity of US$ 474.1 Mn from 2014 to 2021. This boiled down to equate a CAGR of 7.2% over the last eight years.
According to WHO statistics, the proportion of the world's geriatric population will nearly double from 12% to 22% between 2015 and 2050. In 2020, the number of people aged 60 and more outweighed youngsters under the age of five. By 2050, 80% of the world's elderly would live in low- and middle-income countries.
The aging population is booming at a considerably higher rate than in the past. Rapidly increasing number of senior citizens is offering the necessary boost for the development of the elder care services sector.
Improved day-care facilities and increase in the number of aged care centers are boosting revenue generation. Several day care centers are prepared to give medicine and medical supervision by trained medical workers. The senior care industry's day care facilities sector is expanding because of increased use of day care services due to busy lives and the overall cost-effectiveness of such facilities.
Development of cell phone technologies and use of artificial intelligence in healthcare have given rise to various tracking applications and software, which are now used to monitor the medicine, diet, and even the movement of elderly patients. Few applications allow users to get notified about sudden body movements, such as a fall or an impending hazard. Diabetes-targeted applications and messaging tools are emerging as niche markets because of chronic illnesses among the elderly and advances in preventative care technologies.
Hospitalization fees for the elderly are a source for financial restrain on their families, because of the unavailability of end-to-end reimbursement policies for them. Discharged elderly patients opt for home-assisted living or long-term care by elderly caregivers. This approach is both, cost-effective and offers superior results.
Elderly individuals are more susceptible to hospital-acquired infections, and studies have shown that they are less anxious at home. Hospitals are involved in stabilizing patients before referring them to assisted living service providers for their comfort.
The global market for elder care services is expected to magnify 1.9X by 2031.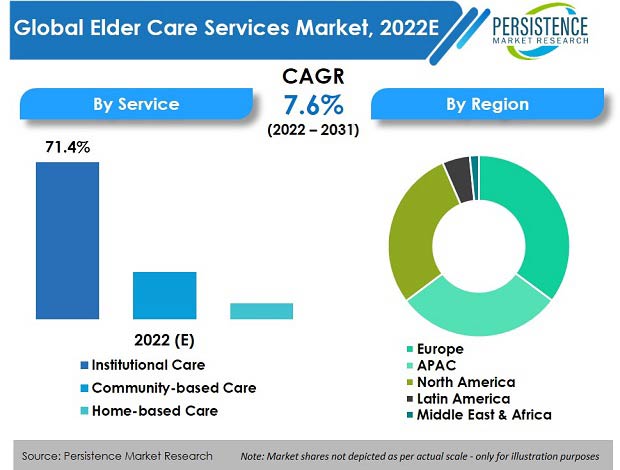 What Opportunities Can Elder Care Service Providers Cash in On?
"Snowballing Global Demand for Retirement Living"
Patients discharged from hospitals that require intensive care is something that can be provided by professional home care service providers. Patients that require professional care frequently choose home healthcare services. Several businesses are springing up offering a variety of pay-per-use homecare, respite care, and home nursing services.
Growing public awareness of such services is driving market growth, thereby providing many opportunities for business expansion in the industry.
The U.S. exhibits a trend of retirement villages or communities designed to facilitate independent living for the elderly. These retirement centers are well-equipped with various amenities. Retirement communities have initiated to offer multiple levels of care at the same location. This feature allows residents to transition from independent living facilities to serviced apartments for higher-level care needs.
With the rise in disposable income of consumers, numerous benefits of these retirement communities are providing the necessary boost of opportunities for key providers of elder care solutions.
The Australian government has played a significant role in subsidizing and regulating the delivery of elderly care through private and not-for-profit providers. Non-government service providers supply both, residential and community-based care services, in Australia. Grants, user contributions, and volunteer care are all available as government subsidies for aged care services.
The Australian government covers roughly 70-85% of the cost of aged care services through reimbursements. Such government funding for elderly care services is an important driving factor for the aged care services market, globally.
North America is witnessing low fertility rates and is falling below the replacement fertility rates. Unstable fertility rates influence the overall economic growth of any region. Lower fertility rates indicate that the new generation is smaller than the one that came before and will struggle to support retirees.
Increase in the elderly dependent population in the North American region will have economic issues, giving rise to the need for caregiving by various service providers, and such a demographic shift has created the need for a successful elder care model in the region.
What is Pulling Back Demand for Elder Care Services & Solutions?
"Low Profits Margins for Aged Care Facilities"
Despite growing demand for elderly care facilities due to the growing geriatric population, the challenge is to generate profits. In the United States, the government maintains strict care, safety, and lifestyle standards for geriatric care facilities.
Ongoing care and supported living facilities have many characteristics that can contribute to lower profit margins. In addition, some facilities receive low refunds through government programs and tightly controlled refunds from insurance companies. This results in low profits.
Providers offer premium services that do not fall under government-regulated structures to benefit from elderly care services.
Moreover, dearth of qualified professionals who can take care of elderly patients is another reason for the elderly care services market experiencing less significant demand, especially in emerging and low-income countries.
Country-wise Insights
Why are Key Elder Care Service Providers Targeting the U.S. Market?
"Well-developed Aged Healthcare Facilities in the Country"
The U.S. market now accounts for more than 92% of North American sales and will continue to grow rapidly through 2031 due to numerous geriatric care facilities, favorable reimbursement policies, technological advances, and the aging of the local population.
For instance, 7.2 million low-income seniors are covered under the Medicaid health coverage facilities in the U.S. Medicaid covers hospitalization costs, diagnostic services, prescription drugs, and the Medicare advantage plan for its customers.
How is the Market for Elder Care Services Faring in the U.K.?
"Developing Elderly Care Facilities in the U.K."
Due to the presence of prominent players, the U.K. dominates the Europe elderly care services market. In addition, growth of social services for the elderly, such as counselling, referrals, day care, rehabilitation services, and health promotion boost market expansion.
In the year 2021, the U.K. accounted for 17.6% share of the European market.
In addition, in Europe, rising life expectancy over the years has increased the population of the elderly. Increasing population of the elderly experiences a greater burden of ailments such as suffering from a terminal illness, dementia, and other major disabilities, driving the need for elder care services.
Will India Emerge as a Lucrative Market for Elder Care Service Providers?
"Constantly Developing Healthcare Industry to Provide Essential Lift"
Improvements in caregiving for the elderly, such as caregiver availability and skills, increased innovation in caregiving, and the government's favourable policies for the elderly are key factors contributing to the growth of the India elderly care services market.
The senior care services market in India is estimated to expand at a CAGR of 12.9% owing to the tremendous healthcare advancements in the country.
Category-wise Insights
Why are Institutional Care Services Most Preferred?
"Availability of Numerous Facilities That are Sought-after by Consumers"
When any family decides to opt for elder care services, institutional care provides them with the benefits of all-around care and management of patients.
Due to this, institutional care facilities captured 70.2% market share, in terms of revenue, in the year 2021, and the segment is projected to surge ahead at a CAGR of 8.9% over the forecast period (2022-2031).
How are Elder Care Services Most Commonly Financed?
"Good Reimbursement Schemes & Governmental Policies for Elder Care Services"
Public expenditure captured more than 65% revenue share of the overall elder care services market in 2021.
Availability of various schemes and reimbursement policies, improved healthcare facilities, and governmental strategies to aid the elderly are some of the key factors for this high market share of public expenditure on elderly care services.
Competitive Landscape
Key elder care service providers are following strategies such as business expansion, certifications, and enhancing their services to improve their market position, globally.
In December 2021, Korian Group announced the European certification of 27% of their European sites and 53 ISO 9001 certified sites in France.
In May 2021, Econ Healthcare Group announced the opening of the Chongqing Nursing Home, which is a state-of-the-art facility with all the technology and innovative solutions for the elderly, in Singapore.
In September 2019, Benesses opened a new facility – the Medical Home Granda Takamiya - with 24/7 service and nursing staff.
In March 2019, NMC ProVita International Medical Center expanded in AI Ain. NMC ProVita offers a variety of post-acute care services for patients of all ages and conditions, including long-term care, rehabilitation, home health services, and home haemodialysis.
In January 2019, Home Instead Senior Care collaborated with GranPad for the launch of enhanced integrated solutions such as interactive remote care, which will create new opportunities to deliver technology-based home care in underserved rural areas.
Elder Care Services Industry Report Scope
Attribute
Details

Forecast Period

2022-2031

Historical Data Available for

2014-2021

Market Analysis

US$ Million for Value

Key Countries Covered

U.S.
Canada
Brazil
Mexico
Argentina
Germany
U.K.
France
Italy
Spain
Switzerland. Russia
Nordic
BENELUX
China Japan
South Korea
India
Australia
New Zealand
Singapore
Thailand
GCC Countries
South Africa

Key Market Segments Covered

Service
Financing Source
Region

Key Companies Profiled

Eldercare Services
Korian Group
Provita International Medical Center, LLC
Home Instead, Inc.
Living Assistance Services, LLC
Bennesse Style Care Co. Ltd.
Econ Healthcare Group
Epoch Elder Care
St. Luke's ElderCare Ltd
India Home Health Care
Samvedna Senior Care
ApnaCare India Pvt Ltd
Nichiigakkan Co. Ltd
Golden Years Hospitals
Orange Valley Healthcare
NTUC Health Co-op Ltd
Carewell-Service Co. Ltd
RIEI Co. Ltd
SASCO Integrated Eldercare Centre
Cascade Healthcare
Millennia Personal Care Services
Rosewood Care Group Inc.
Pacific Healthcare Nursing Home
United Medicare Pte Ltd.

Report Coverage

Market Forecast
Competition Intelligence
DROT Analysis
Market Dynamics and Challenges
Strategic Growth Initiatives

Customization & Pricing

Available upon Request
Key Segments Covered in Elder Care Services Industry Survey
Elder Care Services Market by Service:
Home-based Care
Community-based Care
Institutional Care
Elder Care Services Market by Financing Source:
Public Expenditure
Private Source
Out-of-Pocket Spending
Elder Care Services Market by Region:
North America Elder Care Services Market
Latin America Elder Care Services Market
Europe Elder Care Services Market
APAC Elder Care Services Market
Middle East & Africa Elder Care Services Market