Chocolate Ingredients Market Outlook (2022-2032)
The global chocolate ingredients market is valued at US$ 15.6 Bn currently. Worldwide sales of chocolate ingredients are predicted to increase at a CAGR of 3.7% to reach a market valuation of US$ 22.37 Bn by 2032.
Europe and North America hold major market volume shares of more than 65% in the global chocolate ingredients market. Consumption of chocolate ingredients, as of 2022, accounts for around 25%-30% of the global confectionery ingredients market share.
| | |
| --- | --- |
| Chocolate Ingredients Market Size (2022E) | US$ 15.6 Bn |
| Projected Sales of Chocolate Ingredients (2032F) | US$ 22.37 Bn |
| Value CAGR (2022-2032) | 3.7% |
| Value Share of Top 5 Countries (2022E) | 64.5% |
Chocolate Ingredient Demand Analysis (2017- 2021) Vs Market Estimations (2022-2032)
Cocoa is the seed of the Theobroma cacao (cacao tree), native to the equatorial areas of the American region. The fermented and dried seed of the cacao tree is used to make cocoa liquor. Cocoa powder and cocoa butter are made from this cocoa liquor.
Cocoa liquor is the primary ingredient in chocolate production. Cocoa ingredients such as cocoa liquor, cocoa powder, and cocoa butter are commonly used for confectioneries, beverage flavoring, culinary toppings, and bakery fillings. Cocoa is also utilized as a flavoring and coloring agent in cosmetics, pharmaceuticals, healthcare, and nutraceuticals industries.
Because of its fragrance and flavor, cocoa is also used to make toiletries. One of the major factors propelling the global cocoa market is the wide and growing application of cocoa in various end-use industries.
Currently, global market value of chocolate ingredients is estimated at US$ 15.6 Bn, and the market is set to expand at a CAGR of 3.7% through 2032.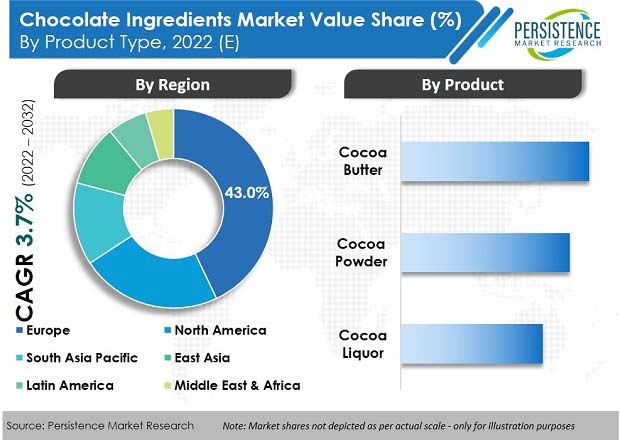 Which Market Trends are Aiding Demand Growth of Chocolate Ingredients?
"Popularity of Cocoa Flavor Increasing Demand in Food & Beverage Industry"
Chocolate is among the most preferred and widely consumed food products in the world, which makes cocoa as one of the most widely used flavors for various foods & beverage products.
To attract more customers, major food & beverage manufacturers are incorporating cocoa flavor in many of their products and traditional recipes. As it is an extremely popular flavor among consumers across the globe, chocolates are considered to be the best comfort food.
The global cocoa industry is set to experience an increase in demand for various products of cocoa, and ultimately, booming growth can be forecasted for the coming years. The global chocolate ingredients market is expected to increase significantly during the projected period, given the rising chocolate popularity and cocoa production.
"Rising Production of Cocoa Impacting Chocolate Ingredients Market"
Chocolate is consumed by people of all ages and from all walks of life, resulting in growing demand for chocolate and chocolate-flavored meals & beverages. Due to increased demand for cocoa, the world's largest cocoa producers aim to raise production to keep the demand-supply balance.
Worldwide cocoa output has been gradually increasing over the last few years, according to key global organizations such as the Food and Agriculture Organization of the United States (FAO), the International Cocoa Organization (ICCO), and others.
Cocoa production is no longer popular in the Middle East and Africa, but Western regions such as the United States, Latin America, and Europe are becoming some of the world's largest cocoa producers. Rise in the number of cocoa farmers and their advanced cocoa cultivation methods are expected to drive global demand for chocolate ingredients through the forecast period.
"Growing Demand from Various Application Industries to Bolster Sales of Chocolate Ingredients"
Cocoa and cocoa products are rich in phytochemical compounds that have nutritional and medicinal benefits. A growing body of scientific research suggests that cocoa components with antioxidant and anti-inflammatory properties contribute to natural photo-protection, and are important for skin health maintenance.
Cocoa liquor is mostly utilized in the food & beverage industry, but it is slowly making its way into other industries as well, such as cosmetics and pharmaceuticals as a coloring and flavoring agent, according to a report published by The United States Department of Agriculture (USDA).
Along with this, consumption of cocoa powder is expanding due to its growing use in functional foods & beverages. Cocoa powder is in high demand in the pharmaceutical business because it contains various minerals such as copper, magnesium, sodium, potassium, and other vitamins that are valuable for the body.
Thus, growing demand across application industries is expected to bolster the sales of chocolate ingredients across the world.
"Manufacturers Tackling Consumer Preference for Sugar-free Diets"
Sugar-free diets are becoming popular as consumers have become more conscious of their health and diets. Sugar calories consumed more than the body's energy requirement can lead to weight gain, inflammation, high blood pressure, and other disorders. As a result, manufacturers and their research & development teams are developing new sugar-free products.
Multinational companies are growing their impact in mainstream cocoa and chocolate industries, as well as moving into a premium market segment. Major processors and manufacturers are expanding their product portfolios and market engagement through mergers & acquisitions, while cutting production costs through scale efficiency.
What's Impeding Chocolate Ingredients Market Growth?
"Increasing Number of Health-conscious Consumers"
Cocoa is one of the most preferred and favorite flavors among consumers across the globe. Consuming cocoa in excess amounts may have some negative impacts on the human body.
The risk of weight gain and heart disease increases due to the high-calorie content in chocolates and their low nutritional values. A large amount of caffeine in cocoa can worsen anxiety disorders, and at the same time, it can affect the health of pregnant or nursing women as well.
Increasing consumer awareness about the side effects of consuming large amounts of cocoa, such as diabetes, bleeding disorders, diarrhea, heart diseases, high blood pressure, etc., is expected to result in restricted consumption of cocoa products.
As cocoa liquor and cocoa butter are the most popular ingredients in chocolates and other types of cocoa products consumed in the market, increasing number of health-conscious consumers may affect the demand growth of chocolate ingredients in the future.
"Fluctuating Prices of Cocoa"
The prices of cocoa have fluctuated in recent years due to rapid changes in production and demand in the global market. Factors such as unfavorable weather conditions, labor availability, and crop diseases keep on affecting the production yield of cocoa, thus interfering with the smooth flow of demand and supply in the market.
As cocoa is the raw material for processing chocolate ingredients, fluctuation in its prices will affect market growth to some extent.
Country-wise Insights
Why Does India Lead the South Asia Pacific Market for Chocolate Ingredients?
In South Asia & Pacific, India is expected to provide greater growth opportunities for chocolate ingredient producers at a CAGR of 4.4% and a valuation of US$ 416.3 Mn in 2022.
India's food processing industry is growing rapidly in response to increased national and international demand for confectionery products. The Indian market for chocolate ingredients is expected to reach US$ 642.9 Mn by the end of 2032.
Why are Chocolate Ingredient Manufacturers Eyeing Europe?
Europe is the largest consumer of chocolate ingredients. The region holds a market volume share of 43.0% in 2022. It has the largest number of chocolate processing and manufacturing industries, and hence, requires large volumes of cocoa and cocoa products.
The Europe chocolate ingredients market is currently valued at US$ 6.73 Bn, and is predicted to climb to US$ 9.33 Bn by 2032.
Category-wise Insights
Which Chocolate Ingredient Finds Huge Popularity in Use?
Cocoa liquor is the raw material used to process cocoa butter and cocoa powder, which is mainly used in the food & beverage industry. Moreover, this product type is being used as a flavoring agent in pharmaceuticals as well as various cosmetic products.
The cocoa liquor segment is currently valued at over US$ 4 Bn, and is expected to expand at a CAGR of 4.2% through 2032.
Why Chocolate Ingredient Usage Rising in the Nutraceuticals Sector?
Nutraceuticals is the emerging market for chocolate ingredients owing to the rapidly growing flavored supplements trend across the globe. This trend also supports increasing demand for natural flavors over chemically-synthesized artificial flavors, with cocoa flavor being one of the most popular natural flavors. The nutraceuticals segment is currently valued at US$ 469.7 Mn, and is expected to provide an incremental opportunity of US$ 269.5 Mn by 2032 over 2022.
Competitive Dashboard
Key manufacturers of chocolate ingredients are focusing on increasing their production capacities and service offerings. Focus is on increasing investments in R&D activities to launch innovative products in the market.
In April 2022, Bayer Callebaut, a global manufacturer of high-quality chocolate and cocoa products, announced that it would build a new specialty chocolate factory in Ontario, Canada, to extend its North American footprint.
Cargill Incorporated completed a US$ 100 Mn expansion of its cocoa processing facility in Cote d'Ivoire, in November 2021, significantly increasing its cocoa grinding capacity.
Chocolate Ingredients Industry Research Scope
Attribute

Details

Forecast period

2022-2032

Historical data available for

2017-2021

Market analysis

USD Million for Value

Key regions covered

North America
Latin America
Europe
East Asia
South Asia Pacific
The Middle East & Africa

Key countries covered

U.S.
Canada
Brazil
Mexico
Argentina
Chile
Germany
U.K.
France
Italy
Spain
Russia
Poland
China
Japan
South Korea
India
Thailand
Malaysia
Indonesia
Australia
New Zealand
GCC Countries
Turkey
South Africa

Key segments covered

Product Type
Application
Distribution Channel
Region

Key companies profiled

Barry Callebaut
Cargill Incorporated
Olam
Petra Foods Cocoa Ingredients
Guan Chong Berhad
Ecom Cocoa
Blommer
Mondelez
Cemoi
Puratos
Guittard
JB Cocoa

Report coverage

Market Forecast
Company Share Analysis
Competition Intelligence
DROT Analysis
Market Dynamics and Callenges
Strategic Growth Initiatives

Customization & pricing

Available upon request
Chocolate Ingredients Industry Survey by Category
Chocolate Ingredients Market by Product Type:
Cocoa Butter
Cocoa Powder
Cocoa Liquor
Chocolate Ingredients Market by Application:
Food & Beverages

Bakery
Confectionery
Dairy
Beverages

Pharmaceuticals
Nutraceuticals
Cosmetics & Personal Care
Chocolate Ingredients Market by Distribution Channel:
Traditional Trade
Modern Trade
Industrial
Foodservice
Chocolate Ingredients Market by Region:
North America Chocolate Ingredients Market
Latin America Chocolate Ingredients Market
Europe Chocolate Ingredients Market
South Asia Pacific Chocolate Ingredients Market
East Asia Chocolate Ingredients Market
Middle East & Africa Chocolate Ingredients Market