Introduction
Adoption of advanced technology is leading consumer inclination toward automation, and it is estimated to be one of the prominent drivers of the global automotive condenser market. Smart HVAC systems installed use these sensors to automatically adjust accordingly as per weather and surrounding changes.
Due to introduction of advanced material technology, many materials such as super alloys, lightweight aluminum, and high stainless steel are light in weight, and have high strength & load capacity. Materials used in advanced material technology have high resistance for corrosion, are lightweight, and use anti-fouling paints.
This features increases the durability and longevity of automotive condensers and HVAC systems. Moreover, owing to being lightweight, it helps the automobiles to accelerate with less energy. These factors are expected to fuel the growth of global automotive condenser market over the coming years.
Automotive Condenser Market Trends
High Demand from Aftersales Market: Growing lifespan of used automobiles is expected to boost the aftermarket sales of automotive condensers fans, especially in the North American market. Use of aluminum condensers is one of the prominent trends in the global automotive condenser market. Manufacturers are focusing on providing high quality automotive condensers across the world. They are also engaged in extensive research & development activities to fulfill the demands of consumers.
High Maintenance Cost: On the flip side, high cost, inflexible design, bulky form factor, less durability, corrosion prone feature, fatigue, and evaporation of refrigerant emission are factors challenging demand growth.
The maintenance cost of automotive condensers is relatively high, and maintenance needs to be done regularly (after every six months the coolant or the refrigerant must be checked and replaced), as faulty condensers are ineffective in facilitating ideal cooling or heating in an automobile. High maintenance costs of automotive condensers is due to the changing of coolants and refrigerants.
The cost of installing and fabricating an automotive condenser differs from utilization to application. As customized applications may require more equipment and high strength materials, the cost of customized condensers is more than traditional automotive condensers, owing to high manufacturing cost. All these factors are creating a negative impact on the global automotive condenser market.
Strict Government Emission Regulations: Automotive vehicles, especially commercial vehicles such as LCVs and trucks, are the major causes of air pollution, as they emit a significant amount of carbon monoxide, nitrogen oxide, and other pollutants into the air. This is another factor restraining revenue growth of the global automotive condenser market.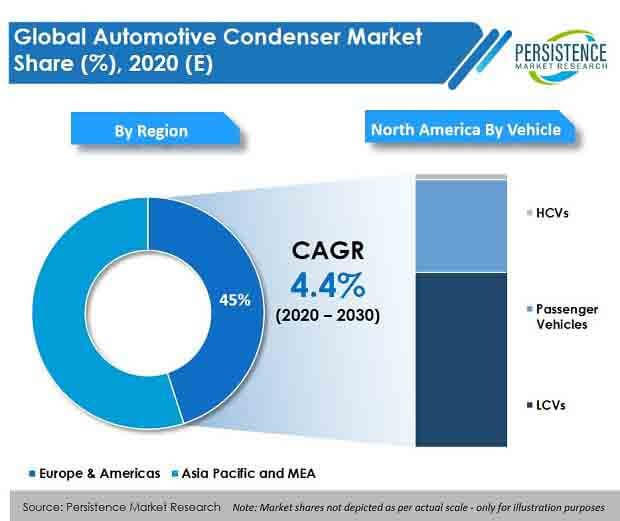 ?Regional Outlook of Automotive Condenser Market
APAC holds a leading automotive condenser market share, and will continue to do so throughout the forecast period of 2020 to 2030. All in all, Europe, North America, and APAC will hold a major share of the global automotive condenser market throughout the period in question.
COVID-19 Impact on Automotive Condenser Market
The COVID-19 pandemic has thrown most countries, economies, and industries off gear. Lockdowns, travel and trade restrictions, shutting /scaling down of manufacturing activities due to labor shortage, and reduced consumer demand across sectors are being witnessed across the world.
With the COVID-19 crisis wreaking large scale havoc on regular economic activities, sales of new vehicles have plunged, and the automotive condenser market too has been badly impacted, especially the OEMs segment.
Analysts' Viewpoint
A detailed view of the global automotive condenser market has led our analysts to conclude that, the market is slated to expand at a steady CAGR of 4.4% throughout the forecast period of 2020 to 2030, and expand 1.5X in size by the end of the said period. High demand for automotive condensers will be witnessed from the aftermarket space, and stakeholders in the global automotive condenser market can focus on this aspect for increased sales and profits in this space.
Key Segments of Automotive Condenser Market
PMR's study on the automotive condenser market is divided into five significant segments - material, type, vehicle, Sales channel, and region. This report offers comprehensive data and information about the important market dynamics and growth parameters related to these categories.
Type

Single Flow
Tubes & Fins
Serpentines
Parallel Flow

Material

Copper
Brass
Aluminum
Stainless Steel

Vehicle

Sales Channel

Region

North America
Latin America
Europe
Asia Pacific
Middle East & Africa
Key Questions Answered in PMR's Automotive Condenser Market Report
Which region is anticipated to hold a prominent market share in the global automotive condenser market over the forecast period?
What will be the key driving factors propelling the demand for automotive condensers during the forecast period?
How will current trends impact the automotive condenser market?
Who are the significant market participants in the automotive condenser market?
What are the crucial strategies of prominent players in the automotive condenser market to upscale their positions in this landscape?