Aircraft Seats Market Outlook (2022-2032)
The global market for aircraft seats is worth US$ 4.35 Bn in 2022. By 2032, the market is anticipated to reach a value of US$ 7.83 Bn, expanding at a robust CAGR of 6.1%.
Over the assessment period (2022-2032), a significant rise in tourism and air travel is anticipated to increase aircraft seat installations across the world.
| | |
| --- | --- |
| Aircraft Seats Market Size (2021A) | US$ 4.13 Bn |
| Estimated Market Value (2022E) | US$ 4.35 Bn |
| Forecasted Market Value (2032F) | US$ 7.83 Bn |
| Value CAGR (2022-2032) | 6.1% |
| Collective Value Share: Top 3 Countries (2022E) | 38.1% |
Significant factors driving the need for aircraft seating around the world include increased usage of airways for comfortable business travel and rising international trade agreements for the production of commercial and defense aircraft. Because of the region's rapid expansion in the manufacturing and industrial sectors, Europe will offer a significant opportunity for OEM manufacturers to expand their businesses.
Demand Analysis of Aircraft Seats (2017 – 2021) Vs. Market Projections (2022 – 2032)
The market for aircraft seats exhibited a CAGR of 5.1% over the historic period of 2017 to 2021. Further, as per current estimates, the market is set to expand at 6.1% CAGR during the period 2022 to 2032. Significant increase in the market growth rate during the forecast period is due to increasing tourism after the pandemic, as there is a direct relation between tourism and aviation.
Due to rapid expansion in potential smart seat prototype designs, demand for comfortable aircraft seats is now high. With high investments made by countries such as the U.S. Germany, China, and India for the expansion of urban air mobility, the market in these countries has higher growth potential.
Despite a promising future, the sector will still face several obstacles, including the shortage of profitable airlines in emerging economies, skyrocketing fuel prices as an impact of mineral and crude oil price volatility, and a weak supply chain that could slow market expansion. In the near future, these variables are anticipated to have an impact on the market's year-over-year growth.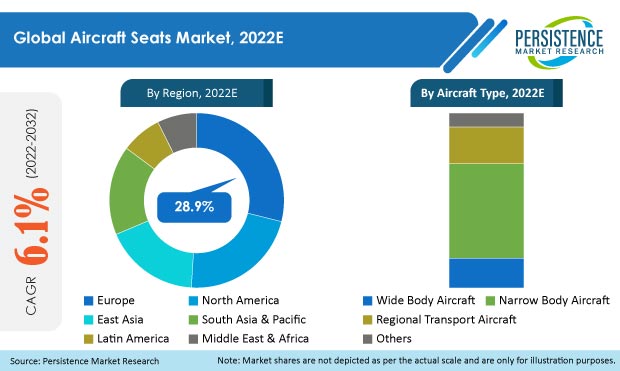 How is IFEC Innovation Expected to Influence Market Growth?
When progressively resuming air travel, passengers' concerns go beyond safety as pandemic limitations persist. They continue to desire a comfortable in-flight experience with entertainment, connection, and services that are accepted as standards in the sector.
The term "entertainment" describes the leisure activities offered to air passengers while they are flying. The need for greater IFE throughout the 1990s influenced aircraft cabin lighting designs in a significant way. Before that, the best a passenger could hope for was to watch a movie on a screen at the front of the cabin while listening to it through a headphone jack on the seat.
IFE has recently been widened to include in-flight connection, which now offers services such as web browsing, text messaging, cell phone use (where allowed), wireless streaming, and more. For this reason, all types of airlines-large and small-use in-flight entertainment and communications (IFEC) to attract passengers to board again.
New basic airline ZIPAIR, a Japan Airlines affiliate, is one example of an airline undertaking significant changes there. By providing free in-flight connection and streaming to passengers' devices, ZIPAIR goes beyond IFEC.
This is a terrific illustration of how proactive technology deployments may be combined with smart alliances to deliver a service that customers want. The industry's IT companies are developing products that link clients' on-the-ground and in-flight profiles. Mirroring, which allows seat-back screens to show what is displayed on a phone or tablet screen, is still a simpler option. They are also attempting to expand the IFEC system's use, such as by integrating it with call buttons to enable socially disengaged communications with the cabin crew.
Such factors will drive an increase in air travel and boost the market for aircraft seats over the decade.
Will International Trade Agreements Benefit Aircraft Seat Manufacturers?
The military & defense sector's rising demand for aircraft is one of the main drivers fueling industry expansion. The main variables influencing airplane spending worldwide are changing threats and rising geopolitical instability. The need for cutting-edge military aircraft with multi-mission capability is still being driven by political conflicts and territorial disputes.
Additionally, a few nations are aiming to update their fleets by swapping older models for more recent versions that cost less to operate and maintain. Many countries are concentrating on lowering their dependency on foreign suppliers for their military hardware. Several developing nations are also being compelled to start military aircraft production projects due to the high costs associated with purchasing foreign aircraft. They are concentrating on lowering their dependency on foreign suppliers for their military hardware.
Market participants are concentrating on locally produced military aircraft and improving their home-grown platform development skills through technology transfer agreements, which is a factor that will augment market growth.
Will the Shortage of Profitable Airlines in Emerging Economies Affect Market Dynamics?
The opportunity for the aviation sector in emerging markets is tremendous. This potential has not yet, however, been tapped very much. The aircraft seats market is dominated by industrialized nations such as the U.S. Five main airlines-Midwest Airlines, Frontier Airlines, American Airlines, Northwest Airlines, and AirTran Airlines, have combined operations since 2008 to boost revenues.
Along with its stable labor market, the U.S. has benefited from low oil prices, fiscal and monetary policies, and the financial distress of the private sector, all of which have helped enhance its standing globally. The nation also has a high proportion of consumer expenditure, which raises the demand for air travel. The lack of adequate infrastructure as well as other new fees levied by aviation agencies in regions such as Asia and Africa, among others, have contributed to an increase in airfare costs, which has dented aircraft seats market progress.
How is Mineral & Crude Oil Price Volatility Impacting the Market?
An average airline now spends up to 38% of its budget on jet fuel, up from 27% before 2019. For some low-cost airlines, this can even reach 50%. Spot jet fuel costs have increased by more than 80% in New York this year, while prices vary by area and are influenced by local taxes and refining expenses.
Several U.S. carriers have so far been able to pay the higher fuel expenses, but only by passing those costs onto passengers in the shape of higher ticket prices. As soon as airlines started to recover from the COVID-19 pandemic, the industry was confronted with a new problem: a sharp increase in fuel prices. At the time of writing, the cost of jet fuel has risen by over 90% since the beginning of 2022 and is currently 120% more expensive than it was in 2021.
Additionally, the invasion of Ukraine by Russia resulted in decreased shipments of processed goods and crude oil, particularly to Europe. This has driven up the prices of crude oil as well as middle distillates such as diesel and jet fuel on a global scale. In addition to these local price hikes for jet fuel, which have reached US$ 8 per gallon, local logistical challenges in satisfying the unexpected rise in aviation demand in regions like the Northeast United States have contributed to additional global price rises.
These factors are set to dent the demand growth for airline seats to a certain extent over the coming years.
Country-wise Insights
Commercial Defense Benefiting Aircraft Seats Market in China
China is expected to remain one of the top global consumers of aircraft seats due to considerable demand for aircraft production. The market in China is expected to increase at 7.6% CAGR between 2022 and 2032.
The large presence of prominent corporations, the availability of plentiful resources, and increased investments in product innovations are only a few of the factors driving the rise of the aircraft seating market in the country.
Additionally, China is working harder to increase the self-sufficiency of its aviation industry. By 2025, it already has plans to produce vital parts for commercial engines in Shanghai. A new wide-bodied passenger jet is already being produced in China and Russia. This investment is expected to have a positive impact on the aircraft seats industry in China.
Growth Outlook of Aircraft Seats Market in India
The world's fastest-growing market for aircraft seats is expected to be India. The country is predicted to consume electricity at the third-highest rate in the world. Market expansion is being impacted by rising urbanization as well as substantial developments in the manufacturing and industrial sectors.
The newly announced Karnataka Aerospace and Defense Policy 2022-27 by the state government aims to attract US$ 6 billion (Rs 45,000 crore) in investments over five years into the aerospace and defense sector.
As such, the country's aircraft seats industry will offer enormous growth potential opportunities to market players over the coming years.
Military & Defence Aircraft – High-Potential End User in the U.S.
During the study period, the U.S. market for aircraft seats is expected to expand at 5.4% CAGR and is predicted to offer an opportunity worth US$ 1.3 billion.
Growing investments by the U.S. in defense aircraft are anticipated to increase the market for aircraft seats in the country. Also, increasing investments in advanced innovations in aircraft seats by major players concentrated in the country is a plus for this regional market.
Category-wise Insights
Key Aircraft Seat Type
Based on seat type, the 16 G segment is projected to expand at the highest CAGR during the forecast period.
According to the Federal Aviation Administration (FAA), passenger aircraft should have seats capable of withstanding 16 times the force of gravity to increase the chances of survival of passengers and flight attendants in case of accidents.
New seats undergo a series of tests to determine their strength, similar to crash tests that have to meet FAA safety standards.
Retrofit Type Seats - Segment to Watch
The use of aircraft seating is anticipated to increase at 6.3% CAGR in the retrofit segment throughout the projection period. The main factors driving segment demand are the constant demand for various types of aircraft across developed and developing businesses, which is due to the growing necessity for a reliable supply of aircraft seats.
For instance, in September 2022, Emirates accelerated its plans to update the interior cabins of the 120 Airbus A380 also the Boeing 777, the two largest commercial aircraft types now in use. The two-year, multibillion-dollar project, which will begin in November 2022 and involve the complete overhaul of four aircraft, will be under the direction of Emirates Engineering. By the time development is concluded in April 2025, there will be around 4,000 new premium & economy seats constructed, first-class suites rebuilt, and more than 5,000 business class seats given an aesthetic upgrade.
Market Developments
In November 2019, Recaro Aircraft Seating GmbH & Co. KG was selected by KLM Cityhopper, KLM's regional carrier, to upgrade the 21 Embraer 195-E2 aircraft.
In June 2019, Air Europa S.A.U. selected Venture, JAMCO's standard business-class seat model, for its sixteen Boeing 787-9s.
In May 2019, Collins Aerospace launched of next-generation evolution seat that combines commercial first-class seating with executive aircraft seating.
Aircraft Seats Industry Report Scope
Attribute

Details

Forecast Period

2022-2032

Historical Data Available for

2017-2021

Market Analysis

USD Million for Value
Units for Volume

Key Countries Covered

U.S.
Canada
Brazil
Mexico
Germany
Italy
France
U.K.
Spain
BENELUX
Russia
China
Japan
South Korea
India
ASEAN
ANZ
GCC Countries
Turkey
Northern Africa
South Africa

Key Market Segments Covered

Aircraft Type
Seat Class
Fit Type
Seat Type
Region

Key Companies Profiled

Hong Kong Aircraft Engineering Company Limited
STELIA Aerospace (Airbus SE)
Safran SA
RECARO Holding GmbH
Collins Aerospace (Raytheon Technologies)
Thompson Aero Seating Limited
JAMCO Corporation
Crane Aerospace & Electronics
Acro Aircraft Seating
GEVEN SpA
Causeway Aero Group
Adient Aerospace
Others

Report Coverage

Market Forecast
Company Share Analysis
Competition Intelligence
DROT Analysis
Market Dynamics and Challenges
Strategic Growth Initiatives

Customization & Pricing

Available Upon Request
Aircraft Seats Market Segmentation
By Aircraft Type:
Wide Body Aircraft (WBA)
Narrow Body Aircraft (NBA)
Regional Transport Aircraft (RTA)
Others
By Seat Class:
Economy Class
Premium Economy Class
Business Class
First Class
By Fit Type:
By Seat Type:
By Region:
North America
Latin America
Europe
East Asia
South Asia Pacific
Middle East & Africa