Acrylic Acid Market
Global Market Study on Acrylic Acid: Growth of Coatings Industry - Key Influencer
Acrylic Acid Market Segmentation By Bio-acrylic Acid, Acrylic Acid Price, Glacial Acrylic Acid
Introduction
The report consists of a comprehensive data about the volume (Kilo Tons) a and value (US$ Mn) trends pertaining to the market forecasts, competition dashboard, regional footprints of players, market dynamics, and ongoing trends & developments regarding the global acrylic acid market over the forecast period of 2019 - 2029. The global acrylic acid market is projected to be valued at~US$ 19,700 Mn by the end of 2019 and is expected to be growing at a CAGR of ~5% over the forecast period.
Acrylic acid is a versatile monomer that can be polymerized to complex molecular arrangements. Acrylic acid is produced by oxidation from propane and bio-based process based on lactic acid. Whereas, acrylic polymers are derived from acrylic and methacrylic acid.
These are commonly known as polyacrylate and formed by multiple monomer chains. Polyacrylates are often copolymerized to achieve desired properties. While, acrylic esters are derivatives of acrylic acid and are used in a wide range of applications such as coatings, adhesives and sealants, textiles, plastic additives, and diapers, among others.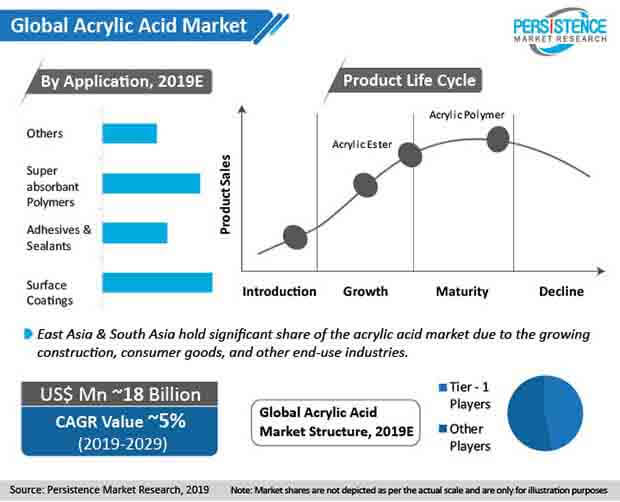 Find Out More about the Report Coverage
Companies
Company Profiles:
BASF SE
Dow Chemical
Lucite International
LG Chem
Mitsubishi Chemical Corporation
Cargill, Incorporated
Nippon Shokubai Co., Ltd.
SNP Inc.
The Lubrizol Corporation
Formosa Plastic Corporation
Arkema S.A.
Ashland
Kemira Oyi
Use of Advanced Acrylic-based Polymers in Major End-use Industries
Acrylic acid-based polymers have replaced conventionally used materials in major end-use industries, such as automotive, building and construction, electronics, and others. Acrylic acid-based elastomers such as AEM (Ethylene Acrylic Elastomers), are used as an alternative to synthetic rubber in various applications, such as an automotive gasket, hoses, and others.
Due to the improved properties of AEM, such as strength, and resistance, among others, there is an increasing demand for acrylic acid from the polymer industry during the forecast period. Furthermore, the rise in demand for methacrylate-based polymers for the manufacturing of lighting fixtures, glazing, automotive rear lights, and electronic displays has witnessed significant growth, which in turn, represents prominent growth in the acrylic acid market.
Customize this Report
Explore Intelligence Tailored to Your Business Goals.
Growing Demand for Water Treatment Polymer Likely to Propel the Demand for Acrylic Acid
Polymer derived from acrylic acid, such as polyacrylamide is used as a flocculent in the water treatment process, mineral processing, and detergents. Growing urbanization, coupled with the increasing emphasis of government towards water cleaning, is likely to propel the acrylic acid market due to the usage of acrylic acid to treat/recycle wastewater.
Due to the government regulations, manufacturers are bound to treat the effluent before releasing it into sea and oceans, which leads to increase in demand for polyacrylamide, which indirectly creates a positive impact on the acrylic acid market.
Market Research Methodology - Perfected through Years of Diligence
A key factor for our unrivaled market research accuracy is our expert- and data-driven research methodologies. We combine an eclectic mix of experience, analytics, machine learning, and data science to develop research methodologies that result in a multi-dimensional, yet realistic analysis of a market.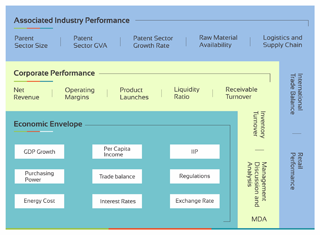 Expansion of Production Capacity
To cater to the growing demand for acrylic acid and its derivatives such as methacrylic esters and methyl methacrylate across the globe, manufacturers are focusing on expanding their production capacity by collaborations and joint ventures. For instance, in 2018, BASF SE announced to increase the production capacity at its acrylic acid and butyl acrylate plants in Kuantan, Malaysia (60:40 joint venture site with Petronas) to cater to the rising demand for acrylic monomers in the Asia Pacific region.
The global acrylic acid market is expected to experience healthy growth, averaging ~5% per annum. Further, high growth regions are cited as East Asia and South Asia. The demand for acrylic acid is expected to increase over the forecast period owing to the increasing demand for superabsorbent polymers in the manufacturing of baby diapers and feminine hygiene products.
Explore Persistence Market Research's expertise in promulgation of the business !
Key Questions Answered in the Report
How has the acrylic acid market evolved in the past four years?
What shape is the acrylic acid market expected to take in terms of volume and value during the study period?
What are the key dynamics of the acrylic acid market?
What are some of the primary macroeconomic and industry factors that are impacting the growth of the acrylic acid market?
What are the important key challenges, opportunities, and improvement factors for market players?
What are the important market positioning and key strategies of major manufacturers for the acrylic acid market as per the market taxonomy?
What is the acrylic acid consumption scenario of the global acrylic acid market in terms of value and volume?
Acrylic Acid Market: Segmentation
By Product Type

Acrylic Esters

Methyl Acrylate
Ethyl Acrylate
Butyl Acrylate
Others

Acrylic Polymers/Copolymers
Acrylic Elastomers

Water Treatment Polymers
other polymers

By Acrylic Esters Application

Surface Coatings
Adhesives and Sealants
Plastic Additives
Detergents
Textiles
Others

By Acrylic Polymer Application

North America
Latin America
Europe
South Asia
East Asia
Oceania
Middle East and Africa (MEA)
In the next section, the report provides the structure of the Acrylic Acid market, weighted average regional level pricing analysis, and forecast factors
The following section of the report offers volume (Kilo Tons) and value (US$ Mn) evaluate for the Acrylic Acid market on the basis of its each segments at a global level. The global Acrylic Acid market values represented in this section has been gathered by collecting information and data at a regional level.
Acrylic Acid market information, along with the crucial facts and figures, it also includes a distinctive analysis framework, such as share breakup for each sub segment, market attractiveness, absolute $ opportunity analysis, and year-on-year growth comparison.
The subsequent section of the Acrylic Acid report represent an exhaustive view of the global Acrylic Acid market based on the seven regions considered in the study.
The next section of the global Acrylic Acid market report incorporates a qualitative and quantitative assessment of the market situation in emerging countries which offer significant growth opportunities to the market and are anticipated to be among the prominent emerging countries in the global Acrylic Acid market.
Above sections estimate the ongoing market trend and growth scenario prospects of the global Acrylic Acid market, while the forecast in the section evaluates the market size in terms of volume and value.
The market numbers related to the global as well as national level data and segments have been estimated through a combination of primary and secondary research. Main sources referred to arrive at the global Acrylic Acid market size include manufacturers of acrylic acid, distributor, end users, as well as the secondary data available through, paid databases, government sites, and PMR's in-house data repository.
To offer a precise market forecast, PMR's proprietary regression analysis forecast model was used to drive the Acrylic Acid market estimation for the forecast period, which takes into account the effects of forecast and macroeconomic factors and certain other factor on the regional and global market. The suitable opinions and advices from primary respondents for specific segments were also being considered during forecasting the market size and segment-level dynamics for the Acrylic Acid report.
For the analysis of utilization, basic data was collected from the annual reports_bk_01_01_2020, public reports_bk_01_01_2020 and investor publication of manufacturers published by private agencies as well as governments, World Bank's sources, trade map sources, etc. Moreover, the taken out data was approved through primary research methods that include manufacturers as well as distributors and end users. For the final exploration of market data, we have examined the demand-side as well as supply-side drivers and trends in various regional markets. We have estimated the market data on the basis of the production – consumption scenario, key developments, and regional trends of acrylic acid
Our Clients