South East Asia Disposable Medical Supplies Market Outlook (2022-2032)
The South East Asia disposable medical supplies market was valued at US$ 6 Bn in 2021, and is projected to expand at a CAGR of 6.8% to climb to a market valuation of US$ 12.3 Bn by the end of 2032.
| | |
| --- | --- |
| South East Asia Disposable Medical Supplies Market Size (2021) | US$ 6 Bn |
| Estimated Market Value (2022) | US$ 6.4 Bn |
| Forecasted Market Value (2032) | US$ 12.3 Bn |
| Global Market Growth Rate (2022-2032) | 6.8% CAGR |
| Market Share of Top 3 Countries | 52.4% |
According to Persistence Market Research, hypodermic & radiology products recorded sales worth US$ 1.1 Bn in 2021, accounting for over 17% of the total South East Asia disposable medical supplies market share by product.
South East Asia accounted for nearly 2.8% share of the global medical supplies market in 2021, which was valued at approximately US$ 215 Bn.
Sales Analysis of Disposable Medical Supplies in South East Asia from 2017 to 2021 Vs Market Outlook for 2022 to 2032
The South East Asia disposable medical supplies market expanded at a CAGR of 5.1% over the last five years (2017-2021).
The rate of occurrence of HAIs is expected to increase rapidly across the world. HAIs are directly linked with the admission of patients into an acute-care hospital, and they include central line-associated bloodstream infections (CLABSI), catheter-associated urinary tract infections (CAUTI), and others.
According to the latest data published by CDC in 2021, around one in 31 hospital patients acquire at least one healthcare-associated infection. To lower the incidence of hospital-acquired infections, several hospitals have implemented infection tracking and surveillance systems as well as robust preventative methods.
Growing concerns about Hospital-Acquired Infections (HAIs) are driving demand for disposable medical supplies to reduce risks of cross-contamination and meet higher healthcare standards.
Cost benefits, low maintenance, minimal need for sterilization, convenience, and improved healthcare safety standards are factors contributing to rising demand for disposable medical supplies in the South East Asian region.
To better align innovations in disposable medical supplies with public healthcare needs, increased funding and improved healthcare infrastructure is necessary. Therefore, with advancements in research & development, increasing awareness, and efforts to improve infection prevention standards, the disposable medical supplies industry is expanding at a fast pace.
Acquisitions and collaborations are key strategies adopted by manufacturers to increase their revenues in different countries. Companies are trying to foray into unexplored markets and improve their price competitiveness and further strengthen their stable supply system by vigorously reviewing the product portfolio of existing manufacturing bases to grab market share in emerging economies.
For instance:
On April 15, 2021, Thermo Fisher Scientific acquired PPD, Inc., a leading clinical research organization, to further expand its service offering to pharma and biotech customers.
Overall, the market for disposable medical supplies in South East Asia is predicted to surge ahead at 6.8% CAGR through 2032.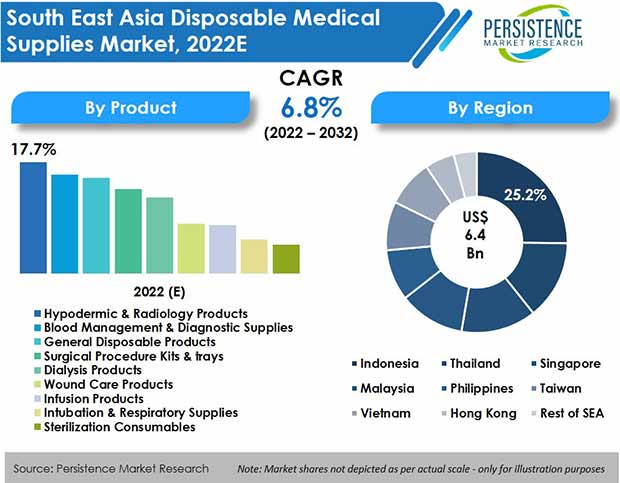 What are the Opportunities for Manufacturers of Disposable Medical Supplies in South East Asia?
The South East Asia disposable medical equipment market is set to witness lucrative growth due to increasing cases of surgeries. Disposable medical products are being used across various applications such as general surgery, cardiovascular surgeries, and orthopaedic procedures, amongst others.
Convenience during surgical procedures, prevention of cross-contamination by non-transfer of infections from one patient to another, and elimination of risk following surgery with accelerated healing time have contributed to increase in demand.
Low-cost disposable medical supplies are increasingly replacing high-value-added single-use goods during surgery and general patient care, presenting significant potential for disposable medical supply manufacturers.
Furthermore, technological advancements have allowed for new and improved devices in the medical sector. Development of FDA-approved robotic-assisted surgical devices has facilitated improved patient care and outcomes. Better outcomes attract more patients to opt for surgery, in turn, increasing demand for equipment used in surgery especially, the usage of disposable medical supplies.
In addition, growing investments in the healthcare industry in emerging countries offer lucrative opportunities for key manufacturers of disposable medical supplies in South East Asia.
What's Restraining Demand for Disposable Medical Equipment in South East Asia?
Increasing environmental concerns related to medical waste is the prime restraining factor for the South East Asia disposable medical supplies industry. Improper segregation and disposal of biomedical waste, air & groundwater source contamination, as well as improper needle disposal raising the risk of needle-stick injuries and infections such as HIV, hepatitis B, and C infections are major worries for the healthcare industry.
Furthermore, poor healthcare waste management can result in serious environmental and human health issues. SEA countries are densely populated, and some are highly resource-constrained. These countries lack proper healthcare waste management.
Facilities lack proper waste segregation, collection, storage, transportation, and proper disposal. Thus, all these factors are limiting demand growth of disposable medical supplies in South East Asia.
Country-Wise Insights
Which are the Leadings Markets for Disposable Medical Supplies in South East Asia?
Indonesia accounted for approx. 25% market share in the South East Asia disposable medical supplies market in 2021. The U.S. has the largest number of key manufacturers of disposable medical devices in the world, and Indonesia offers great potential for U.S. exporters of medical devices and equipment.
For instance, according to the International Trade Administration, medical devices and equipment import into Indonesia grew from US$ 1.6 Bn in 2019 to US$ 2.2 Bn in 2020.
Furthermore, medical facilities are a priority in Indonesia's national agenda, and central and regional governments continue to build and upgrade healthcare facilities, which provides a great opportunity for South East Asia suppliers of disposable medical systems to grow during the forecast period.
In terms of value share, Thailand accounted for 14.1% of the South East Asia market in 2021. Thailand is leading in terms of medical tourism, which increases patients flow in hospitals in the country.
Affordable holistic & alternative treatment in the country makes it a leading medical tourism destination. Thus, demand for disposable medical supplies also increases in lieu of offering treatment to patients from foreign countries.
In 2021, the Singapore disposable medical supplies market accounted for 13.3% market share due to the developing economy and increasing healthcare expenditure.
Additionally, favourable government schemes are attracting more people to opt for better medical treatment without stressing about the expenses. In Singapore, nearly 80% of the citizens obtain their medical care within the public health system.
The government spends approx. 1.6% of its annual GDP on public healthcare. Healthcare is the third-most important thing in the country, which is one of the major factors driving demand for disposable medical supplies in the country.
Category-Wise Insights
Which Product Type is Driving High Market Growth in South East Asia?
Hypodermic & radiology product demand is growing tremendously owing to a large number of blood-borne pathogens that can be transmitted from contaminated needles from one patient to another. The segment held nearly 17.8% market share in 2021.
For instance, according to WHO, Indonesia is the fourth-most populous country in the South East Asia region, and has the fourth-largest number of new HIV infections per year.
For What is Application of Disposable Medical Supplies the Highest?
Management of cardiovascular conditions employed the maximum use of disposable medical supplies. Cardiovascular is leading by application because the prevalence of cardiovascular diseases is increasing rapidly in the South East Asia region. The cardiovascular segment accounts for nearly 26% revenue share of the overall South East Asia disposable medical products market.
For instance, the prevalence of stroke in Thailand was around 9.4% in 2020.
Wide range of applications of disposable medical supplies for cardiovascular disease will provide lucrative opportunities for manufacturers in the market.
Impact of COVID-19 Crisis
The COVID-19 outbreak positively influenced demand for disposable medical supplies in South East Asia. With increasing number of COVID-19 cases in the SEA region, bulk demand for disposable products, including gowns, masks, antiseptics, and disinfectant products, skyrocketed.
Proper use of disposable medical items such as respirators, gloves, air-purifying respirators, facemasks, goggles, face shields, and gowns is essential in preventing the spread of infection to and from Healthcare Workers (HCWs) and patients.
In March 2020, the World Health Organization (WHO) urged governments and companies to raise the production of personal protective equipment such as hospital gowns, medical masks, gloves, face shields, respirators, goggles, and aprons by 40% to meet the rising demand.
Key market players were increasing their production capacity close to 100% to meet the surging demand. Hence, COVID-19 positively affected this market, and it is further expected to contribute significantly during the forecast period.
Competitive Landscape
Key producers of disposable medical products in South East Asia have adopted expansion as a business growth strategy. Companies investigating potential markets must take stock of their capabilities and assets. These include new or existing products with an appeal in untapped areas.
Additionally, companies are focusing on partnerships with local players to grow in the market and reach a larger customer base.
On May 27, 2020, Thermo Fisher Scientific entered into a strategic partnership with CSL, a global biotech company, for the expansion of its manufacturing capacity of biologics drug substances to serve this rapidly growing market.
In April 2020, B. Braun stepped up its production to make sure that those on the front lines of COVID-19 have the necessary supplies amid the outbreak. The company increased production at its North American plants.
South East Asia Disposable Medical Supplies Industry Report Scope
Attribute

Details

Forecast Period

2022-2032

Historical Data Available for

2017-2021

Market Analysis

US$ Million for Value

Key Countries Covered

Indonesia
Thailand
Singapore
Malaysia
Philippines
Taiwan
Vietnam
Hong Kong
Rest of SEA

Key Market Segments Covered

Product
Application
End User
Country

Key Companies Profiled

Medtronic Plc.
Cardinal Health, Inc.
3M Company
Mölnlycke Health Care AB
NIPRO Corporation
Ansell Healthcare LLC
Halyard Health, Inc.
Medline Industries Inc.
McKesson Corporation
Sempermed USA, Inc.
GE Healthcare
Johnson & Johnson
ThermoFisher Scientific Inc.
Smiths Group Plc
Ambu A/S
Koninklijke Philips NV
Top Glove Corporation Bhd
Hartalega Holdings Berhad
Honeywell International Inc.
Prestige Ameritech
B Braun Melsungen AG
Medtecs International Corp (Jin Cheng Medical Textile Co., Ltd.)

Report Coverage

Market Forecast
Competition Intelligence
DROT Analysis
Market Dynamics and Challenges
Strategic Growth Initiatives

Customization & Pricing

Available upon Request
Key Segments Covered in South East Asia Disposable Medical Supplies Industry Analysis
By Product:
Sterilization Consumables

Single-use Sterilization Wraps
Sterile Containers
Sterile Indicator Tapes
Sterilization Reels & Pouches

Wound Care Products

Disposable Wound Care Devices

Disposable Wound Irrigation Devices
Disposable Surgical Wound Drainage/Evacuator

Negative Wound Pressure Therapy

Disposable NPWT Devices
Disposable NPWT Accessories/Dressing Kits

Foam Dressing Kits
Gauze Dressing Kits

Traditional Wound Care Products

Basic Dressing Sets
Bandages
Gauzes
Gauze Sponges
Sponges

Advanced Wound Care Products

Hydrogel Dressings

Antimicrobial Hydrogel Dressings
Non-antimicrobial Hydrogel Dressings

Semi-permeable Film Dressings

Semi-permeable Antibacterial Film Dressings

Antimicrobial Bordered Films Dressings
Antimicrobial Non-bordered Films Dressings

Semi-Permeable Non-antibacterial Film Dressings

Non-antimicrobial Bordered Films Dressings
Non-antimicrobial Non-Bordered Films Dressings

Foam Dressings

Antimicrobial Foam Dressings

Antimicrobial Bordered Foam Dressings
Antimicrobial Non-Bordered Foam Dressings

Non-Antimicrobial Foam Dressings

Non-antimicrobial Bordered Foam Dressings
Non-antimicrobial Non-Bordered Foam Dressings

Alginate Dressings

Antimicrobial Alginate Dressings
Non-antimicrobial Alginate Dressings

Hydrocolloid Dressings

Antimicrobial Hydrocolloid Dressings
Non-antimicrobial Hydrocolloid Dressings

Collagen Dressing

Antimicrobial Collagen Dressing
Non-antimicrobial Collagen Dressing

Wound Contact layer

Antimicrobial Wound Contact Layers
Non-antimicrobial Wound Contact Layers

Super Absorbent Dressings

Antimicrobial Super Absorbent Dressings
Non-antimicrobial Super Absorbent Dressings

Hydrofibres

Antimicrobial Hydrogel Dressings
Non-antimicrobial Hydrogel Dressings

Dialysis Products

Concentrates & Solutions

Liquid Concentrates
Powder Concentrates

Bloodlines Systems & Dialysis Catheters

Foley Urinary Catheters

Silicon Foley Catheters
Others

Dialysis Catheters

Peripherally Inserted Central Catheter (PICC)
Peripheral Intravenous Catheters (PIVC)
Central Venous Catheter

Disposable Dialyzers

Low Flux Single-use Dialyzers
High Flux Single-use Dialyzers

Dialysis Consumables

Dialysis Fistula Needle
Dialysis Drainage/Urine Collection Bags

Critical Care Products

Dialysis Care Kits
Disposable Blood Pressure Transducers

Infusion Products

Disposable Infusion Sets
Disposable Infusion Pumps
Disposable Accessories

Disposable Needles
IV Catheters & Cannulas
Disposable Syringes

Smart Syringes
Prefilled Syringes

Disposable Pressure Infusion Bags

Hypodermic & Radiology Products

Hypodermic Products

Hypodermic Needles & Syringes
Other Safety Disposable Needles/Syringes

Radiology Products

Intubation & Respiratory Supplies

Airway Management Tubes

Suction Unit Products

Suction Tubing
Yankeur Suction Sets
Suction Catheters

Open Suction Catheters
Closed Suction Catheters

EndoBronchial Tubes
Endotracheal Tubes
Nasal Airway Tubes
Oral Airway Tubes
Tracheostomy Tubes
Laryngeal Mask Airway

Intubation Accessories
Nasal Cannula

High Flow Nasal Cannula
etCO2 Sampling Cannula

Breathing Filters
Breathing Circuits

Surgical Procedure Kits & Trays

Disposable Surgical Trays

Laparoscopic Trays
Laceration Trays
ENT & Ophthalmic Custom Trays
Custom Ob/Gyn Kits
Hysterectomy Kits
Open Heart Surgery/ Angiography Kits
Lumbar Puncture Trays
Biopsy Trays

Disposable Surgical Kits

Suture Removal Kits
Dressing Kits
Orthopaedic Kits & Trays
Anaesthesia Kits

Others

Blood Management & Diagnostic Supplies

Disposable Blood Bags

Collection Bags

Single Collection Bags
Double Collection Bags
Triple Collection Bags
Quadruple Collection Bags

Transfer Bags

Diagnostic Kits

Glucose Monitoring Strips
Blood Lancets
Blood Collection Needles
Blood/Specimen Collection Test Tubes
Swabs
Disposable ECG Electrodes

General Disposable Products

Disposable Apparel/ Medical PPE

Disposable Masks

Surgical Masks

Basic Surgical Masks
Anti-fog Foam Surgical Masks
Fluid Splash Resistant Surgical Masks
Anaesthesia masks
others

Respirator Masks

Single Straps
Filter Dust Face Masks
Half Face
Full Face
PAPRs

Disposable Gowns

Surgical Gowns
Non-Surgical Gowns
Isolation Gowns

Disposable Drapes & Aprons

Incise
Sheets/Bedsheets
Laparoscopy
Lithotomy
Laparotomy
Leggings
Others

Face Shield

Anti-fog Face Shields
Anti-glare Face Shields
Others

Disposable Gloves
Surgeon Caps
Others

Disposable Incontinence Products

Maceratable Products
Adult Diapers
Others

Gastroenterology Disposables
Feeding Bags
Feeding Tubes
By Application:
Cardiovascular
Cerebrovascular
Dental
Laparoscopy
Gynaecology
Urology
Orthopaedics
Others
By End User:
Hospitals

Tier 1 Hospitals (>500 Beds)
Tier 2 Hospitals (250-500 Beds)
Tier 3 Hospitals (<250 Beds)

Ambulatory Surgical Centers
Clinics
Diagnostic Centers
Long Term Care Centers
Nursing Facilities
By Country:
Thailand Disposable Medical Supplies Market
Indonesia Disposable Medical Supplies Market
Malaysia Disposable Medical Supplies Market
Philippines Disposable Medical Supplies Market
Vietnam Disposable Medical Supplies Market
Singapore Disposable Medical Supplies Market
Hong Kong Disposable Medical Supplies Market
Taiwan Disposable Medical Supplies Market
Rest of SEA Disposable Medical Supplies Market