Market Overview
Digital transformation and new technologies are rapidly changing the face of various industries completely, and the pump industry is no exception. In recent years, several developments have been made on the efficiency of these devices to accurately fit in with the age of digitalization. As the energy costs continue to escalate, the pressure to adopt new business models for manufacturers are also evolving in an attempt to enhance product monitoring, while lowering the environmental impact.
Persistence Market Research (PMR), in its new offering, turns the spotlight on 'Global Pumps Market' to explore the possible demand patterns and growth opportunities on pumping systems. The study also offers valuable information for the stakeholders on many aspects of evolving trends along with operational and strategic impacts of the pumps market.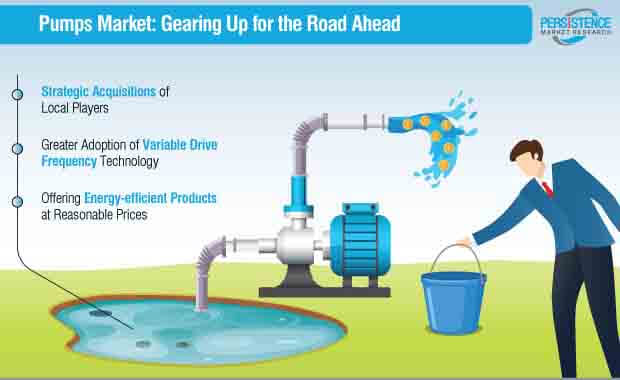 Pumps Market – Tracing the Historical Route and Assessing Technological Advancements
Today's pumps are many years ahead of their ancient counterparts. As focus continues to be placed on hydraulic science, rudimentary designs evolved, and new designs and inventions began to flood the market. In 2018, worldwide sales of pumps were valued at US$ 37.5 billion, and a large number of market players are focusing on aligning with the ever-changing trends and introducing advanced products at competitive price.
Increasing infrastructural development activities as well as exploration of new water sources worldwide, in the view of continued urbanization, has been parallel to rapid adoption of pumps. However, in recent years, emergence of various Chinese players offering pumps at relatively low cost has been challenging the growth of global and regional market players. Additionally, more focus on enhancing the operating life of modern-day pumps, rather than spending on R&D on new products, has affected the aftermarket sales of pumps and their components.
Centrifugal Pumps – The Product of Choice
Manufacturers continue to focus on increasing the production of centrifugal pumps for water and wastewater treatment, as the category has witnessed robust sales in the recent years. Providing a very high flow rates and covering a wide range of liquid pumping applications as compared to positive displacement pumps, the centrifugal pumps also continue to witness higher innovations and investment. The impact of new trends such as 'portability', 'miniaturization', and 'size reduction' – end users' preference that have induced tectonic shifts in number of industries – is noticeable in centrifugal pumps as well. Manufactures are leveraging new technologies such as micro disc pumping to create small-size yet energy efficient centrifugal pumps to capitalize on chemical and hygiene markets.
As several organizations draw attention to the threat of water scarcity, wastewater treatment has become an integral part of the sustainable development goals. Recognizing the growing importance of water and wastewater treatment across the globe, pumps market players are directing their focus and exploring the potential of their products in these applications. Increased government investments in water and wastewater treatment activities are further likely to work to the advantage of the pump manufacturers.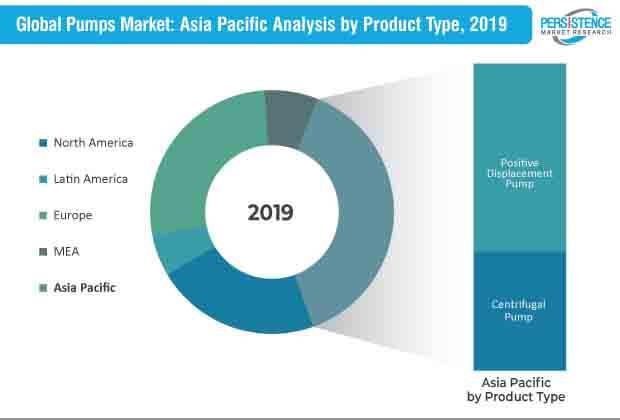 Multi-modal Approach to Gain Prominence in Pumps Market
Market Players on an Acquisition Spree
Sensing the fragmented nature of the pumps market, key players are cracking the 'mergers & acquisitions' code to stay ahead of the pack. For instance, in 2018, Ebara Corporation formed 'Ebara Bombas América do Sul Ltda (EBAS)' by merging Ebara Indústrias Mecânicas e Comércio Ltda (EIMCO) with its wholly-owned Brazil-based pumps manufacturer, Thebe Bombas Hidráulicas Ltda.
Capitalizing on rapidly increasing wastewater treatment activities also remains a key focus area of the pumps market players. Such efforts were further intensified when Xylem Inc. announced its acquisition of EmNet LLC, a smart solutions provider for municipalities to manage urban water cycle along with wastewater and stormwater systems.
Prioritizing Energy-efficient Products
As dwindling natural energy resources becomes a global crisis, several process plants and manufacturing facilities are increasing their focus on the amount of energy expended by various equipment. For many organizations, the environmental impact of their operations is becoming increasingly important. Therefore, pump manufacturers are constantly working on improving the efficiency of their products that not only reduce energy costs but also lower the maintenance requirements.
Expansion of Manufacturing Capabilities in Developing Countries
Despite the presence of large number of local players, leading pump manufacturers are continuously targeted towards establishing new manufacturing facilities in developing countries where costs of operations are relatively low. Favorable government policies in these countries along with rising demand for pumping equipment from SMEs have also led to realignment of these strategies.
Pumps Market: The Competitive Landscape Analysis
The global pumps market shows a high level of fragmentation, with a large presence of small- and medium-scale manufacturers who are aggressively competing to gain significant share in the market.
As Chinese players continue to offer low-cost products, leading manufacturers are differentiating through incorporation of advanced technologies and several additional services. With increased focus on reducing operating costs, equipment rental is garnering traction as a viable and cost-effective alternative to purchase. Therefore, pump manufacturers are building effective strategies to respond to such trends and fulfil specific demands for different end users.
In addition to expanding their product portfolio, many market players are focusing on optimization of pumping systems and increasing production speed that can save energy and reduce the total cost of ownership without compromising on the performance parameters. While leading players remained focused on M&A activities for a strong position in the market, a number of small players are increasingly looking for international partnerships through technology collaborations to enter the foreign markets.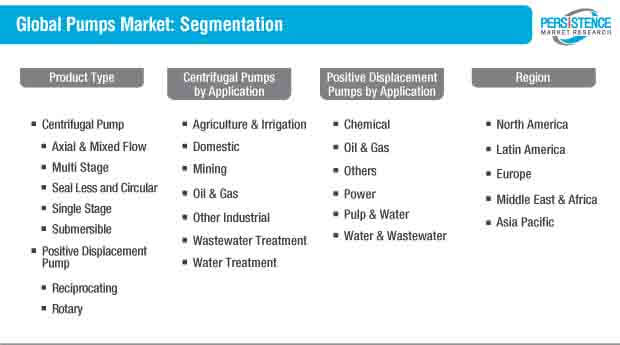 The Analyst's Viewpoint
Report authors maintain a positive outlook of the global pumps market, which is projected to register a value CAGR of ~4% during the period between 2019 and 2029. Considering the emerging trends of 'micro-irrigation' in small farms and increasing deployment of small pumps, manufacturers will need to direct their focus towards 'customization'. As end users' needs shift to niche applications, offering customized products should be key development strategy of the market players. For pump manufacturers struggling with price pressure in competitive market, embracing business models such as 'pump-as-a-service' will present opportunities to get ahead of the competitors, according to the analysts.
Market Overview
Wide applications of centrifugal and positive displacement pumps in wastewater treatment and water supply activities are likely to drive the market for pumps during the forecast period. These pumps cover approximately 28% of the centrifugal pumps market value share. Pumps are largely deployed in water & wastewater treatment applications. Multistage pumps have been witnessing speedy growth in Western countries due to their higher adoption rate.
Increasing Momentum in the Construction Industry
Centrifugal pumps are among the most widely used pumps due to design simplicity, wide capacity range, smooth flow rate, and ease of maintenance & operative efficiency. Positive displacement pumps are ideal for high-pressure applications that need the same amount of flow produced at the same speed.
The construction sector is one of the main end users of pumps, and with growing investments in this sector, the global pumps market is slated to witness robust growth in the coming years. With governments and other private firms expected to undertake a number of new construction projects in the next 10 years, the pumps market is projected to witness significant demand in the coming years.
Submersible Centrifugal Pumps Witnessing High Adoption
By product type, the centrifugal pumps market is segmented into axial & mixed flow pump, multistage pump, single-stage pump, seal-less and circulator pump, and submersible pump. This report on the pumps market also provides important market information related to end-use applications, such as agriculture & irrigation, oil & gas, mining, water treatment, wastewater treatment, domestic, and other industrial application. The report not only covers the sales of new pumps, but also the sales of rental and used pumps. This global pumps market study also does not take into account the customization and maintenance services provided by manufacturers and suppliers.
The global pumps market is estimated to reach at US$ 40 Bn at the end of 2019, and is anticipated to reach more than US$ 60 Bn by the end of 2029. The global pumps market is estimated to reach at a CAGR of ~ 4.5% during forecast period. The incremental opportunity created by the global pumps market between 2019 and 2029 is expected to reach US$ 20 Bn.
Regional Leaders in APAC to Reap Benefits of Competitive Pricing Strategy
The rising global pumps market is estimated to represent a stable growth rate during the forecast period owing to product developments and investments in new manufacturing plants by key players. Acquisitions, partnerships, and mergers among the leading players in the global pumps market are estimated to boost the market. In addition, partnerships and joint ventures between manufacturers and automation providers are further contributing to the pumps market growth momentum.
However, high electricity consumption is restricting the growth of the electrical pumps market. Low-price offerings by China-based pump manufacturers act as a restraint to most regional and global players offering pumps. On the other hand, rising investments in the Asia Pacific region for water & wastewater treatment are projected to contribute to the growth of the pumps market during the forecast period. In addition, the strengthening of distribution channels in emerging economies is projected to boost the sales of various types of pumps.
Key Vendor Analysis
Some of the key market players stated in this study on the global pumps market are
KSB Se & Co. KGaA
Ebara Corporation
Xylem Inc.
Sulzer Ltd.
Kirloskar Brothers Ltd.
The Weir Group PLC
Flowserve Corporation
Grundfos
Ruhrpumpen Group
and WILO SE among others.
Key participants in the global pumps market, a number of which are multinational players, offer pumps for water & wastewater treatment applications in various regions.
Recently, competition in the global market has increased, which has created opportunities for partnerships and collaborations with sales and distribution companies. The manufacturers from Asia, especially Chinese vendors, are offering low-price pumps, which helps boost sales in the Asian region, however, it affects the market share of North American and European players. Players from India are observed to be targeting regions such as ASEAN and Middle East & Africa. Competition in the global market is estimated increase further owing to the revenue growth of players from Asia during the forecast period.
Global Pumps Market – Segmentation
The global pumps market has been segmented into three broader categories – product type, application, and region. The study analyzes multiple dynamics and trends associated with each category, and their impact on the overall growth of the pumps market. Key information featured in this section of the report include market value share analysis, y-o-y growth analysis, and market attractiveness analysis.
Product type

Centrifugal Pump

Axial & Mixed Flow
Multi Stage
Seal Less and Circular
Single Stage
Submersible

Positive Displacement Pump

Centrifugal Pumps by Application

Agriculture & Irrigation
Domestic
Mining
Oil & Gas
Other Industrial
Wastewater Treatment
Water Treatment

Positive Displacement Pumps by Application

Chemical
Oil & Gas
Others
Power
Pulp & Water
Water & Wastewater

Region

North America
Latin America
Europe
Middle East & Africa
Asia Pacific