Introduction
The global portable Bluetooth speaker market is estimated to be valued at over US$ 4,000 Mn in 2017 and is projected to reach nearly US$ 8,530 Mn by 2025 end. Sales revenue is expected to increase at a CAGR of 9.9% during the forecast period (2017–2025).
Advancement in audio technology hailing the growth of portable Bluetooth speakers in the North America region
Technological advancements in various audio devices have transformed the fashion in which music is played and appreciated. The audio industry has witnessed a shift to the rise in demands for wireless based audio devices such as portable Bluetooth speakers, sound bars, headphones and microphones. End-user demand and adoption for portable Bluetooth speakers and other such devices are gaining traction.
Growing number of smart homes in the North America region aiding market growth
Many homes in developed nations like the U.S and Canada are being revamped into smart homes. In a smart home, consumer electronic devices, media and entertainment gadgets, and other smart electronics are connected to the home network and can interact with each other.
These connected devices facilitate consumers to monitor and play music from remote locations and allow consumers to play different music in different rooms by adding additional streaming devices. These features are expected to increase adoption of portable Bluetooth speakers in the countries in North America, thereby contributing to the growth in revenue of the market.
Threat of piracy hindering revenue growth of the portable Bluetooth speaker market
Piracy is a major challenge to various markets, including that for portable Bluetooth speakers. The materials utilized, sound properties as well as durability of pirated products are inferior to those offered by major portable Bluetooth speaker manufacturers. However, pirated products are offered at a fraction of the price of original products and people, especially in developing countries such as China and India, are inclined towards the purchase of such products. The prevalence of counterfeit products hamper market growth to a significant extent.
Change in taste of listening to music among consumers
The format of music is gradually changing to digital, hi-fi systems and manufacturers are designing, developing and pursuing innovation in sound systems. In the past, consumers focused on speakers with high watts featuring better sound quality. However, residential users are limited in terms of compatibility and loud music may be unpleasing and disturbing to neighbors.
The customer need has changed to innovation. Key purchases of hi-fi systems in the recent past have been with Wi-Fi connection, Bluetooth, plug-in of various card reader types, USBs including supported files or even a mixture with disco lighting, and so on.
Global Bluetooth Speaker Market Attractiveness, By Price Range – 2017 to 2025
The mid-range segment is projected to be the most attractive segment in the global portable Bluetooth speaker market during the forecast period. However, the low-range segment is expected to register high Y-o-Y growth rates throughout the forecast period. In terms of value, the low-range segment is expected to register a CAGR of 10.1% during the forecast period while the mid-range segment follows close with a 10.0% CAGR.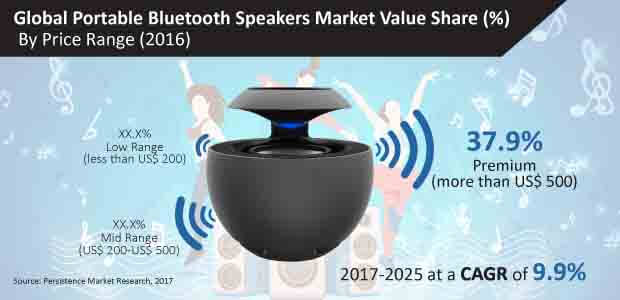 Underdeveloped markets likely to show good growth potential during the forecast period
There are huge market opportunities for portable Bluetooth speaker device providers in untapped rural markets. According to the UN, in 2014, the global rural population was approximately 3.4 billion, with Africa and Asia accounting for around 90% of the population.
The rural markets in these regions have huge potential and form the bottom of the pyramid for two major economies of the world. In order to target these markets, manufacturers can lower the prices of products, thereby expanding their customer base as these are price sensitive markets.
Market Segmentation
The market taxonomy breaks down the global portable Bluetooth speaker market into various segments and sub-segments to help the report audience understand this vast and dynamic market in a comprehensive manner.
Attribute
Details

By Sales Channel

Organized Retail Stores
Unorganized Retail Stores
Online/e-Commerce

By Usage Type

Bluetooth Car Speaker
Indoor/Outdoor Bluetooth Speaker
Others

By Price Range

Premium (More than US$ 500)
Mid-Range (US$ 200–US$ 500)
Low Range (Less than US$ 200)

By Region

North America
Latin America
Europe
Asia Pacific
Middle East and Africa
- Companies Covered in This Report -
Prominent Players
Beats Electronics
Bose Corporation
Harman International Industries
Yamaha Corporation
Sony Corporation
JVCKENWOOD Corporation
Logitech International S.A
LG Electronics Inc.
Samsung Electronics
Sound United
Other Players
Pioneer Corporation
Plantronics Inc.
Koninklijke Philips N.V.
Jawbone
Braven LC
Intex Technologies
Altec Lansing
Others.