Night Contact Lens Market Outlook (2022-2032)
The global night contact lens market stands at a value of US$ 880.3 Mn in 2022 and is predicted to expand at a CAGR of 7.5% to reach US$ 1.8 Bn by the end of 2032. As assessed by Persistence Market Research, myopia indication held a market value share of 53.6% in 2021. Overall, night contact lens sales accounted for approximately 5.6% revenue share of the global contact lens market in 2021.
The global market for night contact lenses recorded a historic CAGR of 6.8% from 2012 to 2021. Refractive errors that have not been corrected are the second-most common cause of preventable blindness and the main cause of moderate to severe vision impairment worldwide. There are conflicting studies on the prevalence of various refractive errors in children around the world.
To temporarily and irreversibly eliminate refractive error after lens removal, orthokeratology involves purposefully modifying the anterior cornea with specialized contact lenses. Reverse geometry lenses with hard, extremely oxygen-permeable construction are used in modern ortho-k to temporarily correct refractive errors and reshape the anterior cornea while being worn overnight.
According to estimations of myopia prevalence from 2000 through 2050 (22.9% of the world's population), there may be a considerable rise based on the global prevalence of myopia and high myopia and temporal trends through 2000 across 2050, systemic review and meta-analysis (2016). This has consequences for planning services, such as addressing and mitigating myopia-related ophthalmic issues and loss of vision in the over 1 billion people affected by myopia.
Myopia has dramatically increased in prevalence around the world, particularly among children and teenagers in East Asian countries. Rise in the number of individuals with myopia has increased the demand for innovative treatments such as ortho-k lenses. Myopia, hyperopia, and astigmatism are all disorders that are treated with ortho-K, and in some cases, eliminated. It is suitable for people of all ages.
Orthokeratology, a safe and efficient method of optical correction that also has the added benefit of reducing childhood myopia and enhancing eyesight and quality of life, is growing in popularity. By starting ortho-k therapy early, it may be possible to reduce the prevalence of high myopia in younger myopic children.
Gas permeable (GP) lenses are designed for ortho-k at bedtime and are needed to be worn throughout the night because these lenses gently restructure the cornea to improve vision. The success rates of ortho-k lenses were higher than mild vision prescriptions.
According to the FDA, clinical trials conducted on both corneal refractive therapy (CRT) and vision shaping treatment (VST) lenses revealed that more than 65% of ortho-k patients reportedly achieved 20/20 visual acuity. Also, more than 90% of ortho-k patients had a vision of 20/40 or greater.
| | |
| --- | --- |
| Night Contact Lens Market Size (2022) | US$ 880.3 Mn |
| Projected Market Value (2032) | US$ 1.8 Bn |
| Global Market Growth Rate (2022-2032) | 7.5% CAGR |
| Market Share of Top 5 Countries | 62.8% |
How Can Night Contact Lens Manufacturers Grow in the Market?
"Better Alternative than Laser Vision Correction (LASIK)"
Laser corrective surgery is a decent option for people looking for a long-term fix for their vision issues, but it carries the risk of consequences. Severe dry eye, impaired vision, under- or overcorrection, and eye infections are possible side effects of laser vision correction (such as LASIK).
Ortho-k improves sightedness with no side effects as compared to LASIK. These FDA-approved lenses were initially produced as a correction approach to control the progression of myopia in children; however, it is also successful in correcting adult vision.
Myopia control has improved as a result of more recent developments in ortho-k designs, such as the MOONLENS orthokeratology and the REMlens orthokeratology. To understand why some people did not advance as quickly as others, additional research on peripheral refraction will be required in the future. To permanently lower the risk of myopia onset, ortho-k lenses are being studied as myopia treatment approaches.
The ortho-k lens is a less expensive alternative to corrective laser surgery than conventional contact lenses. These personalized lenses offer unobstructed vision during the daytime without affecting the integrity or caliber of the cornea. Additionally, with refractive procedures, a second surgery may be necessary, adding to the risks and expenses.
Ortho-k lenses are a great choice for athletes and sports fans since they provide all-day clear vision without the need for prescription lenses or glasses, which can often irritate the eyes. Therefore, the development of this novel therapeutic product and better alternatives is anticipated to boost adoption rates, which will propel the global market over the coming years.
How is Market Expansion Being Affected to a Certain Extent?
"Lack of Availability of Long-term Data"
Although there are significant short-term advantages for both adults and children in having to manage myopia or astigmatism, this type of treatment has also been associated with some risks and adverse effects. The risks are not dissimilar to those associated with standard soft contact lenses. Ortho-k lenses can also cause corneal infections like other contact lenses. The size of an ortho-k-lens is small and these are generally transparent, which means that children can lose them easily.
Ortho-k-lenses require regular follow-ups and fitting and regular aftercare visits to ensure the health of the eyes. Numerous consultations with the optometrist are required for up to 3 to 6 months. It would be a lengthy process and would necessitate the requirement to locate an optometrist who provides these lenses.
Night contact lenses should be worn every night to prevent the cornea from coming back to its actual shape, which tends to be a tedious task. Although the success rate is high, there is no guarantee that it will help slow down the rate of myopia progression.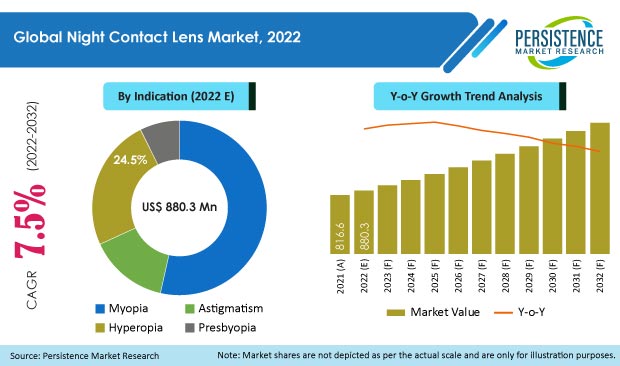 Country-wise Insights
Why is the U.S. Market for Night Contact Lenses So Prominent?
"Increasing Prevalence of Vision-Associated Issues"
The U.S. accounted for 81.6% share of the North American market in 2021.
In the United States, 3 out of 4 people have vision impairments; 22% of those utilize contact lenses, while the remaining 71% wear glasses, according to research from the Vision Impact Institute. The study also revealed that people between the ages of sixteen and 25 spend more than 3 hours per day gazing at screens, such as phones, tablets, or computers.
The excessive use of screens might cause major problems, including age-related macular degeneration.
Will Germany be a Lucrative Market for Night Contact Lens Suppliers?
"Technology Advancements Complementing Market Progress"
Germany held 25.4% share of the European market at the end of 2021.
As compared to other countries, the market will have opportunistic growth potential during the forecasted years. Several eye care manufacturers in Germany have been emerging into wide geographies and launching new products in different countries as the demand for ortho-k lenses increases.
Why is the Market in China Surging Ahead?
"Rising Number of Clinical Trials & Studies"
China held the largest share of 64.4% of the East Asia market in 2021.
In China, several ortho-K manufacturers are present, including Paragon, Lucid, Euclid, ProCornea, and others. Furthermore, larger lens companies such as Bausch+Lomb and Cooper Vision are focusing on specialty lenses and lens care products for the Chinese market.
Companies such as ChinaMed anticipate increased growth in this market through the end of the decade, which is expected to fuel the revenue growth of the global market.
Category-wise Insights
Which Indication is Driving High Demand for Night Contact Lenses?
"Myopia Accounts for Major Market Share"
The myopia segment held 53.6% share of the global market in 2021.
High demand for ortho-K lenses is being driven by an increase in the prevalence of myopia at the early stages of life. Children who spend the majority of their time focusing on close objects, whether reading a book, using a desktop, playing computer games, looking at a smartphone, or trying to perform other close visual work, are 30% more likely to develop myopia. This has been boosting the indication segment.
Where are Night Contact Lenses Most Widely Sold?
"Ophthalmology Clinics Account for Substantial Share Due to Easy Consultation & Product Availability"
Ophthalmology clinics accounted for a larger share of 45.8% with a market value of US$ 374.1 Mn in 2021.
Clinics are the leading centers for innovative clinical care of eye disorders, advancing knowledge of medicine and expertise through cutting-edge research, and training future medical professionals in ophthalmology and vision science. This has been increasing in-patient and outpatient admissions, which directly influences the demand for vision care products such as night contact lenses, various surgical instruments, etc.
Competitive Landscape
Leading manufacturers are developing novel products to expand their product lines globally. Similar to this, several market competitors in the vision care sector have taken part in consolidation activities to hasten research and development.
To expedite the approval and distribution of their products, numerous businesses are concentrating on forming partnerships with others whose products are in the advanced stages of development.
For instance:
In December 2021, Euclid Systems announced the release of the overnight orthokeratology lens Euclid MAX in the United States. Ortho-k contact lenses are used in children and adults with myopia, which is progressive in nature, but particularly in children, to delicately remold the cornea and maintain myopia during the nighttime.
In July 2020, KATT Design Group signed an exclusive licensing agreement with Bausch + Lomb, which will have the sole right to develop and market enhanced orthokeratology lens systems in the United States.
Night Contact Lens Industry Report Scope
Attribute

Details

Forecast Period

2022-2032

Historical Data Available for

2012-2021

Market Analysis

USD Million for Value

Key Countries Covered

U.S.
Canada
Brazil
Argentina
Mexico
Germany
France
U.K.
Italy
Spain
Russia
BENELUX
India
Thailand
Malaysia
Indonesia
China
Japan
South Korea
Australia
New Zealand
Turkey
GCC
Northern Africa
South Africa

Key Market Segments Covered

Indication
End User
Region

Key Companies Profiled

Cooper Vision
Euclid Systems
Johnson & Johnson
Bausch & Lomb
Truform Optics
Art Optical Contact Lens, Inc.
Menicon Co., Ltd./ Alpha
Brighten Optix
Eyebright Medical Technology Beijing Co Ltd
Lucid
Optact International Ltd.
Taiwan Macro Vision Corporation
E & E optics
GP Specialists
MiracLens L.L.C.
Laboratoire LCS
Multilens AB
Falco lenses AG
EIKON
Biolens Lab

Report Coverage

Market Forecast
Competition Intelligence
DROT Analysis
Market Dynamics and Challenges
Strategic Growth Initiatives

Customization & Pricing

Available upon Request
Key Segments of Night Contact Lens Industry Research
By Indication:
Myopia
Astigmatism
Hyperopia
Presbyopia
By End User:
Hospitals
Ophthalmology Clinics
Vision Care Centers
By Region:
North America
Latin America
Europe
South Asia
East Asia
Oceania
The Middle East & Africa