Life Sciences Aggregate-Spending Market Outlook (2022-2032)
The global life sciences aggregate-spending market was pegged at US$ 974.2 Mn in 2021, with a projected CAGR of 10% for the forecast period (2022-2032), which implies encouraging market growth. Detailed industry analysis reveals that revenue from life sciences aggregate-spend reporting will surge to a market valuation of US$ 2.75 Bn by the end of 2032.
| | |
| --- | --- |
| Life Sciences Aggregate-Spending Market Size (2022) | US$ 1.06 Bn |
| Projected Market Value (2032) | US$ 2.75 Bn |
| Global Market Growth Rate (2022-2032) | 10% CAGR |
| Share of Top 5 Countries | 91.1% |
According to detailed industry analysis by Persistence Market Research, medium-sized businesses captured more than 43% market share by revenue in the life sciences aggregate-spending market in 2021.
Overall, revenue from life sciences aggregate-spending solutions accounted for 16.3% share of the global life sciences software market value in 2021.
Sales Analysis of Life Sciences Aggregate-Spending from 2017 to 2021 Vs Market Outlook for 2022 to 2032
The global market for life sciences aggregate-spending exhibited swift growth and expanded at a CAGR of 9.1% over the last five years (2017-2021).
The National Healthcare Spend (NHE) of the United States was the US$ 4.1 trillion in 2020, according to CMS, with per capita expenditure of US$ 12,530. In 2019, NHE was US$ 3.8 trillion, with per capita spending of US$ 11,582.
Every year, healthcare spending in the United States rises, indicating a well-developed healthcare infrastructure and more accessibility to healthcare. This will also be a driving force for the life sciences aggregate-spending industry, as it represents numerous lucrative opportunities for key players as well as new market entrants.
Unethical methods such as gifting and delivering non-monetary benefits to healthcare professionals by pharmaceutical and medical device firms affect their prescription patterns, which influences the cost of products in the market. To prevent such unethical conduct, regulatory organizations in countries all over the world are enacting legislation similar to the Sunshine Law.
For example, in 2002, Indian Medical Council Regulations for Professional Conduct, Etiquettes and Ethics govern doctors' ethical behaviour by prohibiting them from taking gifts from pharmaceutical companies and other healthcare organizations.
In the life sciences aggregate-spending market, third-party solution providers are critical as they provide end-to-end services and help with the aggregate-spend reporting and compliance needs of pharma, biotech, and medical device manufacturing companies.
According to an IQVIA survey performed in 2020, around 30% of respondents had already outsourced their aggregate-spend reporting job to a third party, and approximately 17% of respondents planned to outsource their labour in the coming year.
As a result, there is robust demand for third-party providers among healthcare organizations, which will elevate the market value for third-party solution providers in the global life sciences aggregate-spend reporting market.
The market expects to see considerable growth and expand 2.75X by the end of 2032.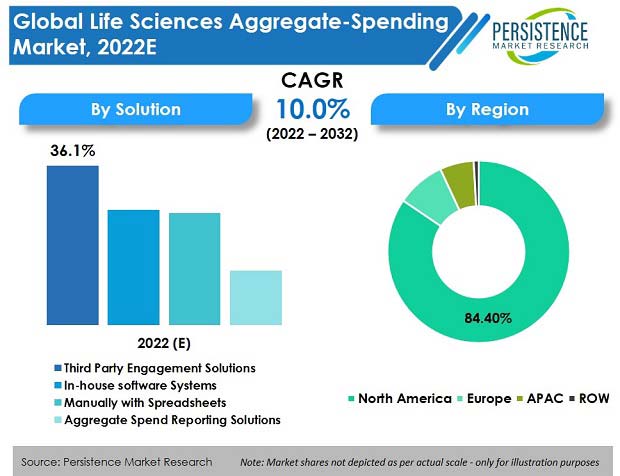 What are the Various Opportunities for Life Sciences Aggregate-spend Reporting Solution Providers?
"Growing Number of MSMEs in Healthcare Industry"
Small- and medium-sized businesses provide great potential for expanding a country's economies. They provide employment opportunities on a large scale.
According to the North American Industry Classification System (NAICS), in the year 2017, 484,693 small- and medium-sized ambulatory healthcare service providers and 38,555 nursing and residential care facilities existed.
Growing number of MSMEs will provide many lucrative opportunities for key life sciences aggregate-spending solution providers.
To strengthen their market position, several pharmaceutical companies, medical device makers, and healthcare IT companies are focusing their efforts on growing their businesses overseas. Because of their market presence in several areas, they need a support organization that can handle their aggregate-spend data across geographies.
High volume of investments in healthcare will boost demand for third-party solution providers globally over the next few years and thereby offer beneficial openings for new entrants into this market.
What Can Dent Life Sciences Aggregate-spending Market Growth?
"Non-availability of Structured Physician Data"
Data collection organizations have their ways to collect and store data. This also applies to various institutions that collect doctors' data. For example, electronic medical records contain important information about doctors and patients but are usually in unstructured data format.
Unstructured data can lead to more information, but given its tedious nature, takes much longer to process. Structured data availability is difficult because medical institutions work with a large number of doctors.
Aggregate-spend reporting involves huge amounts of transactional data of an organization over an entire year. Usually, these organizations use spreadsheets to record this data. Such an amount of data can lead to operational errors by the employees handling them.
Errors in data collection can result in mistakes in reporting. This can also prove to be a restraining factor for the life sciences aggregate-spending market.
Country-wise Insights
Why are Aggregate-Spend Reporting Solution Providers Targeting the U.S. Market?
"Well-developed Healthcare Infrastructure Makes the U.S. Market Attractive"
North America accounted for 84.5% market share in terms of revenue of the global aggregate-spending market during 2021, out of which, the U.S. captured more than 97% of the regional market share.
Highly favourable regulatory environment in the nation facilitates the investment and growth of many pharma, life sciences, and medical device manufacturing companies.
For instance, in November 2020, Qordata and MedCompli announced a strategic partnership to simplify compliance across the life sciences industry.
How is Demand for Life Sciences Aggregate-Spending Shaping Up in the U.K.?
"Market to Proliferate Due to High Spending on Life Sciences in the Country"
According to a report published by PwC, the life sciences industry supports almost half a million jobs in the U.K. The U.K. life sciences industry plays a key role in addressing long-term health issues in both, the U.K. and the broader global healthcare market.
Since the life sciences sector directly relates to the aggregate-spending sector, the U.K. accounted for 20.4% market share of the Europe life sciences aggregate-spending market in terms of revenue in 2021.
Why is Japan an Emerging Market for Life Sciences Aggregate-spend Reporting?
"Favourable Regulations Align Market Growth in Japan"
The Japan Pharmaceutical Manufacturer's Association (JPMA) and Japan Federation of Medical Device Associations (JFMDA) regulate the transparency laws in Japan. All pharmaceutical member companies of JPMA and medical device members companies of JFMDA are required to publish their aggregate spend report in Japan.
Pharma companies and medical device manufacturers are required to report research and development expenses, academic research support expenses, manuscripts or writing fees, information provision-related expenses, and other payments.
Due to the aforementioned reasons, Japan proves to be one of the emerging countries in the market and accounted for 41.7% market share by revenue in the APAC life sciences aggregate-spending market in 2021.
Category wise Insights
Will Third-party Solution Providers Drive Market Growth?
"High Demand for Third-party Solution Providers"
Third-party solution providers of life sciences aggregate-spending are important as they are well-equipped to cater to global, domestic, or country-specific demands of various pharma, biotech, life sciences, and medical device manufacturers around the world.
This segment accounted for more than 36% of the global market share in terms of revenue in 2021, and is set to surge at a CAGR of 10.7% over the forecast period (2022-2032).
Which Deployment Type Exhibits Higher Market Share?
"Cloud-based Deployment Remains Preferred Choice"
Cloud-based deployment solutions captured more than 64% market share in terms of revenue in 2021.
Ease of data collection and highlighting and one-stop solution for all healthcare providers are the attractive capabilities of this type of deployment that explains the high market share.
Which Businesses Enjoys Most Benefits of Life Sciences Aggregate-spending?
"Medium businesses are the largest shareholders!"
Medium-sized businesses around the world offer lucrative opportunities for market growth, for individual job seekers and for governments to expand their economies. They also require external support to grow their business and often contribute a large portion to the country's economy.
In the life sciences aggregate-spending solutions market, medium-sized businesses accounted for over 43% market share by revenue in 2021.
Competitive Landscape
Global providers of life sciences aggregate-spending solutions are undertaking various efforts to expand their market presence and goodwill through strategic partnerships, acquiring smaller companies, and launching innovative products.
In Dec 2021, CapGemini announced the completion of the acquisition of VariQ. Software development, Cybersecurity, and Cloud services provider for federal government departments and agencies across the United States. This acquisition also ensured the integration of VariQ and Cap Gemini government solutions LLC, an independent operating division for U.S. governmental agencies.
In April 2021, MedPro Systems launched MedPro Compliance Advisory Services (MCA), an in-house team focused on providing customized and practical compliance services for biotech, pharmaceutical, and medical device organizations.
In November 2020, MDBriefcase Group Inc. (MDBC), Canada's leading provider of online continuing medical education and professional development for healthcare providers, announced a strategic alliance with IQVIA in the Middle East, Africa, and South Asia.
In April 2021, Porzio Life Sciences launched a market-leading solution that allows all life science companies to cater to their spend transparency reporting obligations.
Life Sciences Aggregate-Spending Industry Report Scope
Attribute

Details

Forecast Period

2022-2032

Historical Data Available for

2017-2021

Market Analysis

US$ Million for Value

Key Countries Covered

U.S.
Canada
Germany
U.K.
France
Italy
Spain
Japan
South Korea
India
Australia
New Zealand
South Korea
Saudi Arabia
Brazil

Key Market Segments Covered

Solution
Deployment
Business Type
End User
Region

Key Companies Profiled

Qordata
Porzio Life Sciencess, LLC
MedPro Systems LLC
Pharmagin
IQVIA Inc
Vector Health, Inc.
Alanda Software
MediCompli
Cap Gemini
MMIS, Inc.
Cerner Corporation

Report Coverage

Market Forecast
Competition Intelligence
DROT Analysis
Market Dynamics and Challenges
Strategic Growth Initiatives

Customization & Pricing

Available upon Request
Key Segments in Life Sciences Aggregate-Spending Industry Survey
Life Sciences Aggregate-Spending Market by Solution:
Third-party Engagement Solutions
Aggregate Spend Reporting Solutions
In-house Software Systems
Manually with Spreadsheets
Life Sciences Aggregate-Spending Market by Deployment:
Web-Based Deployment
Cloud-Based Deployment
Life Sciences Aggregate-Spending Market by Business Type:
Small Businesses
Medium Businesses
Large Enterprises
Life Sciences Aggregate-Spending Market by End User:
Pharmaceutical Companies
Medical Devices Manufacturers
Biotechnology & Life Science Companies
Healthcare Settings
Life Sciences Aggregate-Spending Market by Region:
North America Life Sciences Aggregate-Spending Market
Europe Life Sciences Aggregate-Spending Market
APAC Life Sciences Aggregate-Spending Market
ROW Life Sciences Aggregate-Spending Market