Meal replacement bars may outgrow global market demand for protein-rich bars in the years ahead
As the global food and beverages industry continues to progress, the functional bars market is expected to flourish significantly. This report is based on an in-depth examination of the global functional bars market and throws light on the different segments of the market such as by function, packaging, nature, product type, sales channel and region. In terms of product type, the functional bars market is segmented into energy bars, protein-rich bars, meal replacement bars and low carbohydrate bars. A growing health conscious population across the globe has shown increasing preference towards the consumption of different types of functional bars available in the market. This detailed market research study indicates higher growth prospects for meal-replacement bars.
The segment in expected to register a CAGR of 4.1% during the forecast period. This growth is mainly driven by the burgeoning obese population and also an increasing inclination of people towards weight loss. This study reveals the current domination of protein-rich bars in the global market, expected to hold a market value of over US$ 470 Mn by the end of 2026.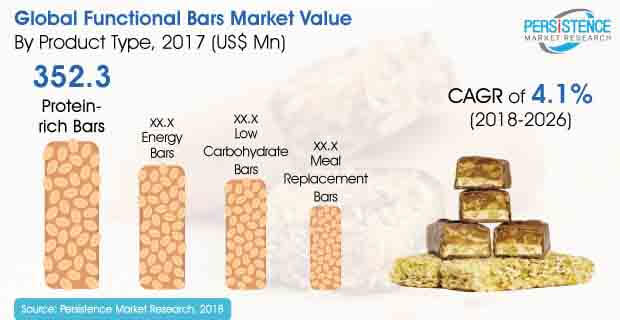 Manufacturers to focus on innovative packaging to gain traction; composition of functional bars to acquire a large consumer base in the near future
Functional food bars hit retail shelves during the time period 1999 – 2001 gaining traction among the target consumers. Since then, the market is growing at a steady rate, mostly due to the increased efforts by key manufacturers like improvement in sensory quality. Manufacturers have bettered their products to such an extent that taste is no more a negative factor for functional bars. Improved ingredient quality and the introduction of newer process technology has made functional bars available in attractive flavors and compositions, some of which are only unique to bar offerings.
This is expected to drive the functional bars market over the forecast period, as more number of people are expected to consume functional bars regularly, owing to the attractive product offerings with added health benefits, thus increasing the demand for functional bars. Some key confectionery manufacturers have converted their lines of products into functional by introducing high protein ingredients to increase per unit protein servings to attract newer consumers while retaining the older ones.
Along with the introduction of new and attractive flavors and tastes, manufacturers operating in the global functional bars market are now also focusing on smart labeling. These labels mention added or fortified functional ingredients present in confectionery bar products, to mask the presence of high sugar levels or calories.
To eliminate the general perception of the different health risks related to the consumption of confectionery, it is expected that manufacturers will likely add functional ingredients into their final products to gain back their customer base, as well as target new consumers in the growing functional bars market.
Tall claims of functional bars often accompanied by misleading composition related information, thereby restricting consumer adoption
A large part of the functional bars market is dominated by the protein segment, which is generally consumed to increase endurance and energy. However, the other analog ingredient present in the product is not always healthy. To enhance the taste and texture of their products, several functional bars manufacturers use ingredients that are known to be dangerous (if consumed in substantial amounts) for humans.
Some of these ingredients are sugar alcohols, synthetic texture enhancers, flavor inhibitors, and isolated hormones as protein source. Such information about the composition of functional bars and manufacturing techniques is expected to hinder revenue growth of the global market and deteriorate demand mainly among extra health conscious people.
Market Taxonomy
By Region

North America
Latin America
Europe
Asia Pacific
Middle East and Africa

By Product Type

Energy Bars
Protein-rich Bars
Meal Replacement Bars
Low Carbohydrate Bars

By Format

Extruded
Co-Extruded
Double Layer
Multilayer

By Function
Key Questions Answered
How the market has performed over the past few years?
What have been the challenges for market participants and how did they overcome them?
How has the technology landscape evolved over the past years?
How the competitors have performed and what have been their growth strategies?
What is the market potential expected to look like in near future across the globe?
How to sustain and grow market share?
What should be the future course of action?
Where do I currently stand?
Which are the segments, factors, regions offering promising growth potential?
What are the trends in the market and am I ready for them?
- Companies Covered in This Report -
Prinsen Food Group B.V.
Frankonia Schokoladenwerke GmbH
Bedouin S.A.S
Viba Sweets GmbH
Nutrition & Santé SAS
Atlantic Grupa D.D.
B.V. Vurense Snack Industrie
Artenay Bars, SAS
SternLife GmbH & Co. KG
anona GmbH
Halo Foods Ltd.
Leader Foods OY
Glanbia Plc.
Others.